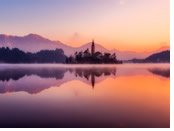 Our main objective on this gay group expedition will be to climb Mt Triglav, Slovenia's highest mountain and to trek in the surrounding Triglavski National Park. There are also lots of adrenaline filled activities planned for our last few days in the country. Triglav National Park, in the Julian Alps of north-western Slovenia, was named after the highest mountain in Slovenia, Mt. Triglav, which rises to an elevation of 2864 metres. This dynamic mountain karst terrain features picturesque mountain peaks and valleys as well as numerous natural and cultural attractions and is ideal for activities in nature and for spending your leisure time actively.
Slovenia lies in Eastern Europe bordering Austria and Italy to the North and Croatia to the South. The Slovenia Adventure Week offers all the best outdoor activities that Slovenia has to offer. Triglav is a low altitude peak (2864m) that involves some scrambling to reach the summit. The ridge is equipped with an iron walkway called a Via Ferrata to help us reach the top securely. During this trek we will be staying in mountain huts and pensions which are similar to hostels and eating local cuisine.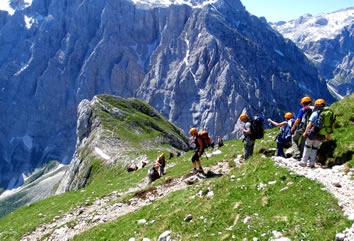 After the four day trek in the stunning Julian Alps we will travel to Bovec to raft on the world famous emerald Soca river. This river runs through Slovenia and Italy and eventually drains into the Adriatic Sea near Trieste. After returning to the Bled/Bohinj area via the Trenta Valley we will then spend a couple of days canyoning and mountain biking in Triglavski National Park. Our final night will be spent in a hostel in Ljubljana and where there will be the opportunity to do some sightseeing in the capital of this friendly little country.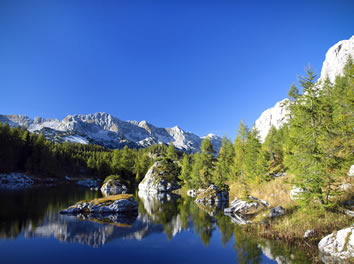 Day 1 - Arrive in Ljubljana, Slovenia
Arrive in Ljubljana, Slovenia Transfer from Ljubljana Airport directly to Bled. Dinner in a local restaurant with traditional Slovenian food or Pizza! Accommodation at a hostel in Bled.
Day 2 - Bled & Bohinj
We will be canyoning in Bled & Bohinj area in Jereka gorge (easy) or Grmecica gorge (moderate level) near Bled. Upon return there will be time for quick lunch. We will spend the afternoon cycling/mountain biking in the Bled area (easy level). Tonight we will have dinner in a traditional restaurant in Bled.
Day 3 - Bled to Kredarica Hut (2500m)
After breakfast we will travel by bus to the Krma Valley. We hike into the Krma Valley and onwards to Kredarica Mt Hut. It is only a four-hour walk so we will eat lunch at the hut and rest. Weather dependant we may look to ascend to the top of Mt Triglav and return to the hut to overnight. This will be the case if the weather is looking good and likely to change the following day.
Day 4 - Kredarica Hut to Triglav Lakes Hut (1685m)
After breakfast we will via ferrata climb to the top of Mt Triglav (if not done on first day) and then descend to lunch at Dolic Hut. After some rest and photos we will walk to Triglav Lakes Hut. Have dinner at the hut and overnight. 6-8hrs walking.
Day 5 - Triglav Lakes Hut to Krn Lakes Hut
We will walk from Triglav Lakes to Komna mountain hut. This is where we will stop for lunch before continuing through the Bogatin area and onwards to Vratca saddle. After crossing the saddle we descend to Krn lakes hut. This is where we will have dinner and spend the night. 5-6 hrs walking.
Day 6 - Krn Lakes hut to Lepena valley and onwards to Bovec
We walk down from Krn Lakes into the stunning Lepena Valley. After visiting a few historical sites from WW1 we will be picked up and transferred to Bovec for white water rafting on the emerald Soca River. In the evening we eat and have a few drinks and our evening meal in Bovec.
Day 7 - Bovec - Ljubljana
We will be transferred from Bovec to Ljubljana (3-4hrs) where we will be staying in a boutique hostel in the Metelkova district of Ljubljana. You will have some time to visit the imposing castles and pretty bridges of downtown Ljubljana before our final meal in Slovenia. The hostel will be in walking distance of the city centre.
Day 8 - Ljubljana to Home
We will be transferred to the airport to connect with your flight back Home.