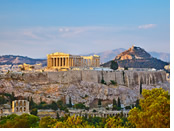 Oscar Wilde's Gay Greece Tour - From Achilles to Alexander The Great and Beyond - Athens, Mycenae, Delphi, Epidauros, Nemea & Mykonos. Ancient Greece - birthplace of democracy, philosophy, history and theater. And also a society in which same-sex relations lay at the center of social and political life. The remains of ancient Greece fascinate us still today, and in its art and ruins we can trace the origins of Western culture and the beginnings of gay and lesbian history.
On this gay group tour we will return to our roots-both as heirs of the glorious tradition that is Western civilization, and as gay men and women who recognize ourselves in the Greek past. And as always with Oscar Wilde Tours, we'll do it in style! With splendid hotels, superb dining in some of Greece's finest restaurants, and expert guides to lead us every step of the way. This is truly an enchanting journey that will create memories for a lifetime.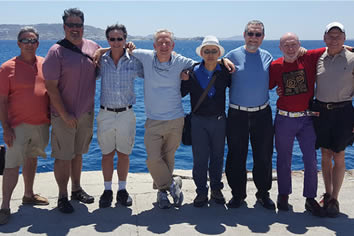 • Zeus and his boyfriend Ganymede
• Achilles and Patroclus
• The gay founders of the Athenian democracy
• The great all-gay regiment of Classical Greece
• Alexander the Great
• Hadrian and his beloved Antinous
• Nude athletics
While visiting Athens, Nemea, Mycenae, Epidauros, Delphi, Chaironeia, plus the islands of Mykonos and Delos.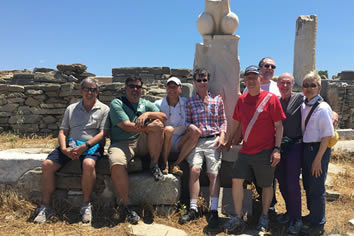 Day 1 - Welcome to Athens, Greece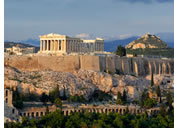 After time to rest following your flight, Professor Lear takes you on a walk through the center of Athens. We get our first glimpse of the Acropolis, with its glorious temples and dramatic setting-as well as of the Agora below.
Gay history is all around us: we see the llissos-the river where Socrates discourses on male-male love in Plato's dialogues; the remains of the vast temple built by the Roman Emperor Hadrian (the first great fan of Greek homosexuality); the statue of Lord Byron, the bisexual English rake whose heroic death dramatized the Greek revolution against the Ottoman Empire; and several other sights that underscore the gay theme that runs through ancient Greek history.
After a fascinating lecture on same-sex love in ancient Greece, it's time to eat! We celebrate the beginning of our tour with a delicious meal of traditional Greek food, at a roof-top restaurant with a splendid view on the illuminated Acropolis.
Day 2 - Acropolis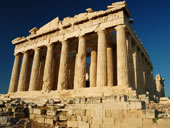 Today we spend the morning exploring the Acropolis with our archaeologist guide: first the hilltop itself and then the excellent new museum at its base. After lunch at the museum's lovely restaurant, we continue our exploration of the heart of the ancient city, visiting the Agora, which served as the city's central marketplace and the Kerameikos, or main cemetery, where Pericles delivered his immortal funeral oration. We learn about the glory of classical Athens, while focusing on the central role of same-sex relations in Athenian culture: in particular, we learn about Harmodius and Aristogeiton, the gay couple that served as Ancient Athens' Uncle Sam.
This evening is free for your own explorations of our hotel's neighborhood-the Plaka, the heart of historic Athens.
Day 3 - Nemea, Mycenae & Epidauros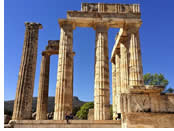 Today we take a trip out of Athens to explore the fascinating sights of the northern Peloponnese, just across the Corinthian Gulf. Our first stop is at Nemea, the site of one of the ancient Greek world's four great athletic competitions. Less well known than Olympia, Nemea is of special interest to us for the astonishing homoerotic graffiti from 2500 years ago preserved on its walls.
After lunch we visit the mysterious ruins of Mycenae, center of the world of the Iliad-where we will discuss the fascinating relationship of the hero Achilles and his friend (and possibly lover) Patroclus.
Finally, we visit the world's best-preserved ancient theater, in nearby Epidauros, before returning to Athens for a free evening.
Day 4 - Ancient Greek Art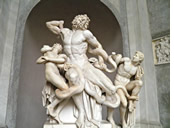 This morning we cross Athens to visit the National Archaeological Museum, with the world's greatest collection of ancient Greek sculpture. Our visit focuses on the amazing history of the male nude in ancient Greek art, plus a number of other fascinating artifacts that include Greek vases (Professor Lear's specialty).
The afternoon is free for further exploration of the city's museums, tavernas and shopping areas-or perhaps for a trip out to the iconic temple of Neptune on the coastal headlands at Sounio.
In the evening we offer an optional lesson in traditional Greek cooking with a prominent local chef, where we will enjoy the results of our cooking.
Day 5 - Delphi & Chaironeia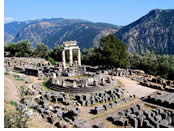 Today we make a second day excursion, to visit another one of Greece's most famous sites, the vast temple complex of Delphi. Here the ancients came to consult the oracles of Apollo, which they received from the ravings of a drugged priestess. We take a thorough look at the vast site and the museum, and pay special attention to the cult statue of the divine Antinous, the emperor Hadrian's deified lover-and pagan competitor for Jesus Christ! Statues of Antinous have been found throughout the Greco-Roman world, but as we will see, the statue in Delphi seems to have been worshipped with special zeal. Lunch is included en route.
On our way back to Athens, we stop at a rarely visited site that is rich in gay history: the lion monument of Chaironeia. Built to commemorate the Sacred Band, the crack regiment of later classical Greece, the monument honors a warrior unit composed exclusively of lover/beloved couples. We return to Athens for a final free evening.
Day 6 - Mykonos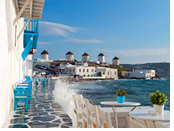 This morning, we take the ferry across the Aegean, for a beautiful view of the Greek islands. At lunchtime, we land in Mykonos, with its whitewashed village, turquoise sea, and famous gay beach-and-night­life-where we will spend the next three days enjoying everything the island has to offer.
We have lunch close to the harbor and visit the village this afternoon, with the folklore museum and the windmills that are the town's most famous landmarks.
Your evening is free to enjoy the twisting alleys of Mykonos and its intense nightlife.
Day 7 - Delos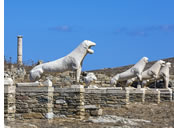 In the morning, we take the boat to visit the magnificent ruins on the nearby island of Delos the best-preserved ancient Greek town-with the remains of grand houses and temples (including the famous alley of phallus statues at the temple of Bacchus). Delos was home to the Delian League, the military alliance led by Athens after the Persian Wars, and housed its famous treasury.
The afternoon and evening are free to enjoy the town of Mykonos, with its many churches, art galleries, and cafes.
Day 8 - Gay Mykonos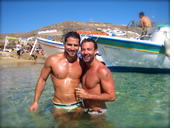 A free day on Mykonos. Those who want can come with Professor Lear to see the archaeological museum (with one of the most important male-male scenes in Greek vase-painting!) and from there to the most beautiful and gayest beach on the island-farther out than well-known beaches like Paradise and Super Paradise, which are now straight party beaches.
We all gather this evening for a seafood dinner to say farewell to our new friends and to Greece and its fascinating gay history.
Day 9 - Departure
Our tour of Greece ends with breakfast this morning, but you can continue your Gay History experience by flying to Rome for the Gay Italy Tour - from Caesar to Michelangelo and Beyond, starting on Friday, October 5, 2018.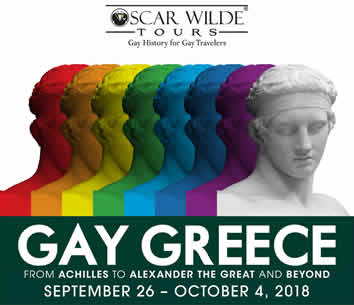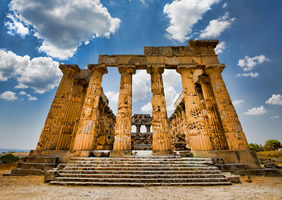 Discover your roots on this eye-opening tour of ancient Greece. Our trip starts with Athens, where we visit the famous temples of the Acropolis, but also less commonly visited sites, such as the Kerameikos, ancient Athens' fascinating cemetery, and the city's amazing art museums. Our focus will be the rich evidence for same-sex love—such as the story of Harmodius and Aristogeiton, the male couple whom the Athenians worshiped as the founders of their democracy.
From Athens we make day excursions to the other major sights of mainland Greece. First we take a trip south to the Peloponnese, where we visit the startling Bronze Age citadel of Mycenae, city of the Homeric epics, whose story of Achilles and Patroclus is a touchstone of gay history; Nemea, where we see an ancient Greek stadium and locker room; and Epidauros, with the best-preserved ancient Greek theater.
Next we take a trip to Delphi, to visit the shrine of the ancient world's most important oracle—where, among other gods, the Roman Emperor Hadrian's divinized lover Antinous was worshiped. And on the way, we visit the Lion of Chaironeia, monument to the Sacred Band, the most feared regiment in Classical Greece and a potent source of gay pride.
We then take the boat out through the Cycladic islands to Mykonos, a beacon of gay freedom for the last 40 years, with its sparkling white town, turquoise waters, famous beaches and gay nightlife While there we also visit the nearby island of Delos, with its beautifully preserved ancient city— including a remarkable alley of stone phalluses!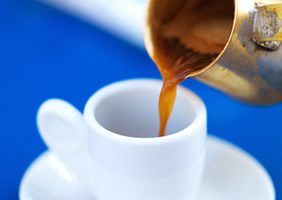 • 8 nights in Deluxe hotels in chic neighborhoods:
- 5 nights in Athens Herodion Hotel
- 3 nights in Mykonos Mykonos Bay Hotel
• Knowledgeable gay historian accompanying the group on included activities;
• All breakfasts, 10 lunches, and 7 dinners;
• Services of escort and local guides;
• Admission to all sights on the tour, and transportation to them (by taxi, minibus, and ferry).
• International airfare
• Transportation from your arrival point (e.g. airport, port) to your hotel
• Transportation from your hotel to your departure point (e.g. airport, port)
• Travel insurance
• Alcoholic beverages other than wine at welcome and farewell dinners and other times specifically mentioned in the itinerary
• Personal items, such as snacks, laundry, and telephone calls
• Optional activities
• Gratuities for bus drivers and local guides.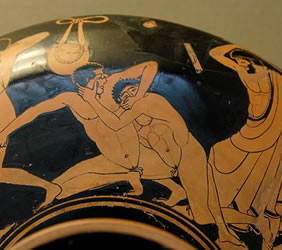 Where does the tour start and end?
This tour starts in Athens and ends in Mykonos, Greece.
What meals are included?
Breakfast is included every day in our tours, and on most days we include either lunch or dinner, according to the itinerary. On this tour we include all breakfasts, 3 lunches, welcome and farewell dinners, and an optional lesson in traditional Greek cooking.
Is this a good tour for single travelers?
Singles are very welcome! Our groups generally consist of a mix of couples and singles, and there is generally a nice group ethos, so no-one will ever feel left out. Single rooms are available, with a supplement; we are also happy to try to find you a room-mate if you would prefer.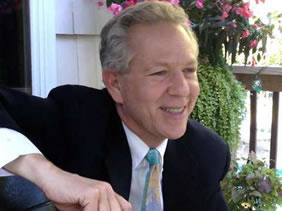 Who is our guide, Professor Lear?
Professor Andrew Lear combines a love of travel with a passion for gay history, and he brings both of those attributes to Oscar Wilde Tours.
Professor Lear holds a B.A. from Harvard and a Ph.D. from UCLA. He has published a widely praised book on male-male love in ancient Greek art, as well as a number of important scholarly articles in this area. Indeed he is generally considered one of the foremost experts on same-sex love in the ancient world, but his interest in gay history extends to other key periods, such as fin-de-sičcle England, Renaissance Italy, and medieval Japan—places and periods that we will explore at Oscar Wilde Tours.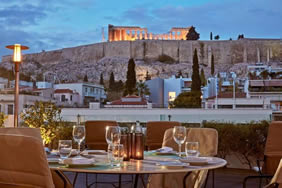 What is the level of the hotels?
Our hotels are chosen for excellent 4* quality, historic charm, and central location.
ATHENS – Herodion Hotel
The Herodion Hotel is at once a traditional family-run hotel and a fashionable boutique hotel. Behind the glorious new Acropolis Museum and just below the Acropolis itself (with amazing views from the rooftop!), it is the perfect base for enjoying the Athens of today and yesterday.
MYKONOS – Mykonos Bay Hotel
The Mykonos Bay Hotel is just outside the town of Mykonos, perched on a headland with spectacular views of the Aegean. It has a lovely pool, a private beach, in short everything you could hope in an island resort.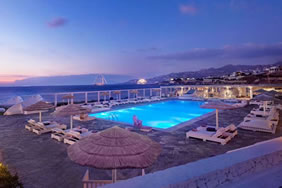 Is this tour designed for first time visitors?
We try to design our tours both for repeat and first-time visitors. We include a number of lesser-known sights, but also major sights—which we see from the perspective of their often ignored gay history.
Who is this tour a good fit for?
Our tours focus on LGBT history and art and are designed for groups of LGBT people. They are however open to the LGBT-friendly as well.
Is this a good tour for people with difficulty walking?
All of the main sights in the tour are visited on foot, on walking or museum tours. There may be uneven ground, for instance in archaeological sites, and steps in some museums or historic houses. The amount of walking is not, however, excessive: we rarely exceed 2 miles a day. We travel from site to site by train or air conditioned bus (or at times, in major cities, in fleets of taxis or limousines).