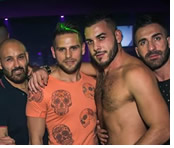 Join us on TravelGay first Italian gay & lesbian cruise on board of Costa Mediterranea. For the first time ever you can enjoy the main & fanciest Italian gay clubs in one place for 4 days and 3 nights of fun. Redefinition Cruise has partnered with the most important gay DJs and performers from all over Italy. Gay Village Rome, Drag Factor Rome, COX, Mamamia Tuscany, Disegual La Notte Genova, JOIN the Gap Milan, Red Bologna, Padua Pride Village, Queever Turin, G -break event, and others will join us on cruise, and entertain you! And of course hot Italian gay guys... so are you still thinking about?

Redefinition Cruise is an exclusive gay cruise group departing on April 15, 2018 from Savona (Italy) pier to enjoy the itinerary Savona-Barcelona-Marseille-Savona with lots of fun. Once docked you can decide visit each city or just stay on board and relax with friends.

Redefinition Cruise 2018 - 1st Italian Gay Cruise

April 15 - 18, 2018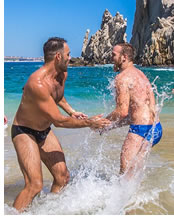 We're taking the biggest celebration in the west to a new and thrilling ship with the best venues yet for a party! Indulge in a week of sunshine with great friends as we sail from San Diego to gay-friendly Puerto Vallarta, seductive Mazatlan, and exciting Cabo San Lucas. Add an awesome lineup of dazzling entertainers, great friends, and the biggest parties you've ever imagined.

Sail with 2400 friends from around the world on the stunning Norwegian Pearl for the ultimate celebration as we explore the azure seas of the Pacific. Fresh from a multimillion-dollar upgrade, Pearl features a stunning central pool deck, with incredible open spaces for dancing under the sun and stars. You'll love her innovative modern look, enticing restaurants, full-service spa, and spectacular performance venues.
Explore the Pacific's most alluring beaches and cities, including a late-night stay in gay-friendly Puerto Vallarta with plenty of time to enjoy the city's incomparable nightlife and beach culture. Dive, fish, or snorkel in beautiful Cabo San Lucas, or head out to explore to a nearby uninhabited beach. And discover the best of authentic Mexico in the charming city of Mazatlan, a remarkable beachfront metropolis.


Mexican Riviera All-Gay Cruise 2018
October 14 – 21, 2018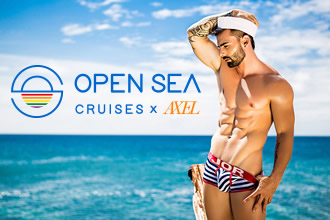 The New Gay Cruise that will blow your mind! Everybody has an opinion about what a cruise should look like. We say: Why not make an experience for everyone? Introducing Open Sea Cruises, the first gay cruise designed to meet new amazing people while doing things you've only dreamed of. From September 29th to October 6, get ready for international pop stars, tours, shows, wellness & leisure, and the best parties to enjoy an unforgettable holidays doing whatever you want while visiting the best destinations in the Mediterranean: Barcelona - Ajaccio - Palamos - Toulon - Ibiza. We're about to do something completely different this summer and we want YOU to be part of it. Our question is: are you getting on board?
International pop stars, Europe's best parties, Amazing shows, Wellness & leisure activities, More than 1400 new friends, Start/End in Barcelona, 2 day stay in Ibiza.


Open Sea x Axel Mediterranean European Gay Cruise - September 29 – October 6, 2018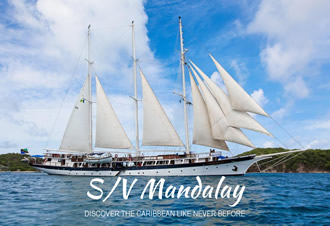 There's no better way to explore the Caribbean than clothing optional all-gay sailing on a tall ship under a full moon. Get ready for an adventure filled with food, fun & fantasy. Your voyage begins on the exotic and romantic island of St. Lucia, a nature lover's paradise where the dueling Piton peaks serve as an inspiring landmark for sailors.
After enjoying St. Lucia, get ready to experience an unforgettable adventure cruise aboard the S.V. Mandalay as you set sail for the Grenadines. You'll find yourself anchored off deserted beaches, docked in small charming harbors. Imagine dancing under the stars, movies projected on the sails, and jumping off the ship into a sea of colorful fish. It doesn't get any better than this.
What's your pleasure? Life aboard the Mandalay is filled with activities and fun. Whether it's sailing, snorkeling, hiking, swimming or just relaxing, it's your choice. And since this all-gay private cruise for men is clothing optional, you'll have the freedom to sail naked.


Mandalay Grenadines Caribbean Clothing Optional All-Gay Cruise 2018 - February 25 - March 3, 2018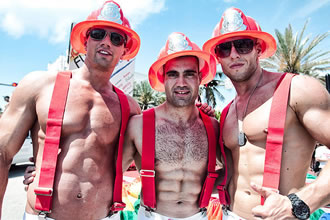 Happy Gay Travel & Source Events invite you to join the 9th Annual Miami Gay Pride Cruise 2018 on a 5 Night Cruise sailing from Ocean Drive to Ocean with Pride! We invite you to make history on this first ever Miami Pride Cruise to Cuba! Legendary nightlife. Iconic music. Distinct culture. This is more than a cruise. This is Havana, Cuba. And right now, you can be among the first to explore a place where yesterday lives today. Best of all you'll be joining a group of over 200 LGBT travelers from around the world on this people to people trip to Cuba, extending the magic of Miami Beach Pride in style on the newly renovated Royal Caribbean Empress of the Seas
.
Prices start at only $855 per person, including all the shipboard private parties, meals, special cocktail hours. This year our Pride Cruise is going to Havana for the first time: get ready for an extraordinary, unforgettable journey through Cuba's colorful complex history via the place and people who bring it to life. Book early, as this cruise will surely sell out early. Don't let us sail without you!


Miami Beach Gay Pride Cruise 2018 - April 09 - 14, 2018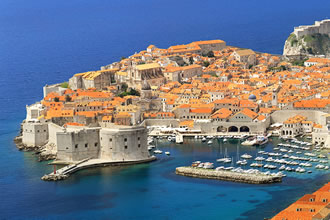 Spend seven unforgettable days cruising on the Adriatic Sea from one island to another, explore beautiful nature, hidden bays and discover divine night clubs in places you will visit. This cruise departs with only gay passengers and gay friendly crew.
Small ship all-gay cruise along the charming Croatian coastline and islands on the new and lavishly designed, fully air-conditioned vessel with spacious en-suite cabins. Itinerary includes exciting gastronomical and sightseeing experiences. and visits to Split, Korcula, Mljet, Dubrovnik, Trstenik, Hvar and Bol.
For this trip all you will need is to book your flights to and from Split Croatia, pack and get ready to enjoy seven unforgettable days cruising on the southern Adriatic Sea from one island to another with the small ship cruiser. Relax and let the captain, the crew and a tour manager, take care of you. Mornings you can relax on spacious decks, sunbathe beside the mini pool or refresh yourself in the Adriatic Sea. Afternoons and evenings are carefully planned for you to explore Croatia's finest destinations with local experts.


Croatia Deluxe All-Gay Cruise 2018
August 4 - 11, 2018