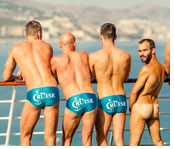 This European gay cruise Produced by La Demence on board of Monarch offers you a unique itinerary from Lisbon to Madeira and the Canary Islands. Offering a perfect mix of culture, relaxation and outstanding open air summer parties, this is your best holiday option. The Cruise, is the best gay holiday experience ever!

Departing from one of the most charming capitals of Europe, The Cruise by La Demence takes you to Madeira and then visiting 5 of the 7 Canary Islands, each one of them very different and unique. And finaly arriving at Gran Canaria, the ideal gay destinaton to extend your holiday.

A rich palette of possibilities has been carefully assembled for you: fabulous shore visits, good food, dozens of on-board activities, entertainments and parties, plus always the option to sit back and do absolutely nothing.

The Cruise European Gay Cruise by La Demence 2017

September 18 - 25, 2017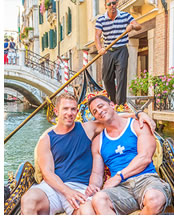 The hottest gay cruise of 2017 offers more fun and more incredible experiences than ever before, starting with a brand new itinerary from Barcelona to Venice to explore 6 countries in 9 magical nights. From the cliffs of Malta to the stone-lined streets of Dubrovnik to Corfu's windswept beaches, this cruise has it all – including a fantastic night on the playground island of Ibiza! Join 2100 guests from around the world on the luxurious Celebrity Constellation
for the biggest parties of the summer plus sensational entertainers from Europe and the USA.

Best of all, Atlantis has scheduled this cruise to perfectly match the end of WorldPride Madrid, creating a truly fantastic once-in-a-lifetime adventure. Don't miss out on the greatest gay event of 2017!

Our most original gay cruise itinerary starts in Barcelona, the summer gay capital of Europe, immediately after the finale of WorldPride in Madrid. After a day exploring the sun-splashed island of Mallorca we'll sail to legendary Ibiza for an endlessly playful night and relaxing day on some of the world's most magnificent beaches. By then you'll need a quiet day at sea! The imposing cliffs and windswept buildings of Malta create one of the world's most fabulous settings for a day of true exploration. The only thing more dramatic might be our next day in Sicily, where legendary Mt. Etna and the inviting hilltop town of Taormina have marveled travelers for centuries. Spend a day immersed in Greek summer revelry on the lush green island of Corfu. And nothing prepares you for the dramatic ancient city of Dubrovnik, certainly one of Croatia's greatest treasures.


Barcelona to Venice All-Gay Mediterranean Cruise 2017
July 4 – 13, 2017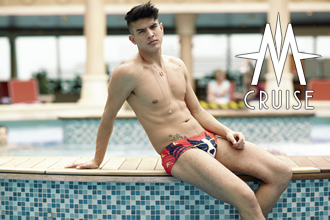 Join mCruise 2017, the first German-speaking gay cruise! We will sail from Athens through the Aegean Sea with over night stays in Santorini and Mykonos. The mCruise is initiated by the leading German gay magazines - Blu, Gab, Hinnerk, Rik and Leo and our partner are the biggest European gay men dating site PlanetRomeo.
The Celestyal Nefeli is chartered for this exclusive gay cruise event from 1 to 8 September 2017. Guests can expect great show program on board, comediants and exclusive surprise performers, famous Georgette Dee and countertenor Edson Cordeiro. Chris Bekker (GMF, Berlin, and Green Komm, Köln) and Nina Queer ("Irrenhouse" Party, Berlin) will be our main DJs.


mCruise 2017 - German Speaking All-Gay Cruise - September 1 - 8, 2017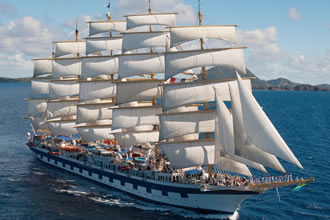 Live the dream of the sailing the Italian and French Riviera aboard the world's largest and most luxurious 5-masteed sailing ship – Royal Clipper. This collection of the Mediterranean's most beautiful islands and ports yachtsman's fantasy, a traveler's dream. There a magical dreamlike quality to tall-ship sailing. The feeling is elegant yet laid back. So this is what it feels like to sail aboard your own private yacht! Take pleasure in the great cuisine, entertainment, theme parties and the company of like-minded friends.
Surrounded by natural wonders of Corsica, the treasures of Tuscany, and the magnificent Cinque Terre, it is easy to fall in love with the Mediterranean


French & Italian Riviera All-Gay Mediterranean Cruise 2017 from Rome to Cannes - September 16 - 23, 2017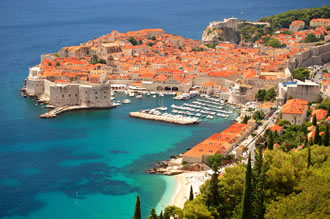 To celebrate five years of gay cruising in Croatia, this trip brings us to fresh new Northern Croatia ports that may be new to you, but are hugely popular with Europeans. This Croatia Adriatic all-gay cruise includes additional meals, premium excursions like winery tours and cheese tastings, and even dinner at one of Croatia's finest and most famous restaurants. Join up to 40 fellows along with their friends and family on this epic Adriatic OUT Adventure. Pack and get ready to enjoy eight unforgettable days cruising on the southern Adriatic Sea Dalmatia Coast from one island to another with the small ship cruiser. Relax and let the captain, the crew and a tour manager, take care of you.


Croatia Northern Adriatic All-Gay Cruise 2017 from Dubrovnik to Opatija
August 12 - 20, 2017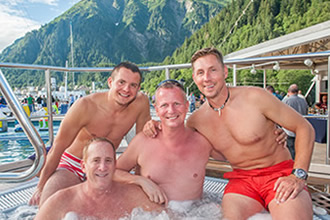 There's no better place to enjoy the summer than gay and lesbian cruising America's most majestic state with RSVP! Next summer, explore one of the world's most beautiful destinations as RSVP sails to the best of Alaska on one of our all-time favorite ships, Holland America's Eurodam!
Experience the majesty of America's 49th state in a way that's only possible by ship. Cruise alongside a pod of orcas, watch in wonder as glaciers calve before your eyes, discover a convocation (that's right…a convocation) of bald eagles in mighty spruce trees, take in the unspoiled beauty of the Inside Passage, and spy Alaska's bears feasting on bountiful wild salmon.
Adventure awaits at every moment! You can sea kayak through calm waters or hike trails filled with fascinating wildlife. One thing we know is that virtually everything will take your breath away!


Summer in Alaska RSVP All-Gay Cruise 2017
August 5 - 12, 2017