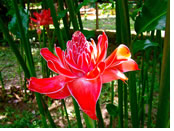 Experience life in the jungle • Spot Amazon caiman after dark • Watch exotic birds congregate at a clay lick • Climb a canopy tower • Glimpse monkeys and peccaries in the jungle • Hike through lush rainforest • Paddle canoes along the waterways • Learn about conservation in the Amazon.
Get a real taste of the Peruvian rainforest on this enthralling trip into the heart of the Amazon. Walk through the jungle, cruise along murky waterways, spot exotic wildlife and stay in an eco lodge. There is also a chance to learn about conservation projects, spot macaws, climb a canopy tower for amazing views and hear about the healing properties of the strange jungle plantlife. This amazing journey is an excellent introduction to the wonders of the Amazon.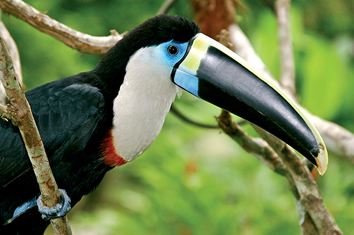 Physical Rating
You are required to carry your pack on and off trains and buses, up hotel steps, etc. Your itinerary may include easy paced walks or bike rides, but these are on mainly flat ground.
Culture Shock Rating
Expect to rough it every now and again, whether it's very simple group-share accommodation at a homestay, a packed public bus where you are forced to stand, the odd cold shower or an encounter with a squat toilet.
Meals Included
4 Breakfasts, 4 Lunches, 4 Dinners
Please be aware that breakfast at the lodges are scheduled according to the activities you will have. Lunch and dinner at the lodges have set times, so we encourage you to be on time always so you don't miss any meal. They're served on a limited buffet self-service like basis.
Accommodation
Tambopata Research Centre (2 nts), eco lodge (2 nts)
Transportation
Boat, canoe, walking
Group Size
Minimum 1 passenger
Departure
Departure is guaranteed
Budget
Allow USD $180 for meals not included.
Departs
Daily, subject to availability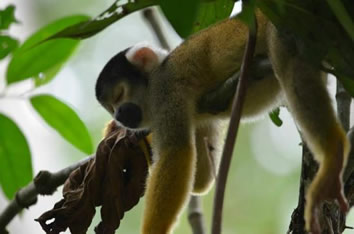 Day 1 - Puerto Maldonado / Amazon Lodge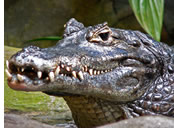 Gear up for the journey ahead in Puerto Maldonado, then travel by bus and motorised canoe into the steamy jungle. Arrive at the lodge in time for a briefing on the accommodation and eco-tourism project. The staff here are local and all eager to impart their knowledge of the jungle. After dark, venture down to the river's shore to go caiman spotting - look out for the red glints of their beady eyes along the bank.
Days 2-3 - Tambopata Research Centre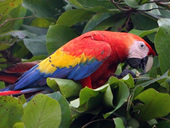 Head out on an early morning birdwatching walk before canoeing to the Tambopata Research Centre to learn about the vital Macaw Project and the habits of the birds themselves. Stop by an old-growth patch of brazil nut trees to learn how this hefty nut is harvested. Take an early morning walk to the clay lick to spy the macaws and other parrots who congregate here daily to ingest clay before disappearing back into the dense forest. Later, take a gentle hike along a floodplain trail with a local guide to discover strange trees and exotic flowers.
Day 4 - Amazon Lodge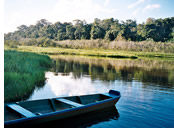 Hike to Lake Condenado Oxbow for the chance to spot more of the fertile jungle's wildlife - monkeys and peccaries are commonly sighted here. Paddle a canoe through the wetlands to get up-close to some of the exotic creatures. In the evening, perhaps take the opportunity to attend lectures about conservation in the reserve.
Day 5 - Puerto Maldonado
A final canoe ride offers the chance to bid the Amazon farewell before returning to Puerto Maldonado, to be transferred to the airport and on to the next destination.