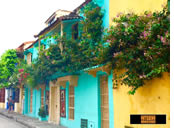 Beautiful scenery, amazing hotels, authentic community experiences and cultural immersion are the cornerstone of this inspiring gay group adventure to Colombia, complemented with restaurant hopping, street food and chef signature gastronomy. Colombia's landscape is marked by rainforests, Andes mountains and numerous coffee plantations. In the high-altitude capital, Bogotá, the Zona Rosa district is known for its restaurants and shops. Cartagena, on the Caribbean coast, has a walled colonial Old Town, a 16th-century castle and nearby coral reefs.
This marvelous itinerary combines the best of Bogota, Santander, the Coffee Triangle and an extension to Cartagena. Delight in urban art, history, culture, gastronomy, and rural agricultural experiences with local baristas in the coffee growing region. Scenic landscapes, colours and flavours and highly-qualified guides make this a one-of-a-kind travel experience.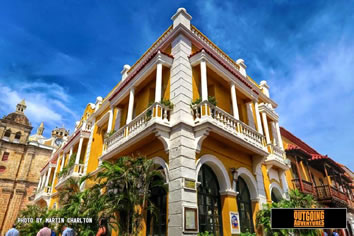 Day 1 - Arrival in Bogota, Colombia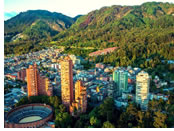 Today we arrive in Bogota and transfer to our hotel.
Also known as Santa Fe de Bogota, or the 'Athens of the Americas' (owing to Bogotanos' reputation for politeness and civility), Bogota is set at an altitude of over 2600m (8,600 feet) with high ranges of the Cordillera to the east. This captivating urban center has a rich cultural life and beautiful architecture. Like any self-respecting capital city, Bogotá is the country's capital of art, academia, history, culture and government. This is Colombia's beating heart.
Our hotel is strategically located in the heart of the ¨Zona Rosa,¨ a very popular district for restaurants and night life.
Overnight in Bogota.
Meals: Dinner
Day 2 - Bogota: Paloquemao Market, Gold Museum & Street Food Experience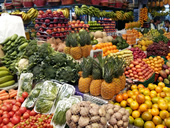 We start our day with a visit to the food market of Paloquemao, well-recognized today as the Mecca of foodie hotspots in Bogota. We surround ourselves with the fresh aromas of just-harvested products, meat, fruits, vegetables, seafood, and the incredible colours of beautiful flower exhibitions.
We visit the best spots for street graffiti art in the city while we make our way to the Gold Museum, whose collection of more than 34,000 pieces of pre-Columbian gold show you the wealth of ancient tribes and the famous legend of "El Dorado".
We continue walking the old quarter of La Candelaria and stop for a "tinto" (local name given to black coffee) while our guide gives us a brief outline of the recent history of Colombia. Discover Bolivar Square, and delight in local food at La Bruja Typical Colombian restaurant featuring the best soups in town.
Afternoon finds us visiting the sanctuary of Monserrate and its amazing skyline at 10,000 ft. At the end of the day, chill out at our hotel before preparing for our drinks and dinner night at Andres Carne de Res DC, a very popular restaurant with a trendy and fiesta atmosphere. As today is Saturday, it should be quite fun out on the town :)
Overnight in Bogota.
Meals: Breakfast, Lunch and Dinner
Day 3 - Bogota - Zipaquira Salt Cathedral - Villa de Leyva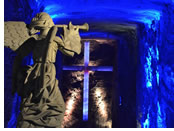 After breakfast we drive north of the city to the town of Zipaquirá, famous for its underground salt cathedral. See where the Stations of the Cross and three naves are eerily illuminated along with other sculptures and cavernous pools, all hewn from the salt mine tunnels under the mountains.
After lunch, we take a four-hour drive to the lovely colonial town of Villa de Leyva, passing lush, green cattle farms and pastoral scenes. We stop briefly at Boyaca Bridge, site of the decisive battle of August 7, 1819, which secured independence from the Spanish monarchy.
En route to dinner we enjoy the spacious Plaza de Armas and its beautifully-lit Cathedral. Dinner arrangements at El Mercado Nacional, which features a variety of Colombian dishes plus traditional bakery, many ingredients for which are sourced locally and vary by season.
Dinner on your own this evening; we highly recommend Mercado Municipal, located right in the heart of town.
Overnight in Villa de Leyva
Meals: Breakfast
Day 4 - Villa de Leyva Area Sightseeing - Barichara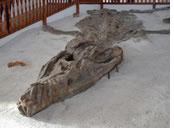 After breakfast we visit "Museo el Fossil," which hosts the second-largest kronosaurus discovery in the world, a prehistoric aquatic lizard from the Mesozoic Era, or "Age of Dinosaurs, about 65-140 million years ago. The kronosaurus at Villa de Leyva is approximately 7 meters long. Discovered in 1977, it was left in situ. We also see a vast amount of ammonite fossils and have a chance to buy some for ourselves. We will visit the Eccehomo Monastery, built by Dominican friars in 1620, and unique for the amount of fossils incorporated into its floor design.
We return to Villa de Leyva for lunch arrangements and a hands-on cooking class of Santander traditional recipes at Verde Olivo culinary school.
Early in the afternoon we transfer to Barichara through pastoral green countryside, cattle farms, and small family homes. We will stay in Barichara, one of Colombia's finest and well-preserved colonial towns, known for its preservation of 18th-century homes and public buildings.
Dinner on your own this evening.
Overnight in Barichara
Meals: Breakfast and Lunch
Day 5 - Barichara: Guane Royal Hike & Barichara Architecture Workshop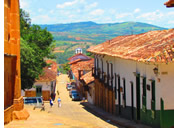 This morning we hike on an 18th-century cobblestone colonial road, starting near our hotel in Barichara and ending at the small village of Guane. This trail is called the "Camino Suamuxi" – from the Chibcha language of the indigenous Muisca culture that lived in this region during pre-Hispanic times. Our 3-hour(downhill) hike on this excellent old road is a birdwatcher's delight.
We start with bosque seco (dry forest), and hopefully see parakeets, tanagers, smooth-billed anis, sparrows, finches, vermilion flycatchers, red-capped cardinals, and mot mots. Overall we descend about 1,000 feet to Guane, a lovely and quaint rural town. After our hike, time to relax at Misia Custodia Hotel, for some time at the swimming pool and local cuisine lunch arrangements at the property.
After lunch we return by road to Barichara where we have the privilege of meeting Santiago Rivero, a local civil engineer who works to rescue, preserve, and promote traditional architectural techniques no longer practiced or in danger of disappearing. With his colleagues at the newly-founded Terrarium Creative Organization, Santiago designs and promotes the architectural cultural patrimony of the region, designing ecologically efficient homes for the well-to-do, using local materials and techniques. We will literally have a hands-on workshop, trying our best to recreate the tapia pisada, bahareque, and mud adobe brick walls.
Dinner on your own this evening; we recommend El Carambolo Restaurant and its Colombian specialties.
Overnight in Barichara.
Meals: Breakfast and Lunch
Day 6 - Barichara - Suarez River Mountainbike, Chicamocha - Bucaramanga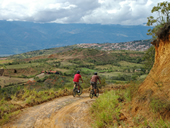 Today we depart Barichara (early start) and drive to a point of about 6,000 feet (2000 meters), our launch point for our exciting downhill biking adventure to the base of the majestic Suarez Canyon. After a pre-cycle briefing and introduction to your bikes and safety equipment (no mountain biking experience is needed), we breeze through the gorgeous landscape of the region; our "soft" bike for approximately 15 km on dirt and paved roads through spectacular canyon scenery dotted with small coffee plantations and homesteads.
We then enjoy a gourmet picnic lunch before continuing to Chicamocha Canyon; enjoy spectacular views of cliff walls and the Rio Chicamocha down below. We stop at the viewpoint and then continue our way by vehicle to the large, modern city of Bucaramanga.
Dinner on your own this evening.
Overnight in Bucaramanga.
Meals: Breakfast and Lunch
Day 7 - Bucaramanga - Armenia: Cafeterao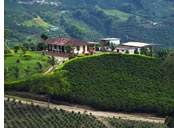 This morning we fly from Bucaramanga to Armenia (via Bogota).
After a midday arrival and a break for lunch (if we didn't have lunch while at Bogota Airport), we head to the heartland of one of the best coffee regions in the world, the Cafetera. One of our local barista experts greets us and takes us to Hacienda La Morelia, where we experience firsthand the steps in coffee production, from growing the plant through the harvesting, roasting and finally, a tasting of this exquisite drink.
Overnight near Armenia.
Meals: Breakfast and Dinner
Day 8 - Cocora Valley & Salento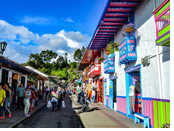 Cocora is a majestic valley home to the wax palm, the national tree of Colombia and the world's tallest variety of palm tree, measuring up to 60m. The topography of Cocora offers easy trekking and walking possibilities for viewing this stately tree, an iconic image of the country.
Today we will visit Salento, situated in the heart of the coffee region of Colombia. This is one of the oldest towns in the department of Quindio, and probably the smallest. Startlingly well-preserved, Salento offers us an opportunity to enjoy a traditional coffee settlement. With it's low slung timber houses, Salento almost has a wild-west feel to it. Set amid gorgeous green mountains, this small town survives on coffee production, trout farming and, increasingly, tourists, who are drawn by its quaint streets, typical paisa architecture and its proximity to the spectacular Valle de Cocora. It was founded in 1850, and is one of the oldest towns in Quindío.
This afternoon we will be sure to make a stop at the famous "Jesus Martn" coffee shop where we can enjoy some superb organic coffee. Located just half a block from Salento's main square, one finds this little gem… with an interior that is something like a Parisian cafe with a distinctly South American flavour.
This afternoon we visit the town of Filandia, with its colourful, beautiful streets. We'll stop at a "mirador" (viewpoint) boasting some of the best landscape views in the region.
Overnight near Armenia.
Meals: Breakfast and Dinner
Day 9 - Armenia - Cartagena

Today we fly to Cartagena (via Bogota, possibly from either Armenia or nearby Pereira).
Located on Colombia's northern coast, and facing the Caribbean Sea, Cartagena de Indias is the undisputed queen of the Caribbean coast. Founded in 1533 by Spaniard Don Pedro de Heredia, and named after the port of Cartagena in Spain's Murcia region, Cartagena de Indias was a major center of early Spanish settlement in the Americas, which had impressive development in the 18th century as the de facto capital of the Viceroyalty of New Granada. Today Cartagena beautifully preserves its colonial character with the assistance of UNESCO as a listed World Heritage Site.
This is undoubtedly one of Latin America's most beautiful cities, lost somewhere in time between the sixteenth and nineteenth centuries, with the Caribbean Sea as a sparkling backdrop. Sir Francis Drake laid siege to the city but the fortress walls and cannons remain, making the area within the old walled city a living museum. This afternoon we will discover Cartagena's rich history and beautiful colonial architecture. You will learn about the culture of Cartagena and its interesting architecture from our knowledgeable local guide, and visit such beautiful sites as Plaza de Bolívar, the Cathedral of Cartagena, San Pedro Claver Square and San Pedro Church.
This afternoon we can stroll through the narrow shaded streets of the old walled city, where flowers cascade from overhanging wooden balconies. The Old City is nearly encircled by walls that stand 4m (12ft) tall and are as thick as 18m (60ft) in some places. Their strength has preserved some fascinating colonial structures, many of which are situated around Plaza de Bolivar, a lovely, leafy plaza that contains an impressive statue of the liberator himself on horseback.
This evening we do not include dinner, but sunset is always a good time to stop at the Café del Mar to chill out and relax with some local cocktails.
Overnight in Cartagena
Meals: Breakfast
Day 10 - Cartagena: San Basilio de Palenque / Free Afternoon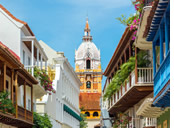 This morning we travel two hours to San Basilio de Palenque, a centuries old village and the first place registered as a free town for the slaves in all of the Americas, over 100 years before slavery was abolished.
With the insight of a local guide, we are able to enter rustic homes, try local foods and drinks, hear traditional music, learn about a UNESCO recognized language and culture, and rub shoulders with some of the friendliest people in the country.
After about a 90-minute visit, we return to Cartagena in time for lunch and the balance of the free to enjoy and explore on your own Cartagena. Your Tour Leader will be able to provide you with suggestions. You may want to visit the local Gold Museum with its amazing and priceless national collections, and interesting rooms that recreate the region's Amerindian ethnic groups. Though small, this museum offers a fascinating collection from the Zenu (also known as Sinu) people, who inhabited the region of the present-day departments of Bolívar, Córdoba, Sucre and northern Antioquia before the Spanish Conquest. Cartagena's historic center is flat and relatively small, making it the perfect city for walking. You'll find a photo opportunity at every corner.
Later this afternoon, colonial carriages will take us for a ride around the city before our final dinner.
Overnight in Cartagena
Meals: Breakfast and Dinner
Day 11 - Departure
Departure from Cartagena.
BUEN VIAJE!
Meals: Breakfast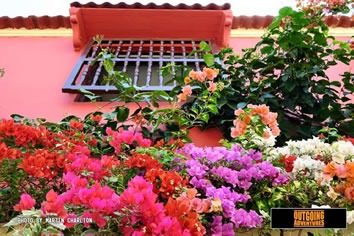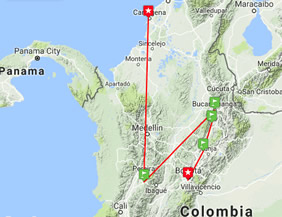 *The red tour trail on the map does not represent the actual travel path.
• Breakfast daily, other meals as per the tour itinerary (hotels and restaurants)
• Cold purified water for your own refillable water bottle
• All accommodation, transport, sightseeing and entrance fees for sites noted as 'visited' in the detailed itinerary
• Gratuities for local guides, drivers, restaurant staff, porters (if available)
• Airport transfers for land & air customers and for early arriving / late departing land & air customers who book their extra hotel nights through us
• Most hotels provide wifi free of charge, though we cannot guarantee it
• Tour Leader gratuity, some lunches and dinners, drinks, personal items (phone, laundry, etc), departure taxes, domestic and international air taxes (if applicable)
• Airport transfers for Land Only customers
• Optional trip cancellation insurance
• Our post-reservation trip notes offer further guidance on optional meal costs, shopping, and locally paid departure taxes and entrance fees (if applicable)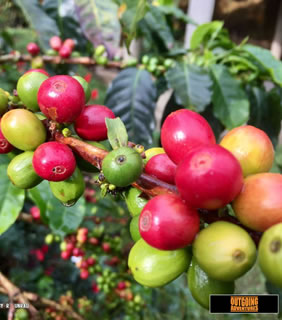 Group Size
10-16 plus Tour Leader
Staff & Support
Local English-speaking Tour Leader, driver/s, and local guides at some locations.
Accommodation
Well-located, heated / air-conditioned, mid-upper range (3-star) hotels with en suite toilet and bath throughout.
Transport & Travel Conditions
Land transport throughout by private air-conditioned motor coach or minibus depending on ultimate group size. Though we will have some full bus days, road travel is not particularly arduous as there are plenty of stops of interest. Most roads are in good condition though winding on some stretches.
Numerous walking tours on uneven surfaces. Most people are not seriously affected by altitude (2400-3300 m / 8,000-9,500 ft).
Flights via scheduled local carrier.
Our difficulty level "2" rating refers to the above-mentioned busy days, walking tours on uneven terrain, lack of handrails (public and elsewhere, ie shower stalls), and fatigue that can be caused by heat and humidity. Both our hike and mountain biking in Santander are downhill - no experience is required, but a bit of conditioning prior to any trip is always a good idea!
Is Colombia safe? Unfortunately people still ask this question, despite the country making huge strides in recent years to reign in illegal drug-related activity. Visitors to Colombia encounter a highly-developed, prosperous society with excellent infrastructure, world-class service, and very low crime rates. And some of the friendliest and welcoming people you'll ever meet!
Weather / Seasonality
Here the weather and climate are truly those of 'perpetual spring,' as understood in temperate latitudes. Nights are cool but never really cold, and at this height frost is unknown. The days feel warm in the sun but are never really hot. Rain and afternoon cloud are frequent. Sunshine averages from three to five hours a day throughout the year. Cartagena, however, is hot and humid-year round. Overall, the best time to visit is between December and April (we avoid the busy and expensive Christmas/ New Year's period).
Out Factor
LGBT rights in Colombia have progressed since consensual homosexual activity was decriminalized in 1980 with amendments to the Criminal Code, making it one of Latin America's most advanced countries in regard to LGBT rights legislation. On 28 April 2016, the Constitutional Court legalized same-sex marriage. Colombia is also a rising star in the gay travel world - with a thriving and excellent gay scene in the capital, Bogota. The government in Colombia is officially gay-friendly, and the Colombian people are open-minded, warm, and welcoming. Colombians are generally accommodating for foreigners and their idiosyncrasies, but it is possible that public displays of affection may cause a small scandal in some areas of the country. Despite the world-famous 'relaxedness' of Colombia, it is still a heavily Catholic country, after all.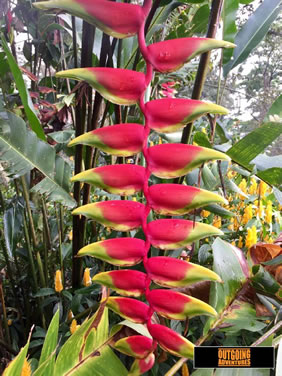 The following is a sampling of our preferred properties in some of the locations visited on this tour and is meant to be indicative only. Hotel properties are not confirmed until 30-60 days before trip date.
NH Boheme Royal Hotel, Bogota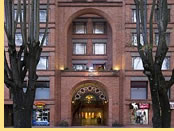 Immerse yourself in the sights, sounds and attractions of Bogotá, Colombia as a distinguished guest of the Bohème Royal Hotel. Perfectly located in the heart of Bogotá's "Zona Rosa" dining and entertainment district, this refined destination represents the best of Bogotá's hotels with an elite level of guest service and unmatched amenities. Encircled by eclectic boutiques and fashionable restaurants, minutes from the Andino, Retiro and Atlantis Plaza shopping centers, our dynamic hotel is equally suited for relaxing executive travel and stylish holidays in the Colombian capital.
Posada de San Antonio Hotel, Villa de Leyva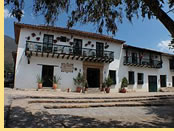 This charming colonial gem is located on a quiet plaza in the heart of this historic town. Featuring free WiFi and a restaurant, Hotel La Posada de San Antonio offers accommodations in Villa de Leyva, just 48.3 km from Paipa. Guests can enjoy the on-site bar. All rooms are fitted with a private bathroom fitted with a shower. You will find room service at the property. You can play pool at this hotel, and bike rental is available. The hotel also provides car rental.
Hicasua Hotel, Barichara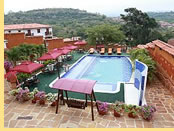 Hicasua Hotel Boutique is a unique and fascinating culture and history surrounded by place, opens its doors to offer comfort and quality services. Hicasua Boutique Hotel and Convention Center seeks to provide a hotel service excellence with a suitable and committed team to make our guests feel at home, enjoying the magic, warmth, care and comfort of our facilities and make your rest, an unforgettable experience.
Club Campestre Resort, Bucaramanga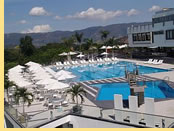 Club Campestre De Bucaramanga offers a golf course, a landscaped garden, 24-hour front desk assistance, and free Wi-Fi access. Guests at Club Campestre De Bucaramanga can enjoy a game of tennis or squash, and relax afterwards with a treatment in the beauty salon. The contemporary rooms at Club Campestre have tasteful wood panels and fully-equipped kitchenettes. All feature LCD and cable TV, luxurious bathrooms and scenic garden views.
Mirador de las Palmas Hotel, Armenia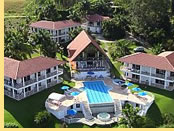 Overlooking Maravelez Valley, this unfussy rural hotel is surrounded by lush tropical vegetation and lies 3 km from the Tulaima centro recreacional y turístico. It's also 14 km from Aeropuerto El Eden. Casual rooms feature flat-screen TVs, minibars, and balconies with hammocks. Room service is offered. Mirador de las Palmas amenities include an airy restaurant with vaulted ceilings and floor-to-ceiling windows, and there's a bar. A sundeck surrounds an outdoor pool and features panoramic valley views. Other amenities include a hot tub, a soccer field, and a spa with a sauna.
Don Pedro de Heredia Hotel, Cartagena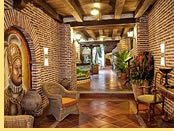 In a colonial-era building in the walled old town, this charming hotel is 6 minutes' walk from both Casa de Gabriel Garcia Marquez and the Museo de Arte Moderno de Cartagena de Indias. Don Pedro de Heredia Hotel rustic rooms provide cable TV, free Wi-Fi, minibars, and tea and coffeemakers. Many have balconies. A breakfast buffet is served in a restaurant that has a terrace. There's also an interior courtyard, a sundeck and an outdoor pool.