Norwegian Getaway
Ship Facts
Gross tonnage: 145,655
Length: 1,068 feet
Max Beam: 146 feet
Draft: 28 feet
Cruising Speed: 21.5 knots
Passenger Capacity: 3963
Crew: 1646
Year Built: 2014
Registry: Bahamas
LGBTQ & Allies Eastern Caribbean Halloween Cruise 2018
7 nights from/to Miami, Florida, US
October 28 – November 4, 2018
NCL Norwegian Getaway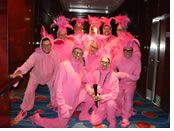 Join other LGBTQ Cruisers and Allies on a 7 day adventure in the beautiful Eastern Caribbean. Enjoy Nightly Private Parties and Themed Events just for our guests, Private events such as Gaymes and other surprises. Expect Halloween Costume Party with prizes, A Door decorating contest with prizes and other rewards.Top notch fun and entertaining DJ to make you dance and frolic in the night... All Out Vacation "Lotion Boys" to help get the party going and to make your cruise something special.
The Owners and Founders will host and escort you on this amazing Halloween journey. We will have Group Dining with our group at the same time, as well as PRIVATE VIP Group Excursions in all ports of call. Oh and did we mention... YOU GET FREE DRINKS !!! UNLIMITED!!! Or you can choose one of the following: FREE Specialty Dining (3 Nights), FREE 250 minute Internet Package, or FREE Pre-Paid Gratuities. Its your choice, just pick one.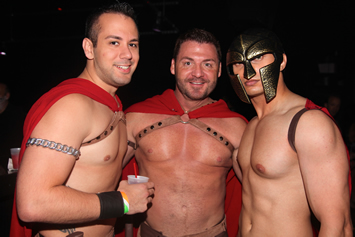 Spend a week on our spectacular ship, Norwegian Getaway, as you sail through the islands of the Eastern Caribbean. Depart from sunny Miami to make your way to the U.S. Virgin Islands for vividly colourful snorkelling in St. Thomas. Sip tropical drinks on a pristine beach to the beat of Caribbean music on the British Virgin Island of Tortola. Or go exploring in a 4x4 vehicle when you arrive in Nassau. Whatever you choose, there's no wrong way to relax and let loose on this holiday.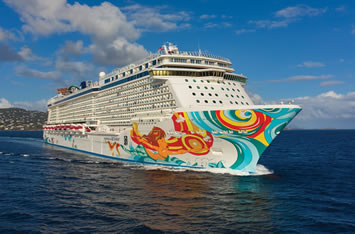 Norwegian Cruise Line's Norwegian Getaway
Norwegian Getaway
combines the most magnificent amenities Norwegian has to offer with unforgettable destinations. Stroll The Waterfront, an innovative, industry-first open-air promenade designed to connect guests with the ocean like no other cruise line. Indulge in more than 28 dining options, experience the thrill of five water slides, and three levels of action-packed activities in the sports complex. The excitement and entertainment continues with Broadway musical Million Dollar Quartet. Get ready to explore the white sand beaches and deep-blue waters on Caribbean cruise. Miami's Ultimate Ship is your ultimate getaway.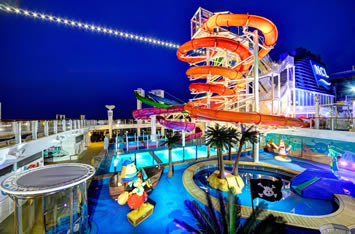 Atmosphere on board
Like on all of NCL's ships the atmosphere is very casual. For example the only dress-code for the main restaurants is "no shorts and no swim-wear". Nevertheless, if you love to wear a festive attire, just feel free to do it - or even attend one of the festive evenings offered in selected restaurants. NCL offers holidays that are perfectly suited for the younger, or young in mind. Though you will find lots of sportive and fun activities and will surely have a chance to party at night you can also find quiet and calm places to relax and unwind.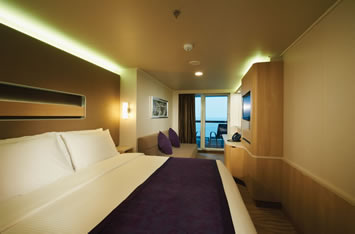 Staterooms
The modern staterooms are not only designed to be energy-efficient, but to make you feel warm and comfortable. All are equipped with flat-screen TV, a large wardrobe, minibar, air conditioning and much more. A very popular cabin category are the "studios". These are staterooms for single travellers. Their 9m² of space are intelligently used. Standard interior cabins have 14m² while exterior cabins provide 15m² of space. Lots of space and comfort are provided by the balcony staterooms with 21m². Travellers have further choices that reach from mini-suites up to the 95m² Deluxe Owner's Suite.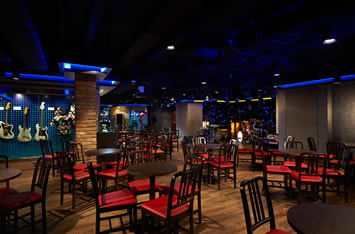 Food and Beverages
The Norwegian Getaway
offers an incredible number of dining options as well as bars and lounges. For some of the specialty restaurants an additional fee is charged; these include the steakhouse, a French restaurant, a brasilian Churrascaria the Ocean Blu by Geoffrey Zakarian and several more. No less than 10 of the dining options are complimentary.
Entertainment, Sports and Relaxation
Watch the fantastic Broadway shows, watch dazzling fireworks on every cruise, party in the night-club "Bliss Ultra Lounge", enjoy music-history in the "Grammy Experience" or have a drink in one the countless bars, cafés and lounges. Kids and teen have plenty of clubs and space for themselves, supervised and tailor-made for their respective age. For them the incredible aqua-park will be a source of endless fun as well.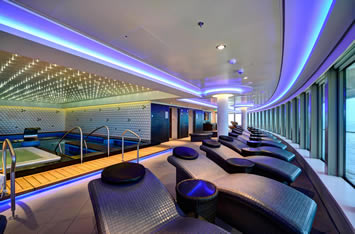 You enjoy sports? Experience the all new sports complex with action packed challenges. If you prefer to relax, indulge in the numerous spa treatments, breath deep in the salt grotto or feel young after a visit to the beauty parlour. Whatever you are looking for - the Getaway will most likely have it.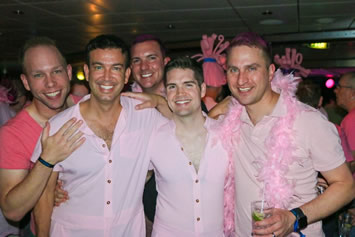 LGBTQ & Allies
Eastern Caribbean Halloween Cruise Itinerary


Date

Port

Arrive

Depart

28 Oct
Miami, Florida
4 PM
29 Oct

A Day at Sea!

30 Oct

A Day at Sea!

31 Oct
St. Thomas, US Virgin Islands
8 AM
6 PM

01 Nov

Tortola, British Virgin Islands
7 AM
3 PM
02 Nov

A Day at Sea!

03 Nov

Nassau, Bahamas
12 PM
7 PM
04 Nov
Miami, Florida
8 AM
Miami, Florida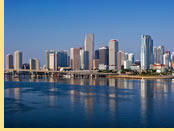 South Florida's exciting, international city is much more than the gateway to Latin America. It's one of the world's most popular vacation destinations. With it's world-renowned beaches, unrivaled nightlife, unique culinary experiences and Latin flavor, this is one place you'll want to check out. Before departing from Miami, enjoy a tour that will highlight this exciting city.
Miami is known for its amazing attractions. While you should definitely schedule a day for beach relaxation, you should also be sure to plan ahead to check out the broader tourism scene. Just imagine, in one day you could catch some early morning sun at the beach, then head down the Everglades and visit a real working alligator farm where 2,000 alligators of all sizes live in natural settings at Everglades Alligator Farm. Not into giant native reptiles? The options are endless.
St. Thomas, US Virgin Islands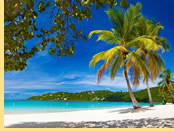 There are bargains on just about everything in St. Thomas. In addition to excellent duty-free shopping, St. Thomas boasts some of the loveliest beaches in the Caribbean: Magens Bay, Sapphire Beach, and Coki Point.
While the beaches and ocean are beautiful, there is one thing that really sets St. Thomas apart - shopping. Browse through the shop-lined streets of Charlotte Amalie and find out why St. Thomas is called the "duty-free shopping capital of the world." Shop for duty-free trinkets and bargains on everything from liquor to imported china and crystal.
Take a ride on Skyline Drive and enjoy a breathtaking view of St. Thomas Harbor. Then travel to Mountain Top, the highest point on St. Thomas, and see spectacular views of Magens Bay, one of the most beautiful beaches in the world. Check out Coral World Marine Park, where you can touch sea stars at the touch pool or explore the mystery of life in a mangrove lagoon off the Coastal Trail. Sit back and enjoy a relaxing half-day sail to Buck Island aboard a large sailing yacht, then snorkel in Turtle Cove.
Tortola, British Virgin Islands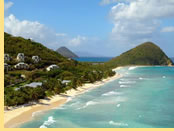 Twenty-one-square-mile Tortola is the largest of the British Virgin Islands, an unspoiled archipelago that lies in the path of welcome trade winds. Try fishing, snorkeling and sailing excursions out of Road Towns serene harbor or horseback riding in the shadow of Mount Sage.
Rent a private boat and forge your way out to Norman Isle, a former pirate den across Drake Channel from Tortola and real life deserted island today. Legend has it that Norman Isle served as Robert Louis Stevenson's inspiration for Treasure Island. You can venture into caves, some of which are excellent snorkeling spots. Or hike to Spy Glass Hill. This is a journey you'll never forget.
Sage Mountain National Park is located over 1700 ft. above sea level, and contains the British Virgin Islands' highest peak. Trails lead through a primeval rainforest overlooking neighboring islets. The wreck of the HMS Rhone is a 310-foot ship that sank in 1867 near Salt Island. Its remains have become a fascinating underwater habitat for marine life and it is known as a premier dive spot in the Caribbean. Get the party started with a visit to Bomba's Shack at Cappoon's Bay. Live entertainment, rum punch and infamous full moon parties.
Nassau, Bahamas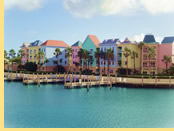 Nassau, has it all: a world-famous straw market, duty-free shopping, local and international restaurants and bars…all just a few steps away from vibrant turquoise waters. Explore the town's history at Fort Charlotte and the Queen's Staircase or hop on a catamaran for a snorkeling trip or sunset sail.
Take a short walk to Junkanoo Beach, a public beach with great views of the cruise ships and local vendors serving daiquiris and piña coladas in freshly cut coconuts. Go on a snorkeling trip to explore the underwater world that surrounds Nassau or go on a shark diving adventure and get up-close with Caribbean reef sharks. Relive the swashbuckling past on an exciting pirates and dungeons tour of Fort Charlotte and the Pirates of Nassau Museum. Marvel at the flora and watch the famous "marching" flamingoes at Ardastra Gardens and Conservation Center.