Norwegian Bliss
Ship Facts
Occupancy: 4004
Tonnage: 167 800
Length: 1082 ft
Beam: 136 ft
Year Built: 2018
Alaska Higlights Labor Day 2018 Gay Group Cruise
7 nights from/to Seattle, Washington
September 01 – 08, 2018
Norwegian Cruise Lines Norwegian Bliss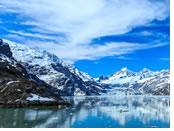 Join Aquafest for annual Alaska gay group cruise sailing on the magnificent Norwegian Bliss, the newest and largest ship sailing to Alaska as we cruise the last Frontier through Alaska's Inside Passage. The weather in Alaska is beautiful during September and there are more whale sightings during this period than any other time of the year. Don't miss an experience you'll cherish for a lifetime!

Stunningly beautiful glaciers ... towering snow-capped mountains ... spectacular wildlife ... lush rainforest ... and mile after mile of pristine coastline. Glacier Bay National Park and Preserve holds such a wealth of natural wonders. You'll find endless opportunities for discovery and adventure here.
Embark from Seattle and get ready for amazing views and wildlife like nowhere else. Witness massive ice chunks calving into the sea, take the reins of a dogsled in Juneau, go for a catamaran ride in Ketchikan, and take a ride on the White Pass and Yukon route narrow-gauge railroad in Skagway.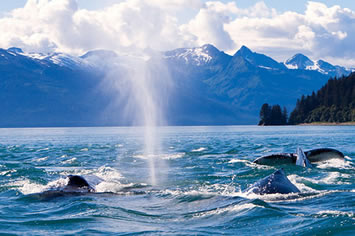 Filled with icy fjords that tower over the Pacific Ocean whilst snowy peaks stretch towards the horizon, Alaska feels boundless. Yet incredibly intimate as you watch eagles nesting along coastal forests. Norwegian lets you explore all sides of Alaska the way locals see it, up close and personal on an Alaskan cruise. Experience the thrill of a 30 ton whale gliding under your catamaran. Explore more of the Last Frontier on any of our Alaska cruises with Norwegian.
Explore the wilderness on the youngest and most modern fleet in Alaska. Venture into the wilderness on a dogsled ride in Juneau, witness Misty Fjords aboard a jet-powered catamaran in Ketchikan, or take it all in via the rails on the Skagway White Pass Scenic Railway.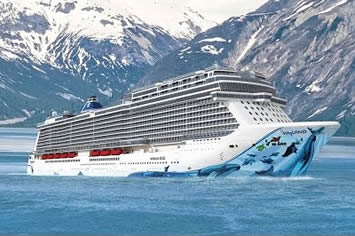 Your Ship - Brand New Norwegian Bliss
Imagine awe over discovering fantastic vistas in The Last Frontier. Imagine exhilaration whilst exploring the wilds of Alaska. Imagine relaxation upon finding your slice of paradise in The Caribbean. Imagine Bliss. That's what you'll experience when you holiday on our newest and most incredible ship, Norwegian Bliss, coming to Alaska and The Caribbean in 2018. Custom-built for the spectacular, Norwegian Bliss features a revolutionary Observation Lounge for you to soak in every stunning moment, from bald eagles soaring over glaciers to dolphins splashing through warm turquoise waters. Come aboard and experience the best dining, entertainment and amenities at sea against a backdrop of unrivaled natural beauty. Whether you choose to go tropical or a little wild, there's one word to describe the experiences awaiting you on Norwegian's newest ship: Bliss.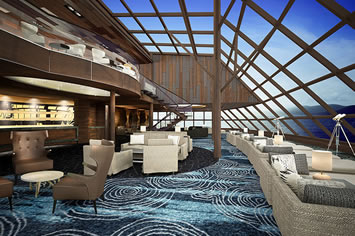 The Haven Observation Lounge
Built for the spectacular vistas of Alaska and The Caribbean, Norwegian Bliss will offer guests staying in The Haven exclusive access to a 2-story observation lounge with expansive, panoramic ocean views.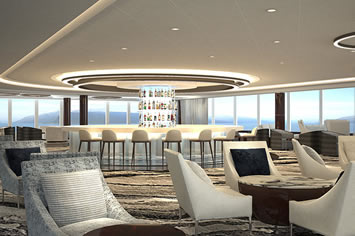 The Observation Lounge
Imagine sheer amazement from our revolutionary observation lounge offering the most expansive views at sea. The Observation Lounge is located at the front of the ship and provides the same stunning views as the views from the bridge and features a full service bar for guests to sit back, relax and take in the views.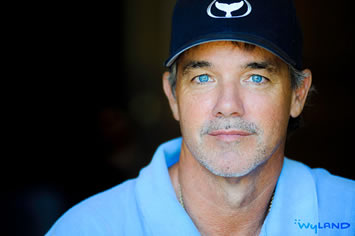 Hull Artwork designed by Wyland
The world's leading marine life artist, Wyland, has been commissioned to design the hull artwork for Norwegian Bliss. Known for his iconic whale murals, marine life paintings and sculptures, Wyland has inspired generations to be passionate about the importance of marine life conservation. The enormous extent of Wyland's public artworks, his award-winning art galleries and his non-profit foundation's community service projects have made him one of the world's most recognised and beloved artists.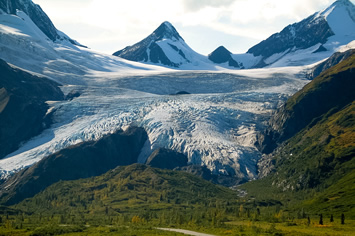 Alaska Highlights Labor Day Cruise Itinerary


Date

Port

Arrive

Depart

01 Sept
Seattle, Washington
5 PM
02 Sept

Day at Sea

03 Sept
Ketchikan, Alaska
7 AM
3 PM
04 Sept
Juneau, Alaska
7 AM
1:30 PM

04 Sept

Cruise past Sawyer Glacier
05 Sept
Skagway, Alaska
7 AM
5:30 PM
06 Sept

Day at Sea

07 Sept

Victoria, British Columbia
4 PM
10 PM
08 Sept
Seattle, Washington
8 AM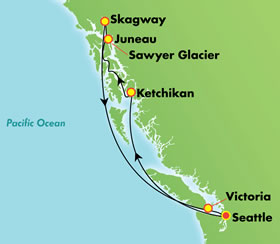 Seattle, Washington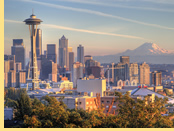 Seattle is often characterized by its laid-back attitude and rainy climate, but this thriving metropolis also offers one-of-a-kind architecture, the Olympic and Cascade mountain ranges, and a unique urban sophistication.
• Woodland Park Zoo is a conservation and education institution demonstrating the value, beauty and interdependence of all living things.
• See, touch and explore our amazing underwater world at the Seattle Aquarium. Get face-to-fin with marine life and discover the natural wonders of the Puget Sound.
• The Space Needle is located at Seattle Center. That's an apt description of where we are: the center of Seattle.
• The Washington Park Arboretum is a spectacular urban green space on the shores of Lake Washington.
• Check out the Experience Music Project, a rock-n-roll museum known not only for its contents, but for its architectural design.
• Stroll through the historic district of Pioneer Square, filled with art galleries, restaurants, and plenty of bookstores and boutiques.
• Gain some historical insight at the Klondike Gold Rush National Historical Park.
Ketchikan, Alaska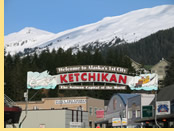 Ketchikan originated as an Indian fish saltery, but the town's major growth began when it became a supply base and entry port for miners during the 1898 Gold Rush to the Klondike. Much of the town's colorful past is still in evidence, especially in the nearby Indian villages, where you'll see colorfully carved totem poles and hear the fascinating legends that surround them.
While fishing is by far the most popular sport in Ketchikan, there are a lot of other activities for people to take part in. In fact, one of the best ways to see the area and enjoy the scenery is simply to take a walk through town and to the Totem Heritage Center. There, you can explore the history of totem poles and see some terrific examples.
• Experience the sheer granite cliffs, plunging 1,000-foot waterfalls, crystalline lakes and low-hanging mists of Misty Fjords from the air on a seaplane.
• Fill your senses with excitement and adventure as you take the wheel of a four-wheel-drive vehicle and wend your way through a lush rain forest.
Juneau, Alaska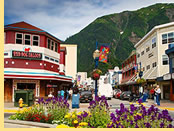 Juneau, the capital of Alaska, was founded during a gold rush in 1880. Today, the former gold-mining town counts among its riches some of Alaska's most spectacular scenery. Nestled at the foot of Mt. Juneau in the Alaska Panhandle, it faces the water from the mainland side of Gastineau Channel. Several magnificent fjords are located along the channel coast, and the majestic Mendenhall Glacier, a favorite of visitors, is nearby.
When you're in Juneau, you shouldn't miss the amazing glacial landscape. The best view available is from the seat of a helicopter on one of our shore excursions, where you can watch for bear, mountain goats, and moose. Then, once you've landed, we'll take you on a once-in-a-lifetime dogsled ride.
• Relive Juneau's gold-rush history and pan for gold in the authentic setting of Gold Creek.
• Fly in a floatplane over five breathtaking glaciers to the Taku Glacier Lodge for a king salmon feast. And don't be surprised if a black bear wanders into the yard.
• Take a fully narrated helicopter flight over four translucent glaciers within the Juneau Ice Field. You'll soar past towering peaks and picturesque alpine lakes on this exciting adventure.
• Explore Juneau on foot. With more trails than roads, Alaska's capital features world-class hiking - through glacial waterfalls and the largest temperate rain forest in the state.
Skagway, Alaska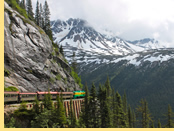 When gold was discovered in the Klondike region of the Yukon Territory (just across the border from Alaska), it resulted in the historic Gold Rush of 1898. As thousands of gold-crazed adventurers sought the best starting point for their arduous trek, they found the deepest penetration possible by boat was at the northern tip of the Lynn Canal. This is how Skagway was born.
A century ago, Skagway was a thriving community of 10,000 gold stampeders heading up the Chilkoot Trail to the Klondike. Now, nature has reclaimed the land. Enjoy a guided tour that takes you on a 1 1/2 hour ride on flat, dirt roads around the historic site of Skagway. You'll ride through the rain forest, visit historic ruins and the Chilkoot trail-head. Then you'll head out on the coastal tidal flats, where you'll view eagles, spectacular wildflowers and gorgeous mountain scenery. Enjoy the exercise and fresh Alaskan air.
• Ride the world-famous White Pass and Yukon Railroad and then visit a historic gold-rush camp, where you can browse through cabins and tents that were once used as a bakery and a saloon.
• Take a helicopter ride away from civilization to the Chilkat Glacier system, where frozen rivers of ice surge between high mountain peaks.
Victoria, British Columbia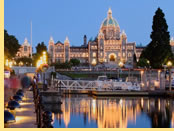 British, and darn proud of it. The shops are stocked with Harris tweeds, Irish linens and Scottish woollens. The locals play croquet, double-decker buses wend their way through the well-kept streets, and afternoon tea is served daily at the Empress Hotel.
In fact, genteel Victoria, British Columbia so closely resembles an English seaside town that it almost seems out of place among the majestic snow manteled mountains and cedar forests that surround it. This juxtaposition, of course, only adds to its charm.
Guests: 4.004 • Gross Tonnage: 167.800 • Length: 1082 ft • Beam: 136 ft • Year Built: 2018

Alaska Higlights Labor Day 2018 Gay Group Cruise Rates

MC - Mid-Ship Mini-Suite with Balcony
Decks 9, 10, 11, 12, 13, 14, 15. Located mid-ship with easy access to everything, these Mini-Suites feature two lower beds that convert to a queen-size bed, sofa bed, some feature additional bedding for 1, and a private balcony. Total Approx. Size: 249 sq. ft. Balcony Size: 42 sq. ft.
$ 2,249

$ 4,398

BC - Mid-Ship Balcony Stateroom
Decks 8, 9, 10, 11, 12, 13, 14, 15. Enjoy easy access to all the outdoor fun on the top decks. Your stateroom includes two lower beds that convert to a queen-size bed and some feature additional bedding for up to 2 guests. Total Approx. Size: 207 sq. ft. Balcony Size: 32 sq. ft.
$ 2,089

$ 4,078

ID - Inside Stateroom
Decks 5, 8, 9, 10, 11, 12, 13, 14. These staterooms include two lower beds that convert to a queen-size bed. Total Approx. Size: 135 sq. ft.
$ 1,199

$ 2,298

Please ask about other cabin categories not listed.

All rates are cruise only in $USD and per person, based on double occupancy subject to availability at time of booking.

Port charges, taxes and fees: are $236.49 per person additional based on double occupancy. Single taxes are higher.

A non-refundable $30 Booking Processing Fee will be charged at the time of your deposit

Minimun Deposit $400 per person due at the time of booking ($700 for Singles).

Final Payment: Due on June 1, 2018

Special Booking Incentive - Book Now and Receive:
• Ultimate Beverage package for 2 (a $1305 value)
• Prepaid Service Charges for 2 (Gratuities- a $189 value)
• Penthouse Suite guests & Above will receive NCL's full current package

All advertised events are exclusive to guests who book through us only. Aquafest Cruises are group events and not chartered vessels.

Non-discountable fees and taxes, airfare, air taxes and transfers are additional.

Events based on a minimum of 50 group passengers.

Pricing and other information may change without notice

All cancellations are subject to a $50 per booking cancellation fee from Aquafest in addition to any vendor cancellation penalties.

Trip Cancellation Insurance is strongly recommended for all reservations.

More information will be provided to you at the time of booking confirmation. Please contact us for a more detailed description of restrictions, cancellations, and penalties.





Pre/Post-Cruise Hotels







Special Airfares