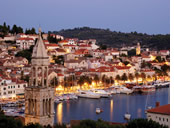 The second week of this 2-week Croatia Gay Nude Sailing cruise starts in Dubronvnik and ends in Split (Trogir). Each week we sail a different itinerary and explore the beautiful Adriatic sea anew. On this leg of the trip, we go to Brac (pronounced BRATCH), the largest island on the Dalmatian coast. We sail with two similair luxury brand new Dufour 520 sailing yachts, so all together 20 (nude) gay guys!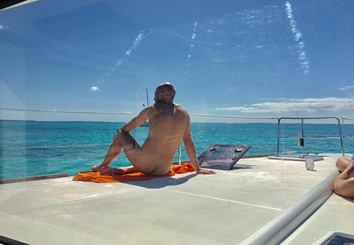 Day 1 - Dubrovnik
Free day in Dubrovnik, Hop on and hop off for guests that choose the one week cruise. Boarding for the new guests starts at 5 PM.
Day 2 - Miljet
The next morning we leave for the island of Miljet, this time we call on Sobra the main port of the island. On our way we have plenty of bays to choose from and pick one for a lunch stop and a swim.
Day 3 - Korcula
Today we sail along the impressive coast line of Peljesac towards the narrow Peljesac channel. Our destination is Korcula, one of the best preserved medieval towns of the Mediterranean and the birthplace of Marco Polo. The ancient heart of the city lies on a peninsula.
Day 4 - Scedro
On our way back towards Hvar there is a small island, Scedro. The deep natural bay of this green island has no inhabitants only a restaurant. In the morning you can take a refreshing dive into the bay and then enjoy a good breakfast.
Day 5 - Hvar
After a leisurely sail we arrive in front of the old harbor of Hvar. Here lies Sv Klement which has many secluded bays. In one of them we drop anchor. From here the local ferry takes you across to the popular town Hvar.
Day 6 - Brac
The big ferry's and other boats reveal that we are getting closer to Split. The island of Brac is our last stop before we dock. This is one of the biggest islands. It has a very deep cove with the town Milna. This charming village is where we spend the night.
Day 7 - Split (Trogir)
On our way back to Split (Trogir) we have a final dive in the warm water in one of the bays.
Day 8 - Split (Trogir)
Time to say goodbye to the Skipper and your new friends.
This itinerary is subject to change. Local circumstances such as weather may influence the itinerary.