To celebrate five years of gay cruising in Croatia, this trip brings us to fresh new Northern Croatia ports that may be new to you, but are hugely popular with Europeans. This Croatia Adriatic all-gay cruise includes additional meals, premium excursions like winery tours and cheese tastings, and even dinner at one of Croatia's finest and most famous restaurants. Join up to 40 fellows along with their friends and family on this epic Adriatic OUT Adventure.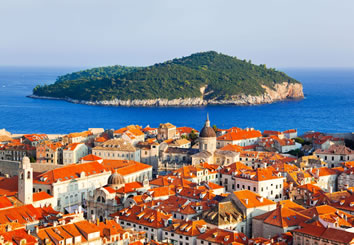 • Tour kicks off in the famous walled city of Dubrovnik
• Daily dips in the crystal blue waters of the Adriatic
• Lounge on the upper deck of our Private Yacht
• Delicious winery tours and cheese tastings
• Dinner at Konobo Nada, one of Croatia's finest, most famous restaurants
• A visit to Narona, Croatia's first 'in-situ' museum
• Party your face off on the island of Pag
• Savour the harmonic sounds of Zadar's Sea Organ
Croatia Northern Adriatic Gay Cruise 2017 Itinerary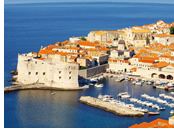 Day 1 - Saturday, August 12, 2017
Dubrovnik / Trstenik
Bok! Welcome to Croatia. Our tour kicks off this morning with a group meeting at 10:30AM in our centrally located 4-star Dubrovnik hotel.
After we chat about the trip we'll transfer to our sexy private yacht – and home for the next week – the MV Futura.
After lunch and a safety briefing, we'll arrive at Trstenik, our first port of call. Even if you've joined us in Trstenik on a previous OUT Adventure, we've mixed things up with a new winery stop that includes a tour of the grounds and cellar, followed by a luscious 3-course dinner paired with five pristine Croatian wines.
Tonight we overnight in this quaint and charming town.
If you've never been to Dubrovnik, a pre-tour package is available, including a guided tour, to help you maximize your time in this glorious walled city.
Starting Point - Hotel Lapad, Dubrovnik. Nestled on the Gruz harbour-front with easy access to the islands and Dubrovnik Old Town via local bus, the admired Hotel Lapad is the ideal choice for those looking to experience Croatian culture from a lovely, superior base. Occupying one of the oldest building in Dubrovnik, this beautiful stone property shines with character and it's modern and sophisticated interiors provide ultimate comfort.
If you are checking in to the hotel under your OUT Adventures reservation, a complimentary arrival transfer will be included.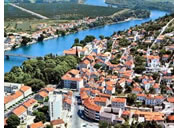 Day 2 - Sunday, August 13, 2017
Trstenik / Metkovic
Our first full day aboard begins with breakfast and a swim stop.
We'll then venture inland via the Neretva River to the quintessential Croatian city of Metkovic (a mere 17km from the Bosnia and Herzegovina border). Here, Croatia's first 'in situ' museum – the Narona – awaits, built around the Augusteum Roman temple and its 17 marble statues. The museum has won awards for its design and construction and is a marvellous modern juxtaposition to the ancient ruins within.
Tonight it's the Captain's Dinner, allowing us a chance to get to know our crew.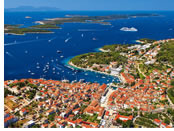 Day 3 - Monday, August 14, 2017
Metkovic / Stari Grad, Hvar
This morning we depart for Stari Grad on the island of Hvar with a swim stop and lunch en route.
At 2,400 years, this is one of Europe's oldest cities, and since we'll be overnighting here you'll have a chance to explore the less touristy side of the island.
Tonight's dinner is optional, and will be organized by your OUT Adventures concierge.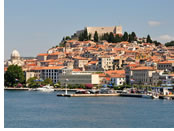 Day 4 - Tuesday, August 15, 2017
Stari Grad, Hvar / Šibenik
This morning brings with it a bit of bliss as we make our way to the small coastal city of Šibenik, considered the cultural capital of middle Dalmatia.
Read a book, catch some rays, or chat with fellow travellers over a cocktail.
We have a guided walking tour this afternoon, and tonight's dinner is optional.
Feel free to explore the town – if you're in luck you may catch a concert at the St Michael fortress, which is wondrously reminiscent of Dubrovnik's city wall forts.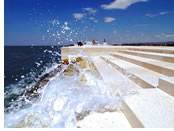 Day 5 - Wednesday, August 16, 2017
Šibenik / Zadar
Our day begins with the comforting routine of breakfast, a swim stop, and lunch.
This afternoon brings us to Zadar, a city known for its Roman and Venetian ruins in the old town. Although not exceedingly touristy, Zadar is home to a couple of Croatia's most unique attractions: the Sea Organ and Sun Salutation, which both utilize the power of nature to create harmonious sounds and sights.
We'll enjoy a walking tour, along with a Maraschino (liqueur) tasting, followed by another free evening to explore and an optional dinner.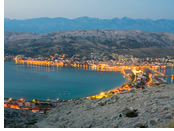 Day 6 - Thursday, August 17, 2017
Zadar / Mandre / Pag
Today we'll see many sides of Croatia as we make our way to the island of Pag. This once-sleepy island is known for it's unique tasting meat, milk and cheese, given the herbs and salty grasses the tough local sheep consume. And while its pastoral past still shines, the island is also becoming one of Europe's premiere party destinations.
We'll taste Pag's famous cheese in the central town of Kolan, enjoy a guided tour of the island's namesake town, then enjoy dinner at a small hotel and winery made famous by Anthony Bourdain.
If you're feeling peppy, we can then drop you off in the party town of Novalja, or you can head back to the ship for slumber.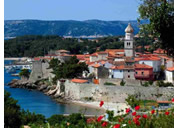 Day 7 - Friday, August 18, 2017
Mandre / Krk
It's our last full day of cruising, and we're headed towards Croatia's largest island, Krk.
There will be free time to explore, then we'll transfer to Vrbnik, a town with spectacular views perched above the Adriatic on a limestone outcropping.
We'll sip our way through one last winery (as one does), then savour an included dinner at one of Croatia's most famous restaurants, Konobo Nada.
Back in Krk, you may then check out the local nightlife or relish your last night aboard the MV Futura.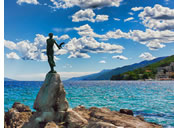 Day 8 - Saturday, August 19, 2017
Krk / Opatija
After bidding farewell to our yacht and crew, we'll transfer to our 4-star Opatija hotel - Remisens Hotel Admiral, followed by a guided tour of the city.
Savour some free time by the pool this afternoon, then freshen up for our included Farewell Dinner.
From here you have the option to join us at a small "queer" party in nearby Rijeka, where we raise a glass to the epic week that's just past.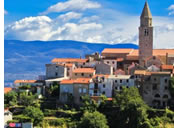 Day 9 - Sunday, August 20, 2017
Opatija / Departure
All good things must come to an end. There are no activities planned, so you can depart any time before 11AM.
Not ready to head home? Join our inaugural Slovenia tour, which can be booked as a 5-or 7-day adventure of this neighbouring country and emerging tourist destination.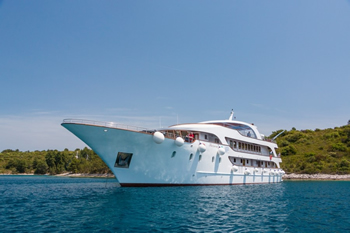 Your Ship - M/V Futura
The M/V Futura is a 47m (156 ft) long, 9m (30 ft) wide luxury vessel, with a cruising speed of nine nautical miles. Built in 2013 with latest state-of-the-art equipment and amenities Futura offers maximum capacity of 38 passengers in 19 twin or double cabins, guaranteeing an intimate setting for all guests.
Cabins built by up-to-date standards, fully equipped with A/C, safe deposit box, fire alarm and audio system for announcements by the captain or Tour Director. In addition each cabin has life jackets, desk and tabouret, wardrobe, night stand, small sofa and a porthole window. Bathrooms are equipped with toilet, shower, wash basin and hair dryer. Some cabins have indoor passage access to the bar and restaurant area.