Antarctica Lesbian Adventure Cruise 2017
November 30 – December 10, 2017
Noble Caledonia's ms Island Sky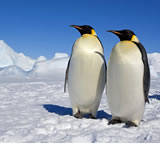 Once experienced, Antarctica lights the imagination and touches the spirit of travelers in a way quite unlike anywhere else. Mere words cannot do justice to the awe-inspiring spectacle of this southernmost continent that even the most dramatic of photographs pale into insignificance when one is confronted by the sheer magnitude, beauty and wonder of the landscape. Your first sighting of an Antarctic glacier will leave you breathless, and will continue to as you encounter more ethereal icescapes, along with penguins, seals, and other abundant wildlife. Join the women of Olivia on this truly once-in-a-lifetime experience and make memories you will never forget.
Amidst the solitude of Antarctica, adventurous travellers can discover an ethereal landscape that lingers in the memory. Very few have ventured onto this appealingly inaccessible continent, but those who have rave about the privilege of gazing upon towering mountains, bulky glaciers and luminous, dreamlike icebergs. Perhaps more than anywhere else, Antarctica reminds those who visit it of the awesome (and savage) power of nature.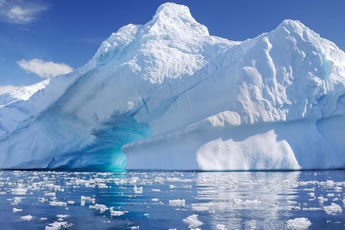 Antarctica is welcoming more tourist-orientated cruises and ferries to the region every year, and facilities are continually developing, with more accommodation, culinary and travel options available. There is now ample opportunity to ascend Mount Erebus, the southernmost active volcano on Earth; to fly via helicopter or venture by boat to penguin colonies; and to really make the most of a terrain that teems with wildlife, with a multitude of birds, seals, albatrosses and enormous whales.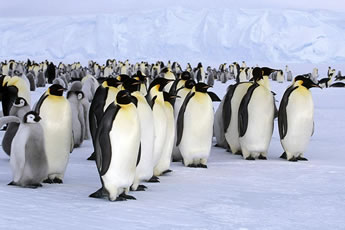 Some argue that Antarctica is changing, and by man-made causes rather than natural ones. Many regard the increasing focus on tourism as disconcerting and wish to preserve Antarctica in its elemental state to avoid any potential environmental damage. Antarctica is still a magical experience that most, given the chance, would find hard to resist. Those who do visit should be aware of their impact upon the landscape and do their utmost to limit the effect of their stay.
Perhaps the reason behind the fascination with Antarctica is its function as a symbol of endurance and survival. Before Antarctica was first spotted (in 1819), the continent was the subject of constant speculation, spoken of in almost mythical terms as Terra Australia Incognita (The Unknown Southern Land). Humans first occupied the continent in 1899, but Antarctica seemed inhospitable and incomprehensible and, in many ways, it still is.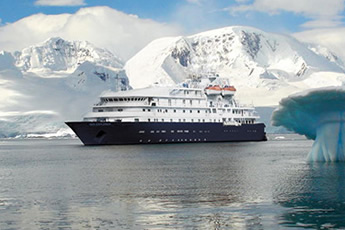 Your Ship - Noble Caledonia's ms Island Sky
On board ms Island Sky, there are 57 exceptionally spacious and well-designed suites. All feature a sitting room area and some have private balconies. The feeling of luxury is enhanced by the wood paneling and brass, which predominates throughout the vessel conveying the atmosphere of a private yacht.
The passenger accommodation is arranged over five decks and all suites have outside views, with suites on the Erikson and Explorer decks featuring private balconies. Each affords considerable comfort with an en-suite bathroom featuring marble-topped vanity units with sink and walk-in shower, large wardrobes, dressing tables with large mirror and stool and excellent storage. There is a mini-fridge, flat-screen television with built-in DVD/CD player, and a telephone in each suite. Bottled water, dressing gowns and slippers are also provided for your comfort. Other facilities include a programmable electronic safe, hairdryer, assorted Molton Brown toiletries and individually controlled air-conditioning and heating. The suites on each deck have their own color theme. Soft hues and blended tones enhance the traditional maritime style making the passenger accommodation an inviting and relaxing place to be.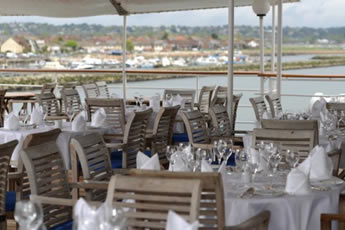 The spacious and finely decorated public rooms include a large lounge on the Columbus Deck featuring a selection of seating options from individual armchairs and sofas to side cushioned benches. Daily briefings given by the Cruise Director and talks from Guest Speakers and expedition staff take place in The Lounge which is fitted with the highest standard of presentation equipment including multiple screens. For your convenience, it is also possible to follow the onboard lectures from the comfort of your suite.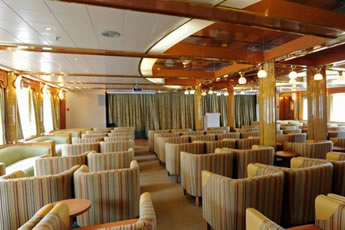 In addition to the main Lounge on the Columbus Deck, there is also The Club, located on the Marco Polo Deck which features the main bar where the onboard pianist plays periodically throughout the day. The Club also features a 24-hour tea and coffee station. Towards the aft of the ship on the Marco Polo Deck is The Library. Well stocked with reference books pertaining to the destinations the vessel is visiting and a selection of essential reads, you will not find yourself short of excellent literature on board. A selection of games and two computers complete with internet access can also be found in The Library. Daily newspapers and magazines are also placed in the library depending on local availability.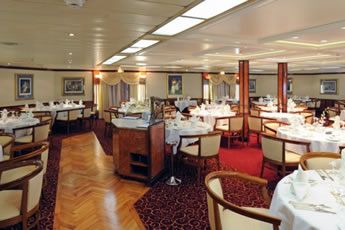 The main dining room which can seat all guests at one sitting is located on the Magellan Deck and outside there is a rear Lido Deck located on the Erikson Deck, complete with deck tables and chairs where meals are served in warm weather under shade. Further to this on the top Explorer Deck the observation area complete with sun loungers is ideal for sun bathing, relaxing with a book or catching up with fellow travellers. There is also a small hairdressers on board with appointments made on request. For your comfort, there is also a clinic with Doctor and a lift which serves all decks.
As is the joy of small ship cruising, we hope to offer the opportunity to visit the Captain and Officers on the Bridge to check the progress of the vessel (subject to weather or security conditions).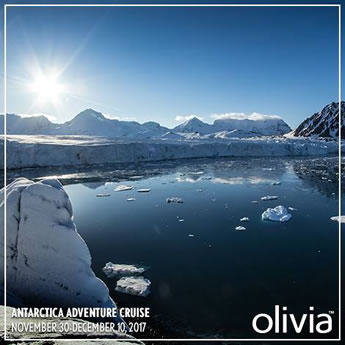 Antarctica Lesbian Adventure Cruise Itinerary


Date

Port

Meals

30 Nov

Ushuaia, Argentina
01 Dec
Ushuaia / Beagle Channel

B, D

02 Dec

Drake Passage
B, L, D

03 Dec

Drake Passage
B, L, D
04 Dec
Antarctica
B, L, D

05 Dec

Antarctica
B, L, D

06 Dec

Antarctica
B, L, D
07 Dec
Antarctica
B, L, D

08 Dec

Antarctica
B, L, D
09 Dec
Drake Passage
B, L, D

10 Dec

Ushuaia, Argentina
B

Flights into Ushuaia can arrive any time on November 30, 2017 and hotel check-in begins at 3:00pm.


You can leave any time afternoon on December 10, 2017.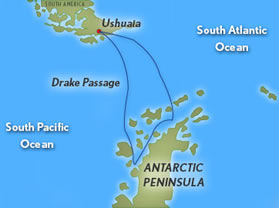 Ushuaia, Argentina
Thursday, November 30, 2017

Arrive at leisure. Hotel check-in begins at 3 pm. Welcome to the southernmost town in the world! You will enjoy a complimentary transfer from the Ushuaia Airport to your hotel. Enjoy the amenities of the hotel, or take a shuttle into town for shopping and restaurant options. Highlights of Ushuaia include downtown shopping and chocolate shops, an award-winning museum and the nearby Tierra del Fuego National Park and its popular "Train at the End of the World".
Ushuaia / Embarkation / Beagle Channel
Friday, December 1, 2017

Arriving at the ship in the afternoon, you will be greeted by our Olivia staff, expedition team and ship's officers at a safety and orientation briefing followed by the Olivia and Captain's welcome dinner. After dinner, relax and take in the mountainous scenery on our early evening sail down the Beagle Channel past Magellanic Penguin, Rock Cormorant, and sea lion colonies.
Drake Passage
Saturday - Sunday, December 2 - 3, 2017

Among the wildlife spotting opportunities as we sail south are the albatrosses, prions, and petrels that frequently follow the ship. Our expedition team will be out on deck as well, looking for the whales and dolphins that may also be seen in the area. Our experts will hold informative and entertaining presentations on the wildlife, history, and geology of Antarctica. Helpful briefings on environmental regulations and expedition safety will also be held in the comfortable lounge. The length of our journey depends on sea conditions but we should approach the South Shetland Islands of the Antarctic Peninsula in the evening of Day 4.
Antarctica
Monday - Friday, December 4 - 8, 2017

The land of superlatives, Antarctica! Our expedition leader and captain will create a flexible itinerary based on weather, ice, and opportunity. The route will stress the most scenic bays and channels of the Peninsula with stops at penguin rookeries, seal wallows, bird colonies and whale feeding areas as well as sites of historic and scientific interest. The trip may include picturesque Neko Harbor, sheltered Paradise Harbor, the humpback Whale favored Wilhelmina Bay, the striking Lemaire Channel, the wildlife-filled Penola Channel, or the majestic Neumayer Channel. We may stop at an active scientific base such as Poland's Arctowksi or Ukraine's Vernadskiy as well as a historic base such as U.K.'s Port Lockroy or Wordie House. Adelie, chinstrap and gentoo penguins abound, and weddell, crabeater and elephant seals are often found hauled out to rest along with predatory leopard seals and the aggressive Antarctic fur seal. Minke and humpback whales are frequent visitors and orca sightings are also common.
Drake Passage
Saturday, December 9, 2017

We will continue our presentation series and wildlife spotting as we sail back to Ushuaia and reflect on beautiful Antarctica and its fragile future. We arrive at Ushuaia in the early hours of Day 12.
Ushuaia, Argentina / Disembarkation
Sunday, December 10, 2017
Morning disembarkation lets you catch a flight to Buenos Aires or stay in Ushuaia for more sights and adventure.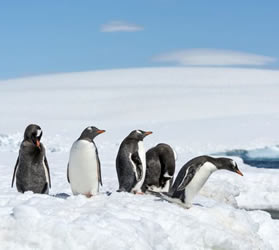 What's Included?
• Accommodations at hotel for 1 night in Ushuaia
• Accommodations for 10 nights on board ship
• All meals as indicated on the itinerary (while on board the ship, with breakfast at hotel on embarkation day)
• Excursions (Additional cost for camping and kayaking)
• Transfer from the airport to hotel, and hotel to ship on November 28 and ship to airport upon departure on December 8
• Services of Olivia cruise director, expeditions' leader, naturalist staff, photography instructor, expert guides and the ship's doctor
• USB keepsake of the voyage
• Complimentary beer and wine during dinner
• Complimentary Arctic Helly Hansen Expedition SALT jacket
• Stainless steel water bottle
• Loaned pair of sturdy muck boots for entire voyage
• Gratuities to ship's crew and staff
• Olivia cruise director and program manager
• Olivia assistance throughout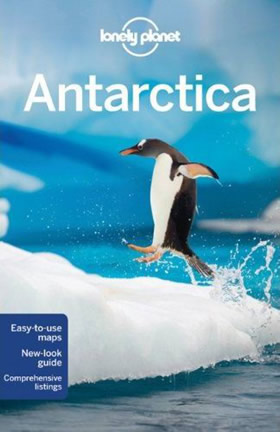 2017 Antarctica Lesbian Adventure Cruise Rates



OBS - Owners Balcony Suite

Explorer Deck. 322 sq. ft., French windows onto balcony, separate bedroom and sitting room. TV, safe, fridge, no-host mini bar. All twin beds convert.

DBS - Deluxe Balcony Suite

Erikson Deck. 268 sq. ft.. French windows onto balcony, separate bedroom and sitting room. TV, safe, fridge, no-host mini bar. All twin beds convert.

CS - Corner Suite

Marco Polo Deck. 242 sq. ft., forward & side windows, (do not open) sitting area. TV, safe, fridge, no-host mini bar. All twin beds convert.

PS - Premium Suite

Marco Polo Deck. 225 sq. ft., windows, (do not open), sitting area. TV, safe, fridge, no-host mini bar. All twin beds convert.

SS - Superior Suite

Columbus Deck. 220 sq. ft., windows, (do not open), sitting area. TV, safe, fridge, no-host mini bar. All twin beds convert.

STS - Standard Suite

Magellan Deck. 230 sq. ft., portholes, sitting area. TV, safe, fridge, no-host mini bar. All twin beds convert.
Pre/Post Cruise Packages

On Request

Special Airfares




Rates:

Prices are per person based on double occupancy. Pricing does not include airfare, insurance, fuel surcharge or NDA of $499 (subject to change).

Early bird prices valid until August 25, 2017.

Availability updated weekly and is provided for informational purposes only. The accuracy is not guaranteed. Olivia & HappyGay Travel will not be held responsible for any errors, omissions or inaccuracies. It is advised for guests to check information provided on this site with an HappyGay Travel Travel Consultant.



For more information

please read Olivia Terms & limit of responsibility