Out & About Article by Bruce Steele
This is a great article to find out what an all gay cruise is about. RSVP & Atlantis cruises are similar all gay cruises
On the Splendor of the Seas cruise ship somewhere between Naples , Italy , and Palma de Mallorca Spain , ABBA is entertaining a few hundred gay men gathered around the pool. Well, not exactly ABBA. It's the cruise director for Atlantis Events, the gay vacations company, and another male staffer both in bad wigs and polyester skirts, lip-synching at the railing above the pool deck and imitating the choreography from the 1970s " Waterloo " video. Bad drag or not, the gay men are loving it. It's the high light of the "Disco Dance" - one of nearly a dozen parties thrown during Atlantis's weeklong Mediterranean cruise -- and for a moment, all on board are united in a Mamma Mia! moment.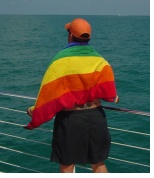 A clear majority of the gay men dancing by the and cheering faux ABBA members don't look like the perfect-ab guys in Atlantis's glossy ads - and this is a good thing. For the mostly over-30 passengers of varying ages, shapes and sizes, it's something of a relief that everyone else isn't model-level intimidating. Oh, the pretty boys are present, certainly. They're on the raised ledge around the pool, where they can be admired, and renowned New York photographer David Morgan is among them, snapping away, grabbing photos for the next Atlantis brochure. But Morgan and Atlantis have a queer eye for the perfect guy, while the typical gay cruiser is more likely to have a few humanizing flaws.
The number of what might be dubbed circuit boys present on any given ship depends on where the cruise originates and where it's going. A Mediterranean cruise like this one-which costs hundreds more in airfare than a cruise from a u.s. port, doesn't promise tropical tanning weather, and features culturally rich ports of call rather than beaches- attracts a slightly older and more settled crowd. Not that these guys don't know how to have a good time. Every onboard dance is a hit, and the evening entertainment - comics, music, and theatre in the ship's huge auditorium (on this trip including Patti LuPone) - draw near-capacity crowds every night. A final all-night dance on land - at a club on Spain 's notorious party island, Ibiza - attracts enthusiastic cruisers.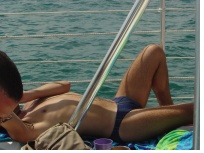 As with any gay event, a cruise attracts all kinds. The proportions may change, but there's something - and perhaps someone - for everyone. The most visible contingent on this ship is indeed the tanned and toned gym bunnies; dozens of whom can be found by the pool any time the sun is shining. But the Mediterranean cruise also has its twink quotient-even if three of the youngest and skinniest boys are all traveling with the same 60-something gentleman. And as with every Atlantis cruise, this one attracts a high pro - portion of settled, sometimes monogamous gay couples and over-40 singles. As for women, on the Splendor of the Seas there are maybe half a dozen visible lesbian travelers, who wind up as some of the most sought- after companions for dinner (it is open seating) and shore excursions. In deciding whether a gay cruise is right for you, think of it this way: The ship is essentially a port-to-port cocktail hour, and however you fare at a typical gay soiree is likely to predict your experience onboard. If you arrive alone but never have any trouble chatting up anyone who strikes your fancy, you'll make countless new friends and will probably sign up for your next cruise before you leave the boat. If you travel with your long-term partner and bond easily with other couples (and interesting singles), you're golden. If you get laid a lot at home, you'll get laid a lot onboard if that's what you want. If you're a loner who doesn't mind being around a lot of loud people but would rather be left alone, there's plenty of space onboard to take it easy. And if you're a wallflower who doesn't speak unless spoken to and usually heads home alone and discouraged, the magic of the high seas isn't going to make you more gregarious or attractive.
There are strategies for maximizing your cruise experience - even if you're not the life of the party. Gilbert, a 1ate-30s single traveler with a goatee, sparkling eyes, bright conversation, and a shining bald spot, arrived two day early in Barcelona, the cruise's launch point, and signed up for precruise land tours. "It's easier to make friends in smaller groups," he says, "and I bonded with a few of the guys on one of the Barcelona excursions. We've been hanging out ever since." Other cruisers simply take their support structure along with them by booking the rip with friends from home: singles traveling in a group, couples with couples, or a mix of both.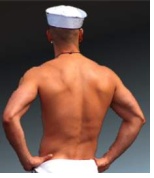 Cruise veterans don't need a strategy. Lenny, a retired man in his 50s, tells me that this is his fifth or sixth cruise of the year (he's lost count), and it is only August. When he quit working, he decided this was how he wanted to spend his time and money, and cruise ships full of rotating cast of gay men have become his second home.. He just smiles when asked whether he gets lucky, as if to say, if he feels like it, sure.
Couples will find that the options a cruise provides adapt. easily to whatever degree of togetherness-or separateness-they find comfortable. Many do everything together: land excursions, sunning by the pool, choosing from among the onboard entertainment options. Others veer off on separate courses with agreed rendezvous points. Neither Bill nor Carlos, both real estate agents and a couple for two years, want to party much, but they also aren't tethered to each other, as they make clear. They spend much of their time in separate pursuits and even sometimes eat apart. Yet when they feel like it, they make sure they get one of the few two-person tables at dinner for a romantic meal.
Even if you're single or a swinger, a cruise ship is not a bathhouse. Doors do not swing open to reveal nude anonymous men in inviting poses-at. least, not often. Hookups happen, but the "hot" quotient, as we all eventually learn, is largely a state of mind. On the first night of this cruise at the midnight dance party in the uppermost bar, early-30s Mike has younger man Tom on his lap, but he is flirting with the 40-something couple at the next table, while Tom is facing the opposite direction, chatting with someone else. "Oh, I just met Tom at the singles mixer: this evening," Mike says with a casualness that suggests he'll work his way through not just Tom but. also Dick and Harry and maybe Larry, Moe, and Curly before the week is out.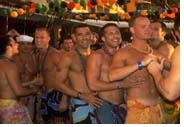 Apart from sex and schmoozing, a cruise offers a choice of vacation strategies: veg out or dive in. Some cruise vets who had floated around the Mediterranean several times before skip the onshore excursions and rarely leave the boat. The weather is perfect on every day but one; there are two pool bars (alcohol. costs extra), food available 24/7 (all included), a casino open whenever the ship is at sea, an always-busy computer room (also extra), an always-empty library, and a decent-size gym. Activities are planned to begin almost hourly: games, art auctions, an amazing midnight chocolate buffet. It is easy to stay busy and easy to stay quiet. The disco and '80s' music in the hallways grows tiresome after a few days, but it cannot be heard in the outdoor spaces.
Atlantis contracts its cruises through the major cruise lines; this is run by Royal Caribbean, which also arranges all the shore excursions. This means that some elements of the experience are out of Atlantis's control, for better or worse. The food at the lunchtime buffets is copious and diverse but subpar for a luxury cruise. The sit-down dinners-with a rotating selection of entrees- are much better. You should find out what ship and cruise line your gay cruise will be using and check out reviews of their amenities, particularly if, for example, fine dining is a top priority. The Royal Caribbean staff is friendly and seems to enjoy the more relaxed atmosphere offered by a boat of party-minded gay men.
The shore excursions - through Rome , Pompeii , Palma - are well worth the additional fees . The cruise companies warn that excursions not booked months in advance may be sold out, but experience shows that more spaces are always available, up to a day or two before- hand. So unless you fear missing some vital sightseeing opportunity, don't worry about booking ahead. Not all the guides onshore are clued in to the fact that they are shepherding busloads of gay men, but all are usually friendly and well-versed in their local lore. Expect every excursion to include a mandatory visit to a local shop or factory recommended by the guide, who likely gets kickbacks from what you spend there. I rolled my eyes but then wound up buying things at almost every stop. Seasoned travelers usually have no trouble navigating their own land tours without guides and extra fees , but even as they describe their special days afterward, it sounds like too much work and anxiety for a vacation.
Once again, though, the cruisers' different onshore experiences underline the overall lesson eventually I take home: A cruise is what you make it, so take into account your own needs and people skills before you book. Neither Atlantis nor any other gay cruise company can transform you into a person you're not. They will provide porters for your suitcases, but you will have to carry your own baggage.
Even if you're single or a swinger, a cruise ship is not a bathhouse. Doors do not swing open to reveal nude and anonymous men in inviting poses - at least not often. Hookups happen but the "hot" quotient, as we all eventually learn, is largely a state of mind.