Olivia's most romantic getaways

Choose from Olivia's most romantic getaways and experience amber sunsets, luxurious white sand beaches, and awe-inspiring majestic landscapes. And if you're feeling free and single, don't hesitate to do something nice for yourself
Mexican Riviera All-Lesbian Cruise 2024
April 13 – 20, 2024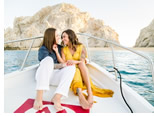 We're cruising the west coast of Mexico for the first time since 2015! Round-trip from sunny San Diego, this Mexican Riviera cruise is filled with culture, bright flavors, scenic vistas, and plenty of sunshine! Join in the onboard fun as we bring you a star-studded line-up of entertainment celebrating "Women Who Rock our World". Enjoy music, comedy, DJ deck parties, and events featuring celebrities, leaders, sheroes, and so much more. Grab your flip flops and hop on board!
When it comes to vacation, a cruise to Mexico has it all: vibrant cultural heritage, ancient ruins, incredible food, and natural splendors from arid deserts to balmy rain forests. Enjoy Mexico for a fully immersive experience, one beyond the sun and surf.
A Taste of France - Food & Wine All-Lesbian River Cruise
August 01 - 09, 2023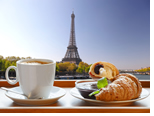 Food, wine, activity, and discovery—this trip is a great "taste" of France! This all-lesbian trip has something for everyone. If you like to bike or hike or even canoe, options are here! For those who enjoy leisurely walks, the French pastries, cheese, and wine, you'll have many opportunities in the places we visit and on board.
The cruise will feature French specialties, wines, and cheese with lunch and dinner. And for those who enjoy the artistry of Monet and Van Gogh, you'll visit some of the beautiful villages, fields, and gardens where they resided and painted. Are you interested in history? We offer the choice to visit the monuments and beaches of Normandy, or you can choose to have a "taste" of Normandy to enjoy the coastal cities and Camembert cheeses they are famous for, and much more.
Greece, Cyprus & Israel All-Lesbian Mediterranean Luxury Cruise 2022
October 22 – 29, 2022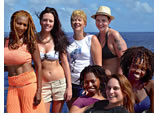 Explore Mediterranean wonders in this inspiring and exciting 7-night all-lesbian luxury cruise beginning and ending in Athens. Enjoy a day at sea before awakening in Limassol, a city graced by the majestic medieval Limassol Castle. We will stroll streets lined with tavernas, and colorful local markets overflowing with fresh produce and fine wines. Following our day in Cyprus, we begin our two-day adventure in Israel where we will witness the wonders of the Old City of Jerusalem and the diverse new gay city of Tel Aviv.
Croatia Deluxe All-Lesbian Cruise 2024
June 22 – 29, 2024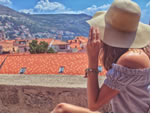 Exclusive, Luxury, Private Small Boat All-Lesbian Cruise around the beautiful Dalamation Coast of Croatia. Indulge in an authentic experience as we cruise the beautiful Dalmatian Coast on our exclusive all-lesbian private luxury small ship. Take in all Croatia has to offer as you immerse yourself in the natural, cultural and historical sights of this breathtaking country on a 7-day lesbian cruise. It's a wonderful way to explore this famous coastline and its array of unspoiled islands and crystal clear waters. Discover a whole new world of cruising.
Join us on this once in a lifetime holiday as we charter the fully air-conditioned Deluxe Superior luxury & enjoy 7 unforgettable days cruising on the beautiful Adriatic Sea from one island to another.
Costa Rica & Panama Canal All-Lesbian Cruise 2023
January 14 – 21, 2023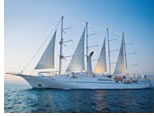 Visit beautiful Costa Rica and Panama on board the intimate, 148-passengers ship, the ms Wind Star. Renowned as the Eighth Wonder of the World, marvel as your ship is raised, then lowered, 85 feet to sail gracefully through three massive locks in the Canal. This small ship will anchor in ports the large ships cannot go, so you will find less crowds and more empty beaches to enjoy. This luxurious Wind Star vessel feels like you are on your own private yacht. Come find the natural and man-made wonders combined on this exotic Costa Rica and Panama Canal cruise.