Olivia's most romantic getaways

Choose from Olivia's most romantic getaways and experience amber sunsets, luxurious white sand beaches, and awe-inspiring majestic landscapes. And if you're feeling free and single, don't hesitate to do something nice for yourself
Mexican Riviera All-Lesbian Cruise 2024
April 13 – 20, 2024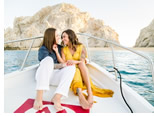 We're cruising the west coast of Mexico for the first time since 2015! Round-trip from sunny San Diego, this Mexican Riviera cruise is filled with culture, bright flavors, scenic vistas, and plenty of sunshine! Join in the onboard fun as we bring you a star-studded line-up of entertainment celebrating "Women Who Rock our World". Enjoy music, comedy, DJ deck parties, and events featuring celebrities, leaders, sheroes, and so much more. Grab your flip flops and hop on board!
When it comes to vacation, a cruise to Mexico has it all: vibrant cultural heritage, ancient ruins, incredible food, and natural splendors from arid deserts to balmy rain forests. Enjoy Mexico for a fully immersive experience, one beyond the sun and surf.
Brussels to Amsterdam All-Lesbian River Cruise 2024
March 25 - August 01, 2024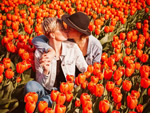 Celebrate the bounty of spring with Olivia and enjoy tulip season in Belgium and Holland! Sail from Brussels to Amsterdam and watch unfold the stunning landscape of windmills, waterways, and rows of blooming color. With ports of call in Ghent, Middelburg, Kinderdijk, and Haarlam, this all-lesbian cruise offers the opportunity to discover the rich Dutch legacy of medieval commerce and art, sample Belgian chocolate and other delicacies, cycle past windmill farms, explore tulip gardens, and more! You'll end your trip in the LGBTQ haven of Amsterdam, with its iconic canals, gabled homes, and cobblestone lanes.
Make your visions of tulip season in Holland and Belgium come into view! Cruise from Brussels to Amsterdam for quintessential scenes of windmills, waterways, and rows of blooming color. Embark in Brussels and sail to Ghent—"The Diamond of Flanders".
Norwegian Fjord Lesbian Cruise 2023
August 5 – 12, 2023

Your lesbian group voyage of discovery will take in some of the most magnificent fjords on earth, as well as a visit to Bergen - Norway's second largest city set, amid lofty mountains and complete with a stunning waterfront. Norway's Fjordland offers some of the most dramatic landscapes on earth, with a uniquely widescreen quality. On your Fjords cruise, you can relax in warmth and luxury as towering peaks give way to breath-taking waterfalls, bright blue fjords and impossibly lush green valleys, amongst quaint villages and remote mountain farms. Cruising Norway is truly life in Ultra HD.
Croatia Deluxe All-Lesbian Cruise 2024
June 22 – 29, 2024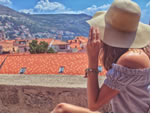 Exclusive, Luxury, Private Small Boat All-Lesbian Cruise around the beautiful Dalamation Coast of Croatia. Indulge in an authentic experience as we cruise the beautiful Dalmatian Coast on our exclusive all-lesbian private luxury small ship. Take in all Croatia has to offer as you immerse yourself in the natural, cultural and historical sights of this breathtaking country on a 7-day lesbian cruise. It's a wonderful way to explore this famous coastline and its array of unspoiled islands and crystal clear waters. Discover a whole new world of cruising.
Join us on this once in a lifetime holiday as we charter the fully air-conditioned Deluxe Superior luxury & enjoy 7 unforgettable days cruising on the beautiful Adriatic Sea from one island to another.
Tahiti Luxury All-Lesbian Cruise 2024
September 5 – 12, 2024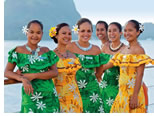 Spend a week in paradise with the one you love as your Windstar's luxury Star Breeze visits the ethereal landscapes of Tahiti. On your French Polynesia all-lesbian cruise, you'll sail in startlingly beautiful turquoise seas past lush greenery and mysterious dark peaks, experiencing some of the most impressive fiery sunsets you've ever seen. It's the most romantic place in the world to cruise. Experience the wonder of Tahiti, with its gorgeous turquoise blue and green waters, crystal-clear lagoons, lush rainforests, and warm breezes that beckon you.