Gran Canaria


The volcanic Island of Gran Canaria, situated off the coast of Africa, is a gay man's dream - it's got sun, sea and sex in abundance and what's more it's a year round fantasy island. Gran Canaria is the number one gay travel destination in Europe.
Located just 4 hours from most Northern Europe's airports it's an easy destination to obtain that perfect tan. If you want to get a bit cultural head into the mountains where the scenery changes from volcanic dryness to pine forests and evergreen shrubs. More...
Tenerife


Affectionately known as the 'island of eternal spring', Tenerife is home to striking volcanic landscapes and open green countryside. Situated just off the West African coast, enjoy golden and charcoal grey beaches, picturesque mountain villages, pretty coastal towns and year-round subtropical climates.
There's no doubt that the neighbouring island of Gran Canaria offers the largest gay scene in the Canary Islands, but Tenerife still has plenty to offer and the locals are a friendly bunch.More...
Sitges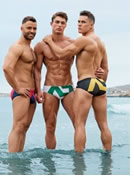 Situated just 30 minutes south of Barcelona on Spain's Costa Dorada, the former fishing village of Sitges is one of the holiday hotspots for the discerning gay traveller. Attracting the gay community by its thousands, this ever-popular resort has built a reputation for being one of the most tolerant and one of the most lively summer destinations in Europe.
For a small town Sitges is surprisingly well-endowed when it comes to bars, with venues to suit all tastes, ranging from cruisy bars with backrooms and video to traditional music bars. But one of the main attractions of Sitges is the large number of clean sandy beaches. More...
Ibiza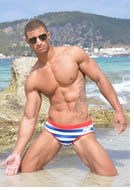 Originally starting out as an inexpensive artists location, Ibiza has been an extremely popular Gay destination for over twenty years. As time passed, the island has been adopted by gay European trend setters and is becoming more and more attractive with American visitors.Residents have long recognised that the popularity of their island with gay men and lesbians from around the world have brought them great recognition and prosperity.
The original home of the Balearic beat, famous for its image - loud, brash and utterly outrageous. Whilst the straight holiday hoards head for the "lager lout" resort of San Antonio, gay and lesbian visitors prime destination is the Island's capital - Ibiza Town, a quaint old town with plenty of atmosphere and character. More...
Mykonos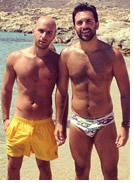 Mykonos has always been a popular destination for gay travellers ever since the island's glamorous jet set days of the 60's. It's never been cheap, but then its air of exclusivity, sophistication and magic would never have existed if it had been invaded by the package holiday Sangria crowds that most of us prefer to avoid!
The Greek island's reputation as a gay haunt goes back decades when the place offered a liberal respite from Britain's less than emancipated views of homosexuality in the 60's and 70's. Gay folks still flock to the tiny white paradise and, despite the influx of international pleasure seekers, it remains unspoilt and friendly. The island of Mykonos is famous for its cosmopolitan atmosphere, its exciting nightlife, its picturesque Cycladic capital and its lively sandy beaches. You'll find some great beaches and bays, many of which are clothing optional. More...
More Gay Holiday hotspots & city break destinations on Our Website Gay2Stay.eu & More Coming soon...
Benidorm, Algarve, Torremolinos, Barcelona, Amsterdam, Berlin, Cancun, Puerto Vallarta, Key West, Fort Lauderdale, Palm Springs, Sydney, Cairns.....