Imagine one week in Bali with naked men, everywhere. A dazzling array of activities, from the most famous things to do on the Island of the Gods, to things off-the-beaten-path. This experience is for men of all orientations, and features a clothing-optional upscale villa. A luxurious property with three pools, several "outdoor living rooms", magnificent ocean views, and twelve guest rooms – carefully positioned on multiple levels for maximum vistas. This is the ultimate naked villa experience in Bali.
Our sprawling accommodation features spacious and airy dining and sitting pavilions, zen water gardens complete with fish and turtles, a wall of cascading water, plush gazebos, and stunning views of the sunset each night. With generous amenities including whirlpools, massage spaces, and a gym, this villa has everything you could ever need to unwind and relax with other travelers.

Ultimate Bali Villa Nude Gay Holidays
August 15 - 21, 2023; October 24 - 30, 2023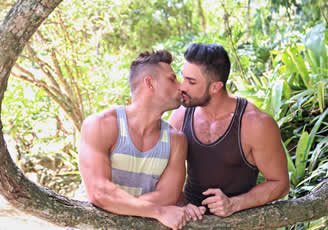 This is the stuff dreams are made of. Wake up in your beautifully restored 600-year old castle perched on a Tuscan hillside, surrounded by an unspoiled Italian village and endless vineyards in the distance. Spend your time basking in the August sun at the private pool with up to 30 Detours gay tour friends at your 20-suite compound, then explore the famous nearby sites of Siena, Florence, and Pisa before returning to your private castle each night.
Our 8-day all-gay adventure begins together on a Saturday in the capital city of Rome where you'll have an unforgettable Italian dinner and celebratory evening out in Rome's gayborhood. The next morning (late morning, don't worry) we're jumping on the train to head 2 hours north where we'll spend 7 days exploring Tuscany from our incredible luxury castle.

Tuscany Italy Gay Castle Week
June 17 - 24, 2023; September 2 - 9, 2023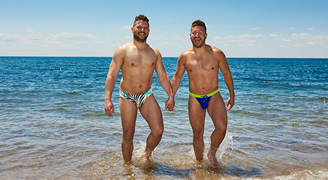 VACAYA is heading to gay Puerto Vallarta! Just when you thought VACAYA couldn't make our Mexico Resort vacation any better, we upped the game yet again by bringing the party to PV! Puerto Vallarta has long been considered the most welcoming and LGBT-friendly destination in the country, dubbed the "San Francisco of Mexico." And VACAYA's got the PERFECT occasion and the PERFECT resort to experience all it has to offer… the all-new HILTON VALLARTA RIVIERA! Take your pick of big gay nightclubs, intimate cocktail lounges, international cuisine, fabulous shopping, and more all within the historic Zona Romántica of PV.

Puerto Vallarta Mexico All-Gay Resort Week 2023
October 29 - November 5, 2023