Gay Groups on Straight Cruises
The Gay-ish Alternative to All-Gay Cruises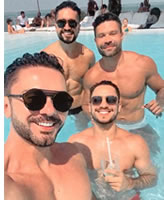 Gay groups on mainstream cruises are quite different from full-ship gay cruises. Instead of taking over a whole ship, gay groups have ranged from six to 350 passengers, aboard ships that might hold up to 3,000 passengers. They don't offer the complete gay experience, although they can make it easy for you to make new friends, find compatible dining companions, and enjoy the camaraderie of group travel on a variety of cruise experiences. The shipboard experience is rarely differentiated much from the standard on-board experience, but most gay group cruises offer a few special events, like cocktail parties or visits to the crew disco on the QE2, that you wouldn't get as an individual on that sailing.
Gay groups offer a much broader range of cruise experiences than the all-gay cruises. While all-gay cruises offer just a limited number of departures and a narrow range of ship types and experiences, gay groups cover a broad cross-section of cruise opportunities. You'll find more interesting ships and more unusual itineraries than those on all-gay cruises.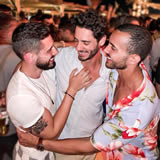 Although gay group cruises and all-gay cruises may seem similar in many respects, they really are very different experiences. Some people clearly enjoy one kind of experience and not the other, but many people, especially cruise enthusiasts, enjoy both kinds of vacations.
Think about what you're looking for on any given vacation, and investigate accordingly. If shipboard amenities and exotic ports of call hold the greatest interest to you, gay group cruise vacations serve them up in abundance. If the gay-specific entertainment and social opportunities are most intriguing, consider an all-gay cruise or at least make sure you're in a big group.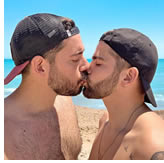 Gay group cruise vacation can offer all the luxuries of a cruise, with these added amenities:
•Exclusive welcome aboard cocktail party. Meet and enjoy the company of your fellow gay travelers on the first evening of your cruise.
•Pre-arranged group dining: We arrange for you to dine in the company of the group.
•Special functions: Depending on the cruise and size of the group, enjoy a variety of exclusive events with your fellow gay vacationers such as , private shore excursions, private happy hour bar, game times, your own special gay host, etc...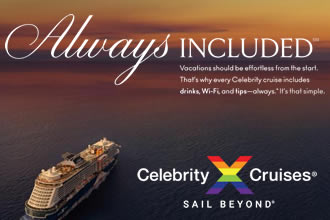 Celebrity Cruises new 'Always Included' pricing!
Vacations should be effortless from the start. So, when it comes to your precious vacations, Celebrity Cruises making your experience more convenient and relaxing by always including most popular amenities. Now, every Celebrity cruise always includes drinks, Wi-Fi, and tips on every sailing, in every room, every time. It's that simple.
Always Included!
Book any non-suite category and receive the following three complimentary perks: Classic beverage packages, onboard tips, and unlimited onboard internet packages!
Elevate!
Book any non-suite category, and for only $30 per person, per day extra, receive the following four complimentary perks: Premium beverage packages, onboard tips, unlimited onboard internet packages, and an onboard credit of up to $200 per person to be used for shore excursions!
Indulge Suite deal!
Book a Suite and get all the perks in the Indulge package: complimentary Premium beverage packages, onboard tips, unlimited onboard 'stream' internet packages, and an onboard credit of up to $400 per person!
Use your FCCs to pay for your cruise!
You may use your Celebrity Cruises future cruise certificate (FCC) as payment towards the reservation of any of our Celebrity gay group cruises!