Welcome to Gay Mykonos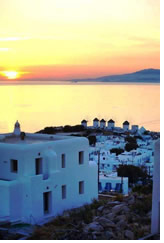 Mykonos has always been a popular destination for gay travellers ever since the island's glamorous jet set days of the 60's. It's never been cheap, but then its air of exclusivity, sophistication and magic would never have existed if it had been invaded by the package holiday Sangria crowds that most of us prefer to avoid!
The Greek island's reputation as a gay haunt goes back decades when the place offered a liberal respite from Britain's less than emancipated views of homosexuality in the 60's and 70's. Gay folks still flock to the tiny white paradise and, despite the influx of international pleasure seekers, it remains unspoilt and friendly.
The island of Mykonos is famous for its cosmopolitan atmosphere, its exciting nightlife, its picturesque Cycladic capital and its lively sandy beaches. You'll find some great beaches and bays, many of which are clothing optional. More...
Staying There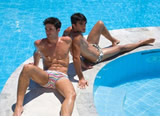 Mykonos Town is the place where most gay traveler prefer to stay. It's a place where cars are banned, is a maze of paved streets complete with stunning white-washed houses. We guarantee that the beauty of the town will dazzle you!
Happy Gay Travel offer a variety of gay friendly accommodation, most in Mykonos Town. These range from relatively reasonable priced to top end – with prices to match!
If your favorite hotel is not here, then please feel free to contact us, as we are sure we would be able to obtain competitive rates.
Accommodation only is available for all our product range to Mykonos, with any day arrivals. There may be minimum stay requirements, especially in the peak periods. More...
Getting There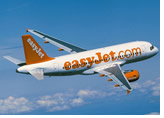 Happy Gay Travel offers a great value deals for holidays to Mykonos, together with largest UK and European tour operators, and Greece Gay travel companies - Matt Holidays and Mykonos Accommodation Center.
Mykonos Island National Airport is served by some international airlines and charters that include Lufthansa
, Austrian
(from Vienna), Blu-Express (from Rome), Transavia (from Paris and Amsterdam), easyJet (from Milan), AirOne (from Milan), Volotea (from Venice, Bari, Naples), Edelweiss Air
(from Zurich), EuroWings (from Berlin, Cologne), Condor Airlines
(from Frankfurt), Iberia
(from Madrid), among others. Most of these airlines operate during summer season.

Happy Gay Travel main flights are on easyJet from Gatwick, Manchester & Luton and TUI Airways
from Gatwick. Daily options are available on Aegean Airlines from London and Olympic Airlines from London Heathrow and Manchester (these flights operate with a change of aircraft at Athens). If you prefer to use this option, then please ask us for further information.
If you wish to book a trip in winter season, then please write us for further information.
If you are travelling to Mykonos, it's worth booking early. With very few direct flights from the UK, places fill up fast. More...
The Gay Scene in Mykonos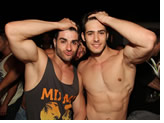 This is not Ibiza. There are no big gay venues and no all-night rave parties. Mykonos is a place for unwinding and relaxing. The scene is petite and stylish.
The island has six gay bars and clubs, which are concentrated in three locations near the old harbour front, where the small fishing boats are moored.
Despite Mykonos having become a euphemism for 'gay paradise', it's also popular with the straights. Thankfully they tend to be a more avuncular and sophisticated crowd than your average Chav from Dagenham.
The island has been used to the pink pound for decades, but the gay scene is not at all ghettoised and you'll probably feel just as comfortable in the many mixed bars as the more obvious gay ones. As the place isn't a main family hot spot you'll find that the straights are basically just like you; out for a good time, wanting to relax, have fun and do it all irrespective of sexuality. More...
The Gay Beaches in Mykonos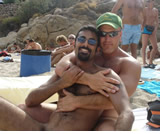 There are three main beaches, each with gay and nude sections: Paradise, Super Paradise and Elia. Tucked into small coves and protected by rocky headlands, these crescent-shaped strips of sand are lined with trees and dotted with thatched sunshades. Small bars and restaurants overlook the turquoise-coloured sea. From early evening onwards, the bars turn up the volume and become open-air dance clubs, packed with partygoers nearly all night long.
Buses go direct from the town to Elia and Paradise, via narrow, winding roads over rocky hills. Super Paradise is accessible only by fishing boat (from either Paradise or Platys Yialos). Alternatively, you can hire a jeep from around £26 a day or a motor scooter from about £8.
For hyperactive party animals, an exhilarating alternative to the beach is Water Mania, a fabulous water theme park near Elia, with giant water slides, shutes and spirals - some up to 244 metres long. More...
Travel Around Gay Mykonos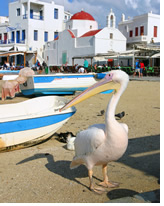 Mykonos has a wonderfully rich and variegated past, a marvelous history, and an honored place in Greek mythology. There are always surprises to be found here!
The light of Apollo is evident everywhere on the island, and art, beauty, and form are all visible in the simplicity and eloquence of dazzling white structures and a centuries-old labyrinth of tiny streets and alleyways. The light is further enhanced by the reflection of aqua jewelled and crystal clean waters. All of this, combined with outstanding accommodation, a shopping paradise, excellent cuisine, and marvelous entertainment settings, proves again and again, that Mykonos is the quintessential island paradise of the Aegean Sea.
More...