Majestic Princess
Ship Facts
Gross Tonnage: 143,700
Length: 1,083 feet
Beam: 224 feet
Breadth: 126 feet
Cruising Speed: 22 knots
Guests: 3,560
Crew: 1,346
Ships Registry: United Kingdom
Mexican Riviera Bears Gay Group Cruise 2021
7 nights from/to Los Angeles, California, USA
October 30 – November 06, 2021
Princess Cruises Majestic Princess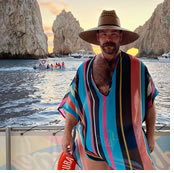 Week of fun in the sun. Join our gay bears group as we set sail from Los Angeles to Mexican Riviera on the Majestic Princess. We are offering a 7-day Mexico cruise vacation roundtrip from Los Angeles with convenient Saturday departure. Visit 3 top ports including popular favorites Puerto Vallarta and Cabo San Lucas. In addition to the history and beauty of this region, there's also a lot to do in this part of the world - particularly for active types.
Each port on our Mexican Cruise holiday is filled with fun and adventure including kayaking, zip lining, swimming with dolphins, scuba diving and much more. You're never far from a beautiful beach or a good party in Princess's cruises to Mexico. Explore old traditions and stunning towns when you cruise to the Mexican Riviera on Majestic Princess.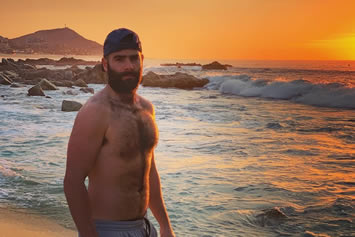 Most of Mexico's Baja West Coast was populated with small fishing villages until the 1920s, when tourists from up north started to arrive. Glamorous towns like Acapulco gained international fame in the 1960s when celebrities like Elizabeth Taylor, Richard Burton and John Wayne made it their seaside escape from the drama of Hollywood.
The term "Mexican Riviera" came into being when the cruise industry discovered the region; scenic, tourist-friendly ports like Mazatlan, Cabo San Lucas and Puerto Vallarta provided the backdrop for television's The Love Boat in the 1970s and 1980s. For many of us, it's hard to even read this itinerary without hearing Julie the cruise director saying it in our heads!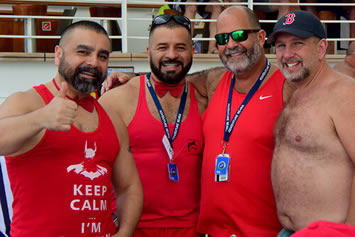 For those who seek culture, Mazatlan has a historic center that has become a draw for international artists, and Puerto Vallarta's foodie scene is among the best in Mexico.
Each town we will visit offers a wonderful mix of historic Mexican culture, modern shopping and colorful entertainment... and of course warm sunshine and white sand beaches.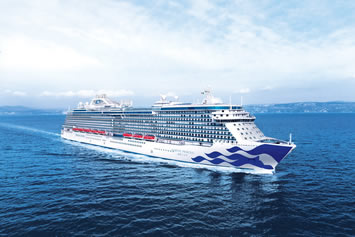 Your Ship - Majestic Princess
Majestic Princess from its breathtaking piazza-style Atrium to the dramatic views from the glass-floored SeaWalk®, Majestic Princess is sure to delight. Relax at The Sanctuary, a tranquil haven reserved for adults, watch the mesmerizing Princess WaterColor Fantasy light and water show, or dine on tantalizing cuisine at venues like Crown Grill and more.
Sail aboard Majestic Princess, the newest member of Princess fleet and enjoy the signature favorites you've always loved along with so many new exciting additions not found on any other Princess ship, including two new specialty restaurants with dinner menus crafted by two Michelin-star awarded chefs. Come aboard and find out what makes this ship so special!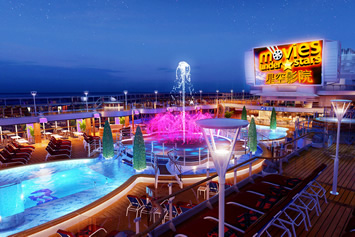 Activities on Majestic Princess
Explore the magnificent Majestic Princess and you will discover that there are so many activities to enjoy that you won't know where to begin! The Movies Under the Stars screen on this ship is the largest in the fleet, so you can enjoy first-run movies on deck; The SeaWalk and SeaView Bar offer an exciting view of your surroundings and the ocean. The ship boasts several pools, including one top-deck pool that is the largest in the fleet, as well as a spa, fitness center, and much more.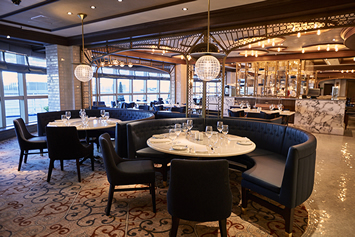 Dining / Food on Majestic Princess
Whenever you're hungry, you'll be tantalized by a variety of tempting aromas wafting from each of the restaurants and dining spots on Majestic Princess. Experience delicious cuisine prepared specially for you from scratch, no matter if you opt to dine in one of the formal dining rooms or at a casual venue! Guests can choose to eat in the privacy of the Chef's Table Lumiere, the ship's traditional dining room where you'll be assigned a set time and table to enjoy your meal at each time you go. If you'd rather a more flexible schedule, there are two forward dining rooms that offer a special menu - and you can eat whenever and with whomever you'd like.
The specialty restaurants on Majestic Princess offer menues that reflect regional cuisines from around the world, and the dishes are made with the freshest ingredients. Guests can choose from Sabatini's, an Italian restaurant, as well as the Crown Grill (a steak and seafood restaurant), as well as many others!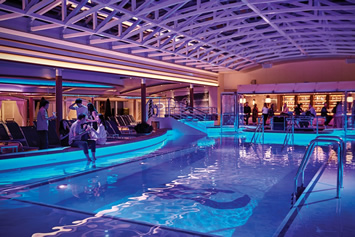 Entertainment on Majestic Princess
Each evening on the Majestic Princess will be an exciting adventure. Enjoy dazzling performances, Movies Under the Stars, and much more. The Atrium on Majestic Princess promises to be the heart of the party, with several exciting venues for drinks and entertainment. Guests can relax in Bellini's, a cocktail bar with an Italian inspiration, or the Wheelhouse Bar, which has live piano entertainment and a club-like atmosphere. Crooner's Lounge and Bar is another intriguing option, offering 75+ varieties of martinis, as well as entertainers who offer a lively performance at dueling glass pianos! Majestic Princess promises to offer the best in entertainment.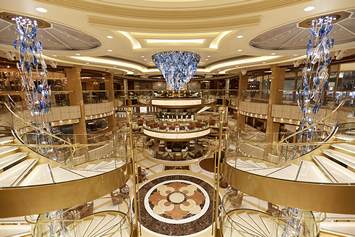 Adventure Bears Gay Cruise
Adventure Bears provides a stress free, fun, upscale memorable vacation experience and gives like-minded gay men an opportunity to make lasting friendships. You can choose be social and active or just chill out and relax. Our cruises will appeal to the more relaxed yet fun loving guys.
We offer the best of both worlds with rates far lower than gay chartered ships. Enjoy exotic ports of call, exclusive group on-board activities, entertainment, and of course outstanding cuisine and service. We also offer our own private shore excursions available only to our guests.
In order to participate in our events you must make reservations with us. Unfortunately people booked through a different source cannot be included as part of our gay group.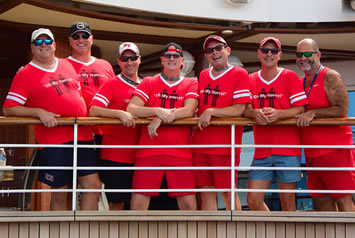 Mexican Riviera Gay Bears Cruise 2021
Itinerary


Date

Port

Arrive

Depart

30 Oct
Los Angeles, California, US
4 PM
31 Oct

Day at Sea!

01 Nov
Cabo San Lucas, Mexico
11 AM
8 PM
02 Nov
Mazatlan, Mexico
8 AM
6 AM

03 Nov

Puerto Vallarta, Mexico
8 AM
6 PM
04 Nov

Day at Sea!

05 Nov

Day at Sea!

06 Nov
Los Angeles, California, US
6:15 AM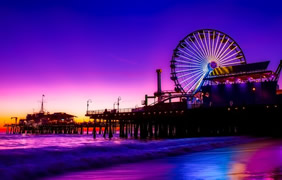 Los Angeles, California, United States
The City of Angels always hovers between dream and reality. Once a near-forgotten colonial outpost, the pueblo metamorphosed into an agrarian paradise before reinventing itself as a movie colony. It's an exciting semitropical city of palm trees, swimming pools, television studios and aerospace factories. Los Angeles
is one of the world's most exciting cities and the movie-making capital of the world. Wherever you visit, from ritzy Beverly Hills to the wondrous Hollywood Bowl, you'll have an unforgettable stay.
No trip to L.A. is complete without a stop in Disneyland. This world-famous park has been a favorite of children - and adults - for generations. While you're there, you should stop by Disney's California AdventureSM park. This newest Disney park is an idealized version of California, from its gold-mining history to its colorful present.
• Visit the Dorothy Chandler Pavilion - former site of the Academy Awards®
• Explore Olvera Street, the original site of the small Mexican village that grew to be L.A.
• See a concert at the Hollywood Bowl, famous for its perfect and natural acoustics.
• Compare your footprints and handprints with those of your favorite movie stars and celebrities at Mann's Chinese Theatre on Hollywood Boulevard.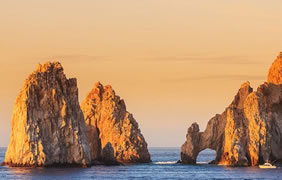 Cabo San Lucas, Mexico
Here at the tip of the Baja Peninsula where the amazing rock formation known as Los Arcos guards the entrance to the bay lies Cabo San Lucas which was once a hideout for pirates on the lookout for trading ships. Here you can spy on a no-longer-secret underwater garden through a glass-bottom boat, flirt with a whale or sea lion, shop at a quayside bazaar, or rekindle romance at the secluded Playa del Amor.
Cabo San Lucas is quickly becoming a popular destination for one reason: beautiful beaches. You'll find an amazing choice of activities here, from snorkeling and scuba diving to surfing and kayaking. There's something for everyone, even people who just want to lie in the sun and relax.
• Gaze from atop the cliffs at the very far end of the bay at the unforgettable view of Land's End's craggy rock arches and dramatic seascape.
• Sail to beautiful Santa Maria Cove and enjoy snorkeling in the clear, turquoise waters.
• Cruise the waters of Los Cabos to search for humpback and gray whales.
• Set sail on a luxury sailing yacht for Lovers Beach, a sea lion colony, and Land's End.
• Watch local artisans blow heated glass into crystalline works of art on a tour of a local glass-blowing factory.
Mazatlan, Mexico
Translated, Mazatlan means "place of deer" from the ancient Nahuati tongue. Great herds of deer were said to have roamed this area, located at the foot of the Sierra Madre Mountains. Resplendent with rich tradition and folklore, Mazatlan is said to have been frequented by pirates who left behind their buried treasure. Noted for its sparkling sand beaches and warm Pacfic waters, Mazatlan is an ideal spot to get in a swim.
Take in the charming and historic sights on a tour of the city. Stop to do some shopping at Mazatlan's Golden Zone, home to Mexican and Indian handicrafts. It's a great way to celebrate the colors, songs and dances of ancient and colonial Mexico.
• Take a fascinating tour of the legendary Sierra Madre mountain range. Visit once-thriving colonial towns, which hosted missionaries and gold prospectors alike.
• Spend the afternoon exploring Mazatlan's long white-sand beaches, lined with open-air bistros and fun-loving bars.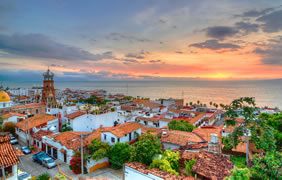 Puerto Vallarta, Mexico
Experience the warmth of Puerto Vallarta, which is quaint and full of history, yet modern, vibrant, exotic. Discover a destination of relaxing beaches, world class restaurants, and the latest in ecotourism and extreme adventure, in a setting that is internationally recognized for its charm and friendliness, with a backdrop of mountains, rivers, coastline, and emerald green waves of the Pacific Ocean.
Take advantage of a rare opportunity to get up close and personal with our intelligent finned friends at the Dolphin Adventure Center. You'll be given an introduction to these friendly mammals. Then, you'll actually have the chance to swim with them in a specially designed pool.
If you are looking forward to a relaxing day, stroll through historic downtown or along the Malecon. Shop at the Cuale River for souvenirs or near the Malecon for silver, turquoise and opal. Delight in the variety of orchids and other wildlife at the Botanical Garden. Visit the new Los Muertos Pier or an art gallery, or view the yachts at the Marina. Eat at a typical Mexican food or gourmet restaurant. Watch the sun set over the Pacific Ocean.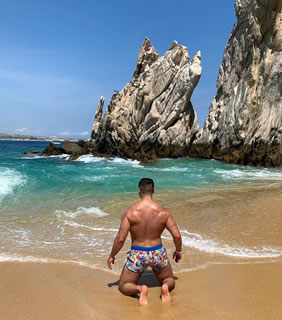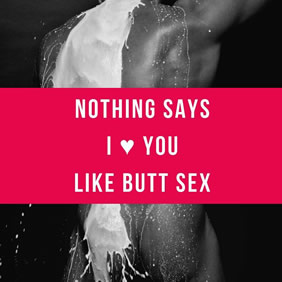 Guests: 3,560 • Gross Tonnage: 143,700 • Length: 1,083' • Beam: 224' • Breadth: 126' • Cruising Speed: 22 knots

Mexican Riviera Gay Bears Cruise 2021 Rates

ID - Interior Stateroom
Approx. 158 to 162 sq ft. These staterooms are the perfect place to recharge your batteries. Our most affordable option, featuring two twin beds or a queen-size bed. Other amenities include a refrigerator, hair dryer, TV, closet and bathroom with shower.
$ 1,029

IB - Interior Stateroom
Approx. 158 to 162 sq ft. These staterooms are the perfect place to recharge your batteries. Our most affordable option, featuring two twin beds or a queen-size bed. Other amenities include a refrigerator, hair dryer, TV, closet and bathroom with shower.
$ 1,059

BD - Balcony Stateroom
Approx. 214 to 222 sq. ft., including balcony. This impressive stateroom offers the added indulgence of a balcony and gives you more space than a standard stateroom. Enjoy your own private outdoor space with a table, two chairs, and a relaxing view of the inspiring scenery surrounding you, whether a beautiful sunset over the ocean or a new city to explore. It's also perfect to enjoy cocktails before dinner or a leisurely breakfast.
$ 1,319

BB - Balcony Stateroom
Approx. 214 to 222 sq. ft., including balcony. This impressive stateroom offers the added indulgence of a balcony and gives you more space than a standard stateroom. Enjoy your own private outdoor space with a table, two chairs, and a relaxing view of the inspiring scenery surrounding you, whether a beautiful sunset over the ocean or a new city to explore. It's also perfect to enjoy cocktails before dinner or a leisurely breakfast.
$ 1,369

DB - Deluxe Balcony Stateroom
Approx. 233 to 279 sq. ft., including balcony. Choose this enhanced version of a Balcony stateroom with more space and a comfortable sofa bed. Enjoy a larger balcony with more room to view the beautiful scenery as you sail from destination to destination and take in the ocean breeze for a wonderful and romantic evening or morning. This stateroom also includes some of the amenities offered in a Mini-Suite stateroom.
$ 1,469

MC - Mini Suite
Approximately 323 sq. ft., including balcony. Choose a luxurious Mini-Suite with balcony which is substantially larger than a Balcony stateroom and receive a complimentary welcome glass of Champagne. Mini-Suites include a separate sitting area with sofa bed, premium bathroom amenities and two flat-panel televisions. For families or groups needing a little extra space, Mini-Suites offer an appealing and affordable option.
$ 1,719

MB - Mini Suite
Approximately 323 sq. ft., including balcony. Choose a luxurious Mini-Suite with balcony which is substantially larger than a Balcony stateroom and receive a complimentary welcome glass of Champagne. Mini-Suites include a separate sitting area with sofa bed, premium bathroom amenities and two flat-panel televisions. For families or groups needing a little extra space, Mini-Suites offer an appealing and affordable option.
$ 1,769

All prices are per person, based on double occupancy, and include all meals, accommodations and entertainment!

Taxes & charges of $195 pp, Pre-Paid Gratuities: $14.50 ($15.50 in Mini Suites) per person per day, and optional insurance are additional.

$350 per person deposit required at time of booking. Balance payment is due on or before July 11, 2021

Optional shore excursions will be offered.

Prices are cruise only and DO NOT INCLUDE return airfare! Please ask for airfare add-ons back to your home city.

Fares are subject to availability and may change without prior notice.

Also included are the traditional Bear Cruise activities, subject to minimum participation.

Please ask for further details.

Current Promotion:
Book Now and you will receive:
• Premium Beverage package
• WiFi Package
• Full onboard gratuities!

Special Airfares








Pre-Cruise Hotels







Post-Cruise Hotel