Costa Toscana
Ship Facts
Gross Tonnage: 185,010
Length: 337 m
Width: 42 m
Cruising Speed: 17 knots
Guests: 6,554
Crew: 1,682
Decks: 17
Inaugurated: 2022
Registry: Italy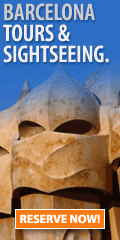 Mediterranean Pride Gay Group Cruise 2023
7 nights from/to Barcelona, Spain
June 11 – 18, 2023
Costa Cruises Costa Toscana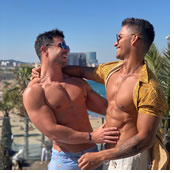 Join us on Mediterranean Pride European gay group cruise on board of the brand new Costa Cruises flagship Costa Toscana. We will set sail from gay friendly Barcelona to beautiful ports in Sardinia, Italy & France. From the High Renaissance to high fashion and from a fascinating heritage to fantastically chic beaches, the Mediterranean has it all. Enjoy the very best that Europe has to offer on our European Mediterranean gay group cruise with our private gay parties, events and gay group tours.
Stand in awe before Spanish landmarks, Italian landscapes, and French icons that echo the history-changing moments that once happened there. Climb up inside the spires of Gaudí's Sagrada Familia Cathedral in Barcelona, whisper in awe in the Sistine Chapel, and discover French & Italian Rivieras & Sardinia. Explore the Western Mediterranean cities where myth and history converge on your next vacation.
With its fast-paced cities, laid-back islands and passion for football, fashion, food and wine, Spain is a truly fascinating country. In buzzing Barcelona you can marvel at Gaudi's inspiring architecture or feast on delicious tapas in a shaded pavement café; explore the city's many churches and cathedrals or hit the shops for a shot of Catalan style.
Italy is home to one of the world's most historical and spiritual sites, a universally adored cuisine and a passionate nation. In ancient Rome you can gaze at Michelangelo's magnificent Sistine Chapel ceiling or explore the Colosseum where gladiators once fought. Enjoy the best of Italy's cuisine, and wash it down with some tasty wine from a nearby vineyard, or follow it up with a delicious gelato (ice cream).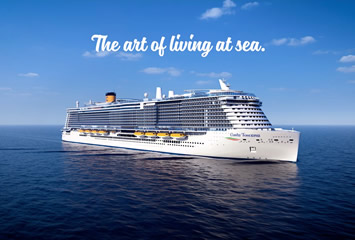 On Board the Brand New Costa Toscana
A cruise on Costa Toscana, Costa Cruises new flagship, will be unforgettable.
Shows and entertainment featuring international artists await you, as well as swimming pools with slides and water games for all ages, a state-of-the-art spa and gym, and much more.
Costa Toscana is also synonymous with excellent cuisine with the widest variety of Italian and international restaurants in the fleet.
And that's not all – Costa Toscana keeps the environment in mind, with new LNG propulsion engines making for increasingly sustainable travel.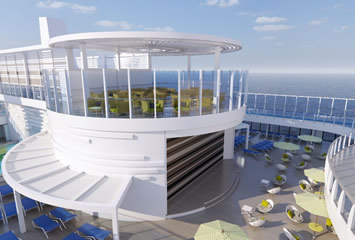 On board, it's always showtime
A memorable ship for a memorable cruise. Costa Toscana will amaze you with its large outdoor spaces where you can enjoy sun and sea, its brightly coloured furnishings, its Italian and international cuisine, designer boutiques and, above all, a whole lot of fun for everyone!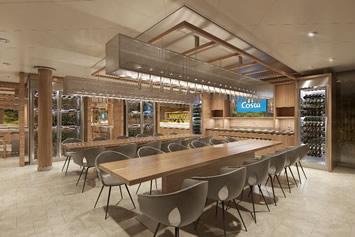 Costa Toscana has over 2,600 cabins, each one more beautiful than the other! The ship has 20 decks which accommodates 11 restaurants and 19 themed bars. Shows and entertainment featuring international artists await you, as well as swimming pools with slides and water games for all ages, a state-of-the-art spa and gym, and much more.
Some of the ship's highlights include an open-air balcony on the top deck which has a crystal floor where guests can experience the thrill of flying over sea. And there is a spectacular skywalk for guests to stroll on the sea, admiring views from a height of over 65 meters. The indoor swimming pool has salt water which includes a beach club to recreate the atmosphere of swimming in the ocean.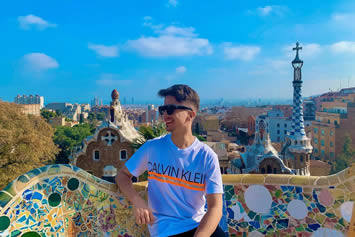 What's Included?
The price of this cruise includes:
• A wonderful 8 days / 7 nights cruise through the Mediterranean.
• Free access to every show on board the ship
• Free access to every Ambien Gay Group Parties & Shows
Keep in mind that our shows main language will be Spanish, since the majority of the gay group first language is Spanish
• Meals: breakfast, lunch, dinner and supper (at the main restaurant or at the buffet)
• Benefits of the Costa Club program on board for all repeating passengers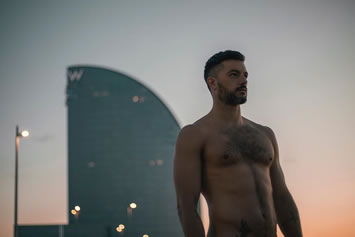 Not Included
• Gratuities: The service tips are not included on the final price and must be payed on board (77€)
• Private Tours: One month before departure, we'll send to all the members of our group a list of the private tours we'll ofer on the ports we visit. Each tour has to be payed individually and they are not included on the final price.
• Travel & Cancellation Insurance
• All Inclusive Beverage Package (€230)
• Pre/Post-cruise Barcelona and/or Sitges arrangements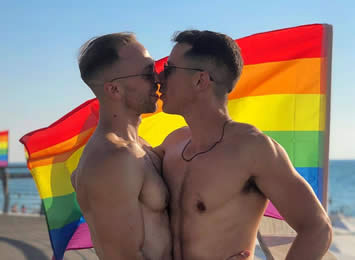 Mediterranean Gay Pride Cruise 2023
Itinerary


Date

Port

Arrive

Depart

11 Jun
Barcelona, Spain
6 PM
12 Jun

Fun Day at Sea!

13 Jun
Cagliari, Sardinia
7 AM
4 PM
14 Jun
Naples, Italy
10 AM
8 PM
15 Jun
Rome (Civitavecchia), Italy
8 AM
7 PM
16 Jun
Genoa, Italy
8:30 AM
6 PM
17 Jun
Marseilles, France
9 AM
6 PM
18 Jun
Barcelona, Spain
8 AM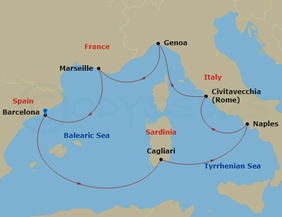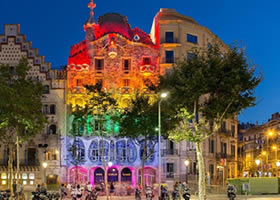 Day 1 - Barcelona, Spain
A top European center for art, architecture, design and cuisine, this stylish city has its own language and culture. The soul of old Barcelona
is its Gothic Quarter; outside the medieval district, discover iconic landmarks and more. Vying for your attention in Catalonia's visually stunning capital are the magnificent medieval buildings of the lively Gothic quarter and the exotic creations of architect Antoni Gaudi - the Sagrada Familia Temple and Parc Güell, to name just a few.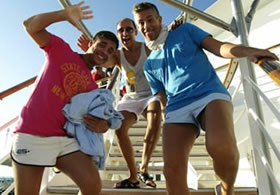 Day 2 - Fun Day at Sea!
An 'at sea' day is your chance to explore all the amazing activities the ship has to offer, including doing nothing at all. Relax in the Spa, take in a show at the theatre, or experience any of the incredible dining venues. There's so much to do the difficulty will be choosing what to do next! Whether you seek an adrenaline rush or total tranquility, our ships have it all. Melt away land-based stress with a spa massage, build a scrapbook of memories or simply relax poolside.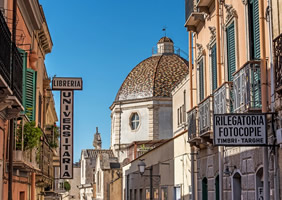 Day 3 - Cagliari, Sardinia
Cagliari, the capital of the Italian island of Sardinia, is situated high upon hills that offer a panoramic view of the Golfo degli Angeli — the Gulf of Angels. Walk along Poetto beach, with its soft sand and clear water, or visit the urban park of Molentargius with its flamingos, wetlands and magnificent birds. Cruise to Sardinia, Italy to peruse the local architectural sites: See Bastione di Saint Remy with its breathtaking terrace and Torre dell'Elefante, a medieval tower with a 360-degree view of the city. And don't forget to take a meditative stroll through the lavish interior of the 13th-century Cagliari Cathedral.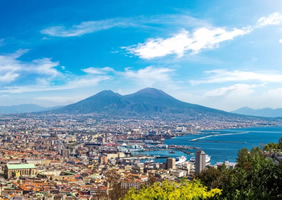 Day 4 - Naples, Italy
One of Europe's oldest cities, Naples is vibrant and filled with rich artistic and architectural heritage. Nearby sights include the ruins of ancient Pompeii uncovers, the idyllic resort isle of Capri, and the jewel-like towns that dot the Amalfi Coast. You're spoiled for choice in the city that invented the pizza. Embark on a trip to Mt. Vesuvius for mind-blowing views before descending to Pompeii. Board a boat for Capri, or a scenic day trip to Positano and Sorrento down the stunning Amalfi coast.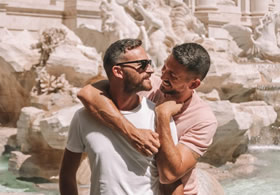 Day 5 - Rome (Civitavecchia), Italy
Hidden piazzas, opulent baroque churches, classical ruins at every turn. The best of Italian fashion. Countless art galleries, gardens and palaces. If ever there was a place to return to and delve deeper, it's Rome. From the monuments of the ancient empire to the pursuit of la dolce vita, the Eternal City is an unrivaled open-air museum and a lively modern metropolis. The tiny enclave of Vatican City is home to sacred sites and priceless art.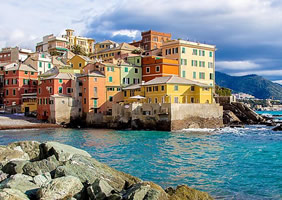 Day 6 - Genoa, Italy
The birthplace of Christopher Columbus, Genoa is a medieval city that's made a splash in the modern world. Stumble upon architectural gems like the San Lorenzo Cathedral, with its black-and-white striped facade, and monumental squares like Piazza de Ferrari. The harborside aquarium is the second-largest in Europe — head there to see a bastion of biodiversity, complete with sharks, dolphins and penguins. The Lanterna is the city's main lighthouse, and the adjacent Museum will get you familiar with the history of the port and city. Walk among the colorful houses and cobbled streets, and poke your head into one of the excellent restaurants there for a Genoese specialty dish like pansotti, a ravioli-like pasta served with walnut sauce.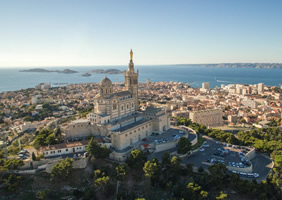 Day 7 - Marseilles, France
A strategic transit point for goods, but also a meeting place for cultures: you'll find vibrant evidence of these in the mosaic of its people.
Marseille is one of the most visited cities in France. With many museums and galleries, along with ancient buildings of historical interest. Along the coast, cycling tracks veer around sunny coves and sandy beaches. France's oldest city is one of its most dynamic, with a melting pot culture and vibrant arts scene. The soul of the city is its Vieux Port, the working waterfront. Marseille is also a gateway port to the scenic villages and coastal areas of Provence.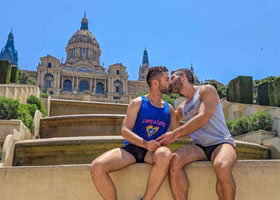 Day 8 - Barcelona, Spain
Barcelona
is home to one of the biggest and best gay scenes in the world. Most of Barcelona's gay bars are spread out across the Eixample district – also known as the "Gaixample" district. You'll find intimate, classy gay bars, hedonistic nightclubs, and action-packed cruise clubs. Barcelona also boasts year-round sunshine and a long strip of beaches along the coastline. Not least the gay-popular beaches, including Nova Icaria, San Sebastià & Barceloneta, and the Mar Bella nudist beach.