Symphony of the Seas
Ship Facts
Gross Tonnage: 228,081
Length: 1,188 feet
Beam: 215.5 feet
Draft: 30 feet
Cruising Speed: 22 knots
Guests: 5,518
Crew: 2,200
Ship's Registry: Bahamas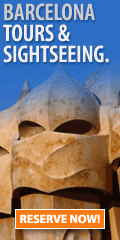 Transatlantic Halloween Gay Group Cruise 2023
14 nights from Barcelona, Spain to Fort Lauderdale, Florida
October 29 – November 12, 2023
Royal Caribbean Symphony of the Seas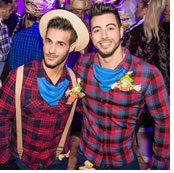 In November 2023 one of World's Largest cruise ships, spectacular Symphony of the Seas will cross the Atlantic! Join us on this unique Transatlantic gay group cruise on board of the Royal Caribbean's impressive Symphony of the Seas from gay friendly Barcelona in Spain to gay favourite sunny Fort Lauderdale, Florida! Experience exciting trip across the Atlantic, with stops in Spain and Bahamas before we reach Florida. A unique Transatlantic gay group cruise opportunity!
Enjoy unrivalled relaxation and entertainment onboard, taking your time to experience all the fabulous things your ship has to offer, from indulgent spa treatments to casinos, duty-free shops, world-class shows, adrenalin-fuelled sports and outstanding restaurants.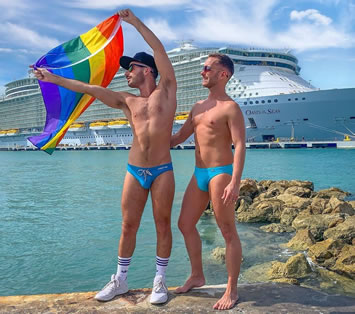 Transatlantic cruise offer a wealth of relaxing days at sea, punctuated by stops at ports that let you explore the local culture and the natural thrills of each area. Transatlantic cruises include a combination of city and island stops, taking you from beautiful gay friendly Barcelona to Bahamas & Florida beaches.
Have you ever thought of traversing an entire ocean from coast to coast? You can go further than you ever thought possible on a transatlantic cruise, crossing the waves between Europe and the U.S.. Departing from Barcelona, this cruise include Halloween at Sea, and cultural and tropical island stops, three ports in Spain, and Nassau in the Bahamas.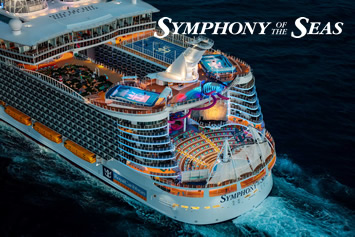 The Biggest Cruise Ship, The Boldest Adventures
Go big on bold when you sail aboard the largest cruise ship in the world. Get ready for a perception remixing, memory maxing mic drop — the new Symphony of the Seas
is all that and more. It's your favorite onboard hits, including the ten-story test of courage, Ultimate Abyss? and twin FlowRider® surf simulators, plus revolutionary new firsts, like glow-in-the-dark laser tag. And deck-defying attractions aren't the only things to look forward to when you sail onboard the newest cruise ship addition to the Oasis Class.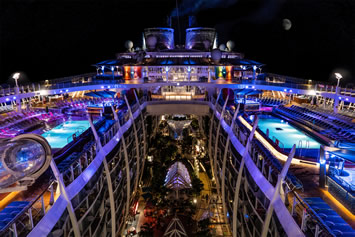 Symphony of the Seas is also loaded with delicious new ways to tempt your taste buds — like the gameday game changing Playmakers? Sports Bar & Arcade — and larger-than-life ways to stay, like the Ultimate Family Suite. Go get your thrill on.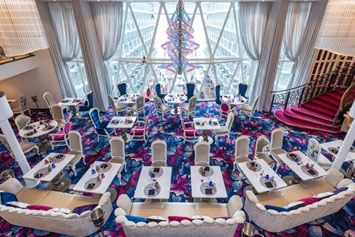 Dining
The ship boast a sea of vacation possibilities for every guest. A Royal Caribbean cruise is a journey of culinary discovery. The innovative chefs, each trained and certified, will take your palate global with a lineup of complimentary and specialty options. Pair your meals with a beverage package and save on your favorite drinks.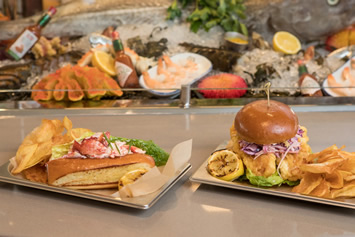 Best of Both - Salty and Sweet
Whether you're looking to indulge in fine dining, or just tempt your sweet tooth you'll find endless ways to please your palate onboard Symphony of the Seas. Head to Hooked Seafood? for just-shucked oysters and other coastal classics. Or treat yourself to a couple scoops and a bag of your favorite sugary treats at Sugar Beach.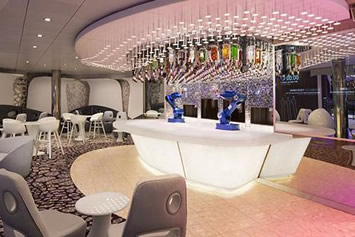 Bars & Lounges
Meet two robotic bartenders who know how to shake up your night out. They can mix, muddle, and stir it up too. With moves as fluid as the Pimm's in your cup, they can create an almost endless combination of cocktails, whether it's a classic Manhattan or a custom order of your own design. Just order by app on the nearby tablets and watch your bionic mixologist do its thing. Designed and powered by the minds at Makr Shakr, the Bionic Bar® is making history at sea.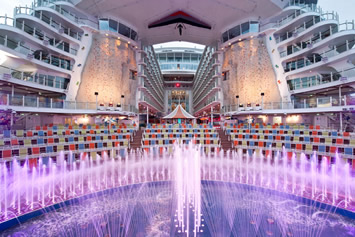 Entertainment & Nightlife
Let's hear a round of applause for an unrivaled entertainment lineup, An amazing array of shows and performers, included with your cruise fare. Picture Broadway-style shows and original Royal Caribbean productions just steps from your stateroom, with world-class performers that WOW on stage. And when the sun goes down, the night heats up with live music and much more.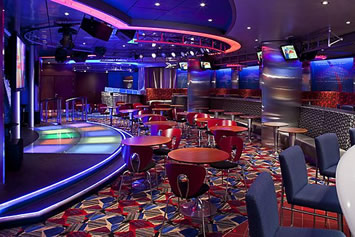 No Limit On Cruise Nightlife
You can easily fill a day with non-stop thrills onboard Symphony of the Seas®. Just make sure to save some energy for when the sun goes down, because that's when the party really starts to heat up onboard one of the newest cruises.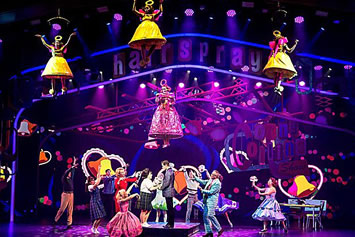 Big Hair Bold Moves
Take your night out onboard to Broadway at one of the biggest onstage hits in history - Hairspray. It's the perfect opportunity to belt out your favorite feel-good tunes as you watch Tracy Turnblad steal the spotlight and follow her dreams.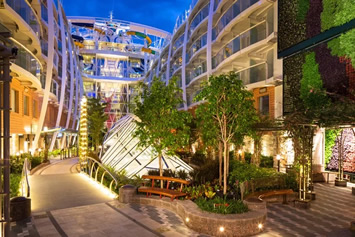 Onboard Activities
The ship boast a sea of vacation possibilities for every guest. Like the chance to learn Italian, salsa dancing, or the recipe for a perfect martini. To conquer the rock wall and ice skate on the equator. Or slow things down with a hot stone massage and duty-free designer shopping. See, do and learn more at sea than you ever thought possible.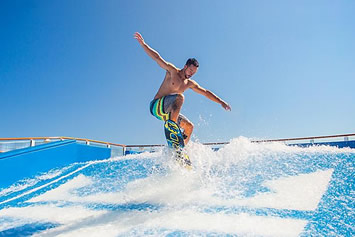 Flowrider
Grab your board and get ready for 30,000 gallons of rushing awesome headed your way. The surf's always up on the 40-foot-long FlowRider surf simulator.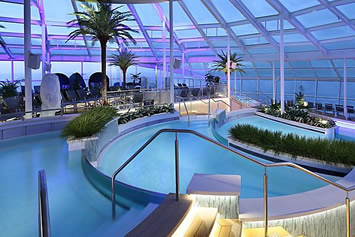 Fitness & Spa
Emerge renewed, relaxed and rejuvenated at the Vitality Spa. Professional spa products from acclaimed brands such as Elemis®, bliss®, La Thérapie and Ionithermie bring the most advanced services to the sea. Massages, wraps, facials and acupuncture, or choose medi-spa treatments to smooth wrinkles, lift and tone. A more brilliant smile is just a tooth whitening away, while a salon completes the perfect look with hair and nail services.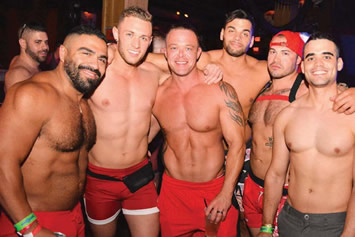 Only for Gays!
All-Gay Parties
Firstly, we hire the best venues and DJs. Secondly, we have the most fun themes like Roman Gods, Navy, White, Costume or our signature Hot&Sexy. And to sum up, the parties are exclusive for us, so the fun is always guaranteed.
All-Gay Tours
Our tailor-made tours and transfers are designed only for us and, above all, are a very good value because we cut costs by packing them up in a Pack.
Pre- & post-cruise
Includes meetings, parties, tours and host hotels. Our Hotel packages always include port transfers. We'll organize a big Halloween Pre-cruise party in Barcelona on October 28. Post cruise in Miami.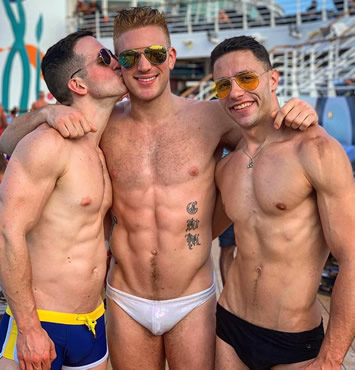 Transatlantic Gay Group Cruise 2023 Itinerary


Date

Port

Arrive

Depart

29 Oct
Barcelona, Spain
5 PM
30 Oct

A Day at Sea!

31 Oct
Malaga, Spain
8 AM
6 PM
01 Nov
Seville (Cadiz), Spain
8 AM
5 PM

02 Nov

A Day at Sea!

03 Nov

A Day at Sea!

04 Nov

A Day at Sea!

05 Nov

A Day at Sea!

06 Nov

A Day at Sea!

07 Nov

A Day at Sea!

08 Nov

A Day at Sea!

09 Nov

A Day at Sea!

10 Nov

A Day at Sea!

11 Nov
Nassau, Bahamas
8 AM
5 PM

12 Nov

Fort Lauderdale, Florida
6 AM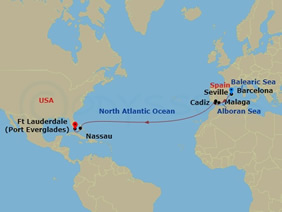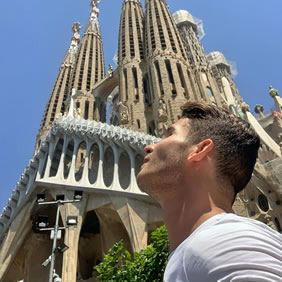 Day 1 - Barcelona, Spain
It's easy to see why gay friendly Barcelona
is the most-visited city in Spain. As the capital of the country's Catalonia region, this cityscape's cultural mosaic pieces together a 2,000-year-old hodgepodge of sun-drenched beaches, cutting edge architecture, and a world-renowned dining and drinking scene. Catalan architect Antoni Gaudí left his modernist handprint all over the city, while medieval treasures linger in historic Gothic Quarter squares. Get lost in the whimsical gardens of Park Güell or savor a chef-led Catalan cooking class. Browse art collections dedicated to Picasso and Miro— or ride a cable car to the top of Montjuïc Hill, relishing citywide views along the way.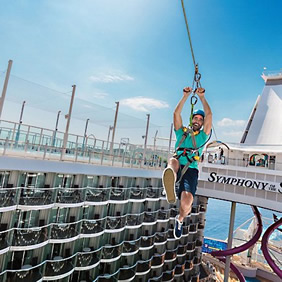 Day 2 - Fun Day at Sea!
While at sea, take the time to recharge before the next adventure. Lounge by the pool, be spoiled at the spa, taste the delicacies or explore the venues on-board, until we arrive at the next amazing destination.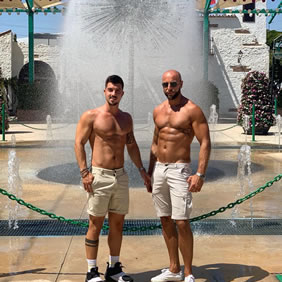 Day 3 - Malaga, Spain
The hub of Spain's southern Costa del Sol, Málaga is the picture of paradise. Scale the hilltop to dramatic La Alcazaba, the sandy-colored Moorish fortress dating back to the 11th century that overlooks this ancient seaside city. Sun yourself on the idyllic beaches of Caleta and Malagueta, taking in views of the mountains across the bay. See the eccentric works of modernist master Pablo Picasso, the city's most famous native son, at the Picasso Museum. Cruise to Málaga and immerse yourself in baroque and renaissance architecture at Málaga Cathedral, with its elaborate arches and stone reliefs depicting the saints, or turn the clock back to the first century A.D. at the ruins of the Roman Theatre.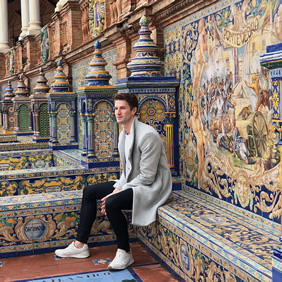 Day 4 - Seville (Cadiz), Spain
As the capital of Spain's Andalusia region, the energetic city of Seville stands tall at the banks of the Guadalquivir River. And like its rich flamenco legacy, this well-preserved city performs an elaborate dance between Moorish history and youth-infused street culture. A jovial spirit and intoxicating personality flow freely throughout its narrow streets, from Old Town's palaces to the tapas bars of Santa Cruz. Admire the lavish stylings of Plaza de España from a painted ceramic bench, or stroll through Maria Luisa Park's serene greenery. Stand in Spain's oldest bullring at the Bullfighting Museum— or breathe in citywide views from the top of Torre del Oro.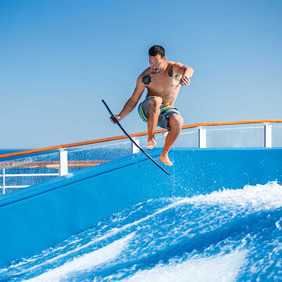 Days 5 - 13 - Fun Days at Sea!
Up for adventure? Put on your brave face and get ready to race through twists, turns and next-level thrills on the boldest slides at sea. No matter which ship you sail on, The Perfect Storm waterslides take excitement off the charts. Grab your board and get ready for 30,000 gallons of rushing awesome headed your way. The surf's always up on the 40-foot-long FlowRider® surf simulator.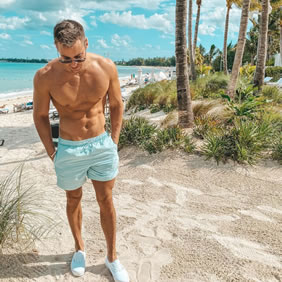 Day 14 - Nassau, Bahamas
Caribbean charm shines in the Bahamian capital, where you're never more than a few steps away from rhythmic percussions, appetizing flavors, white-sand beaches, and some of the clearest waters in the world. This picture-perfect paradise was once a pirate's haven— and you can explore its colorful past of buccaneers, blockade-runners and bootleggers along historical streets and at the three colonial fortresses that line the shores. If you're looking for a more hands-on maritime adventure, look no further.
Cruise to Nassau and swim with stingrays, dive with dolphins, or spot colorful coral on a glass-bottom boat. And just across the bridge is beautiful Paradise Island, home to world-famous luxury hotels and resorts. Spend the day at the famous Atlantis
and splash your way through its expansive water park, grab a piña colada at the Marina Village, and spot the hammerhead sharks in Predator Lagoon.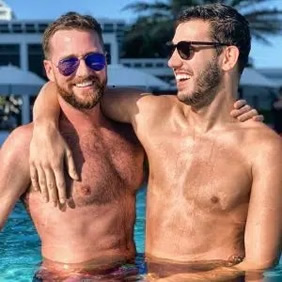 Day 15 - Fort Lauderdale, Florida
One of the most desirable gay-friendly cities in Florida and a perfect destination for the gay visitor. Fort Lauderdale is home to beautiful sandy beaches and an exciting gay scene. Sometimes referred to as America's Venice, most travelers stay close to the beach and the waterfront. Heading further into town you'll find many restaurants, a good selection of hotels and numerous gay bars. The gay scene in Fort Lauderdale is expansive and diverse and boasts one of the largest scenes in Florida. The hub of the city's gay community is Wilton Manors, a neighbourhood of Fort Lauderdale that is iconic for its high concentration of gay bars and clubs.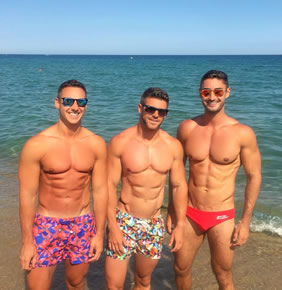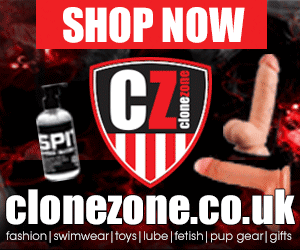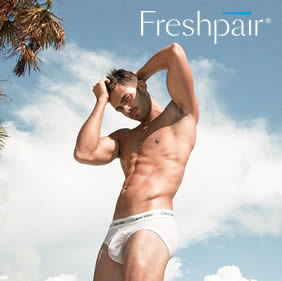 Gross Tonnage: 228,081 • Length: 1,188 feet • Beam: 215.5 feet • Cruising Speed: 30 knots • Guests: 5,518 • Crew: 2,200 • Ship's Registry: Bahamas

Symphony Transatlantic Gay Cruise 2023 Rates

Interior Stateroom
Have a fabulous holiday staying in one of our affordable and accessible interior staterooms, with super comfy beds and everything you'll need, including TV, sitting area, telephone, safe, private bathroom with shower, vanity area and hair dryer.
€ 1,099

€ 1,199

€ 2,088

Oceanview Stateroom
Have a fabulous holiday staying in one of our affordable and accessible oceanview staterooms, with super comfy beds and everything you'll need, including TV, sitting area, telephone, safe, private bathroom with shower, vanity area and hair dryer.
€ 1,239

€ 1,339

€ 2,368

Central Park View /
Boardwalk View
Balcony Stateroom
Relax with a view over Central Park or Boardwalk in our spacious, luxurious and accessible balcony staterooms. With your own private balcony, telephone, refrigerator or minibar, private bathroom with shower, vanity and sitting area, hair-dryer and TV, you'll be in heaven.
€ 1,349

€ 1,499

€ 2,588

Oceanview Balcony Stateroom
Relax with beautiful sea views in our spacious, luxurious and accessible balcony staterooms. With your own private balcony, telephone, refrigerator or minibar, private bathroom with shower, vanity and sitting area, hair-dryer and TV, you'll be in heaven.
€ 1,399

€ 1,549

€ 2,688

Suite
Indulge yourself with one of our stunning suites, where you'll find facilities to rival the best hotels in the world. With elegant and glamorous interiors, spacious private balconies, superior facilities such as a mezzanine or private bathroom with bathtub, and special privileges such as a complimentary Concierge service, you'll have the holiday of a lifetime.
On Request

N/A
On Request

All prices are per person, occupancy selected, and include all meals, accommodations and entertainment!

Taxes & charges of €150pp, Gratuities of €224pp, and optional insurance are additional.

First deposit of €500 per person is required upon booking. Full payment is due July 20, 2023.

Optional shore excursions will be offered.

Prices are cruise only and DO NOT INCLUDE return airfare! Please ask for airfare add-ons back to your home city.

Fares are subject to availability and may change without prior notice.

Also included are the traditional Cruise4Bears activities, subject to minimum participation.

If you cancel 91 days before departure: 250 EUR. 90-60 days: 40% of total. 60-30 days: 60% of total. 30-8 days: 85% of total. Less than 8 days: 100% of total. Name change: 100 EUR/pers, permitted until 10 days before cruise. Costs are applied to total (incl. Taxes).

Please ask for further details.

Special Airfares








Pre-Cruise Hotels







Post-Cruise Hotel