Wonder of the Seas
Ship Facts
Gross Tonnage: 236,857
Length: 1,188 feet
Beam: 210 feet
Draft: 30 feet
Cruising Speed: 22 knots
Guests: 5,734
Crew: 2,300
Decks: 18
Maiden Voyage: March 4, 2022

Eastern Caribbean & Perfect Day Bears & Gay Cruise 2023
7 nights from/to Orlando (Port Canaveral), Florida
November 12 – 19, 2023
Royal Caribbean Wonder of the Seas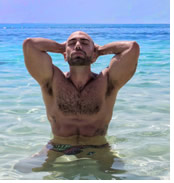 Join your bear buddies and friends on remarkable and memorable Eastern Caribbean Bears & Gay Cruise on the newest & biggest ship in the world, Wonder of the Seas! Your gay group cruise adventure includes a "Perfect Day Cococay", Bahamas, as well as days in Charlotte Amalie, St. Thomas, and Philipsburg. St. Maarten. You will sail on the Royal Caribbean's Wonder of the Seas, and find it brimming with unforgettable activities, world-class dining sure to impress the most discerning foodies, awe-inspiring entertainment produced by an award-winning team, and endless ways to level up your next adventure.
Get ready to launch from the Space Coast to our private island, Perfect Day at CocoCay and discover the eastern and western shores of the Caribbean.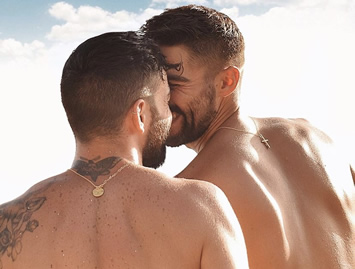 Everything is a big deal on the boldest and biggest ship in the world, Wonder of the Seas. This is a larger-than-life, island-hopping adventure with epic thrills for all ages. Adrenaline chasers meet their match at Ultimate Abyss. And everyone savors delicious dining options from homespun Southern classics with a twist to rustic Italian favorites.
Vacation is no time for tame — and the new Wonder of the Seas definitely ups the ante on downtime whether you're looking for jawdropping feats at the AquaTheater, your slice of the spotlight at our signature karaoke bar, or cocktails with a view at the all-new Vue Bar. The Wonder of the Seas offers a full playbill of original, awe-inspiring entertainment on stage, ice, and water.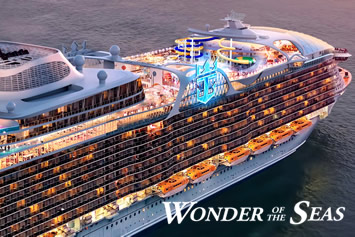 Your Ship - Royal Caribbean's Wonder of the Seas
What do you get when you combine the world's biggest ship with the boldest thrills ever to set sail? A gravity defying, status-quo denying, electrifying expedition onboard Wonder of the Seas. It's all new first-at-sea feats, plus all the favorites - turned up a big bold notch to give you the best adventure ever.
The Wonder of the Seas is a world-class cruise ship with all the amenities and more! 18 passenger decks, an ocean view from anywhere on the ship, ultra-modern lofted suites, and fine dining - what reason do you have to NOT take a cruise on the Wonder of the Seas?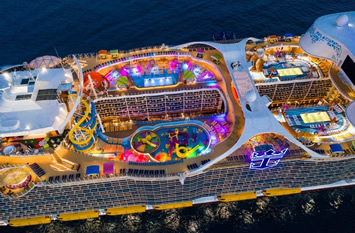 You'll find something for everyone onboard - adrenaline filled activities, a peaceful, adults-only Solarium for you and yours - and entertainment for everyone to enjoy!
Wonder of the Seas is one of our most popular ships in the fleet and from the moment you step onboard you'll see why. There's amazing entertainment, thrilling activities, delectable dining, boutique shopping, not to mention some of the most incredible destinations in the world. All that's missing, is you.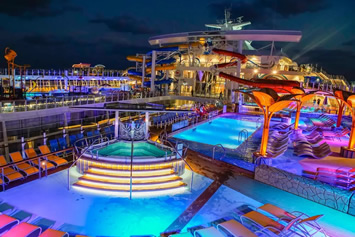 Activities on Wonder of the Seas
If you're wondering what there is to do on the Wonder of the Seas, rest assured that this ship has you covered! Take a dip in one of the four swimming pools, or relax in one of the ten whirlpools! The Pool Zone has a water park (H2O Zone), cantilevered whirlpools, a Flowrider surf park - which is a state of the art wave simulator where you can surf on the ship - and, there's even a zip-line that goes through the pool area so you can get a birds-eye view of the ship and ocean! Relax in the quiet Solarium (which is adults-only)!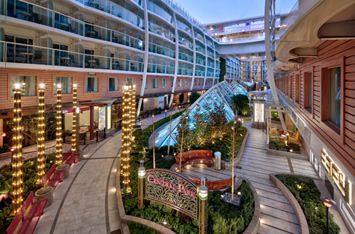 Take a stroll through the Boardwalk neighborhood, and look through the shops and restaurants - and there is even a classic carousel for you to ride! The Central Park area is full of lush greenery and restaurants, so you know you're in for a treat when you meander through! If you'd just like to relax, head over to the spa and pamper yourself with a massage! The Vitality at Sea Spa and Fitness center offers cardio machines, pilates, kickboxing, spinning, a weight room, and even full hair and makeup services! Check out the onboard amphitheater, the AquaTheater - and take in the breathtaking view from any of the decks on the ship!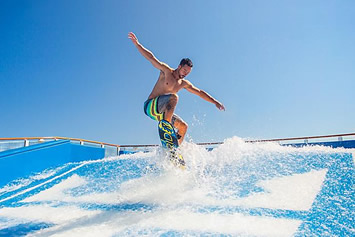 Dining / Food on Wonder of the Seas
On the Wonder of the Seas, your mouth will start watering when you see the array of food available! Choose from your regular dining options for breakfast, lunch and dinner and enjoy delicious food prepared to your taste! Or, check out the Johnny Rockets on the ship for 50's style diner food! There's a Portofino Italian Restaurant, a Chops Grille, Sorrento's Pizza and even a Ben and Jerry's Ice Cream parlor! Don't forget, there's 24-hour room service as well, serving the full menu!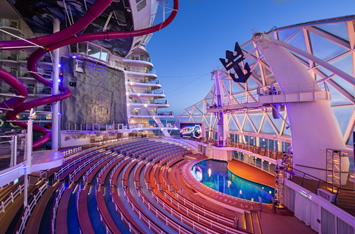 Entertainment on Wonder of the Seas
If you're ready to enjoy what the night has to offer, head out and brace yourself! The Wonder of the Seas features a jazz club, a comedy club, Studio B (which features ice shows), Dazzles (which features musical performances of anything from big band to disco), and the Opal Theater, a 1,380-seat theater! There is also the Blaze Nightclub, where you can dance the night away, and the Casino Royale, where you can bet you'll have a great time! Ready for a great party? The Wonder of the Seas has themed parades and themed nights, so you can get swept away in your favorite fantasies! Join in the fun! Head over to one of the bars, pubs, or lounges and just relax with your favorite beverage! Your night will be full of fun on the Wonder of the Seas!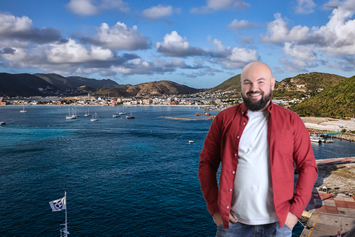 Only for Bears!
Theme Parties
White party, Hot'n'Sexy party or Costume party. Only for bears. Private.
Tours & Transfers
We work very hard to offer the best all-bear tours at incredible rates.
Pre- & post-cruise
Includes meetings, parties, tours and host hotels. Our Hotel packages also include transfer from/to port.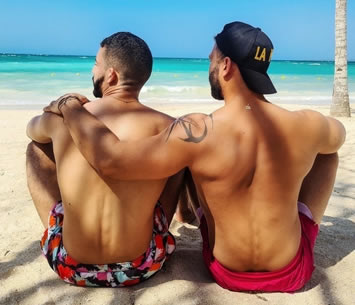 Eastern Caribbean
Bears & Gay Cruise 2023 Itinerary


Date

Port

Arrive

Depart

12 Nov
Orlando (Port Canaveral), Florida
4:30 PM
13 Nov
Perfect Day at CocoCay, Bahamas
7 AM
4 PM
14 Nov

Fun Day at Sea!

15 Nov
Charlotte Amalie, St. Thomas
1 PM
8 PM

16 Nov

Philipsburg, St. Maarten
8 AM
6 PM
17 Nov

Fun Day at Sea!

18 Nov

Fun Day at Sea!

19 Nov
Orlando (Port Canaveral), Florida
6 AM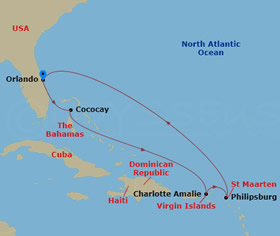 Day 1 - Orlando (Port Canaveral), Florida
As the home of Kennedy Space Center, Cape Canaveral is the launching point for all-out adventure in Central Florida. Its beaches offer a mix of friendly shores and secluded swaths of sand. And with Orlando's theme park sprawl only an hour away, you can easily mingle with your favorite characters. Beyond the parks lie equally amusing gems packed with Old Florida character. Kayak past manatees in the Banana River Lagoon and zip line above alligators at Brevard Zoo. Discover notable art museums and Park Avenue's ritzy charm. Orlando cruise give you access to trace the region's roots at the Orange County Regional History Museum.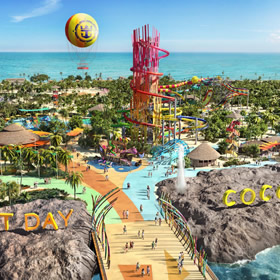 Day 2 - Perfect Day at CocoCay, Bahamas
This isn't vacation days spent. This is bragging rights earned. Conquer the tallest waterslide in North America and snap a shot from up to 450 feet up in a helium balloon. Grab a drink at the swim-up bar and soak up the scene in the largest freshwater pool in The Bahamas. Or get a taste of Bora Bora with your own Overwater Cabana.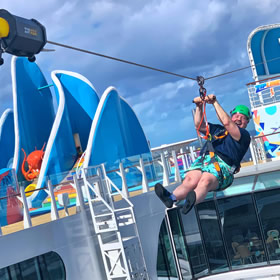 Day 3 - Fun Day at Sea!
Sit back, kick off your shoes and put your feet up during our 'at sea' days, where you can chill in the bar, lounge by the pool or enjoy a relaxing beauty treatment in the spa. For simple pleasures, why not try a game of table tennis? Or if you're feeling energetic, now's the chance to explore all the amazing activities the ship has to offer, from spectacular, West-End-style entertainment to adrenalin-charged sports.
Day 4 - Charlotte Amalie, St. Thomas
Charlotte Amalie is one of the world's most beautiful harbors; blue waters peppered with sailboats and green hills dotted with quaint little cottages make for post-card perfect brags. Just outside the lively port town, you'll find ribbons of powdery sand beaches dotted with hammocks. Cruise to St. Thomas and explore colonial landmarks like Blackbeard's Castle or raise a pint of the local lager at quaint microbreweries. And when it's time to fuel up, you'll find plenty of beachside bars serving conch fritters, johnnycakes, and coconut patties. St. Thomas may technically be part of the U.S., but with its colorful markets, unspoiled beaches, and the ever-present sound of steel drums, you'll feel a world away.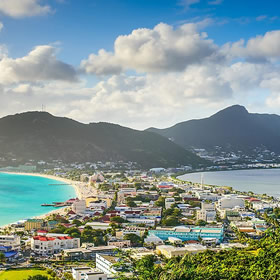 Day 5 - Philipsburg, St. Maarten
What makes St. Maarten so unique is its blend of cultures. The island is home to 120 different nationalities speaking over 80 languages, and is governed by two countries: the Netherlands and France. In fact, it's the smallest land mass in the world to be shared by two different nations. While it may be less than 40 square miles, there's plenty to do on this little island: you can travel back in time while exploring centuries-old ruins and get your adrenaline fix ziplining through lush tropical forests. If you're after a little rest and relaxation during your cruise to St. Maarten, you'll find plenty of secluded beaches where you can work on your suntan before treating your taste buds to some of the best cuisine in the Caribbean.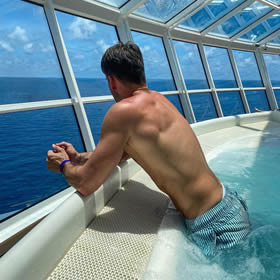 Day 6 & 7 - Fun Day at Sea!
The search for your favorite island bar is over. The Lime and Coconut® turns the vacay vibes way, way up with DJs, live music and two bars serving all your favorite poolside cocktails — including the signature Lime & Coconut. And when the sun goes down, this pool bar just might be the hottest spot onboard.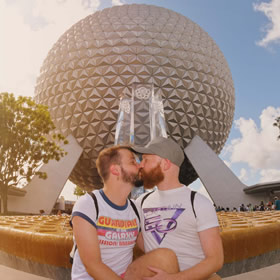 Day 8 - Orlando (Port Canaveral), Florida
Orlando is one of the most cosmopolitan cities in the USA, the city's downtown is a bustling hub of culture, tourism and business and the downtown area spills onto the beachfront promenade giving way to stretching white beaches. The city has a defined identity as a global hub of entertainment, resort tourism and gay culture. Orlando is the number one travel destination in the USA and is becoming increasingly popular amongst gay travelers. The gay scene in Orlando is lively, vibrant and energetic. Shaped by the large South American community in Orlando, many of the city's gay clubs and bars are heavily influenced by Latin culture, music and style.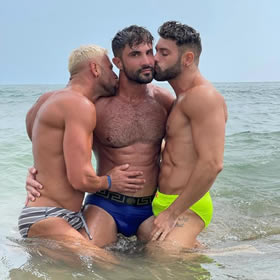 Guests: 5,734 • Gross Tonnage: 236,857 • Length: 1,188' • Beam: 210' • Draft: 30' • Cruising Speed: 22 knots

Eastern Caribbean Bears & Gay Cruise 2023 Rates

Interior Stateroom
Have a fabulous holiday staying in one of our affordable and accessible interior staterooms, with super comfy beds and everything you'll need, including TV, sitting area, telephone, safe, private bathroom with shower, vanity area and hair dryer.
$ 965

$ 1,804

Oceanview Stateroom
Have a fabulous holiday staying in one of our affordable and accessible oceanview staterooms, with super comfy beds and everything you'll need, including TV, sitting area, telephone, safe, private bathroom with shower, vanity area and hair dryer.
$ 1,140

$ 2,154

Central Park View /
Boardwalk View
Balcony Stateroom
Relax with a view over Central Park or Boardwalk in our spacious, luxurious and accessible balcony staterooms. With your own private balcony, telephone, refrigerator or minibar, private bathroom with shower, vanity and sitting area, hair-dryer and TV, you'll be in heaven.
On Request
On Request
Oceanview Balcony Stateroom
Relax with beautiful sea views in our spacious, luxurious and accessible balcony staterooms. With your own private balcony, telephone, refrigerator or minibar, private bathroom with shower, vanity and sitting area, hair-dryer and TV, you'll be in heaven.
$ 1,278

$ 2,429

Suite
Indulge yourself with one of our stunning suites, where you'll find facilities to rival the best hotels in the world. With elegant and glamorous interiors, spacious private balconies, superior facilities such as a mezzanine or private bathroom with bathtub, and special privileges such as a complimentary Concierge service, you'll have the holiday of a lifetime.
On Request
On Request
All prices are per person, occupancy selected, and include all meals, accommodations and entertainment!

Taxes of $125 pp, Gratuities of $101.50 pp and optional insurance are additional.

First deposit of €375 per person is required upon booking. Full payment is due 90 days prior to sailing.

Optional shore excursions will be offered.

Prices are cruise only and DO NOT INCLUDE return airfare! Please ask for airfare add-ons back to your home city.

Fares are subject to availability and may change without prior notice.

Also included are the traditional Bear Cruise activities, subject to minimum participation.

Please ask for further details.

Special Airfares








Pre-Cruise Hotels







Post-Cruise Hotel