Celebrity Apex
Ship Facts
Occupancy: 2910
Tonnage: 129,500 feet
Length: 1004 feet
Beam: 128 feet
Draught: 27 feet
Cruising Speed: 21.8 feet
Inaugural Date: April, 2020
Bears on Deck Caribbean Gay Bears Cruise 2024
7 nights cruise from/to Fort Lauderdale, Florida
March 23 – 30, 2024
Celebrity's Apex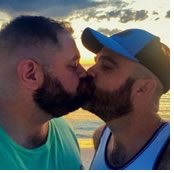 Join like minded bears, cubs, chubs, chasers, their friends and families on Bears of Central Florida hosted Caribbean gay & bears group cruise. We set sail from Fort Lauderdale, Florida to beautiful St. Maarten, St.Thomas & Dominican Republic on incredible new cruise ship, Celebrity Apex! Expect more gay & bears parties, shows and entertainment. Palm-fringed beaches, pure white sand, turquoise seas, thrilling watersports and superb shopping – you'll be in paradise on your holiday to the lovely Eastern Caribbean.
Get ready for a modern luxury cruise you'll never forget. With a blend of modern life and colourful heritage, you'll discover incredible natural beauty, culinary wonders and cultural gems at every turn. Our Eastern Caribbean cruise go beyond the ordinary.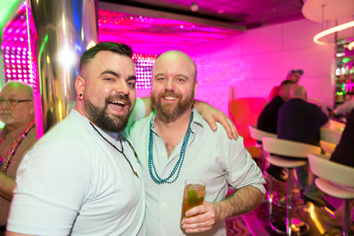 Climb, hike, swim, bike, or chill in some of the world's most beautiful places. From verdant mountain peaks to dazzling coral reefs teeming with tropical fish, the Caribbean is a never-ending show of nature's wonders. Azure seas, sugar-white beaches, rainforests, volcanoes – there is nothing subtle about the various landscapes of the Caribbean. Every island has its own personality, from sleepy to bustling, and on a Caribbean cruise you can experience it all.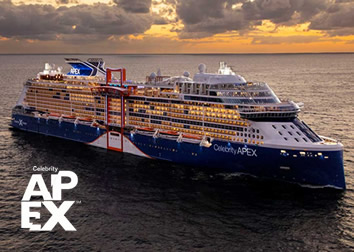 Celebrity Apex - More space. More luxury. More connected.
Welcome to a place where you can escape and experience all the things you've been missing for so long. Only now, those things are even better than you've imagined. This is a place where the everyday gives way to the extraordinary. A place with more space to lose yourself in and more luxury to love. Where the possibilities are as endless as the views. Where you can disconnect entirely while you reconnect with each other—and the world. This place is Celebrity Apex!.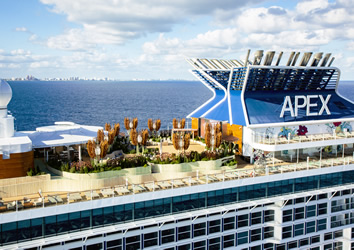 The second ship in Celebrity revolutionary Edge® Series, Celebrity Apex takes our innovative outward-facing design further than ever, creating an even closer connection between you, the sea, and every exciting place on the horizon. Soak up the sun, salt breezes, and stunning scenery in newly expanded open-air spaces. Savor fine dining that rivals anything you'd find on land. And discover even more ways to relax and renew.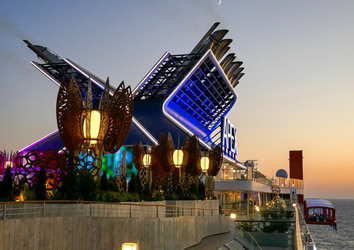 To ensure Celebrity Apex would live up to its name, Celebrity Cruises not only reunited the dream team of architects and designers who first envisioned our Edge Series, but expanded their roles—and their designs will expand the way travel inspires you. Celebrity also stretched the length of the ship to create even more room for incredible outdoor spaces, like the new two-story Sunset Bar imagined by world-famous designer Nate Berkus and a redesigned Rooftop Garden by the visionary Kelly Hoppen, CBE, that brings you closer than ever to the water's edge—both in collaboration with celebrated architect Tom Wright of WKK.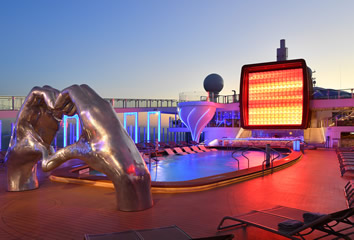 Kelly also took The Retreat Sundeck to a luxurious new level in more ways than one. And Celebrity Cruises introduced even more delicious culinary experiences to already unrivaled collection, including a new restaurant by the world-renowned chef, Daniel Boulud. All this is just the beginning of how Celebrity Apex will redefine the art of luxury travel again, like each of our Edge Series ships has done before.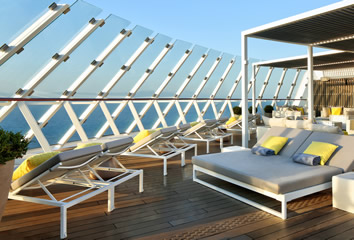 Unwind at The Retreat Sundeck
A place so exclusive it has no address, The Retreat is the ultimate luxury vacation experience. Every guest not only enjoys stunning suite accommodations but also private dining, exclusive spaces, and a long lineup of services and amenities. Celebrity Apex enhances this already unrivaled resort-within-a-resort with stunningly reimagined spaces by one of the most sought-after interior designers in the world.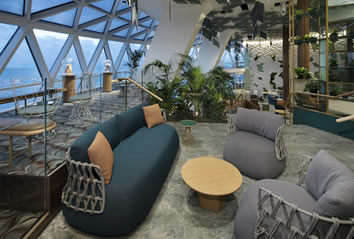 As a guest of The Retreat on Celebrity Apex, you'll have your choice of stunning suite accommodations, including our two-story Edge Villas with outdoor plunge pools, and our Iconic Suites, the largest in Celebrity fleet, featuring views as amazing as the captain's. All suites on Celebrity Apex feature fresh color palettes and design details. As always, you'll enjoy a Personal Retreat Host, so you never have to lift a finger, along with luxurious amenities like eXhale® bedding, king-sized Cashmere mattresses designed exclusively for Celebrity, and plush Frette robes and slippers—just to name a few. And now, when you book The Retreat, every guest in your suite receives premium drinks, streaming Wi-Fi, tips, a shore excursion credit, and an onboard credit to use however you choose.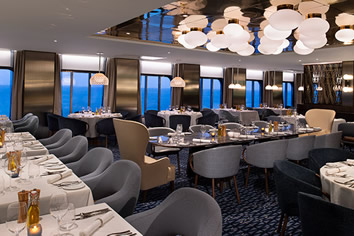 Here the Restaurants are Destinations in Themselves
What you eat on vacation is almost as important as where you go, and on every Celebrity vacation, we bring both those things together perfectly. The captivating scents and flavors of your dining experience will transport you to new places—without even leaving your table. Our Michelin-starred chef creates the globally inspired dishes on every menu, and the dishes are prepared fresh daily using local ingredients. And, with a wide variety of distinctive restaurants, where the vibe is as appealing as the cuisines they serve, your favorite restaurant during your vacation will most likely be right on board.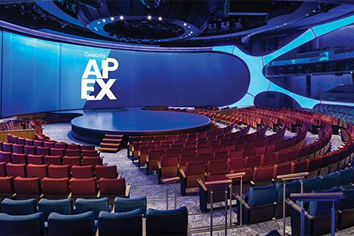 Some of the Best Destinations You'll Visit Are Right on Board
One of the most exciting parts of any vacation is discovering new places. Places that awaken a sense of wonder within you. Places that spark your imagination and curiosity. Places that change the way you see the world. On Celebrity Apex, you'll discover places that do exactly that. Places we've designed to entertain you, to amaze you, and to transport you and change the way you experience the world. To do this, we've enlisted the help of some of the most dynamic architects, interior designers, and creative teams in the world. Together, we create the places you long to discover on vacation. Welcome to a place where your vacation dreams come true.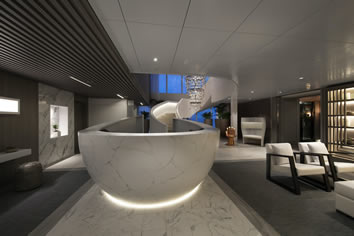 An Ahh-Inspiring Escape for the Modern Traveler
Whether you want to clear your mind, fine-tune your body, reinvigorate your spirit—or all of the above—The Spa is an indulgent escape where you can do it all. The Spa introduces an array of innovative new firsts in beauty, fitness, and wellness that make finding complete bliss on vacation easier than ever.
The Spa features a lineup of the most advanced ways to look and feel your best on vacation. Discover how we've teamed up with the leading authorities in their fields and harnessed the most cutting-edge technological innovations to create a spa experience unlike anything else at sea.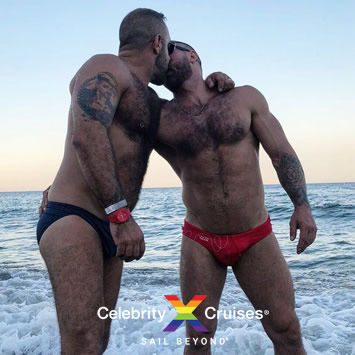 Bears On Deck
Caribbean Bears Cruise 2024
Itinerary


Date

Port

Arrive

Depart

23 Mar
Fort Lauderdale, Florida
3:30 PM
24 Mar

A Day at Sea!

25 Mar
San Juan, Puerto Rico
3:30 PM
10 PM
26 Mar
Philipsburg, St. Maarten
10 AM
7 PM

27 Mar

Charlotte Amalie, St.Thomas
7 AM
3 PM
28 Mar
Puerto Plata, Dominican Republic
11 AM
6 PM

29 Mar

A Day at Sea!

30 Mar
Fort Lauderdale, Florida
7 AM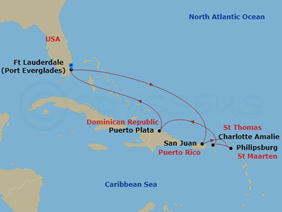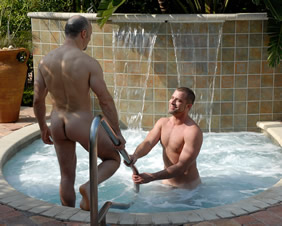 Day 1 - Fort Lauderdale, Florida
16 million visitors come each year for miles of broad white sandy beaches, dozens of lush green golf courses, and Caribbean cruises from Fort Lauderdale. Stroll the famous beachfront promenade, just 15 minutes from the port, and plunge into the warm Atlantic. Head downtown to Las Olas Boulevard, paralleling New River, to sip lattes in outdoor cafés, shop chic boutiques, and catch concerts at the performing arts center. Stop at Stranahan House, the city's oldest structure, built in 1901 as a trading post and preserved as a museum, or explore a whole village of historic buildings at History Fort Lauderdale. Join a Segway tour along the river or a waterborne cruise of Millionaire's Row.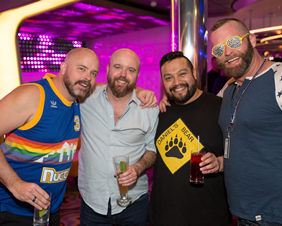 Day 2 - Day at Sea!
While at sea, take the time to recharge before the next adventure. Lounge by the pool, be spoiled at the spa, taste the delicacies or explore the venues on-board, until we arrive at the next amazing destination.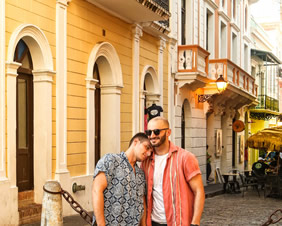 Day 3 - San Juan, Puerto Rico
Puerto Rico is one of the largest islands in the Eastern Caribbean. Discover the classic signs of a vacationer's paradise on our cruise to Puerto Rico: gorgeous landscape with lush green mountains, underground caves, balmy waters, white-sandy beaches, delicious rum drinks and so much more. Spend an afternoon snorkeling during your cruise to Puerto Rico and discover the beautiful marine life of the Caribbean Sea while swimming among the fish, coral communities, mangrove forests, and seagrass beds. Or take an evening sail around Old San Juan for amazing views of the 500-year-old walled city as the sun casts gorgeous light on the turquoise waters.
Day 4 - Philipsburg, St. Maarten
In the 17th century, Dutch and French soldiers decided to share this little island, and today it remains happily split between France (Saint Martin, north side) and the Netherlands (Sint Maarten, south side).
Cruise to St. Maarten and explore the dozens of alluring beaches that ring the island. At Orient Beach, sunbathers bask and beachcombers stroll on the white sands, while divers and snorkelers explore the sunken shipwrecks and marine life just offshore. You'll really get blown away at Jet Blast Beach (officially Maho Beach), next to the airport.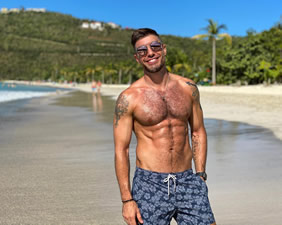 Day 5 - Charlotte Amalie, St.Thomas
Charlotte Amalie is the enchanting capital of St. Thomas that has attracted pirates and sailors the world over for centuries. The island enjoys a fascinating fusion of Danish, French, Spaniard, West African and Carib influences. There's so much to discover on a cruise to St. Thomas. Experience the beauty of St. Thomas beaches with a wonderful picnic on Magens Bay beach or snorkel in the turquoise Caribbean Sea where you'll come up close to corals, sponges, and schools of colorful tropical fish. Authentic island dishes like savory curries with roti, the freshest seafood, and delicious drinks made with the finest local rums are readily available on restaurant menus. And, while the beaches and ocean are beautiful, there is one thing that really sets St. Thomas apart - shopping.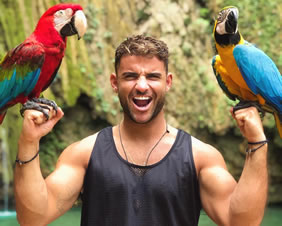 Day 6 - Puerto Plata, Dominican Republic
By the 20th century, Puerto Plata had emerged as the Dominican Republic's main tourism hub. You can paddle through a manatee reserve or zipline over treetops. Go for a swim at the awe-inspiring 27 Waterfalls complex. Hike through the lush, protected jungle of El Choco National Park, enjoying the park's two lagoons. Swim with dolphins at World Ocean, the largest manmade dolphin habitat in the world, or grab a kayak and head out on the water at Manatee Reserve. Nature, adventure, history – Puerto Plata has it all.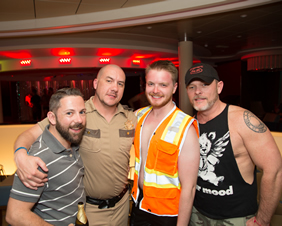 Day 7 - Day at Sea!
Revolutionary experiences await you onboard. From the Magic Carpet that reaches heights of 13 stories above sea level to the 20 ft LED wall in The Theatre, Celebrity Apex breaks from traditional ship design. Explore 29 distinct restaurants, bars, and lounges that will awaken all your senses, and savor new globally inspired menus crafted by our Michelin-starred chefs.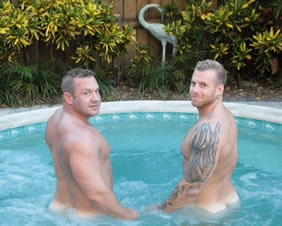 Day 8 - Fort Lauderdale, Florida
Fort Lauderdale is tropical paradise for gay city dwellers. The city offers gay beaches, naked beaches, sultry swimming pools at exclusively gay resorts, and gay bars and clubs that cater to everyone from bears to softball players to singles looking for a quiet lounge atmosphere for a date.
Shopping is a popular pastime for gay visitors. The hottest spots include Las Olas Boulevard with its unique shops and cafes and the diverse and fun Festival Flea Market. With so many great options to choose from, Fort Lauderdale will be a very memorable experience indeed.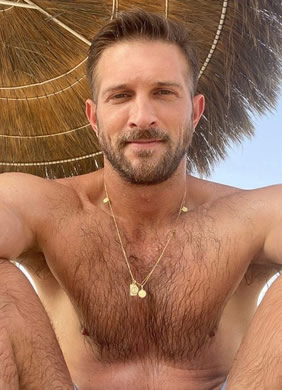 Guests: 2,910 • Tonnage: 129,500 • Length: 1004'• Beam: 128' • Draught: 27' • Cruising Speed: 21.8 kts • Inaugural: April, 2020

Bears On Deck
Caribbean Gay Bears Cruise 2024 Rates

Deluxe Inside Stateroom
Our cosy and contemporary interior staterooms are ideal for relaxing and refreshing, ready for a holiday you will never forget. With a sofa and flatscreen TV, it is a home away from home. When night falls, settle down in your sumptuous bed for a serene and well-deserved rest.

$ 1,399

Ocean View Stateroom
Enjoy some of the best views of your holiday, before you have even reached your destination. From the sumptuous bed, look out to see oceans and islands passing by. With warm décor and thoughtful design, learn more about the best place to wind down after a day of discovery.

$ 1,599

Edge Single Stateroom with Infinite Veranda
The Edge Single Stateroom with Infinite Veranda is for modern travelers who love to explore the world on their own. Please note that this rate is for the stateroom since the room is only for one guest.

$ 2,199

Edge Stateroom with Infinite Veranda
The most transformational aspect of our stateroom design is the introduction of the Edge Stateroom with Infinite Veranda, where with the touch of a button, your entire living space becomes the veranda, letting you walk right out to the water's edge.

$ 2,149

Concierge Class Stateroom with Veranda
Concierge Class is the perfect choice if you want to know everything is taken care of. And, exclusive to Edge Class, your Concierge Class Stateroom features an Infinite Balcony - with the touch of a button your doors will fold away and your entire living space will become your balcony.

$ 2,267

Aqua Class Stateroom with Veranda
Our AquaClass staterooms are designed for anybody seeking well-being and relaxation. Exclusive to Edge Class, your AquaClass Stateroom features an Infinite Balcony. With the touch of a button your doors will fold away and your entire living space will become your balcony.

$ 2,837

Magic Carpet Sky Suite
A sliding panel provides views to the room and the ocean beyond. Sky Suite guests enjoy access to The Retreat, featuring a private restaurant, exclusive lounge, and a private pool area complete with its own pool bar. Sky suites also offer a variety of connection options with other staterooms for friends who want to stay close when traveling together.

$ 4,237

Sky Suite
A sliding panel provides views to the room and the ocean beyond. Sky Suite guests enjoy access to The Retreat, featuring a private restaurant, exclusive lounge, and a private pool area complete with its own pool bar. Sky suites also offer a variety of connection options with other staterooms for friends who want to stay close when traveling together.

$ 4,324

Sunset Sky Suite
A sliding panel provides views to the room and the ocean beyond. Sky Suite guests enjoy access to The Retreat, featuring a private restaurant, exclusive lounge, and a private pool area complete with its own pool bar. Sky suites also offer a variety of connection options with other staterooms for friends who want to stay close when traveling together.

$ 4,584

Aqua Class Sky Suite
A sliding panel provides views to the room and the ocean beyond. Sky Suite guests enjoy access to The Retreat, featuring a private restaurant, exclusive lounge, and a private pool area complete with its own pool bar. Sky suites also offer a variety of connection options with other staterooms for friends who want to stay close when traveling together.

$ 4,932

CS - Celebrity Suite
The master bedroom has a king-sized bed and a private veranda to overlook the sea beyond. The split bathroom arrangement offers a powder room, a separate spa tub/shower area, and a master dressing area with dual sink and vanity, and a full wardrobe. Celebrity Suites are located close to the Retreat that features a private restaurant, exclusive lounge, and a private pool area complete with its own pool bar. Connect a Celebrity Suite to an Edge Stateroom with Infinite Veranda to create a space perfect for getaways with a group of friends.

$ 8,469

RS - Royal Suite
The master bedroom has a king-sized bed that faces the panoramic window and overlooks the private veranda and the sea beyond, with a large soaking tub with a separate shower, double sink vanity, and a sliding panel that opens to views of the sea. Royal Suites are located close to the Retreat that features a private restaurant, exclusive lounge, and a private pool area complete with its own pool bar.

$ 11,072

Edge Villa
The unique design of the Edge Villas seamlessly blends indoor and outdoor living. With two stories of windows that look out over the terrace (featuring a three-feet-deep plunge pool and inviting lounge furniture) to the incredible ocean views beyond, it's an open and airy environment that truly invites the outside in, and vice versa. Edge Villas not only offer private outdoor terraces, but they also have direct access to The Retreat, an exclusive area for Suite Class guests. Step right out to The Retreat Sundeck and The Retreat Pool and bar, or retreat to your own private oceanfront villa.

$ 15,909

Penthouse Suite
The Penthouse Suites combine all the innovative amenities of our staterooms with the exclusive benefits of being a Suite Class guest. They include a master bedroom, bathroom, and dressing room, living/dining area, guest bedroom and bathroom, terrace, and private hot tub, plus a butler on hand to ensure you never have to lift a finger during your vacation.

$ 20,247

Iconic Suite
Iconic Suites boast two bedrooms and two full bathrooms, featuring a full shower, whirlpool tub, and nothing but the best amenities. Enough space for six guests to comfortably unwind in, there's even an in-suite butler's pantry for those occasions when you feel like entertaining. If you want the ultimate in indulgence at sea, there's no other way to go than Iconic.

$ 33,259

All prices are per person, double occupancy, and include all meals, accommodations and entertainment!

Taxes of $151.01pp, and optional insurance are additional.

A deposit of $400 ($450 in Veranda staterooms) per person is required at time of booking.
Differend deposit required for Suites.
Balance payment is due 90 days prior to sailing.

Optional shore excursions will be offered.

Prices are cruise only and DO NOT INCLUDE return airfare! Please ask for airfare add-ons back to your home city.

Fares are subject to availability and may change without prior notice.

Also included are the traditional Bears On Deck escort and activities, subject to minimum participation.

Bears On Deck Entertainment Fee!
$200 per person NON-REFUNDABLE "Bears on Deck" entertainment fee required to be paid within 30 days of booking cabin. Booking fee will increase to $250 per person after April 30, 2023.

Three Perks Fares!
Book any non-suite category and receive the following three complimentary perks: Classic beverage packages, onboard tips, and unlimited onboard internet packages!

Suite deal!
Book a Suite and get all the perks in the Indulge package: complimentary Premium beverage packages, onboard tips, unlimited onboard 'stream' internet packages, and an onboard credit of $400 per person!

Special Airfares











Pre-Cruise Hotels







Post-Cruise Hotels