Big Gay Caribbean Cruise 2025
5 nights from/to Miami, Florida
February 03 – 08, 2025
Royal Caribbean Independence of the Seas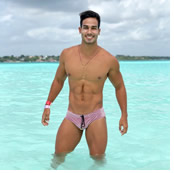 Welcome to the Third Annual Big Gay Cruise! Big Gay Cruise is the ultimate experience for LGBTQ+ members and allies. Boasting a lineup of famous stars from Rupaul's Drag Race and Word Famous Recording Artist, we are setting sail in 2025 with exclusive nightclub events, daily happy hour drag shows and a private theater performance - all at an affordable price! Join us for multiple daily private events, get up close and personal with the stars of the ship. Meet the boys of Colby Knox & our star lineup of drag queens.
Big Gay Cruise powered by Chemistry Nightclub (Greensboros's Neighborhood Gay/Straight/Whatever Bar & Club), The Scorpio Gay Nightclub (Charlotte's Premier Gay Night Club), Flex Nightclub (Raleigh's Neighborhood Gay/Straight/Whatever Bar & Club), Legends Nightclub (Raleigh's renowned leader in LGBT nightlife), LeBoy - Where The Boys Are (Fort Lauderdale's favourite hangout spot for gay guys with a modern feel and plenty of adult entertainment for you to enjoy), LIT Wilton Manors (Wilton Manors very welcoming gay bar), Colby Knox (XXX gay porn videos, premium adult gay porn & gay videos)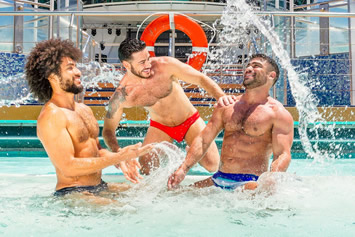 Big Venues = Big Fun!
Get ready to turn up the energy and join us for an unmissable experience! This year we're bigger, louder and prouder than ever before with exclusive venues and entertainment running day-and-night. Come join us as we cruise into new horizons and create memories that will last a lifetime! #BigGayCruise #StudioB #StarLounge #GayKaraoke #GayTrivia.
Private Club Just For You
Join us for the ultimate experience as we transform Studio B into a luxurious private nightclub for 4 of 5 nights. Hear our Headline DJ and get ready to party like never before.
Get ready to be dazzled!
Step into the spotlight and check out the star-studded Star Lounge, where everyday is made special by our Afternoon Drag Shows!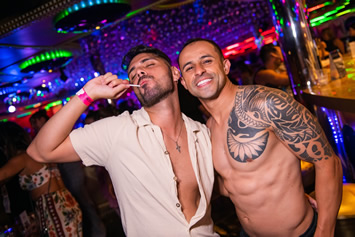 Party all night
Experience two exclusive nightclub events that will have you partying up until sunrise. And if you need a break from the dance floor? We've got you covered with daily afternoon happy hour drag shows and a private theater performance for some much needed rest and relaxation.
Big-name acts
Don't miss this once-in-a-lifetime opportunity to experience the best of the LGBTQ+ community with celebrity appearances from Rupaul's Drag Race stars Heidi N Closet & Elliott with 2 Ts, as well as recording artists Livin' Joy & X Factor Janice Robinson.
A trip like no other
With Big Gay Cruise, you can indulge in all your favorite LGBTQ+ experiences without breaking the bank. Enjoy an unforgettable trip that won't leave your wallet empty!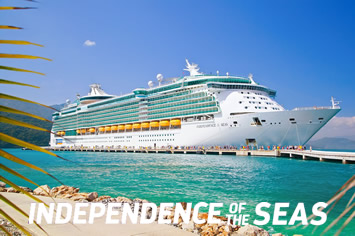 Your Ship - Independence of the Seas
Sailing unforgettable getaway from the Sunshine State. This is a firm "no" to FOMO. Independence of the Seas
is giving the Caribbean an injection of new adventures on getaways. Hang ten on our Flowrider surf simulator. Go head to head in a glow-in-the-dark laser tag clash in Battle for Planet Z. Score an awesome time and game-changing grub at Playmakers Sports Bar & Arcade. Come Seek the Royal Caribbean.
If you're after an almost limitless number of activities and forms of entertainment, whether that's watching a Broadway show, enjoying movies by the pool, or perfecting your surfing skills – Independence of the Seas delivers, time and time again.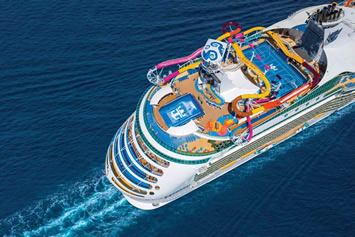 • Launch yourself into a virtual world on a new bungee trampoline experience — Sky Pad
• Welcome to the most elevated spot for indulging in your favorite eats and libations at Suite Lounge
• Savor every bite of batter fried goodness poolside at the new Fish & Ships seafood spot
• Shop the biggest designer names and onboard exclusives, all at prices you won't find on land
• Plunge through three stories of twisting, turning thrills to the bottom of the dual racer slides Typhoon and Cyclone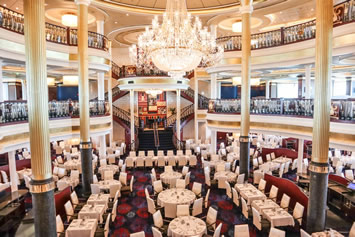 Dining on Independence of the Seas
Savor every bite of batter fried goodness poolside at the new Fish & Ships seafood spot. Take your taste buds on a trip to the Far East at Izumi, where fresh Asian-inspired flavors are literally on a roll. Or indulge in prime cuts of meat and steakhouse classics at Chops Grille. Whatever you're craving, you'll find plenty of delicious ways to fuel up between adventures onboard.
In the Main Dining Room, you can experience flavors that take you from Jamaica to Jaipur, a rotating menu of delicious dishes always offering something unexpected. A multi-level restaurant that in the morning is the perfect spot to enjoy a hearty brunch paired with refreshing mimosas, at dinnertime transforms into a world class dining experience with a menu that invites you to taste your way around the world course by course.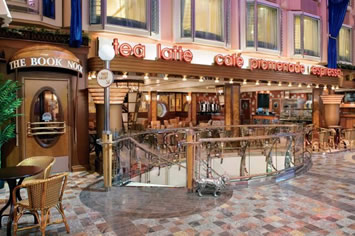 Bars & Lounges
Relaxation can be thirsty work. While you're soaking up the vibe at the adults-only Solarium, grab a refreshment from the Solarium Bar, where friendly bartenders serve wine, beer, cocktails, and chilled tropical drinks perfect for sipping beneath your poolside umbrella.
Wrap up your night at Schooner Bar, where perfectly mixed cocktails and live entertainment come together in a warm-lit nautical-themed lounge. Cozy up in a seat under the mast, by the portholes, or right by the gleaming grand piano. The sing-along's about to begin.
Entertainment & Nightlife
Only Royal Caribbean offers Tony Award winning musicals at sea. As an official sponsor of Broadway's brightest award, we've got the shows that you can't stop singing. See your favorites again or discover great shows you missed. We've got your seat for full-scale productions of exciting musicals.
We've got the venues and we know how to use them. Every sailing features original productions you can only see onboard. Amazing vocalists and dancers deliver rousing performances wrapped up in stunning sets and transcendent multimedia productions. Whether it's a jazz excursion, techno-inspired cabaret or something beyond, prepare to be amazed.