Big Gay Halloween Caribbean Cruise 2024
5 nights from/to Galveston (Houston), Texas
October 28 – November 02, 2024
Royal Caribbean Mariner of the Seas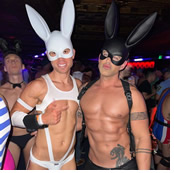 The Big Gay Halloween Western Caribbean Cruise promises an unparalleled adventure for LGBTQ+ members and allies. Featuring a dazzling array of stars from RuPaul's Drag Race and renowned recording artists, we're thrilled to announce our inaugural voyage from Galveston for our Halloween Cruise sailing October 2024. Prepare for exclusive nightclub events, daily happy hour drag shows, costume contests, themed parties, and a private theater performance – all available at an incredibly affordable price!
Get ready for an unforgettable Halloween experience aboard the Big Gay Cruise Halloween Edition in October 2024! We have an exciting lineup of game shows, bingo sessions, trivia challenges, and more, all hosted by our entertainment master, Dale. Join us for thrilling competitions, laughter, and great company as we celebrate the spookiest season on the high seas.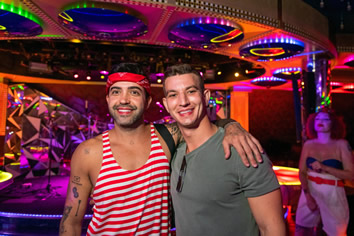 Big Name = Big Entertainment!
Prepare yourselves for an evening of uproarious laughter, because we're thrilled to reveal that the sensational American comedian and actress, Thea Vidale, will be headlining our comedy show on the Big Gay Cruise! Brace yourselves for a night of unparalleled humor as Thea takes the stage, bringing her extraordinary talent, wit, and infectious energy to our cruise. With her unique blend of comedy, Thea Vidale promises to deliver a performance that will have you in stitches and leave you begging for more.
Whether you want to groove to disco classics or jump around to modern tunes, there's something for everyone at our exclusive nightly nightclub event in Studio B. Experience the biggest name DJs in LGBTQ nightlife from all over the US!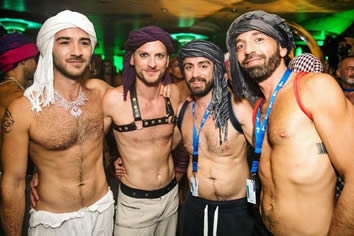 Big Venues = Big Fun!
Get ready to turn up the energy and join us for an unmissable experience! This year we're bigger, louder and prouder than ever before with exclusive venues and entertainment running day-and-night. Come join us as we cruise into new horizons and create memories that will last a lifetime! #BigGayCruise #StudioB #StarLounge #GayKaraoke #GayTrivia.
Private Club Just For You
Join us for the ultimate experience as we transform Studio B into a luxurious private nightclub for 4 of 5 nights. Hear our Headline DJ and get ready to party like never before.
Get ready to be dazzled!
Step into the spotlight and check out the star-studded Star Lounge, where everyday is made special by our Afternoon Drag Shows!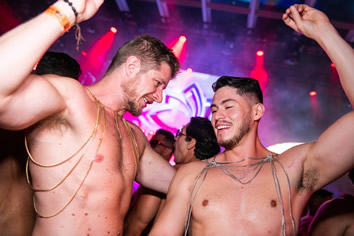 Party all night
Experience two exclusive nightclub events that will have you partying up until 2am. And if you need a break from the dance floor? We've got you covered with daily afternoon happy hour drag shows and a private theater performance for some much needed rest and relaxation.
Big-name acts
Don't miss this once-in-a-lifetime opportunity to experience the best of the LGBTQ+ community with celebrity appearances from Rupaul's Drag Race stars soon to be announced as well as recording artist 20 Fingers!
A trip like no other
With Big Gay Cruise, you can indulge in all your favorite LGBTQ+ experiences without breaking the bank. Enjoy an unforgettable trip that won't leave your wallet empty!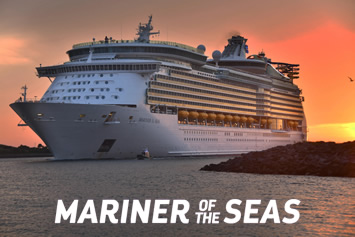 Your Ship - Mariner of the Seas
This isn't your same-old, never bold weekend. This is a boredom busting getaway for the whole crew.
The amped up Mariner of the Seas
is packed with more ways to play on the most maxed-out short getaway ever. Hang ten on the added FlowRider surf simulator or race down The Perfect Storm waterslides. Bond over family-style Tuscan eats at Jamie's Italian by Jamie Oliver, or kick off date night at The Bamboo Room. Ditch the road trip for an action-packed cruise ship, with quick cruise sailing from Galveston.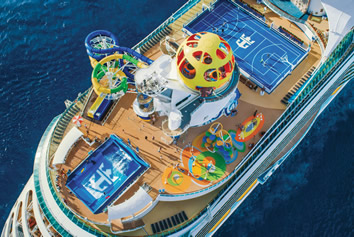 • Ship is loaded with surprises to thrill even the boldest weekend warriors showcasing more of thrills and adventure
• Hang ten on the newly added FlowRider® surf simulator or race down The Perfect Storm waterslides
• Launch yourself into a virtual world on a new bungee trampoline experience — Sky Pad
• Sweeten up your getaway with creamy milkshakes and a side of classic Americana and much more at Dining onboard
• Double the thrills with the boldest waterslides at The Perfect Storm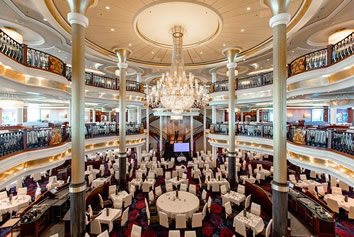 Dining on Mariner of the Seas
You'll find endless ways to please your palate onboard. Savor a taste of Italy at Jamie's Italian by Jamie Oliver. Say "Konnichiwa" to fresh sushi and sashimi at Izumi. And sweeten up your getaway with creamy milkshakes and a side of classic Americana at Johnny Rockets®. Or go big for brunch with a behind-the-scenes galley tour at the Bottomless Galley Brunch.
For more than a decade, the chefs of Chops Grille have proudly presented quality, hand cut steaks at this hallmark Royal Caribbean restaurant. Now, they give you a fresh twist on a favorite, with a revamped menu that brings contemporary flair to traditional steakhouse offerings.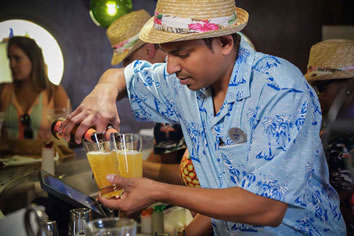 Bars & Lounges
Your downtime just got turned way up. The amped Mariner of the Seas® has all sorts of new spaces to kick back and raise a glass to adventure. Head to Playmakers Sports Bar & Arcade for burgers and brews while you cheer on your team on one of the wall-to-wall screens. Or check out The Bamboo Room for craft cocktails in a tiki chic setting with a throwback vibe.
Throwback vibes and kitschy cool cocktails will whisk you away at The Bamboo Room — a Polynesian watering hole that packs a punch. This tiki-chic lounge is the perfect spot for a pre-dinner cocktail or a late night rendezvous. Expert bartenders keep your tastes in mind as they craft your perfect potion with exotic fruits and spices.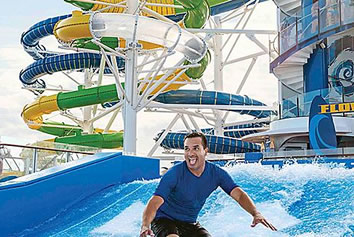 Activities on Mariner of the Seas
Get ready, because the amped Mariner of the Seas is packed with unexpected ways to spend your time onboard — and the name of the game is tech on every deck.
Looking for an unforgettable adventure on the high seas? Look no further than FlowRider®. Experience the thrill of riding the waves without ever leaving the ship. Whether you're a seasoned surfer or just looking to try something new, Flowrider is the perfect way to make a splash.