Cologne Bear Pride & Rhine River Christmas Markets
All-Gay & Bears Cruise 2021
7 nights from/to Cologne (Köln), Germany
November 27 – December 04, 2021
DCS Touristik MS Amethyst Classic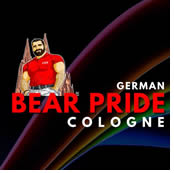 Celebrate Christmas in a new way – on board our festively decorated Amethyst Classic all-gay cruise ship. Experience a special Christmas atmosphere — be enchanted by the local Christmas markets with their smells of gingerbread and Gluhwein, where traditional handicrafts meet sweet memories of childhood. German Bear Pride, Heavenue - The Gay Christmas Market in Cologne, the dreamy landscapes of the Middle Rhine Valley await you, snowy and festively lit, as well as trips to the most beautiful Christmas markets of the region.
You will see romantic towns by the water's edge, where the pre-Christmas mood prevails. A Rhine cruise during this most peaceful time of year offers you relaxation and contemplation in dream destinations, glowing with wintery Christmas cheer.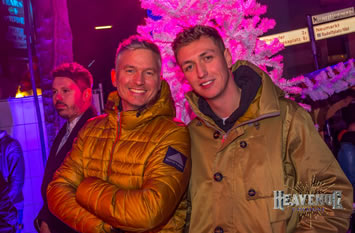 The Advent season is considered the most beautiful time of the year. Every city is transformed into a small Christmas paradise by the countless lights and candles. In every city there are beautiful Christmas markets that attract everyone with their festively decorated booths and the smell of mulled wine. On the All-Gay Rhine River Cruise with the DCS Amethyst Classic you will discover the atmospheric places along the Rhine.
There are few places in the world that ooze Christmas. Cologne is one of those places. With 7 main Christmas markets in Cologne, Germany, and other hidden ones, there is plenty of holiday cheer to go around!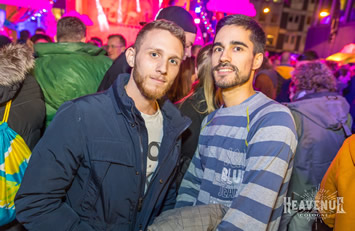 Thousands of tourists and travelers from all over the world come to Germany during the pre-Christmas time every year to get the perfect Christmas presents and dive into the German Christmas spirit. The well-known Christmas markets have a century-long tradition of showcasing incredibly beautiful decorated Christmas trees, craftsmanship like wood carvings, finest German Christmas cuisines like Christmas stollen, and organizing concerts of local choirs and orchestras.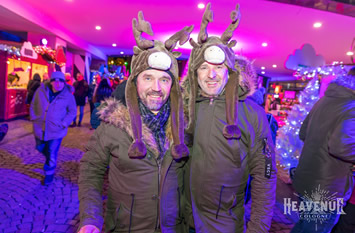 German Bear Pride Cologne 2021
Arrive early and join us for The International German Bear Pride Cologne 2021, hosted by the oldest bear club of the world (since 1984) - the Bears Cologne (Bartmänner Köln). In addition to the election of Mr Bear Germany 2021, there will be parties, saunas and other events for an unforgetable long weekend!
Cologne is the most liberal city in Germany, and famous for the largest German Gay Pride (1.2 Million in 2018) and a colourful diverse LGBTQI-Community!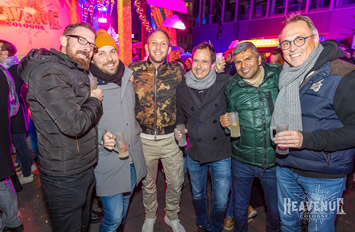 Heavenue - The Gay Christmas Market in Cologne!
Heavenue is the gay Christmas Market taking place in Cologne each year from late November in the grounds of KölnBonn near Rudolfplatz. Heavenue is a produced by the same people who bring the "Sexy Cologne" parties to the city. The event is one of the highlights of Christmas in Cologne and features live shows and music every weekend.
Heavenue is open for 4 weeks from Monday to Thursday from 16.00 to 22.00 and on Friday and Saturday from 14.00 to 22.00.
The pedestrian zone around Sparkasse KölnBonn at Rudolfplatz is home to the gay Christmas Market. The plaza between Hahnenstrasse and Schaafenstrasse will be transformed into HEAVENUE – a composite word of "Heaven" and "Avenue". Colorful market booths in pop art style, decorated with romantic elements and snow-white garlands, characterize the new look of the market. A sophisticated lighting design consisting of LEDs, chains of lights and special effects will transform the square into a colourful, dazzling sea of lights in the evening – which is sure to put a sparkle in the eyes of visitors. Everyone who walks through the heavenly entrance portal will be transported into a Christmas wonderland!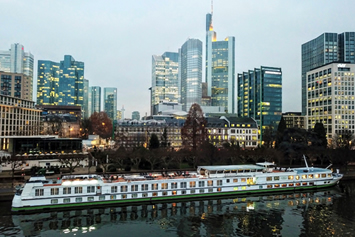 Our Ship - MS Amethyst Classic
The stylish ambience on the comfortable river cruise ship, DCS Amethyst Classic, will make your river cruise an unforgettable experience. After a partial renovation, all cabins and public areas shine in new excellence. Since renovation, the ship of the upper-class category is modern and promises maximum relaxation. Feel right at home and indulge yourself in the atmosphere on board. The ship's three decks offer space for up to 110 passengers. The tastefully furnished interior invites you to spend unforgettable hours on board. Enjoy a panorama lounge with bar as well as a reading corner and a souvenir shop.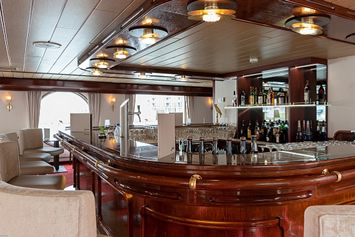 Another special feature of the DCS Amethyst Classic is all cabins on board are outside cabins and have large opening panoramic windows. The crew will cater to you in the on-board restaurant with an extensive breakfast buffet and a multi-course menu for lunch and dinner. The restaurant is also connected to the upper deck by a lift. On the spacious sun deck, you will find both sunny and shaded areas with comfortable deck chairs and lounge furniture where you can enjoy the passing beautiful river landscape. The wellness area with indoor pool and sauna invites you to feel good and relax during your river cruise.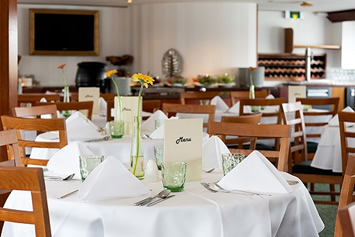 All-Gay! All-Bear! And Only Men!
How many?
Our ship has 55 cabins and accommodates a maximum of 110 men. Because less is more.
Price Includes
All drinks described below, free use of pool and sauna, full board (buffet breakfast, lunch and dinner, from day 1 dinner to day 8 breakfast) afternoon coffee/tea and cake, midnight snack.
Price does not include
Additional tours, port taxes, optional gratuities, personal expenses, travel cancellation insurance, visa fees (if required by the authorities), flights, pre/post-cruise hotel and transfers.
Flights
Cologne (CGN) and Düsseldorf (DUS) airports are the more convenient. Flights should be arranged by you. We strongly recommend arriving one or 2 days before cruise starts. Departure flights should not be before noon.
Beverage Pack
Draft, bottled and non-alcoholic beer, house wine (white/red/rosé), sparkling wine house blend, spirits, cocktails, mineral water, soft drinks, juices, coffee specialties, tea and hot chocolate. Only Gay cruise with drinks included!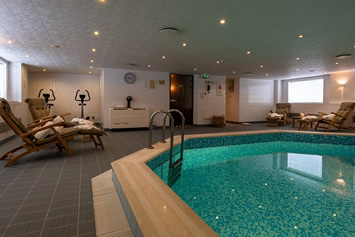 Bucketlist Bear Events
Our cruise is programmed between 2 of the best european bear events: Bear Pride Cologne (scheduled 24-28 November) and Mad Bear in Madrid (scheduled 3-9 December)
Drive & Cruise
If you drive to Cologne, a staff member will await you at the parking area, take care of your luggage, park your car and accompany you to embarkation dock. Parking costs approx 100€ per week.
Cologne Gay Center
Our vessel will be like a floating hotel right by Cologne cathedral. It will be docked only steps away from the LGBT area that is full of bars, clubs and shops.
Gay Tours
Our tailor-made excursions are designed especifically for guys like us. The All-Gay tours will vary from visiting a castle to relaxing in a nudist spa to tasting Riesling wine.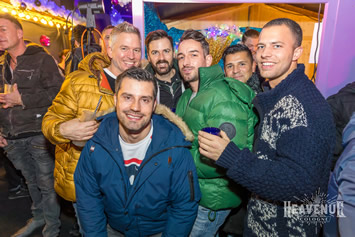 Cologne Bear Pride
Rhine River Gay & Bears Cruise 2021 Itinerary


Date

Port

Arrive

Depart

27 Nov
Cologne, Germany
Embark
28 Nov
Cologne, Germany
3:30 PM
29 Nov
Koblenz, Germany
30 Nov
Rüdesheim, Germany

01 Dec

Speyer / Baden Baden, Germany
02 Dec
Strasbourg, France

03 Dec

Mannheim / Heidelberg, Germany
04 Dec
Cologne, Germany
8 AM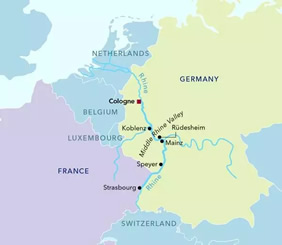 Itinerary is subject to change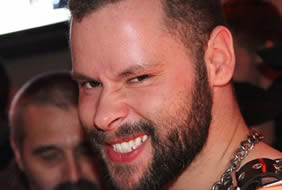 Day 1 - Saturday, November 27, 2021
Cologne, Germany
• Embarkation at 15:30 PM
• Cologne Bear Pride 2021
Cologne Bear Pride is one of the longest running and most attended bear events in Europe. The event takes place on the last week in November and can make for the perfect pre-Christmas escape as the Cologne
Christmas Markets also open this weekend where you can munch on marzipan and gingerbread and knock back warming glasses of gluhwein – German mulled wine.
Bear Pride Cologne event is also the home to the annual Mr Bear Germany contest, which will feature men from all over the country competing at the city's Gloria Theater on the Friday of the event.There will be a bears bowling session at a local ten-pin bowling venue, several sauna gatherings, and a Cologne Bear City Tour, among other events.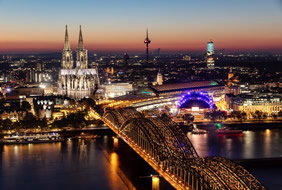 Day 2 - Sunday, November 28, 2021
Cologne, Germany
• Set sail at 15:30 PM
• Ugly Sweater Party
Your Christmas cruise along the Rhine begins in the old Hanseatic town of Cologne. Enjoy the lovingly prepared Welcome Dinner on board, which will put you in the right mood for the festive time ahead. Your ship weighs anchor during the night and travels towards Koblenz.
Ugly Sweater Party is the perfect icebreaker for the first day onboard, and also the best time to wear that NSFW sweater you bought last Xmas.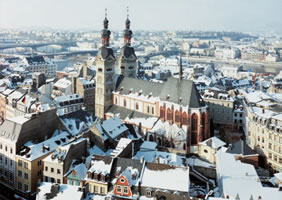 Day 3 - Monday, November 29, 2021
Koblenz, Germany
• City, cable car & fortress tour
• OktoBearFest Party
You reach Koblenz before breakfast and you can explore the romantic town in the northern Rhineland-Palatinate during the course of an extended sightseeing walk, allowing the Christmas flair of the old town to charm you. Thereafter, your trip continues through the magical Middle Rhine Valley, past the legendary Lorelei rock. The enchanting landscape loses none of its charm in the winter months and this section of the Rhine is rightly considered one of the most beautiful!
OktoBearFest Party. If Munich celebrates it in September, why can't we do it in November? Eine Maß Bier Bitte! Prost!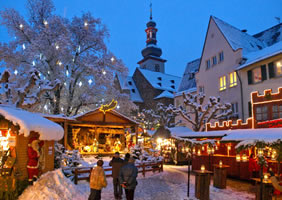 Day 4 - Tuesday, November 30, 2021
Ruedesheim, Germany
• Riesling Wine Tour
• Glow Xmas Lights Party
You will reach the wine town of Rüdesheim, which is now a UNESCO World Heritage Site of the Upper Rhine Valley. Discover this picturesque little town during a relaxed stroll and enjoy the pre-Christmas atmosphere.
Glow Xmas Lights Party. It's like a neon party but with Xmas lights. Batteries not included. Let it shine, let it shine, let it shine.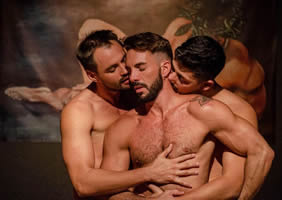 Day 5 - Wednesday, December 01, 2021
Speyer / Baden Baden, Germany
• Roman Nude Spa
• Red, Hot & Sexy Party
Christmas magic awaits you again today in Speyer, where you arrive punctually at breakfast time. You have the opportunity to get naked and relax at the Friedrichsbad Baths in Baden Baden. Originally catering to European aristocracy, this beautiful neo-Renaissance style bathing house is still open to all looking to soak in the curative mineral waters or just enjoy a quiet few hours of relaxation.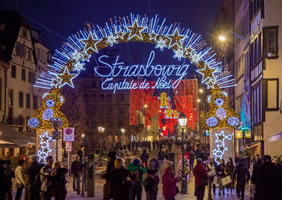 Day 6 - Thursday, December 02, 2021
Strasbourg, France
• Canal & city boat tour
• Gala Dinner
The south of France welcomes you in the morning with Christmas cheer. Visit the surrounding area and fall under the spell of the wintery Alsace and Obernai. In contrast to these dreamy landscapes, during the course of a city tour, discover the most beautiful aspects of the exciting metropolis of Strasbourg. In the pre-Christmas season, the beautifully decorated shops which set the city aglow with festive light are particularly worth seeing. Of course, you will also visit the Christmas market. As your trip nears its end, round it off with some hot punch and enjoy the romantic atmosphere, before the exclusive Captain's Gala Dinner in the evening.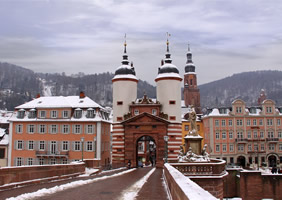 Day 7 - Friday, December 03, 2021
Mannheim / Heidelberg, Germany
• Castle & City Tour
•White Elephant Gift Exchange
You can take a tour to the old imperial residence town of Heidelberg, where you can enjoy not only numerous tourist attractions, but can also admire and enjoy the regional handicrafts, as well as the gingerbread and glühwein available at the romantic Christmas market. After lunch, you have the opportunity to explore Mannheim. Here, too, a beautiful Christmas market awaits you, which you should not miss. Spend a relaxed evening enjoying the contemplative advent atmosphere before you continue back to Cologne during dinner.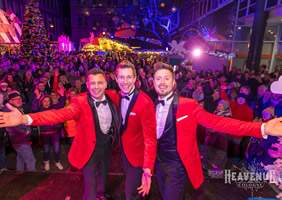 Day 8 - Saturday, December 04, 2021
Cologne, Germany
• Disembark after breakfast
• Heavenue - The Gay Christmas Market!
Heavenue is the gay Christmas Market taking place in Cologne
each year from late November in the grounds of KölnBonn near Rudolfplatz. Heavenue is a produced by the same people who bring the "Sexy Cologne" parties to the city. The event is one of the highlights of Christmas in Cologne and features live shows and music every weekend. Everyone who walks through the heavenly entrance portal will be transported into a Christmas wonderland!
Please note
* Exact itinerary, tours and parties to be confirmed.
**Tours are optional and additional.