Norwegian Sun
Ship Facts
Gross Tonnage: 78,309
Length: 258 m
Beam: 38 m
Draft: 7.92 m
Cruising Speed: 23 knots
Guests: 1,936
Crew: 906
Passenger Decks: 13
Registry: Bahamas

Alaska Gay Daddy Cruise 2023
9 nights from/to Seattle, Washington
September 04 – 13, 2023
NCL Norwegian Sun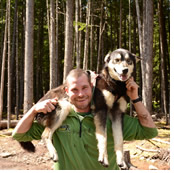 Come join our intimate and super-friendly group of Daddies, bears, admirers and friends aboard the Norwegian Sun on our voyage to Alaska. At the top of almost everyone's bucket list, Alaska is beyond anything you've experienced—ast, wild, colorful, dazzling, beautiful, exciting…the list is nearly endless. We sail round trip from convenient Seattle (a great destination itself) to the glaciers and gold rush towns in southern Alaska.
We'll be aboard the lovely Norwegian Sun, which was completely refurbished (including all staterooms) just two years before the pandemic. This is one of Norwegian's smallest ships, so expect a quieter, and more intimate cruising experience. Cruise Critic
gives her 4 out of 5 stars and says her "…refurbished spaces boast clean, modern design…" and "…a plethora of tasty dining options abounds."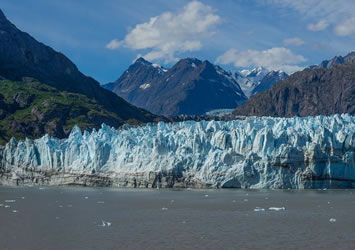 If you're looking for a cruise vacation that's a little bit out of the way and a little bit out of the ordinary, make an Alaska cruise your first choice. If your first thought is "Alaska… cool!" you're on the right track — even in the mild summer season, you should still pack your sweater. Grab it and get up here because Alaska is a natural wonder through and through, and the coastal panhandle region Carnival sails to is perhaps the most stunning. How's Alaska planning on stunning you? Alaska cruise will do it with quaint seaside towns like Ketchikan and Skagway, and with stunning harbor vistas like Juneau's. Cruising Alaska will also give you a first-row ticket to the best of nature — including fjords, wildlife and mountains galore. "Oh, mother nature… now you're just showing off."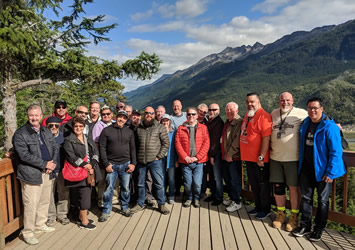 Don't just visit this famous land, live it on Alaska excursions. Rush across the snow on a dog sled with a professional musher, fly fish for salmon in fresh rivers and soar over miles of glacial tundra in a helicopter. Watch migrating humpback whales from the deck of a catamaran or Native craftsman carve a traditional totem pole, and expand your Alaska cruise experience.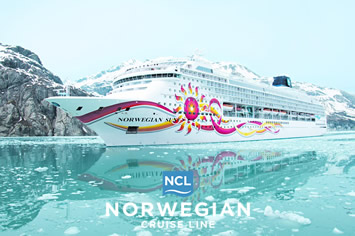 Your Ship - NCL Norwegian Sun
Take a break on the floating resort that is the Norwegian Sun. This cruise ship is just what the doctored ordered. With 14 dining options, 10 bars and five hot tubs, the choice is yours. Alongside all these options, you can also join a pick up game at the basketball court or put it all on red at the Sun Club Casino. After a delicious and filling dinner, be sure to take part in Norwegian Sun's incredible nightlife, from Shout! The Mod Musical to the signature White Hot Party.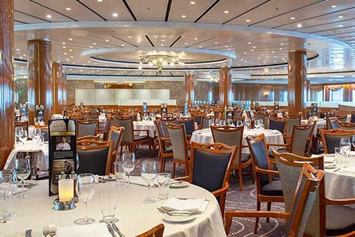 Dining
Serving a wide variety of culinary delights to please every palate, The complimentary dining options include two main dining rooms, a help-yourself buffet and a variety of casual cafés, grills and on-the-go choices. Plus, Main Dining Rooms offer a menu that changes daily, Chef's Signature Dishes and carefully selected wine recommendations, guaranteeing a different culinary adventure with every visit. Sip your favorite cocktail as you select from choice cuts of Certified Angus Beef® at Cagney's Steakhouse. Enjoy delicious pasta made with the freshest ingredients inside the rustic and chic Italian eatery, La Cucina. Or savour French cuisine at Le Bistro. No matter what you choose, the specialty dining options feature the tastes you'll crave.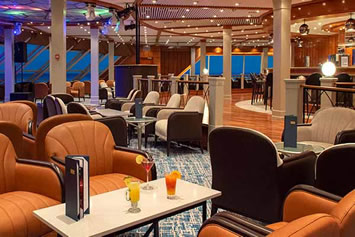 Bars & Lunges
With so many bars and lounges to discover, Finding your favorite may take a few days. Grab a cocktail or coffee inside the Atrium Café & Bar. Dance until the wee hours at Dazzles Nightclub, a fully equipped disco and bar. Or catch the game and a cold one at the sports bar. Whether you're looking to meet up with friends or make new ones, there's always an opportunity to mix it up.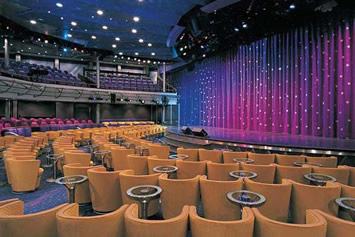 Entertainment & Nightlife
When it comes to the entertainment on Norwegian Sun, There's never a dull moment. Tickle your funny bone during the comedy variety show inside the Stardust Theatre. Enjoy a magical evening with the magician and comedy show. Or don your best white attire and dance the night away during the White Hot Party. It's showtime. All the time.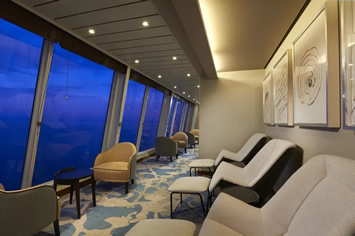 Wellness
The Mandara Spa & Salon offers unique and exotic spa treatments reflecting the beauty, spirit and traditions of rejuvenation from around the world. You'll find everything from the traditional to the exotic in spa and salon treatments.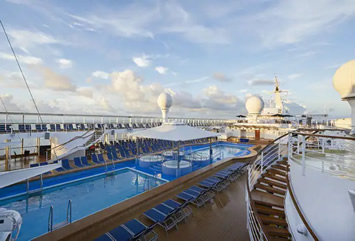 Exclusive extras for our group only
• Cruise Eve Dinner - meet your fellow travelers face-to-face, get a jump start on your vacation and a taste of your host city, Seattle, the night before we sail.
• Let's Cruise Away Welcome Aboard Party (with free drinks!)—come meet your fellow Daddies and friends in a warm, welcoming, and casual atmosphere. Play our fun mingling/get-to-know-you activity, and start forging friendships that will last a lifetime.
• Free Welcome Aboard Gifts, including some surprises!
• Specially reserved group dining in the main restaurant—you'll always have a seat for dinner, surrounded by a bunch of Daddy Cruise friends.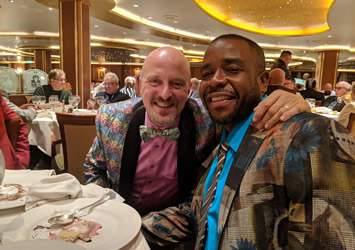 • Onboard Host/Cruise Director - We'll be there to make sure you have a great vacation. We will resolve any issues that may arise, answer questions, and help you enjoy your cruise to the utmost. We'll coordinate and host activities and parties each day-all of which are optional (it's your vacation: pick and choose what you want to be a part of).
• Exclusive excursions just for our group (additional fee applies)—including at least one Impact Activity where we connect with local people while performing a helpful service for the community.
• Special Daddy group activities on board (card games, trivia contests, happy hours, parties, and more)
• Special discounted rates at our host hotel in Seattle the nights before and/or after the cruise.
• Exclusive post-cruise Seattle tour (additional fee applies) including hotel, transfers, and tours of the Pike Place Market, Snoqualmie Falls, salmon runs, the Space Needle and much more!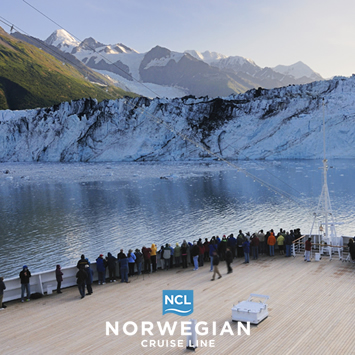 Alaska
Gay Daddy Cruise 2023 Itinerary


Date

Port

Arrive

Depart

04 Sep
Seattle, Washington
5 PM
05 Sep

Fun Day at Sea!

06 Sep
Sitka, Alaska
11 AM
8 PM
07 Sep
Icy Strait Point, Alaska
7 AM
8 PM

08 Sep

Glacier Bay (Cruising)
09 Sep
Skagway, Alaska
7 AM
8 PM

10 Sep

Juneau, Alaska
7 AM
3 PM
11 Sep
Ketchikan, Alaska
6:30 AM
1 PM

12 Sep

Victoria, British Columbia
7:30 PM
11:59 PM
13 Sep
Seattle, Washington
6AM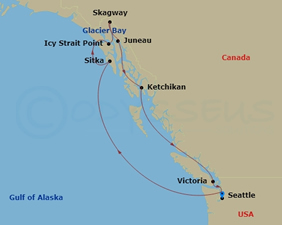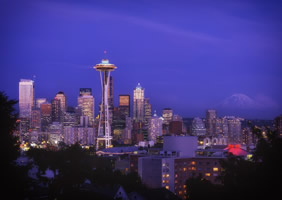 Day 1 - Seattle, Washington
Sailing out on a cruise from Seattle? Make sure you spend a few a days in the beautiful Emerald City. If you're a nature lover, this jewel in the Pacific Northwest is the perfect place for you to explore ahead of your cruise vacation. Our itinerary is a perfect blend of casual, educational, and thrilling. As we sail out of Seattle
this afternoon, we'll gather for a hosted Meet-n-Greet Party where you'll meet your fellow cruisers and start making new friends right away. Then, softly we slip out of Puget Sound and in to the Pacific.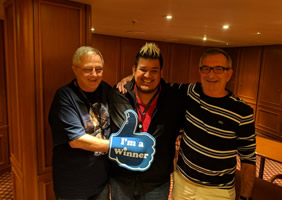 Day 2 - Fun Day at Sea!
Our first full day is at sea. Relax, unwind and get into vacation mode. Lounge on your private balcony or near one of the pools, or maybe even find a quiet nook to settle in with a book. Want to be more active on your day at sea? Play bingo, work out at the gym, watch a movie, dance all night, attend a cooking seminar, soak in a hot tub, watch a sunset (or a sunrise), play trivia games, sing along at the piano bar, do some wine tasting, check your email or surf the internet, grab a snack, watch live entertainment, get lucky in the casino, indulge in a spa treatment, catch the game in the sports bar, and on and on.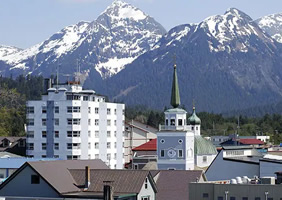 Day 3 - Sitka, Alaska
Our first landfall is Sitka. Sitka was Russia's first permanent settlement in North America, and was the capital of Russian America and then Alaska for over 100 years. In addition to the abundant wildlife all around, and the picturesque setting opposite Mount Edgecumbe, Sitka boasts historical sights and cultural highlights of Alaska from Russia, America and the native peoples.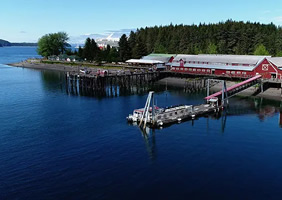 Day 4 - Icy Strait Point, Alaska
Next is Icy Strait Point, a tiny post situation near Alaska's largest Tlingit village, Hoonah. The Tlingit people have occupied this area for thousands of years, after advancing glaciers in Glacier Bay forced them to relocate here. In Hoonah, you'll want to see and learn more about their culture and maybe even spot a bear or two, as the area supports the largest concentration of brown bears in the world.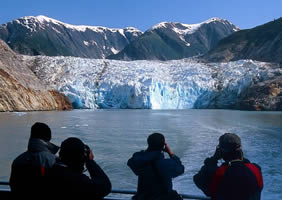 Day 5 - Glacier Bay (Scenic Cruising), Alaska
Today, wake up adrift in Glacier Bay National Park, and spend the whole day here. This is the premier place to see glaciers. The National Park Service limits the number of cruise ships that can enter the bay. A National Park Service Ranger will join us for the day to give commentary on all the sights and sounds around you. You'll likely spot bald eagles, seals, bears and whales on our way to see the centerpiece: tidewater glaciers. Here, you'll see (and hear!) the glaciers expel enormous chunks of ice into the waters below (called "calving"). You'll sail past floating icebergs (cue the "My Heart Will Go On" sing-along), and rest at different spots for the best views of the glaciers, waterfalls too numerous to be named, and the abundant wildlife all around you. You may view from upper decks, but this is one day you'll be especially glad if you have your own private balcony!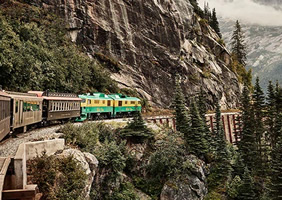 Day 6 - Skagway, Alaska
Our next stop is in Skagway, the gateway to gold fields over 100 years ago. At one time over 20,000 people lived here, now less than 1,000. But it retains the flavor of the gold rush era. You can relive those gold rush days at the Red Onion Saloon (Skagway's most notorious bordello, now turned restaurant/bar) or ride the White Pass & Yukon Railroad. Or get more active horseback riding, dogsledding, ziplining, or even wild river rafting!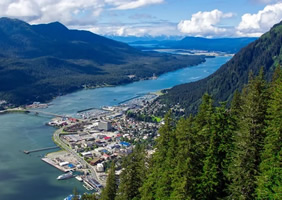 Day 7 - Juneau, Alaska
Welcome to the only state capital in the USA that cannot be reached by land: Juneau. You'll have all day to explore Alaska's small but vibrant capital. You can literally walk to Mendenhall Glacier and stand before it in awe and wonderment. Dogsledding, glacier flightseeing, and Mount Roberts Tramway are all options in this too-much-to-do-in-just-one-day port.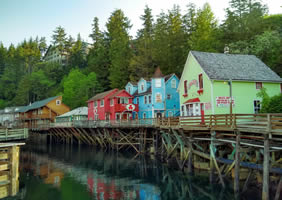 Day 8 - Ketchikan, Alaska
Our last port in Alaska is its most quaint and alluring: Ketchikan. Here you'll be intrigued by its rich Native heritage, which includes the world's oldest collection of totem poles at the Totem Heritage Center. The town itself has fantastic boutique shops, bars and restaurants; much is built on stilts over the shore. Nearby is sport fishing, nature galore, cultural shows (including a Lumberjack Show that is sure to amaze), and the freshest salmon you'll ever taste!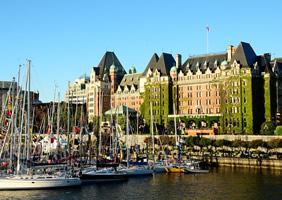 Day 9 - Victoria, British Columbia
But wait, there's more! After a short day at sea, this evening we make a bonus call in lovely Victoria, Canada. Victoria exudes old-world charm. The city is renowned for its beautiful gardens (fragrant and colorful flowers are everywhere, though!), cute houses, a happening restaurant and pub scene, and impressive Craigdarrogh Castle—and everything has such a British feel! We'll be here until midnight, so enjoy dinner ashore!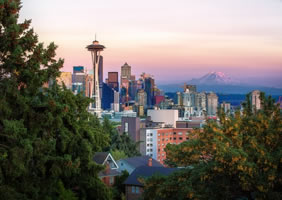 Day 10 - Seattle, Washington
Seattle
offers plenty of metropolitan delights — think great restaurants, bars, a ton of shopping and lots (and lots) of hip coffee shops — Seattle is a big city with a wild, great-outdoors soul. Head to Discovery Park for beautiful views of the Olympic and Cascade mountain ranges or visit the Olympic Sculpture Park near Elliott Bay. When we get back to Seattle, you'll have enjoyed great fun, had some memorable experiences, and made some new friends during your all-too-short vacation. See you again soon, We hope!