Carnival Conquest
Ship Facts
Gross Tonnage: 110,000
Length: 952 ft
Beam: 116 ft
Cruising Speed: 22.5 knots
Guests: 2,980
Crew: 1,150
Passenger Decks: 13
Ships Registry: Panama
>
Western Caribbean Gay Singles & Solos Cruise 2021
7 nights from/to New Orleans, Louisiana, US
January 17 – 24, 2021
Carnival Cruise Lines Carnival Glory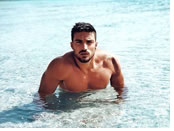 Yes! It's our third annual cruise designed specifically for gay singles. (Well, ok, others can come, too!) While not an "all gay" cruise, we'll be a large group of (mostly) single gay guys on a "regular' cruise—having a blast together! When much of the world seems locked in winter's grip, you'll escape to the sunny western Caribbean with a group of gay guys looking for the same thing as you: friendship and fun! We sail out of New Orleans in mid-January to explore some of the most exciting places in Central America with a bunch guys who are sure to become fast friends in no time.
In addition to all the great activities provided by the cruise line, you'll have the option of joining our various private activities that will facilitate and encourage everyone to meet and get to know each other in fun, safe and creative ways.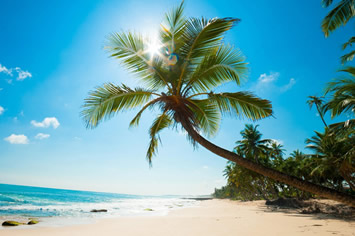 Your cruise begins on January 17, but we'll encourage you to get to New Orleans
a day or two beforehand. What better way to get into vacation mode than hanging out in the Big Easy?! Eat at some of the country's best restaurants, stroll Bourbon Street drink in hand, and see how many beads you can amass!
We don't have proof, but evidence suggests that the Caribbean was made for cruising. This evidence is all around you — you'll find in the Caribbean air, the sand and the water. And with more than 5,000 islands and cays spread across this amazing region, there's a lot of paradise to see. So how do you choose where to visit on a Caribbean cruise? We recommend you just go and see for yourself! Best of all, the mild climate means it doesn't even matter what time of year you go. A Carnival Caribbean cruise takes you to some of the coolest little hotspots... stretching across the world's designated hotspot.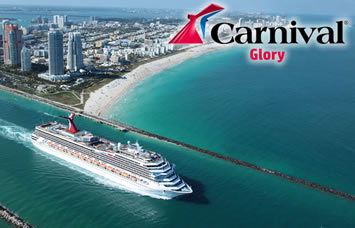 Your Ship - Carnival Cruise Lines Carnival Glory
Your adventure begins January 17 (take advantage of MLK, Jr Day holiday weekend), as you sail out of New Orleans on the Carnival Glory
. According to Berlitz, Carnival Glory provides fun for all, but it does so on a smaller, more intimate ship, without a feeling of being cramped. Service is "friendly and excellent". CruiseCritic members would "overwhelmingly" sail her again. US News & World Report ranks Glory one of Carnival's best ships.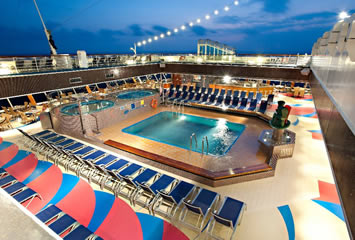 Carnival Glory lives up to its name! Three pools, a 214-foot Twister water slide, more restaurants including an amazing steakhouse, and more nightclubs combine to make Glory the ultimate cruise trip! With 13 passenger decks, the staterooms are extra-large, most of them have ocean views, and many have private balconies, so you can travel in style as well as comfort. There's a casino, a sushi bar, and lots of bars and lounges for you to enjoy the company of friends, or make new ones.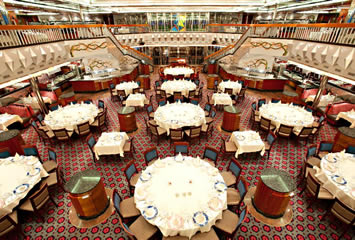 The Glory features all the updates of Carnival's "Fun Ship 2.0" series, which includes the Punchliner Club (a dedicated comedy club with different comedians every night!), Blue Iguana Cantina (think Chipotle goes to sea), the Alchemy Bar (where mixologists whip up creative and personalized martinis to calm what ails you), and our favorite: Guy's Burger Joint-with the best burgers on land or sea (seriously, wait till you try them!).
Speaking of food, Fodor's says the steakhouses on board (extra fee) are some of the best restaurants—and dining bargains - at sea.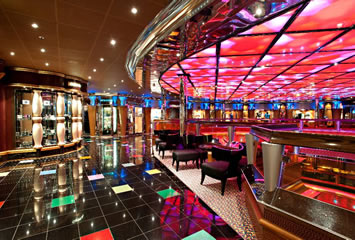 Outside, one of the pools (there are 3 of them!) is the ending point for a 200-foot-long water slide. Calmer waters are in each of the five onboard hot tubs. Midship has the Carnival Seaside Theater with a huge (300+ square foot) outdoor screen for watching great Hollywood blockbusters. OR, escape the outdoor activities and noise at the Serenity (extra fee), an adults only area for relaxing. The promenade down on Deck 4 wraps completely around the ship, with plenty of lounge chairs to enjoy views, fresh air, and a whiff of sea spray.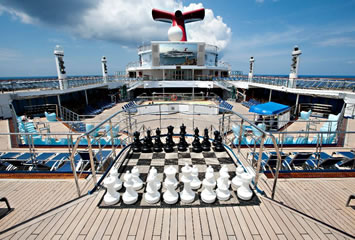 Exclusive extras for our gay singles group only
• Special low pricing for full-size cabins (80% larger than so-called "studios" offered by other cruise lines) for single/solo guests.
• Option to share cabin with a friend you bring along (and save on costs!)
• Cruise Eve Dinner - get a jump start on your vacation and a taste of famous New Orleans cuisine the night before we sail away.
• Welcome Aboard Cocktail Hour (with free cocktails!)—come meet your fellow gay single passengers in a warm, welcoming, and casual atmosphere. Play our amusing get-to-know-you activity, and start forging friendships (or ship-board romances?) that will last a lifetime.
• Onboard Host/Cruise Director-As always, We are there to make sure you have a great vacation. Our colleagues will resolve any issues that may arise, answer questions, and help you enjoy your cruise to the utmost. We'll coordinate and host activities and parties each day - all of which are optional (it's your vacation, so you pick and choose what you want to be a part of).
• Free Welcome Aboard gift for each guest
• Exclusive, optional excursions just for our group
• Special Gay Singles group activities on board (card games, trivia contests, mingling activities, happy hours, parties, etc.)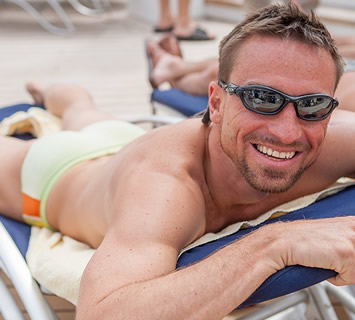 Caribbean Gay Singles Cruise 2021 Itinerary


Date

Port

Arrive

Depart

17 Jan
New Orleans, Louisiana, US
3:30 PM
18 Jan

Fun Day at Sea!

19 Jan
Cozumel, Mexico
9 AM
6 PM
20 Jan
Belize, Belize
8 AM
5 PM

21 Jan

Mahogany Bay (Roatan), Honduras
9 AM
5 PM
22 Jan

Fun Day at Sea!

23 Jan

Fun Day at Sea!

24 Jan
New Orleans, Louisiana, US
8 AM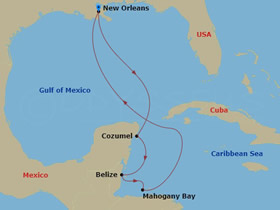 Day 1 - New Orleans and the Mississippi River, Louisiana
New Orleans
tempts visitors from all over the world with its legendary combination of cuisine, entertainment and southern architecture. It doesn't have to be Mardi Gras for New Orleans to throw a party, as you'll see with a visit to the French Quarter. Preservation Hall, perhaps Americas most historic music hall, offers an evening of Dixeland jazz, while the district's antique stores, Creole cuisine and colorful street life all make New Orleans a favorite stop.
Our itinerary is a perfect blend of connecting, relaxing, and having fun together. Shortly after sailing out of New Orleans, we gather for a hosted Meet-n-Greet Party where you'll meet your fellow cruisers and start making new friends right away. Dinner with the whole group is next, followed by another get-to-know-you activity. You're going to have a bunch of new friends before we even leave the country!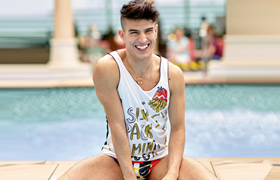 Day 2 - Fun Day at Sea!
You awake adrift in the Gulf of Mexico. Take all day to relax, unwind, and get into vacation-mode. Join us on deck for games or contests. Explore the ship. Maybe lounge on your private balcony or near one of the pools. Perhaps find a quiet nook to settle in with a book. Want to be more active? Ride the water slide, play bingo, work out at the gym, dance all night, watch a movie, attend a cooking seminar, soak in a hot tub, watch a sunset (or a sunrise), play trivia games, sing along at the piano bar, do some wine tasting, check your email or surf the internet, grab a snack, watch live entertainment, get lucky in the casino, indulge in a spa treatment, catch the game in the sports bar. The list of options for you goes and on and on.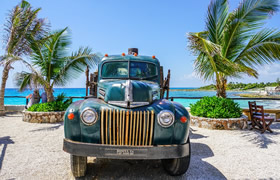 Day 3 - Cozumel, Mexico
Cozumel is the most visited cruise port in the Western Caribbean, and for good reason. Snorkeling, scuba diving, jet skiing, parasailing and windsurfing are just some of the water sports available here. Maybe take a swim with the dolphins and stingrays. Or, perhaps spend a quiet day at one of the many beaches. Don't like the water? Cozumel offers great duty-free shopping (especially attractive are the deals for jewelry and Mexican crafts). Nearby historical sights are quick and easy taxi rides from the ship. Or hop a quick ferry back to the mainland where you can visit one of the most famous of all the Mayan ruins: Tulum. In downtown Cozumel there is a half-mile stretch of outdoor cafés and restaurants along the beach that are perfect spots for a lazy afternoon in the Mexican sunshine. Margarita, anyone?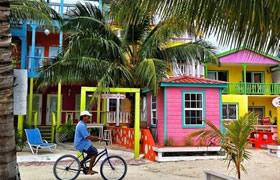 Day 4 - Belize, Belize
Located at the base of the Yucatan Peninsula, Belize offers travelers a wealth of attractions. The country's dense rain forest is dotted with Mayan ruins. The forest is also home to a wide range of tropical wildlife, ranging from jaguars and ocelots to keel-boated macaws and howler monkeys. Offshore, the world's second-largest barrier reef offers some of the finest diving and snorkeling in the world. And Belize's easygoing atmosphere, a legacy of its past as a British colony, feels far more akin to a small Caribbean island than a Central American republic.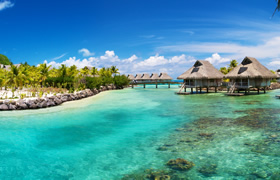 Day 5 - Mahogany Bay (Roatan), Honduras
This is the largest of the Bay Islands of Honduras, and it is noted for its pristine coral reefs, beautiful beaches, lush tropical foliage, and friendly people. Christopher Columbus discovered the islands in 1502 while on his fourth voyage, and over the years it has been controlled by both the British and Spanish, as well as pirates and traders. It's a long, narrow island 37 miles in length, located about 30 miles from the northern Honduran mainland. The island has a mountainous backbone that provides for some excellent hiking opportunities, panoramas and lush scenery. Perhaps you'll visit the Iguana Farm or the Carambola Botanical Gardens. Surrounded by warm Caribbean waters, this hilly island is picturesque, unspoiled and one of the region's fastest developing destinations.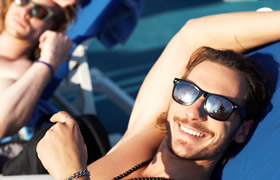 Day 6 & 7 - Fun Day at Sea!
After all this, you'll be ready for two full days at sea, either to relax...or to energize one more time!
After dinner on Day 7, we'll reach the Mississippi delta, and start winding our way back to New Orleans.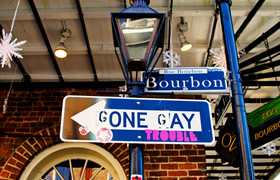 Day 8 - New Orleans, Louisiana
Welcome back! You'll disembark in New Orleans
this morning with great memories, great pictures, and great new friends from your all-too-short vacation.