Carnival Miracle
Ship Facts
Gross Tonnage: 88,500
Length: 963 ft
Beam: 106 ft
Cruising Speed: 22 knots
Guests: 2,124
Crew: 910
Passenger Decks: 12
Ships Registry: Panama


Mexican Riviera Gay Singles & Solos Cruise 2023
5 nights from/to Los Angeles (Long Beach), California, USA
October 03 – 08, 2023
Carnival Cruise Lines Carnival Miracle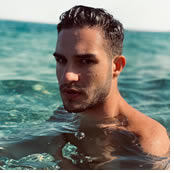 Hooray! This year, our Gay Singles Cruise sets sail for the first time from the West Coast! This is a cruise specifically for gay singles (well, OK, others can come, too…). While not an "all-gay" cruise, we'll be a group of (mostly) single gay guys on a "regular" cruise—having a blast together! You won't want to miss out on the fun, the excitement, and most of all, the camaraderie. Even before you board, you'll become part of our welcoming community of like-minded guys just looking to have a great vacation together.
In addition to all the fantastic activities provided by the cruise line, you can join our various private functions that will facilitate and encourage everyone to meet and get to know each other in fun, safe and creative ways.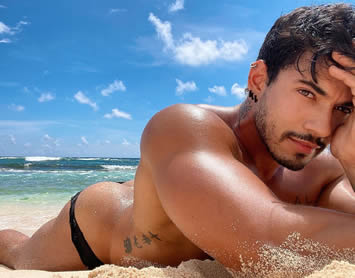 So close, yet so deliciously far. Mexico might be right down there, but it exists in another world entirely. Experience a whole enchilada's worth of rich culture and fun on a cruise to Mexico. If you're looking for a beautiful cruise destination to call your own, cruise to Cabo San Lucas should be at the top of your list. You'll return home with spectacular vacation photos that get all the Likes! Cabo San Lucas makes its home on the Baja California peninsula, the second longest in the world, sitting pretty down at the south end. Tucked between golf courses and desert mountains, Cabo San Lucas straddles two oceans — the calm turquoise Sea of Cortez and the crashing blue Pacific.
With 18 pristine miles of coastline connecting your port to colonial San José del Cabo, you get two seaside cities in one on a Cabo San Lucas cruise. But, along with water-based activities like fishing, paddling and swimming, you can also add action — or maximum relaxation — to your itinerary. Cruise to Cabo San Lucas offer a huge variety of things to do, from riding ATVs in the desert to sipping margaritas on the beach. Try one or try it all!

Your Ship - Carnival Cruise Lines Carnival Miracle
We sail on the Carnival Miracle
in early October, when Southern California enjoys better weather and fewer crowds than in the summer! The Miracle was completely refurbished just two years ago. Cruise Critic
gives her four out of five stars and calls her "one of Carnival Cruise Line's most comfortable ships", noting her deck plan is "thoughtfully designed" and "never feels cramped".
The passenger-to-space ratio is the best in the entire fleet. Meanwhile, Cruise Line rates the Miracle's interior and balcony cabins 4.5 out of 5.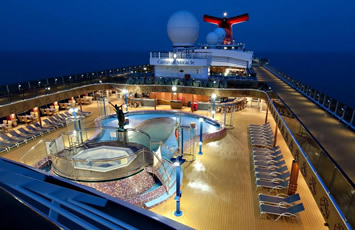 This updated ship includes all of your favorite Carnival features: water slides, top entertainment, the Alchemy Bar (specialty martinis are their thing) and of course my favorite: Guy's Burger Joint (best burgers on the high seas!).
And if you need a respite from everything, head up to Serenity - the adults-only pool deck (included with your cruise fare) for some peace and quiet and sun and rest and...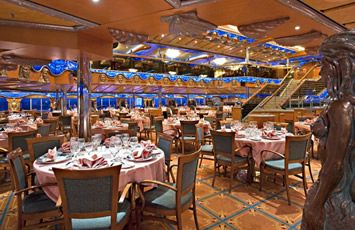 Carnival Miracle
is a ship you may not believe when you see… but definitely don't miss seeing this one! Carnival Miracle takes you to another world! Not only does this ship visit stunning destinations, but features incredible onboard spaces inspired by elements of fantasy. Escape from reality as you take in a show at the Phantom Lounge, a drink at Odyssey Bar or a dance at Dr. Frankenstein's Lab. To lose yourself in a song, find your way to Sam's Piano Bar.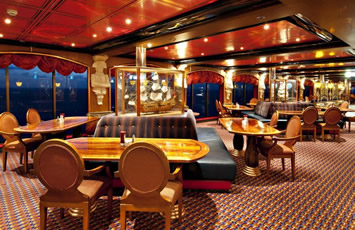 Hungry? You'll find great food all over the place, from the casual fare of Horatio's to the artful eats of the Bacchus and Ariadne dining rooms… not to mention the world-class cuts at Nick & Nora's Steakhouse. At Alchemy Bar they make drinks into art, while the laid-back RedFrog Pub has 'Caribbean cool' down to a science. And up in SKYBOX Sports Bar, they've combined luxury-box comfort with the very down-to-earth view from the 50-yard line.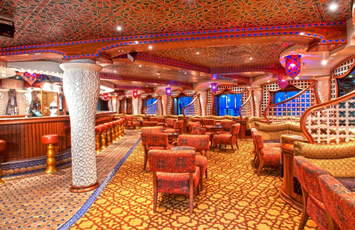 Outdoors, there's fun to be had, whether you're down for watersliding or up for simply sunning — Carnival's Twister Waterslide has you covered (in water, that is), and the Serenity Adult-Only Area will get you relaxing, grown-up-style.
No matter your age, lifelong childhood-faves come to life, on-stage, at Hasbro, The Game Show. They've also got the interactive CLUE: The Murder Mystery woven dramatically throughout your entire voyage. And in case you forget, don't forget: the sweetest way to cap off the day is with a treat from Cherry On Top, the onboard candy-and-more store.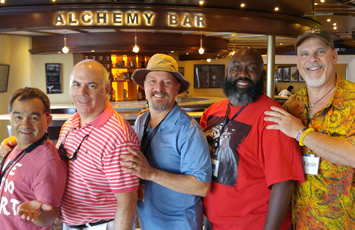 Exclusive extras for our gay singles group only
• Special low pricing for full-size cabins (80% larger than so-called "studios" offered by other cruise lines) for single/solo guests.
• Option to share cabin with a friend you bring along (and save on costs!)
• Cruise Eve Dinner - meet your fellow travelers face-to-face, get a jump start on your vacation and a taste of your host city, Long Beach, the night before we sail.
• Welcome Aboard Cocktail Hour (with free cocktails!) — come meet your fellow gay single passengers in a warm, welcoming, and casual atmosphere. Play our amusing get-to-know-you activity, and start forging friendships (or ship-board romances?) that will last a lifetime.
• Onboard Host/Cruise Director-As always, We are there to make sure you have a great vacation. Our colleagues will resolve any issues that may arise, answer questions, and help you enjoy your cruise to the utmost. We'll coordinate and host activities and parties each day - all of which are optional (it's your vacation, so you pick and choose what you want to be a part of).
• Free Welcome Aboard Gifts including a lanyard for your sailing card…and then some other surprises!
• Specially-reserved group dining in the main restaurant—you'll always have a seat for dinner, surrounded by a bunch of Gay Singles Cruise friends.
• Exclusive, optional excursions just for our gay group
• Special Gay Singles group activities on board (card games, trivia contests, mingling activities, happy hours, parties, etc.)
• Special discounted rates at our host hotel in Long Beach the nights before and/or after the cruise.
• Exclusive pre - cruise Southern California tour (additional fee applies) including hotel, transfers, and tours of Hollywood, Griffith Park & Observatory, Beverley Hills, Venice Beach, the Getty Museum, Disneyland, and much more!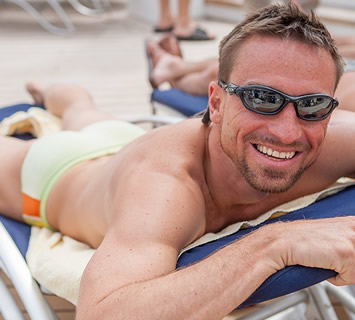 Mexican Riviera
Gay Singles Cruise 2023 Itinerary


Date

Port

Arrive

Depart

03 Oct
Los Angeles (Long Beach), California
4 PM
04 Oct

Fun Day at Sea!

05 Oct
Cabo San Lucas, Mexico
10 AM
6 PM
06 Oct

Fun Day at Sea!

07 Jan

Ensenada, Mexico
8 AM
5 PM
08 Oct
Los Angeles (Long Beach), California
8 AM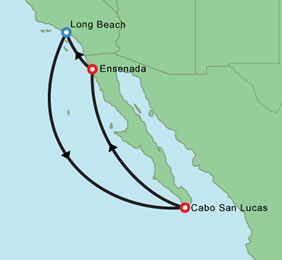 Day 1 - Los Angeles (Long Beach), California
Our itinerary is a perfect blend of connecting, relaxing, and having fun together. Shortly after sailing out of Los Angeles/Long Beach, we gather for a hosted Meet-n-Greet Party. Drinks are on me! Here you'll meet your fellow cruisers and start making new friends right away. Dinner with the whole group is next (we'll have a private section of the dining room reserved just for us), followed by dancing, a show, or whatever you want to do—it's your vacation!
Day 2 - Fun Day at Sea!
Our first full day is a day at sea. There's plenty to do in addition to the private function we will host that morning. Take all day to relax, unwind, and get into vacation mode. Explore the ship. Maybe lounge on your private balcony or near one of the pools. Perhaps find a quiet nook to settle in with a book.
Want to be more active? Play bingo, work out at the gym, dance all night, shoot down the water slides, watch a movie, attend a cooking seminar, soak in a hot tub, watch a sunset (or a sunrise), play trivia games, sing along at the piano bar, do some wine tasting, check your email or surf the internet, grab a snack, watch live entertainment, get lucky in the casino, indulge in a spa treatment, catch the game in the sports bar, and on and on.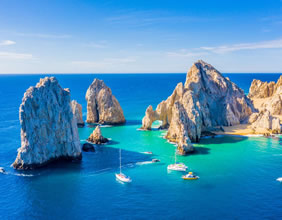 Day 3 - Cabo San Lucas, Mexico
Millennia ago, Cabo San Lucas was part of the Mexican mainland. Then a massive rupture of the San Andreas Fault sent the waters of the Pacific crashing into the newly formed depression, creating the Sea of Cortez and the Baja Peninsula. Lying at the very tip of Baja is Cabo San Lucas or simply "Cabo". This is one of the premier resort destinations in the Americas. Swim the transparent waters, marvel at the wealth of marine life, relax on one of the white-sand beaches, or be more active with ocean kayaking or world-class sport fishing. Personally, though, I'll be snorkeling—it's the best on Mexico's western shores.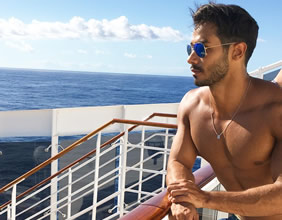 Day 4 - Fun Day at Sea!
After your exciting visit to Cabo, you'll be ready for another day at sea. Make your day as exciting or as relaxing as you like.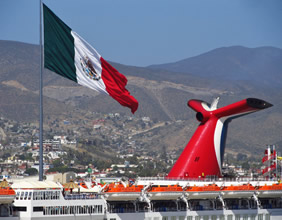 Day 5 - Ensenada, Mexico
Check out the largest marine geyser in the world as it blows upwards of 100 feet, creating a thunderous roar, and likely soaking you at the same time!
Not into nature? Shop til you drop just a few blocks from the pier for Mexican pottery, silver jewelry, woven blankets and hats, as well as duty-free alcohol and perfume. Tour and taste at some of Mexico's finest wineries just outside of town. Immerse yourself in Mexican culture with a cooking class, or catch a live performance of Mexican music and dance. Margaritas, anyone?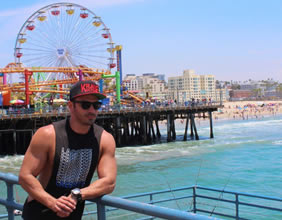 Day 6 - Los Angeles (Long Beach), California
We sail back into the Los Angeles area at dawn.
Disembark today with great memories, great pictures, and great new friends from your all-too-short vacation.
See you again soon, we hope!