Carnival Valor
Ship Facts
Gross Tonnage: 110,000
Length: 952 ft
Beam: 116 ft
Cruising Speed: 22.5 knots
Guests: 2,980
Crew: 1,180
Passenger Decks: 13
Registry: Panama

Mexico Halloween Gay Daddy Cruise 2023
5 nights from/to New Orleans, Louisiana, US
October 30 – November 04, 2023
Carnival Cruise Lines Carnival Valor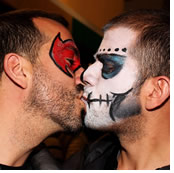 Come join our intimate and super-friendly group of Gay Daddies, bears, admirers and friends aboard the Carnival Valor on our holiday voyage from New Orleans, celebrating Halloween on board, and Dia de los Muertos in Mexico! We cruise down the Mississippi River from New Orleans, and out to Mexico. We'll sail to the #1 cruise destination in the Caribbean - Cozumel - for culture, history, food, beaches, shopping and more—and then to nearby Progreso, Mexico where you can visit one of the "New Seven Wonders of the World"—ancient Chichen Itza - with its amazing pyramid. You'll also enjoy a full day at sea in the tropics aboard the Carnival Valor.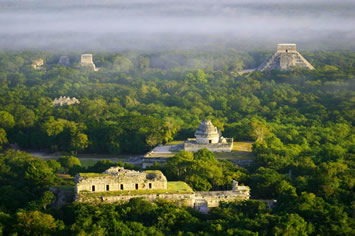 Escape the autumn doldrums as you sail down the Mississippi River on the Carnival Valor. Cruise Critic
awards her 4 out of 5 stars and says she provides "…excellent value and fun, comfortable for all." Restaurants abound: Guy's Burger Joint (best burgers at sea…or on land!), Mongolian Wok, Blue Iguana Cantina (Mexican), Seafood Shack, The Steakhouse and more. Other indoor features include a large casino, musical shows, a comedy club, a piano lounge, an award-winning spa, shopping and plenty of watering holes like my favorite, the Alchemy Bar—a martini-themed bar that seems to have been created with the LGBTQ market in mind!
Outside, there are promenades and pools, hot tubs and outdoor movies. Oh, and you won't want to miss all the fun at the water park. Looking to relax more? Then check into Serenity, the adult-only retreat and pool area on the Lido deck.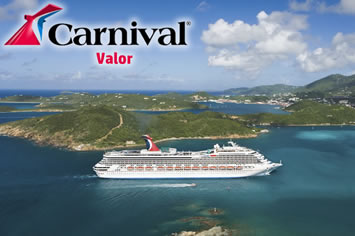 Your Ship - Carnival Cruise Lines Carnival Valor
Welcome on board Carnival Valor
. The ship is your high seas hero and it will rescue you from ordinary vacations and lead you to pleasure, adventure and great destinations. Do not be afraid, you are in great hands.
Revel in the warm glow as you twist and slide down Carnival Valor's splendid waterslide. Carnival Valor ensures there are no party poopers and you spend your vacation splishing and splashing in the sun.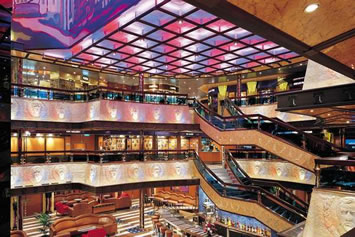 A real hero must be suitably dressed. The same applies for Carnival Valor's performers. Every night they are all dressed-up to entertain you. Choose any one of Carnival Valor's stage shows. It will knock your socks off.
Hunger stays away at least a mile from Carnival Valor. Especially when Carnival Valor has Guy Fieri's unique burgers and fries, BlueIguana Cantina's delicious tacos and burritos and for the proverbial cherry on top - the Cherry on Top candy shop.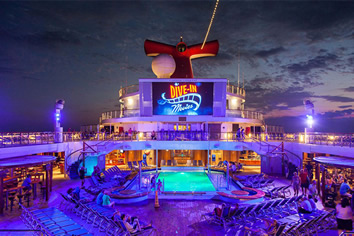 Your high seas hero Carnival Valor is ready to rescue you from boring, ordinary vacations and take you away to fun, leisure… and the Caribbean. There are dining options on board which include the likes of BlueIguana Cantina, Guy's Burger Joint and Scarlett's Steakhouse. For a drink, you can visit RedFrog Pub, Alchemy Bar or SkyBox Sports Bar. Everyone, whether young or not so young can enjoy the ship's 214-foot long and four-deck tall Twister waterslide. So, shed your fear about your vacation being boring, Carnival Valor has it what it takes for a wonderful vacation.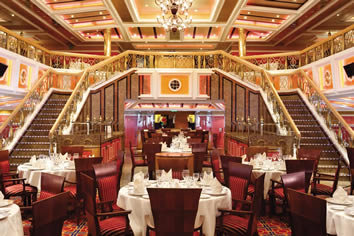 Music lovers, listen up. Because the ships are rocking and rolling with some of the best bands at se Hasbro, DJ Irie, Punchliner Comedy Club, Piano Bar, Live Music, Karaoke, Dive In Movie, Night Club, Carnival Seaside Theater, Sky box sports Bar and many more entertainment places available on the ships, Also enjoy the events like Mega Deck party, Groove for St Jude, Holidays Aboard, Sail-away party.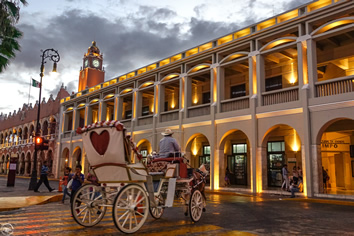 Exclusive extras for our group only
• Cruise Eve Dinner - meet your fellow travelers face-to-face, get a jump start on your vacation and a taste of your host city, New Orleans, the night before we sail.
• Welcome Aboard Party (with free drinks!) - come meet your fellow Daddies and friends in a warm, welcoming, and casual atmosphere. Play our fun mingling/get-to-know-you activity, and start forging friendships that will last a lifetime.
• Free Welcome Aboard Gifts including a lanyard for your sailing card…and then some other surprises!
• Specially-reserved group dining in the main restaurant—you'll always have a seat for dinner, surrounded by a bunch of Daddy Cruise® friends.
• Onboard Host/Cruise Director—I'll be there to make sure you have a great vacation. We will resolve any issues that may arise, answer questions, and help you enjoy your cruise to the utmost. We'll coordinate and host activities and parties each day—all of which are optional (it's your vacation; pick and choose what you want to be a part of).
• Exclusive excursions just for our group (additional fee applies) including at least one Impact activity where we connect with local people while performing a helpful service for the community.
• Special Daddy group activities on board (card games, trivia contests, happy hours, parties, and more!)
• Exclusive post-cruise New Orleans tour (additional fee applies) including hotel, transfers, and tours of the French Quarter, the Garden District, National World War II Museum, a swamp tour, and more!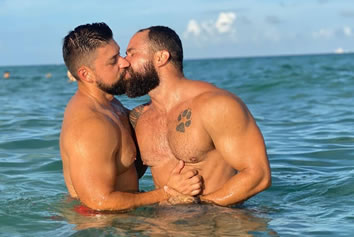 Mexico Halloween Gay Daddy Cruise
Itinerary


Date

Port

Arrive

Depart

30 Oct
New Orleans, Louisiana, US
3:30 PM
31 Oct

Fun Day at Sea!

01 Nov
Cozumel, Mexico
8 AM
5 PM
02 Nov
Progreso (Yucatan), Mexico
9 AM
5 PM

03 Nov

Fun Day at Sea!

04 Nov
New Orleans, Louisiana, US
8 AM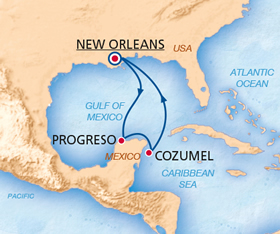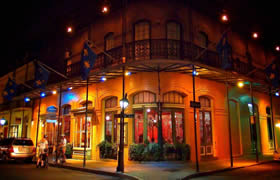 Day 1 - New Orleans, Louisiana
The fun begins the moment you board the Carnival Valor - which has been designed from bow to stern for your fun and enjoyment. As we sail out of New Orleans
we'll gather for a hosted Daddy Cruise® Party where you'll meet your fellow cruisers and start making new friends right away. We'll have fantastic views as we sail slowly down the Mississippi River all evening. Dinner is with the Daddy Cruise group (there's a whole section of the dining room reserved just for us), followed by dancing, a show, comedy act, or whatever you want to do—it's your vacation!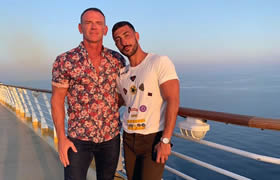 Day 2 - Fun Day at Sea!
Our first full day is at sea. Relax, unwind and get into vacation mode. Lounge on your private balcony or near one of the pools, or maybe even find a quiet nook to settle in with a book. Want to be more active on your day at sea? Play bingo, work out at the gym, watch a movie, dance all night, attend a cooking seminar, soak in a hot tub, watch a sunset (or a sunrise), play trivia games, sing along at the piano bar, do some wine tasting, check your email or surf the internet, grab a snack, watch live entertainment, get lucky in the casino, indulge in a spa treatment, catch the game in the sports bar, and on and on.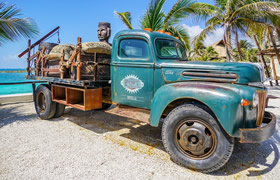 Day 3 - Cozumel, Mexico
There's a reason Cozumel is the Caribbean's #1 cruise stop: this small island has everything! You can visit ancient Mayan ruins, shop till you drop, lounge one of the many beaches, go horseback or ATV riding, snorkel or scuba, feast on Mexican cuisine, drink margaritas all day, take in the rich culture and history, browse an art gallery, take a cooking class, tour the island…the list goes on and on.
Day 4 - Progreso (Yucatan), Mexico
There are two main things here. First, if you haven't been to Chichen Itza, do it. This large, pre-Columbian city built by the Mayan people is one of the "New Seven Wonders of the World," and for good reason. The main pyramid alone is worth the trip, but there is much more to see here. Already been there, done that? Then check out Mérida, one of the most charming, quintessentially Mexican cities in the country (and my personal favorite!). From cooking classes to historical sites to culture to shopping to people watching to…you name it, you'll find it here, and you'll fall in love with the "real" Mexico.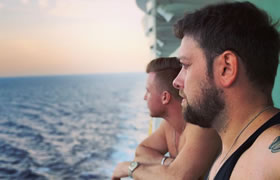 Day 5 - Fun Day at Sea!
After all this, you'll be ready for another full day at sea, either to relax... or to energize one more time!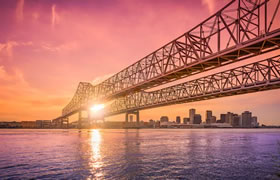 Day 6 - New Orleans, Louisiana
We sail back up the Mississippi River, and arrive in New Orleans at dawn. Disembark today with great memories, great pictures, and new friends from your all-too-short vacation. It's Saturday. Maybe extend your vacation
for another day in the Big Easy? See you again soon, I hope!