Carnival Horizon
Ship Facts
Gross Tonnage: 133,500
Length: 1,055 ft
Beam: 143.8 ft
Cruising Speed: 22 knots
Guests: 3,960
Crew: 1,450
Passenger Decks: 15
In Service: 2018
Southern Caribbean Gay Daddy Cruise 2022
8 nights from/to Miami, Florida, US
February 05 – 13, 2022
Carnival Cruise Lines Carnival Horizon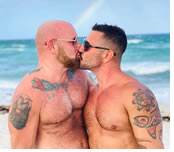 Come join our intimate and super-friendly group of Daddies, bears, admirers and friends as we cruise a part of the Caribbean often missed: the southern islands. We'll sail from convenient Miami all the way down to Aruba and Curaçao - just off the coast of South America. On our way back, we make two stops in the exotic Dominican Republic. Along the way, you'll enjoy three full relaxing days at sea in the tropics. All this aboard the Carnival Horizon
(only a two-year-old ship!) on a longer-than-usual 8-night Gay Daddy Cruise.
We don't have proof, but evidence suggests that the Caribbean was made for cruising. This evidence is all around you — you'll find in the Caribbean air, the sand and the water. So how do you choose where to visit on a Caribbean cruise? We recommend you just go and see for yourself! Best of all, the mild climate means it doesn't even matter what time of year you go. A Carnival Caribbean cruise takes you to some of the coolest little hotspots... stretching across the world's designated hotspot.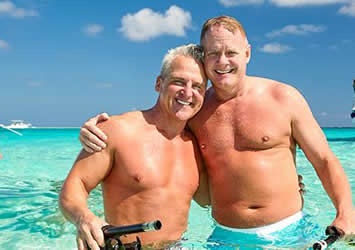 Curaçao is where Europe meets the West Indies, and it collides here beautifully in a smashing blend of bold colors and cosmopolitan culture. The largest of what was once the Netherlands Antilles, this Caribbean island has it all. Cruise to Curaçao for the beautiful beaches and historic architecture, but don't miss everything from the splashy sights of marine parks to the distinctive local liqueur — it all awaits on cruise to Curaçao. Above all, what awaits you is the warm, welcoming embrace you'll start to feel the minute you set sail to Curaçao.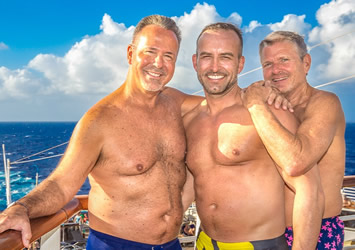 Discovering new sights is one of the beauties of travel, and that couldn't be more true when it comes to Amber Cove, Dominican Republic. In this world full of information on just about everything, Amber Cove is a throwback — it's the kind of quiet little spot you won't find on most maps. But you will find it — brimming with bars and pools, plus opportunities for lounging and shopping — to be the gateway to island paradise, Dominican-style.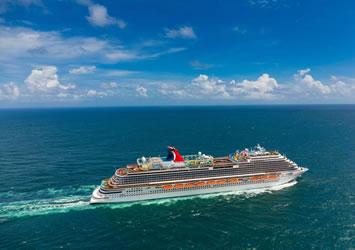 Your Ship - Carnival Cruise Lines Carnival Horizon
Escape the dead of winter as you sail the tropics on the Carnival Horizon
. US News and World Report says the Horizon is Carnival's #1 ship. Cruise Critic
awards her 4 out of 5 stars and says she's "…an activity-packed ship with plenty to do without massive upcharges." Restaurants (there are eleven!) abound. Several are included with your cruise fare, like: Guy's Burger Joint (best burgers at sea…or on land!), Blue Iguana Cantina (Mexican), and Guy Fieri's Pig & Anchor BBQ, to name a few. Or pay a modest additional charge for the Seafood Shack, Steakhouse, Jiji's Asian and more.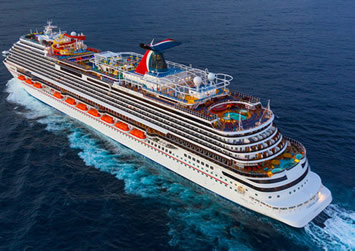 Other indoor features include a large casino, musical shows, an IMAX theater, a comedy club, a piano lounge, an award-winning spa, shopping and plenty of watering holes like my favorite: the Alchemy Bar. This is a martini-themed bar that seems to have been created with the LGBTQ market in mind!
Outside, there are promenades and pools. Hot tubs and outdoor movies. Oh, and you won't want to miss all the fun at the water park (including water slides), or the "SkyRide," outdoor games, or the "SportsSquare." The list goes on. Looking to relax more? Then check into Serenity, the adult-only retreat and pool area on the Lido deck (no upcharge).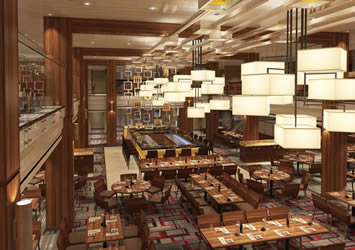 Dining / Food on Carnival Horizon
Carnival Horizon's onboard dining spots offer palate-pleasing choices for everyone to savor. Plenty of Dining venues some of them are Seafood Shack, Main Dining, Fahrenheit 555 Steakhouse, Bonsai Sushi, The Chef's Table, Ji Ji Asian Kitchen, Cucina Del Capitano, Guy's Burger Joint, Blue Iguana Cantina.
Bars & Lounges on Carnival Horizon
Grab a drink or order some snacks- they're great while kicking back and watching your favorite teams on one of the big screens, or just dropping by to check out real-time scores and headlines on the panoramic ticker.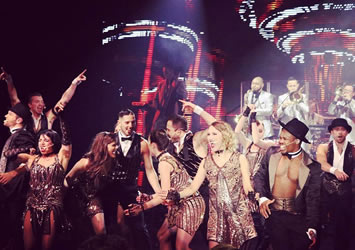 Entertainment & Nightlife on Carnival Horizon
So get ready for heartfelt emotions, straight-up bouncy fun, or something in-between all types are welcome to get down here.
Onboard Activities on Carnival Horizon
Refreshing your self with the different type of onboard activities and enriched with some new games which you never experienced before.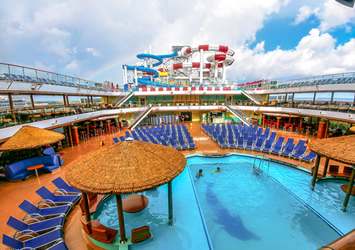 Outdoor Activities on Carnival Horizon
You can reform your body with the different type of sports activities and get it fresh environment and start your day on a ship with great enthusiasm and play games with others.
Fitness And Spa on Carnival Horizon
This is an oasis built from the ground up for relaxation, from a full complement of traditional spa services like massages, facials, body wraps to the carefully-designed climates of thermal suites… rooms swirling with moist or dry air, each heated very precisely.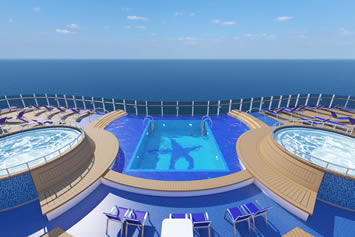 Exclusive extras for our group only
• Cruise Eve Dinner - meet your fellow travelers face-to-face, get a jump start on your vacation and a taste of your host city the night before we sail.
• Let's Cruise Away Welcome Aboard Party (with free drinks!)—come meet your fellow Daddies and friends in a warm, welcoming, and casual atmosphere. Play our fun mingling/get-to-know-you activity, and start forging friendships that will last a lifetime.
• Free Welcome Aboard Gifts including a lanyard for your sailing card…and then some surprises!
• Specially reserved group dining in the main restaurant—you'll always have a seat for dinner, surrounded by a bunch of Daddy Cruise friends.
• Onboard Host/Cruise Director - We'll be there to make sure you have a great vacation. We will resolve any issues that may arise, answer questions, and help you enjoy your cruise to the utmost. We'll coordinate and host activities and parties each day-all of which are optional (it's your vacation: pick and choose what you want to be a part of).
• Exclusive excursions just for our group (additional fee applies)—including at least one Impact Activity where we connect with local people while performing a helpful service for the community.
• Special Daddy group activities on board (card games, trivia contests, happy hours, parties, and more)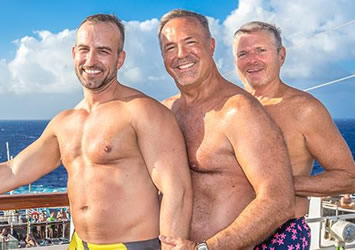 Southern Caribbean
Gay Daddy Cruise 2022 Itinerary


Date

Port

Arrive

Depart

05 Feb
Miami, Florida, US
4 PM
06 Feb

Fun Day at Sea!

07 Feb

Fun Day at Sea!

08 Feb
Oranjestad, Aruba
9 AM
11 PM

09 Feb

Willemstad, Curacao
7 AM
3 PM
10 Feb
La Romana, Dominican Republic
11:30 AM
6 PM

11 Feb

Amber Cove, Dominican Republic
9 AM
5 PM
12 Feb

Fun Day at Sea!

13 Feb

Miami, Florida
8 AM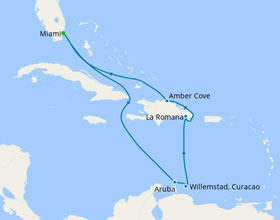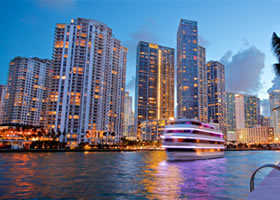 Day 1 - Miami, Florida
Our Caribbean cruise itinerary is a perfect blend of connecting, relaxing, and having fun together. Shortly after sailing out of Miami
, we gather for a hosted Meet-n-Greet Party where you'll meet your fellow cruisers and start making new friends right away. We'll have fantastic views as we sail into the Atlantic, with the lights of Miami in the distance. Dinner is with the Daddy Cruise® group (there's a whole section of the dining room reserved just for us), followed by dancing, a show, comedy act, or whatever you want to do—it's your vacation!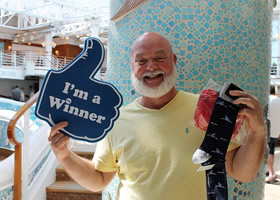 Day 2 - Fun Days at Sea!
Our first day is at sea. Take all day to relax, unwind, and get into vacation-mode. Explore the ship. Maybe lounge on your private balcony or near one of the pools. Escape the kids at Serenity, the adult-only retreat on the Lido deck (no upcharge). Perhaps find a quiet nook to settle in with a book. Want to be more active? Play bingo, work out at the gym, dance all night, shoot down the water slides, watch a movie, attend a cooking seminar, soak in a hot tub, join a crafts workshop, watch a sunset (or a sunrise), play trivia games, sing along at the piano bar, do some wine tasting, check your email or surf the internet, grab a snack, watch live entertainment, play ping-pong, get lucky in the casino, indulge in a spa treatment, catch the game in the sports bar…I could go and on and on.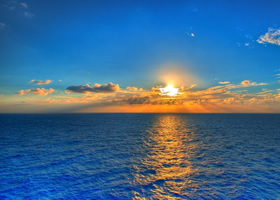 Day 3 - Fun Days at Sea!
Here's your chance to do all the stuff you didn't get to do yesterday. Vacation bonus!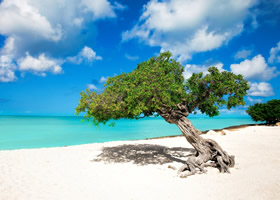 Day 4 - Oranjestad, Aruba
Dutch influence still lingers on this balmy Caribbean island. Aruba is a contrast: the island's arid interior is dotted with cactus and windswept divi-divi trees while secluded coves and sandy beaches make up its coast. Aruba's long and colorful heritage is reflected in its dialect. Called Papiamento, it is a tongue that combines elements of Spanish, French, Portuguese, Dutch, African and English. Much to do and see here: the California Lighthouse, a butterfly sanctuary, a shipwreck, breathtaking beaches, casinos (Aruba is called the Las Vegas of the Caribbean), shopping, Casibari Rock Formations, and even an ostrich farm tour!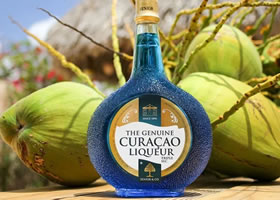 Day 5 - Willemstad, Curacao
Lying just 40 miles off Venezuela, Curaçao boasts a landscape that is dramatic, stark, and volcanic. In contrast, Willemstad, the capital, seems a cozy Dutch haven with its neat row houses. And while those gabled and tiled roofs illustrate the island's heritage, the bright, pastel houses speak pure Caribbean. Curaçao is considered one of the most gay-friendly islands in the Caribbean, and includes the highest membership of businesses in the International Gay and Lesbian Travel Association (Daddy Cruises® is a member, too!). Aside from quaint Willemstad (home to several gay bars), and the world famous beaches, you may want to tour the Curaçao Distillery, where they make the famous island namesake blue liqueur.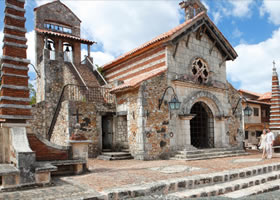 Day 6 - La Romana, Dominican Republic
La Romana, a city on the Dominican Republic's Caribbean coast, is the gateway to nearby resort areas and other great sites. An obelisk painted with colorful images of local life stands in the city center. Nearby, and overlooking the Chavón River, Altos de Chavón is a re-created 16th-century Mediterranean village complete with artists' workshops, a cultural center, and even an amphitheater. Further inland is dense jungle that you can safely tour from a comfortable riverboat. South of the city is Catalina Island, with beaches, coral reefs and the wrecked ship of pirate William Kidd. Water activities of all kinds are available: scuba and snorkeling, fishing, kayaking, swimming, parasailing, surfing, and my personal favorite: just floating!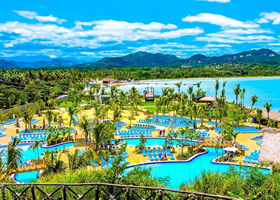 Day 7 - Amber Cove, Dominican Republic
The Dominican Republic's newest cruise port and resort, Amber Cove (named for the translucent gemstone found on its shores) is near where Christopher Columbus's first New World voyage made landfall back in 1492. It sits just 7 miles from Puerto Plata—a cinematic locale used as a backdrop for the film 'Jurassic Park'. Just steps from the dock is a free resort area that includes shopping, relaxing bungalows and a water park. Water slides, a huge pool, a lazy river, and lounge chairs everywhere. Here's where you can engage in some social activism, delving into the culture and traditions of the friendly Dominican people while giving back to the community and making an impact on their lives.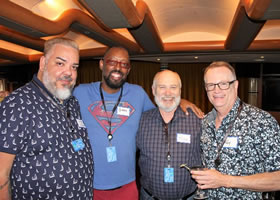 Day 8 - Relaxing Day at Sea!
Bonus! Most cruises are seven nights, but this one is eight, so we get an extra day to enjoy all the ship has to offer! Take all day to relax, unwind, and enjoy your last day on board the Carnival Horizon. You'll find there's still so much of the ship you haven't yet discovered! Explore, indulge, relax, rejuvenate—it's your call on your last day!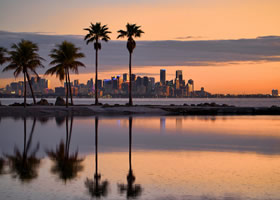 Day 9 - Miami, Florida
We sail back to Florida, and arrive in Miami at dawn. Disembark today with great memories, great pictures, and new friends from your all-too-short vacation. Safe travels home, and we hope to see you again soon!