Similan Islands Thailand Gay Cruise & Diving 2024
4 days from/to Khao Lak, Phuket, Thailand
January 04 – 07, 2024
Seastar MV Koon 9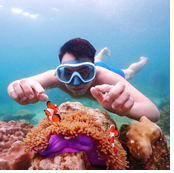 Embark on a premier gay travel experience to Thailand's Similan Islands, a highlight of LGBTQ travel in the Andaman Sea. Dive deep into crystal-clear waters, navigating vibrant coral reefs and witnessing marine wonders. Your gay diving adventure combines the thrill of world-class dive sites like Elephant Head Rock with the serenity of untouched beaches. As we gear up for our gay liveaboard 2024, join us in the Similan Islands for an unforgettable, inclusive diving expedition.
The Similan archipelago consists of the following eleven islands: Koh Bangu, Koh Bon, Koh Ha, Koh Hin Pousar, Koh Huyong, Koh Meang, Koh Payan, Koh Payang, Koh Payu, Koh Similan and Koh Tachai. These are all located in the Mu Koh Similan Islands National Park, which occupies more than 140 square kilometers (87 square miles).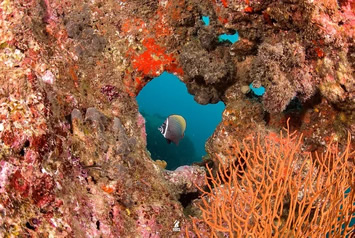 The Similan Islands are a fantastic travel destination for tourists who love diving and want to explore more deserted places full of underwater wildlife. All islands are surrounded by crystal clear and shallow water full of beautiful rock formations and spectacular coral reefs. The marine life around the Similan Islands has no equal in Thailand and the surrounding region. It's not surprising that they were named in the top ten of best dive sites in the world according to National Geographic.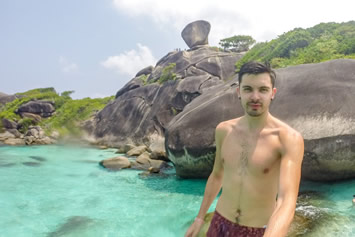 Both snorkeling and diving in the Similan Islands are the main activities to do on the islands. This pristine underwater landscape and diverse marine life was made possible thanks to the Andaman Sea. This has created the ideal water conditions where the visibility underwater is exceptionally high and perfect for diving and snorkeling. In addition, the average temperature of the water is an ideal 25°C or 77°F. If you go diving in the Similan Islands, you're guaranteed to encounter a variety of tropical fish: from the smallest creatures to giant manta rays and even whale sharks. And then we are not even talking about the basking shark, barracudas, trigger fish and coral in almost all colors of the rainbow.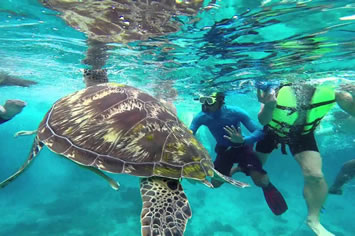 The islands consist of rough, rocky coastlines in the west and sandy beaches with beautiful crystal white, soft sand in the east. Some of the Similan Islands have a number of mountains, the highest being 244 meters (800 ft) high and showing off on Koh Similan. Other islands have sand dunes, so there's no shortage of variation. There are a number of tropical songbirds on the islands, as well as reptiles.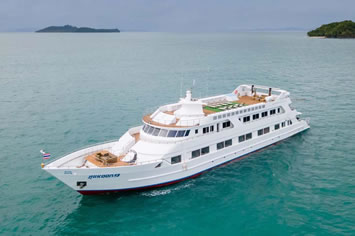 Seastar MV Koon 9
MV Koon 9 is easily the largest Similan Islands scuba diving liveaboard. The boat is 52 metres long, and more than 10 metres wide. Most Similan liveaboards are 26-30 metres long, and the larger ones are 35-37 metres long. Koon 9's huge size enables it to stay stable and comfortable when crossing between islands, and gives everyone on board more space to enjoy their diving holiday. Even though up to 40 divers can stay overnight, there's still plenty of room, plenty of food, & lots of seating space.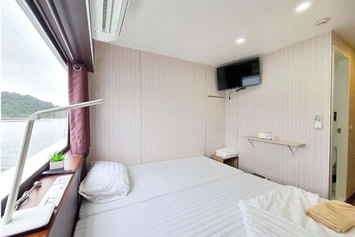 The boat has sixteen twin cabins, and four double cabins. All of the guest cabins have a large sea-view window, air conditioning, a private en suite bathroom and most have a smart tv. Solo guests who stay in a twin cabin only share with another same-gender guest. But you normally spend most of your non-diving time out of your cabin, in the communal areas.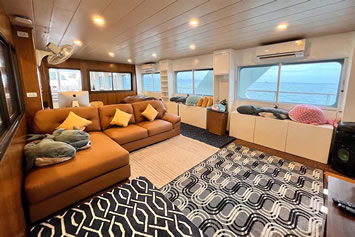 And Koon 9 has lots of communal space, both inside and out. On the upper deck there is a large air-conditioned lounge saloon with comfy sofas & armchairs and a huge tv with multimedia and Ninento games console. The large indoor dining room has plenty of tables for you to enjoy delicious Thai and western food throughout the cruise. And between the wonderful meals, there's always fruit and snacks available.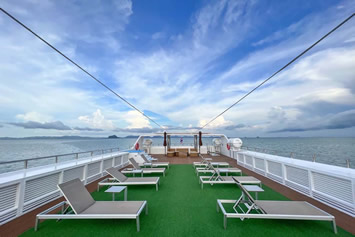 Koon 9's sundeck is also incredibly large. Up here there are sun loungers and soft seating. Guests can have coffee in the morning or drinks in the evening while enjoying panoramic views and a lovely sea breeze. And of course if you want to sunbathe, you have plenty of space and opportunity up here. This sundeck area is also very photogenic, so expect to take some selfies!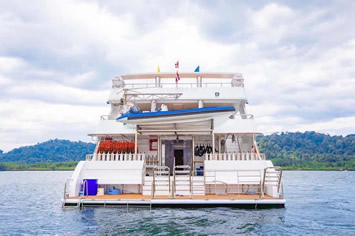 Let's not forget that this is a scuba diving boat, and you join these trips to jump into the crystal-clear Andaman Sea. Thanks to its width Koon 9 has a massive diving platform. Everyone gets their own tank slot and storage space for gear between dives, and for personal items when diving. The floor surface is non-slip and everything is in the correct place. The team of boat crew will help you with your gear, and into and out of the diving tender dinghies. If you're certified to dive with Nitrox, it's available on Koon 9.