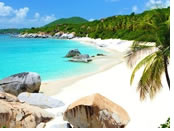 Come experience the amazing waters and islands of the Caribbean British Virgin Islands with an outstanding crew dedicated to providing you the very best experience possible. Take part in as much of the gay sailing cruise fun as you want or sit back, grab a cocktail and enjoy the view with the other gay men aboard.
If you are looking for a somewhat remote pure paradise for your next vacation aboard an all-inclusive gay sailing charter, then the British Virgin Islands are your answer!
The British Virgin Islands are among the world's most popular sailing destinations and you only have to look around to understand why. Laid-back and low-key, the BVIs are flat-out gorgeous to sail and explore. Hop aboard our state-of-the-art catamaran and discover secluded coves, impossibly beautiful snorkelling spots, and breathtaking islands virtually untouched by humans.
Stretching throughout the Caribbean, the British Virgin Islands are a kaleidoscope of aquamarine waters, sun-soaked harbors, and white-sand beaches. Distinct ports of call can be found among the more than 25 pristine islands that make up the BVI.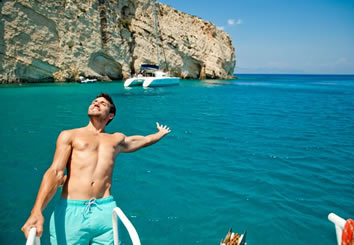 Throw away the to-do list and leave your day to chance, where you can search for turtles off the shores and find yourself gazing across the sea from a hilltop bar. Fill all your senses with spectacular scenery, delectable cuisine, and soft-sand beaches. The coral atoll of Anegada is the resting point of many a sunken ship and offers amazing underwater views for diving. From sprawling beaches to small villages you're sure find your own reason to cruise back on another return voyage.
Location may not be everything but in the British Virgin Islands it's what makes cruising so pleasurable. With its stretch of islands in the northeastern part of the Caribbean, guests can expect beautiful blue waters flowing into shaded caves and onto soft-sand beaches. Coral reefs surround the coast in an array of colors and are home to just as colorful marine life. Further inland bars, shops and restaurants spill through the winding streets and timeless villages are filled with the famous laid-back island ambiance.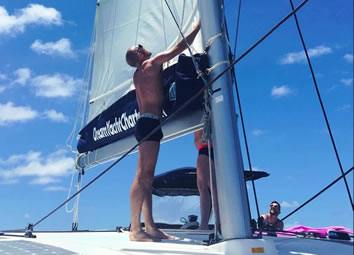 Our voyage start on Saturday at 2pm and ends the following Saturday morning.
Day 1 - Tortola, British Virgin Islands
Boarding starts any time after 2 pm, with a Pain Killer cocktail served up to wash away your travels! Before we launch and head to our first anchorage we will have a boat briefing to go over a few rules of the road and get everyone accommodated for their stay. After we are all settled in, we head out for an afternoon sail to one of the best bars in all BVI, Willy T's! Now located at Peter Island, this is where we will anchor for our first night and do some jumping off the famous Willy T's.
Day 2 - Anegada Island
Breakfast aboard followed by a full day of sailing to Anegada Island. This will be our longest voyage of the week, traveling some 38 nautical miles to our second anchorage. Well worth the trip to this beautiful, secluded paradise island. During our trip out, lunch will be provided aboard and hopefully, some fresh fish will be caught for dinner aboard.
Day 3 - Anegada Island
Breakfast aboard, followed by sightseeing on Anegada. A full day of beachcombing, snorkeling, lobster catching, and lunch on the island. We will remain at Anegada for the night, dinner will be aboard.
Day 4 - Virgin Gorda Island
Breakfast aboard, followed by a sail to Virgin Gorda Island. This is the playground for the rich and famous, you never know who you might see; Richard Branson? President Obama? Jimmy Buffett? Hopefully, we will rub elbows with the rich and famous, then hit up a couple beach bars, followed by dinner ashore at one of the fine restaurants in the area.
Day 5 - The Baths / Marina Cay
Breakfast aboard, followed by a short trip to The Baths. Yes, we have showers on board, this is not that kind of bath! This day will be full of exploration through the huge granite boulder maze mother nature has sprinkled at the end of Virgin Gorda Island, called The Baths. Simply Amazing. After The Baths we will have a short sail to our anchorage for the night and one of our favorite spots in BVI, Marina Cay. This is the home and original distillery location for Pusser's Rum.
Day 6 - Cooper Island
Breakfast aboard, followed by a few hours sail to Cooper Island for the day. This island boasts some of the very best reefs in the area. A perfect place to spend a day on the water. Lunch and dinner will be aboard.
Day 7 - The Indians / Norman Island
Breakfast aboard, followed by a short sail to The Indians! The Indians are an amazing rock formation, basically in the middle of the Islands, perfect for snorkeling and swimming with the sea life. By far the best stop in BVI! After a day of water-sports at The Indians, we will head into Norman Island for the last evening aboard. We will do our final dinner ashore at Pirates Bite, a beautiful outdoor restaurant overlooking the anchorage.
Day 8 - Tortola, British Virgin Islands
Breakfast aboard, followed by a short motor sail back to port. We will have you back in port by 10 am, for your travels home. Flights can be taken out of BVI any time afternoon.
This itinerary is subject to change. Local circumstances such as weather may influence the itinerary.