Celebrity Reflection
Ship Facts
Occupancy: 3046
Tonnage: 126,000
Length: 1047 feet
Beam: 123 feet
Draught: 27 feet
Cruisespeed: 24 knots
Inaugural Date: Oct 12, 2012
What's Included
Shipboard accommodations
Ocean transportation
Most meals
Some beverages
Most entertainment aboard the vessel
What's Not Included
Air transportation
Transfers
Shore excursions
Specialty restaurant fees
Some beverages
Photographs
Gratuities/service fees
Medical services
AquaSpa service, etc.
Azores & Spain Transatlantic Cruise on Celebrity Reflection
16 nights cruise from Ft.lauderdale, Florida to Amsterdam, Netherlands
April 19–May 05, 2021
Celebrity's Reflection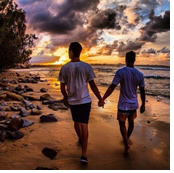 Join us on this exciting Azores & Spain Transatlantic gay group cruise on Celebrity Cruises stylish ship, Celebrity Reflection
! You'll sail from Ft. Lauderdale, Florida to Amsterdam and experience several relaxing days at sea to explore this wonderful liner, and wonderful exotic ports in Azores, Spain, France & Belgium during your voyage, with your new Pied Piper gay cruise friends.
Celebrity Cruises
will take you from the east coast of the United States to the West of Europe, calling at islands & exciting ports along the way. The modern luxury of Celebrity Reflection cruise ship ensures you are as relaxed or active as you want to be.


Celebrity Reflection
Relax like never before on board Celebrity Reflection
, the newest ship in the Celebrity fleet, where a host of innovative features add up to a cruise experience you will not forget. Relax on real grass on the top deck, lie back in superb spa facilities and much more. You can have it all on Celebrity Reflection.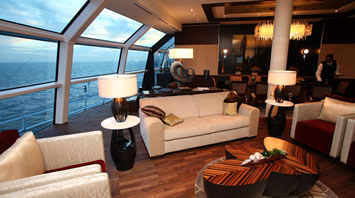 The newest ship which joined Celebrity Solstice® Class fleet, the chic Celebrity Reflection is the ultimate escape – no matter how you enjoy spending your time. Experience some luxurious alone time at the Canyon Ranch SpaClub®, with treatments that will lead you to a state of complete tranquility. Up on top deck, The Alcoves sit on the real grass of the fantastic Lawn Club. These cabana-style hideaways are the perfect place to unwind with up to three friends, enjoying a picnic basket from one our speciality restaurants, entertainment on iPad® and optional spa treatments. If all the alfresco dining has you in a creative mood, head to the Art Studio where a trained artist is on hand to show you how to master new crafts, painting and more. When the day is done, pay a visit to the fascinating and fresh Molecular Bar for contemporary cocktails crafted using intriguing modern mixology methods.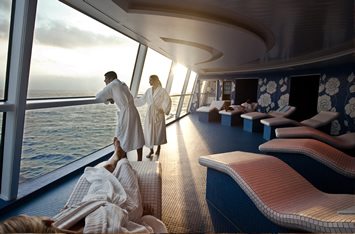 At the exciting Lawn Club Grill our expert chefs are on hand to freshly cook a great range of seafood and meat over the specially-made grill – right at the side of your table. If you fancy yourself as a Grill Master yourself, then you can take the reins and grill your food to perfection, with our friendly chefs at your side. Nearby is The Porch where you can gather for paninis, drinks and fresh, light bites throughout the day. You will find the interactive menu at speciality restaurant, Qsine®, is just as fun as eating the fascinating food itself. You will experience modern tastes and presentation amid inviting and exciting décor. For complete sophistication, head to Murano for a modern take on classic French cuisine. Chic and smart, the menu offers expertly-crafted classics and artisan cheeses.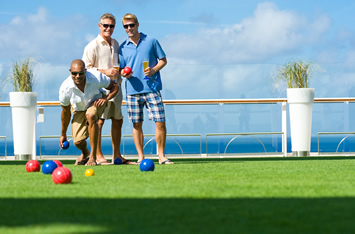 Staterooms on board Celebrity Reflection
are stylishly fitted with forward-thinking design in every aspect. The experience is indulgent from the moment you step on board – and there are accommodation options to suit the tastes of every guest. A stateroom is more than just a room. It is a place where guests can lie back, relax and take in the unmistakable luxury of a Celebrity Cruises holiday. Most of our staterooms include a private balcony for a personal open space, while others offer a superb sea view. Unique to Celebrity Reflection, there's an extra beautifully crafted deck, dedicated to our 34 AquaClass® Suites complete with spacious 79 square foot balconies and stunning panoramic views. Select an Inside Stateroom for a cosy stay, or a luxurious Penthouse Suite for incredible views and European-style butler service. All staterooms include en-suite facilities and luxurious bed linen.
Fort Lauderdale, Florida
This port city has been called the "Venice of America" due to a comprehensive canal network where you'll find gondolas docked on the Himmarshee Canal off Las Olas Boulevard. Enjoy extensive strolling, shopping, and dining opportunities, as well as the best of sand and sun.
Fort Lauderdale has a well deserved image as one of America's premier playgrounds. Over 10 million visitors a year prove it. The main attraction of Fort Lauderdale is water, lots of water. In Fort Lauderdale, in one way or another it's all about the water. The blue Atlantic, the Intracoastal Waterway and the New River combine with so many miles of man-made canals even Venice Italy calls itself the Ft. Lauderdale of Europe.
With so much navigable water throughout the city, Ft. Lauderdale has grown into America's yachting capital. A massive boating and marine support industry provides tens of thousands jobs and port and marina facilities to countless boats big and small. The city's nautical highlight takes place at the Fort Lauderdale International Boat Show. The world's largest; the show annually draws many thousands from around the globe.
Today, on the banks of the New River between the everglades and the Atlantic, the city which began as an insignificant outpost has grown into one of the most beautiful and dynamic communities in the nation.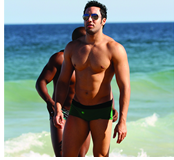 Fort Lauderdale Beach
was discovered in 1960 by college students looking for sun and fun during their Spring holiday. The city has long shed its rowdy "Spring Break" image and has developed into one of the premiere family resort locations in the country. Fort Lauderdale takes great care of and pride in its beach. The results are wonderfully self evident.
Carrie B
The Paddle Wheeler "Carrie B" takes visitors along the famous Intracoastal Waterway and the New River. Passing amazing private yachts and stately homes, this is a great way to see the city whose life revolves around the water.
Bonnet House Museum and Gardens
The Bonnet House Museum and Gardens is the result of a love story between two early pioneers in Fort Lauderdale, Frederic and Evelyn Bartlett. This dignified yet inviting home with its wonderful gardens is one of the most beautiful sites in South Florida. The estate dates from the early 1900s and is included in the Florida Trust for Historic Preservation as well as the National Register of Historic Places.
Stranahan House
The Stranahan House is one of the earliest permanent buildings constructed in Ft. Lauderdale. Constructed on the banks of the New River in 1901, the house served many functions, both private and public. Now on the National Registry of Historic Places, the house has been beautifully restored and serves as a museum dedicated to the early days of Ft. Lauderdale.
Museum of Discovery and Science
The Museum of Discovery and Science is home to hundreds of interesting exhibits and displays. There are living coral reefs as well as animals and reptiles from the Everglades. From rocks to rockets the museum has a great collection of interactive presentations. Combined with an IMAX movie theater, the museum is a very popular attraction.
Everglades
The Everglades is an amazing "sea of grass" and one of the most uniquely beautiful eco-environments in the United States. Visitors have the opportunity to explore the vast array of plant and animal life which combines to make this one of Florida's protected treasures.
Ponta Delgada, Azores (Portugal)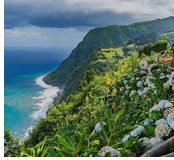 Formed from the peaks of a vast underwater volcanic mountain range, Ponta Delgada is the capital city of São Miguel island and is considered by many to be the most important city in the Azores archipelago. A stroll along the town's harbor front promenade will provide gorgeous scenic views of the turquoise blue Atlantic Ocean, as well as fascinating architecture dating back to the 16th century Renaissance.
Hiking, kayaking and surfing are among the popular water sports on cruises to Azores. April through September whale watching joins the ranks of water activities when regular sightings of various types of the mammal can be spotted during the season, including short-finned the pilot whales, Sowerby's beaked whale, and sometimes even a blue whale.
Top Hot Springs and Geysers in Azores
Volcanic activity formed these islands millions of years ago and continues to play an important role in shaping the vivid beauty and attractions of Azores today. Volcanic craters, gardens, lakes, and natural wonders like hot springs and geysers abound on a cruise to Azores.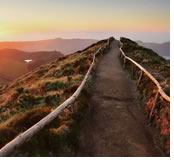 Poca da Dona Beija
Head to Poca da Dona Beija in the town of Furnas, for a dip in one of its five thermal pools. The warm waters have hints of orange from the iron that runs through and considered to be therapeutic, as well as relaxing.
Lagoa do Fogo
Lagoa do Fogo (Fire Lake) is by far the islands most grand natural wonder. Located in the middle of São Miguel, the tranquil lake is a result of waters that fill out the grounds of an extinct crater.
Terra Nostra Park
Explore the 200-year-old garden which hosts beautiful collections of cultivated trees, plants, and flowers native to Azores. The park also features a thermal spring pool with warm temperatures of about 104 degrees Fahrenheit and essential minerals for a soothing and restful bath.
Lagoa Das Furnas
Make your way to the village of Furnas for the breathtaking hot springs of Lagoa Das Furnas (Furnas Crater Lake), one of the other crater lakes on the island. While there you can also sample, cozido, a local Portuguese stew that is prepared by lowering the pot into a hot spring and slow-cooked for hours using the natural geothermal heat.
La Coruna, Spain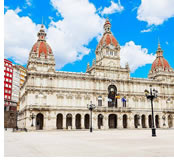 If there ever was a seafaring city, La Coruña is it. It's been a port and gateway to world travelers for over 2000 years. And from almost any spot on your La Coruna cruise, you can witness spectacular panoramic views of the ocean.
La Coruña is the capital of Spain's Galicia region and boasts some 2000 years of history. Much of it can be discovered along the streets of its "Ciudad Vieja" or Old Town. Here, cobbled lanes roll up and down hills, winding past gothic churches, stately plazas, imposing fortifications and all manner of medieval relics.
At the blustery tip of the city looms the Tower of Hercules, a still working Roman lighthouse, built in the 1st century AD, when its beacon marked the very limits of the civilized world. Beyond the shadows of history, you might find yourself bathed in sun-drenched bliss on a spectacular beach, or trying on the latest fashions found along the shopping streets of this commercial and cultural hotspot.
Bilbao, Spain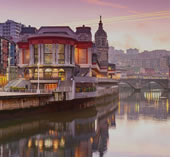 Bilbao, located in Spain's Basque region, is the ideal gateway to Vitoria and the famous Rioja wine region. Today, the city is famed for the Museo Guggenheim, which opened in 1997, firmly placing Bilbao on the art and tourism map which, subsequently, led to a major urban regeneration. Since then, more museums and galleries have opened, and has in turn prompted a parallel resurgence of fabulous restaurants, cafes and bars. There are so many amazing sights to explore on your Bilbao cruise.
Not sure where to begin? You can start with a bus tour of the city for an overview. Or, simply take a stroll through the Casco Viejo (Old Quarter) to find yourself immersed in 14th century architecture, a whirlwind of boisterous bars, eclectic shops, gothic cathedrals, historic plazas and lively street performers. In addition to the architecture, this Basque gem is not short on places to eat and drink. Gastronomy joins the other arts flourishing in Bilbao. From traditional Spanish favorites to avant-garde culinary adventures, you'll find them all in this city. Dine like a local and head out for "pintxos", an assortment of appetizers to share and savor.
Paris (Le Havre), France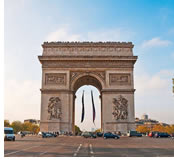 The allure and romance of cruise to Paris are legendary. This capital city of France is home to innumerable museums, such as the Louvre, Musée d'Orsay, Musée Picasso and Musée Rodin, parks and gardens, including the Tuileries Garden on the banks of the Seine and the Left Bank Luxembourg Garden, as well as monuments such as the Eiffel Tower and the Arc de Triomphe.
Bruges (Zeebrugge), Belgium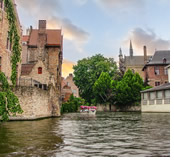 Gracefully combining past and present, as well as Flemish and French, Bruges offers a little something for everyone. Linked by the Baudouin Canal, this medieval town is the stuff of fairytale and storybooks. Cobblestone streets, old, historic churches and a dreamy landscape make this a very sought after destination -- especially during the summer months.
Stroll through the Markt, a bustling plaza where the rhythmic beat of horse-drawn carriages echoes off a soaring belfry tower. Immerse yourself in a rich art history, best reflected in the paintings of Bruges' own Jan Van Eyck, one of the most significant Renaissance artists of the 15th century.
Spend a delightful day on the medieval streets of this city with a seemingly endless supply of charm, culture, and beauty.Foodies will revel in the eclectic dining options at local bistros. Dig into sweet Belgian waffles and stop by the renowned chocolate boutiques on your cruise to Bruges. If sampling the fresh fish of this country is on your agenda, the fish market located here is one of the biggest in Europe. Or, take a scenic cruise through the medieval city of Ghent, Belgium and discover important landmarks, including Chinese Teahouses, 13th-century monasteries and castles of the Counts.
Amsterdam, Netherlands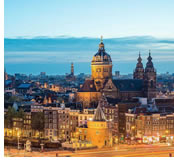 Amsterdam, the beautiful capital of the Netherlands, has the wonderful atmosphere of a 17th-century city combined with the contemporary character of a modern metropolis. It is a treasure chest of superb architecture and is famous for its canals and extraordinary museums. Once you arrive on your cruise to Amsterdam, be sure to catch the city's highlights, especially the iconic houses that straddle the snaking canal system of which the city is known for.
When in Amsterdam
, do as the Dutch and discover this first-class city on two wheels as this is one of the most bike-friendly places on the planet.
When it comes to viewing the world's great artistic masterpieces, you could hardly pick a better city. Pay a visit to the famous Van Gogh Museum and ponder the works of Holland's favorite son. Afterwards, pop into a cozy cafe or tavern and let the charms of this city wash over you.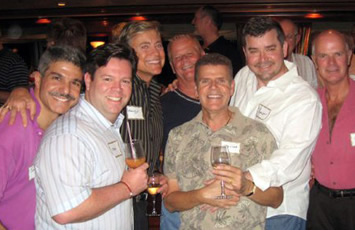 Azores & Spain Transatlantic Cruise Itinerary


Date

Port

Arrive

Depart

19 April
Ft.Lauderdale, Florida
5 PM
20 April

A Day at Sea!

21 April

A day at sea!

22 April

A Day at Sea!

23 April

A Day at Sea!

24 April

A Day at Sea!

25 April

A Day at Sea!

26 April

A Day at Sea!

27 April

Ponta Delgada, Azores (Portugal)
7 AM
7 PM
28 April

A Day at Sea!

29 April

A Day at Sea!

30 April
La Coruna, Spain
7 AM
4 PM

01 May

Bilbao, Spain
8 AM
5 PM
02 May

A Day at Sea!

03 May

Paris (Le Havre), France
7 AM
8 PM
04 May
Bruges (Zeebrugge), Belgium
8:30 AM
4 PM

05 May

Amsterdam, Netherlands
5 AM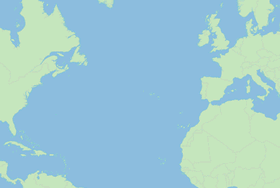 Just a few onboard highlights in a long list of many
Celebrity Reflection is Celebrity Cruises newest marvel. She boasts an expanded deck, 72 additional staterooms, extra seating in the main and specialty restaurants, more sun lounges on the pool deck, and more seats in the theatre. Celebrate the flavorful joys of outdoor grilling at the new Lawn Club Grill. Enjoy more than 20 delicious dining options in the Main Restaurant. Unwind in your own cabana-style haven at The Alcoves. Treat yourself to new spa innovations at the enhanced Canyon Ranch SpaClub®. Your vacation time is precious. Time aboard Celebrity Reflection will make the most of it.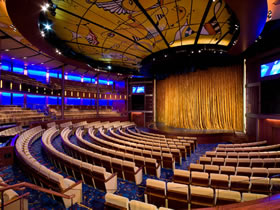 Reflection Theater
The grand Reflection Theater is the premier venue for live performances aboard Celebrity Reflection. While accommodating a generous audience, it retains a comfortable, intimate atmosphere, bringing you production shows, beautiful musical arrangements, and sidesplitting comedy.
Main Dining Room
The magnificent and luxurious main restaurant of Celebrity Reflection. With a two-story glass wine tower and dazzling chandeliers, this spectacular dining area has a sophisticated aura. Featuring globally infused, classic and contemporary cuisine that's complemented by Celebrity's talented and knowledgeable wait staff and sommeliers.
Cellar Masters
Inspired by the vineyards of the world, Cellar Masters brings to life the experience of a global wine tour, while you learn about and taste a large variety of wines from around the world. Using state-of-the-art Enomatic® wine dispensers, your bacchanalian curiosity is satisfied with the press of a button. A welcoming and unique onboard environment, you'll discover new wines, receive recommendations and enrich your knowledge of the world of wine.
Martini Bar
With an atmosphere inspired by ice and snow, the enchanting frosted bar is the social epicenter of the ship. An absolute must-visit for its chic and ultrahip feel, swing by the Martini Bar and grab a signature martini before dinner or make a night of it. This bar has a vibe like no other, which makes it the perfect spot to gather with friends all night long.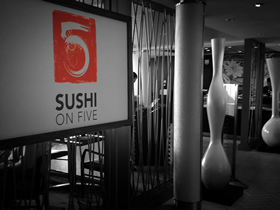 Sushi on Five
Try our modern luxury take on traditional Japanese fare. Take the opportunity to try our premium, super-premium, and specialty sakes—selected by our sake sommelier. Ask for fresh wasabi, if you dare. It's rare to find the real thing.
Café al Bacio & Gelateria
If only your local coffee shop had ocean views like these. Savor a cup of freshly brewed coffee or a delightful liqueur in this lively style coffee house. Or treat yourself to the gelateria, where sumptuous Italian ices and gelatos are prepared afternoon and evening.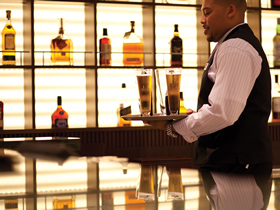 Michael's Club
A premium, private lounge for those in Reflection, Penthouse, Signature, Royal, and Celebrity Suites, as well as for Captain's Club Zenith members. This luxurious club features a large-screen TV, reading areas stocked with magazines, newspapers, and books, plus a continental breakfast. Complimentary drinks are available throughout the day and canapés are served with evening cocktails. Michael's Club is available 24 hours a day with selected service hours from the Michael's Club Concierge.
Murano
Impeccable service, classic design, world-class cuisine and comfortable sophistication are celebrated to the utmost in Murano. Experience tableside lobster presentation, an expansive selection of artisanal cheeses from around the world, or the extensive American and French wine list. Charming and timeless, Murano transports you, through palate and décor, to a modern and sophisticated level of dining.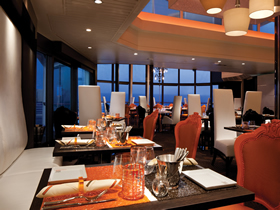 Qsine
Qsine® offers a culinary journey that delivers elements of surprise and delight. Our James Beard featured Master Chef created Qsine to give you something you've never experienced before—on land or at sea. Leave any preconceived notions behind. Dig in and try new things. It's time your palate got a wakeup call. Our iPad® menus make your dining experience even more fun and interactive.
Blu
As an AquaClass® guest, you can enjoy Blu, your own exclusive restaurant for breakfast and dinner. If the concept of "spa restaurant" causes you or your significant other to think you'll never see a steak or a rich dessert on the menu, that is definitely not the case. The cuisine at Blu is simply an imaginative way of preparing popular dishes without fussiness or pretense. Tender steak is served with a flavorful truffle vinaigrette instead of a heavy béarnaise. We call it "clean cuisine."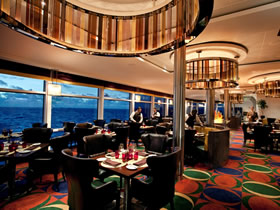 Tuscan Grille
An outgoing waitstaff ensures tableside service that's personal as well as professional. And the food? Take the traditional style and artisanal flair of Italy, add contemporary influences, and serve the cuisine in abundance. It's all part of the expansive character of Tuscan Grille.
Celebrity iLounge
This is Celebrity's chic, new approach to the Internet lounge that's also the first Authorized Apple® Reseller at Sea. It's the modern way to connect while onboard. Here, you'll find state-of-the-art workstations featuring MacBook Pro® laptops and iMac® desktops where you can take a class, check your email, surf the web or print a boarding pass. Certified staff will help you master the latest audio and video products. Learn how to get the most from the hippest tech devices, like the iPhone®, iPad®, iPod Touch®, and MacBook Pro®. And, if you like, you can purchase some of these items on your cruise.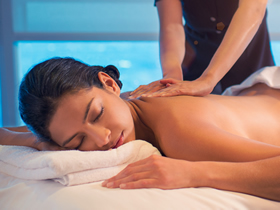 Canyon Ranch SpaClub®
Your destination for health, beauty and extraordinary relaxation, Canyon Ranch SpaClub soothes both body and mind. Facilities include a solarium, Persian Garden, private treatment rooms, relaxation room, and fitness center.
Fitness Center
In our fitness center you can meet with a personal trainer, take a fitness class, try an invigorating spin class or challenge yourself on our state-of-the-art exercise equipment.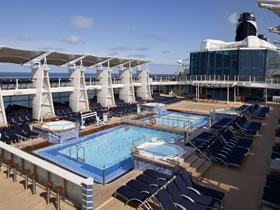 The Pool
Spend the day by the pool. Relax with a book, or have a bite at the grill. Enjoy the serenade of the music from the bandstand and dance your heart away on the dance floor. For a refresher, take a dip in the pool or rejuvenate in the whirlpool.
Oceanview Café
This café's décor and offerings reflect that of an international marketplace. With a menu influenced by multiple cultures, the cuisine takes diners on a voyage around the world. Stations available in the marketplace include: made-to-order pasta, stir-fry, pizza and sushi, a full salad bar, and a variety of appetizer entrées and desserts. Open for breakfast, lunch, dinner and late night.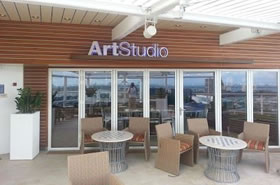 The Art Studio
Get creative in this new venue on The Lawn Club that allows intimate, hands-on instruction from resident experts in drawing, painting, beading, drink mixology, culinary lessons, taste tests and chef-prepared dinners.
The Porch
Relax and gaze out over the cool, green grass of The Lawn Club, or the cool, blue sea, while savoring just-made fare for breakfast or lunch. Featuring quick, simple and fresh food, like soup, salads and panini. Open for breakfast and lunch.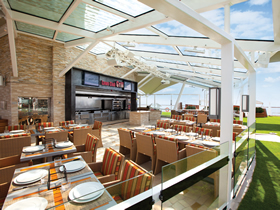 Lawn Club Grill
Meet our newest restaurant, available only on Celebrity Reflection. The bright and modern Lawn Club Grill celebrates the flavorful joys of outdoor grilling. The highlight of dining at the Lawn Club Grill is the opportunity to serve as your party's "Grill Master," by being paired with a Celebrity chef to assist in preparing the menu for your table over custom-built, ventilated grills.
The Lawn Club
A freshly manicured lawn on the highest deck. Enjoy casual outdoor activities in a decidedly Country Club atmosphere, and let the grass between your toes take you places no cruise has gone before.
Mast Grill
The perfect place to grab a quick bite, like burgers and other specialties grilled to order, while relaxing out on the Pool Deck.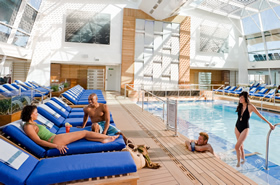 Guests: 3,046 • Gross Tonnage: 126,000 • Length: 1047' • Beam: 123' • Draft: 27' • Cruising Speed: 24 knots

Azores & Spain Transatlantic Cruise Rates
(Updated 18.07.20. - Current prices/availability.)
12 - Inside Double Stateroom
183–200 sq. ft. Inside Staterooms offer outstanding value for money, and are tastefully designed with a comfortable sitting area where you can relax after a day exploring the ship or the shore. Your luxurious stateroom includes bathrobes and a tote bag for your use, interactive TV and luxury toiletries. We have been sure to include everything you need for your comfort and convenience, like a hair dryer, private mini-bar, water and wine glasses, private safe and dual voltage power outlets.





11 - Inside Double Stateroom
183–200 sq. ft. Inside Staterooms offer outstanding value for money, and are tastefully designed with a comfortable sitting area where you can relax after a day exploring the ship or the shore. Your luxurious stateroom includes bathrobes and a tote bag for your use, interactive TV and luxury toiletries. We have been sure to include everything you need for your comfort and convenience, like a hair dryer, private mini-bar, water and wine glasses, private safe and dual voltage power outlets.





10 - Inside Double Stateroom
183–200 sq. ft. Inside Staterooms offer outstanding value for money, and are tastefully designed with a comfortable sitting area where you can relax after a day exploring the ship or the shore. Your luxurious stateroom includes bathrobes and a tote bag for your use, interactive TV and luxury toiletries. We have been sure to include everything you need for your comfort and convenience, like a hair dryer, private mini-bar, water and wine glasses, private safe and dual voltage power outlets.





9 - Inside Double Stateroom
183–200 sq. ft. Inside Staterooms offer outstanding value for money, and are tastefully designed with a comfortable sitting area where you can relax after a day exploring the ship or the shore. Your luxurious stateroom includes bathrobes and a tote bag for your use, interactive TV and luxury toiletries. We have been sure to include everything you need for your comfort and convenience, like a hair dryer, private mini-bar, water and wine glasses, private safe and dual voltage power outlets.





8 - Ocean View double stateroom with window
177 sq. ft. Ocean View Staterooms include large windows, as well as a comfortable seating area where you can settle down and relax after a day exploring the ship or the shore. Bathrobes and a tote bag for your use, interactive TV and luxury toiletries. We have included everything you need for ultimate comfort and convenience, including a hair dryer, private mini-bar, water and wine glasses, private safe and dual voltage power outlets.





7 - Ocean View double stateroom with window
177 sq. ft. Ocean View Staterooms include large windows, as well as a comfortable seating area where you can settle down and relax after a day exploring the ship or the shore. Bathrobes and a tote bag for your use, interactive TV and luxury toiletries. We have included everything you need for ultimate comfort and convenience, including a hair dryer, private mini-bar, water and wine glasses, private safe and dual voltage power outlets.





2d - Deluxe ocean view double stateroom with veranda (obstructed view)
Stateroom: 194 sq. ft. Veranda: 54 sq. ft. Balcony Staterooms each have a private balcony, offering breathtaking views and sea air to be enjoyed at your leisure. Bathrobes and a tote bag for your use, interactive TV and luxury toiletries. We have included everything you need for your comfort and convenience, like a hair dryer, private mini-bar, water and wine glasses, private safe and dual voltage power outlets.





2c - Deluxe ocean view double stateroom with veranda (partially obstructed)
Stateroom: 194 sq. ft. Veranda: 54 sq. ft. Balcony Staterooms each have a private balcony, offering breathtaking views and sea air to be enjoyed at your leisure. Bathrobes and a tote bag for your use, interactive TV and luxury toiletries. We have included everything you need for your comfort and convenience, like a hair dryer, private mini-bar, water and wine glasses, private safe and dual voltage power outlets.

$ 1,249

$ 1,449

2b - Deluxe ocean view double stateroom with veranda
Stateroom: 194 sq. ft. Veranda: 54 sq. ft. Balcony Staterooms each have a private balcony, offering breathtaking views and sea air to be enjoyed at your leisure. Bathrobes and a tote bag for your use, interactive TV and luxury toiletries. We have included everything you need for your comfort and convenience, like a hair dryer, private mini-bar, water and wine glasses, private safe and dual voltage power outlets.

$ 1,269

$ 1,469

2a - Deluxe ocean view double stateroom with veranda
Stateroom: 194 sq. ft. Veranda: 54 sq. ft. Balcony Staterooms each have a private balcony, offering breathtaking views and sea air to be enjoyed at your leisure. Bathrobes and a tote bag for your use, interactive TV and luxury toiletries. We have included everything you need for your comfort and convenience, like a hair dryer, private mini-bar, water and wine glasses, private safe and dual voltage power outlets.

$ 3,179

$ 3,739

1c - Deluxe ocean view double stateroom with veranda
Stateroom: 194 sq. ft. Veranda: 54 sq. ft. Balcony Staterooms each have a private balcony, offering breathtaking views and sea air to be enjoyed at your leisure. Bathrobes and a tote bag for your use, interactive TV and luxury toiletries. We have included everything you need for your comfort and convenience, like a hair dryer, private mini-bar, water and wine glasses, private safe and dual voltage power outlets.

$ 3,079

$ 3,639

1b - Deluxe ocean view double stateroom with veranda
Stateroom: 194 sq. ft. Veranda: 54 sq. ft. Balcony Staterooms each have a private balcony, offering breathtaking views and sea air to be enjoyed at your leisure. Bathrobes and a tote bag for your use, interactive TV and luxury toiletries. We have included everything you need for your comfort and convenience, like a hair dryer, private mini-bar, water and wine glasses, private safe and dual voltage power outlets.





1a - Deluxe ocean view double stateroom with veranda
Stateroom: 194 sq. ft. Veranda: 54 sq. ft. Balcony Staterooms each have a private balcony, offering breathtaking views and sea air to be enjoyed at your leisure. Bathrobes and a tote bag for your use, interactive TV and luxury toiletries. We have included everything you need for your comfort and convenience, like a hair dryer, private mini-bar, water and wine glasses, private safe and dual voltage power outlets.





SV - Sunset Veranda stateroom
These are some of our most desirable locations-found at the aft of the ship with a similar layout to AquaClass® Staterooms. Stateroom: 192 sq. ft. Veranda: 54 sq. ft. Balcony Staterooms each have a private balcony, offering breathtaking views and sea air to be enjoyed at your leisure. Bathrobes and a tote bag for your use, interactive TV and luxury toiletries. We have included everything you need for your comfort and convenience, like a hair dryer, private mini-bar, water and wine glasses, private safe and dual voltage power outlets.

$ 3,439

$ 3,999

C3 - Concierge Class double stateroom with veranda
Spacious accommodations complete with special privileges like priority check-in, personalized Concierge service, priority seating time preferences in the main dining room and specialty restaurants, upgraded room service menu, evening hors d'oeuvres, plush Frette bathrobes, and veranda with lounge seating. Stateroom: 194 sq. ft. Veranda: 54 sq. ft.





C2 - Concierge Class double stateroom with veranda
Spacious accommodations complete with special privileges like priority check-in, personalized Concierge service, priority seating time preferences in the main dining room and specialty restaurants, upgraded room service menu, evening hors d'oeuvres, plush Frette bathrobes, and veranda with lounge seating. Stateroom: 194 sq. ft. Veranda: 54 sq. ft.

$ 3,339

$ 3,899

C1 - Concierge Class double stateroom with veranda
Spacious accommodations complete with special privileges like priority check-in, personalized Concierge service, priority seating time preferences in the main dining room and specialty restaurants, upgraded room service menu, evening hors d'oeuvres, plush Frette bathrobes, and veranda with lounge seating. Stateroom: 194 sq. ft. Veranda: 54 sq. ft.

$ 3,439

$ 3,999

A2 - Aqua Class stateroom with veranda
The AquaClass® staterooms offer a tranquil retreat and provide unlimited access to many of the AquaSpa amenities. Stateroom: 194 sq. ft. Veranda: 54 sq. ft.

$ 3,839

$ 4,399

A1 - Aqua Class stateroom with veranda
The AquaClass® staterooms offer a tranquil retreat and provide unlimited access to many of the AquaSpa amenities. Stateroom: 194 sq. ft. Veranda: 54 sq. ft.

$ 4,039

$ 4,599

S2 - Sky Suite with floor-to-ceiling windows and veranda
When you stay in a Sky Suite, you'll enjoy the luxury of European-style butler service. This includes assistance with unpacking and packing. In-suite lunch and dinner service. Afternoon tea. Evening hors d'oeuvres and complimentary in-suite espresso and cappuccino from Cafe al Bacio. Stateroom: 300 sq. ft. Veranda: 79 sq. ft.

N/A


S1 - Sky Suite with floor-to-ceiling windows and veranda
When you stay in a Sky Suite, you'll enjoy the luxury of European-style butler service. This includes assistance with unpacking and packing. In-suite lunch and dinner service. Afternoon tea. Evening hors d'oeuvres and complimentary in-suite espresso and cappuccino from Cafe al Bacio. Stateroom: 300 sq. ft. Veranda: 79 sq. ft.

N/A
$ 7,799

CS - Celebrity Suite with floor-to-ceiling windows
When you stay in a Celebrity Suite, you'll enjoy the luxury of European-style butler service. This includes assistance with unpacking and packing. In-suite lunch and dinner service. Afternoon tea. Evening hors d'oeuvres and complimentary in-suite espresso and cappuccino from Cafe al Bacio. Stateroom: 394 sq. ft. Veranda: 105 sq. ft.

N/A
$ 10,449

RS - Royal Suite with floor-to-ceiling windows and veranda
When you stay in a Royal Suite, you'll enjoy the luxury of European-style butler service. This includes assistance with unpacking and packing. In-suite lunch and dinner service. Afternoon tea. Evening hors d'oeuvres and complimentary in-suite espresso and cappuccino from Cafe al Bacio. Separate living room and dining area and a veranda with whirlpool and luxurious lounge seating. Stateroom: 590 sq. ft. Veranda: 158 sq. ft.
N/A
$ 15,949

PS - Penthouse Suite
When you stay in one of our Penthouse Suites, you'll enjoy the luxury of European-style butler service. This includes assistance with unpacking and packing. In-suite lunch and dinner service. Afternoon tea. Evening hors d'oeuvres and complimentary in-suite espresso and cappuccino from Café al Bacio. We're sure you will be more than happy with the grandeur and scale of the space, along with all the amenities, like the butler's pantry and two interactive audio/visual entertainment systems. Stateroom: 1291 sq. ft. Veranda: 389 sq. ft.
N/A
$ 20,699

SG - Signature Suite
You'll relax in airy, high-ceiling rooms and sleep on a Premium Reverie mattress with the ground-breaking Reverie Dream Sleep System. An iPad with Reverie Remote app acts as a remote control allowing you to easily operate the lights and TV in the stateroom, massage features, and elevation of the mattress. European-style butler service 24/7 for assistance with unpacking, in-suite lunch and dinner, afternoon tea, evening hors d'oeuvres plus complimentary espresso and cappuccino. Veranda has luxe lounge seating and the bath offers a shower/tub combination. Located in a private area accessible only to Signature Suite and Reflection Suite guests carrying special cardkeys. Accommodates four. Stateroom: 441 sq. ft. Veranda: 118 sq. ft.
N/A
$ 12,949

RF - Reflection Suite
Two-bedroom suite with sea-view bathroom-is nestled in the highly-desirable corner location near the new Signature Suites. This private section is accessible only to guests carrying a special cardkey. Here you'll sleep on a Premium Reverie mattress with the ground-breaking Reverie Dream Sleep System. An iPad with the Reverie Remote app acts as a remote control allowing you to easily operate the lights and TV in the stateroom, massage features, and elevation of the mattress. European-style butler service 24/7 for assistance with unpacking, in-suite lunch and dinner, afternoon tea, evening hors d'oeuvres plus complimentary espresso and cappuccino. Sea-view bathroom extends out over the edge of the ship, veranda tubs offer a soothing rain shower, expansive veranda has lounge seating. Accommodates six. Stateroom: 1636 sq. ft. Veranda: 194 sq. ft.
On Request
On Request
All prices are per person, double occupancy, and include all meals, accommodations and entertainment!

Taxes of $128.45pp, optional travel insurance, and gratuities are additional.

A deposit of $500 per person is required upon booking. Balance payment is due 90 days prior to sailing.

Optional shore excursions will be offered.

Prices are cruise only and DO NOT INCLUDE return airfare! Please ask for airfare add-ons back to your home city.

Fares are subject to availability and may change without prior notice.

Also included are the traditional PIED PIPER escort and activities, subject to minimum participation.

Traveling alone? Ask about our single roommate share program to help you avoid the single supplement of 100% of the per person double occupancy rate.

Please ask for further details.

DREAM BIG THREE PERKS SALE! Limited time offer!
Book any non-suite category and receive the following three perks: Classic beverage packages, complimentary prepaid onboard gratuities, and unlimited onboard internet packages! Promo expires July 20, 2020!

Four Perks Suite deal!
Book a Suite and get all of the perks, with a complimentary upgrade to a Premium beverage package, at no additional charge!

NO PERKS PRICING!
Please refer to the pricing column with lower prices that don't include any perks!

The above promotions are capacity controlled and offer may be withdrawn at any time without prior notice.

CRUISE WITH CONFIDENCE!
Book your cruise by August 1, 2020 and it will be covered by Celebrity new Cruise with Confidence cancellation program. Change your sail date up to 48 hours before your cruise, or receive a future cruise credit good through May 4, 2022.

Special Airfares