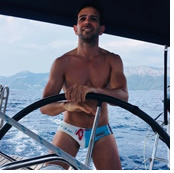 Gay Sailing Holidays in Croatia. We offer exclusive gay clothing optional & nude island hopping vacations. We sail you on your private yacht from island to island, stopping at nude/gay nude beaches for your afternoon dip and escort you to the local gay bars and clubs. Your on board skipper and host will take care of your breakfast, lunch so you can relax while you're on boat!
You will enjoy an exclusive gay sailing get-away, where you can relax in the sun, sipping your freshly made cocktail of the day, as we island-hop around the beautiful Croatian coast.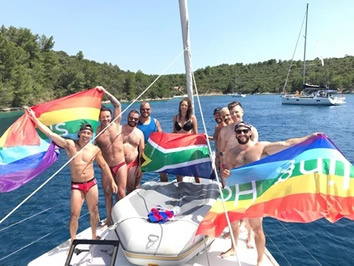 During the day you'll enjoy the sun, water, music with your new friends, then by night you can dance, drink and eat as we take you to the local wineries, organic restaurants and hot-spots.
Croatia Pride Sailing Holidays offer the best sailing yacht for your private gay sailing experience in Croatia, including 4 x double cabins for guests, allowing up to 8 customers and 2 crew. Crew have their own quarters on the boat.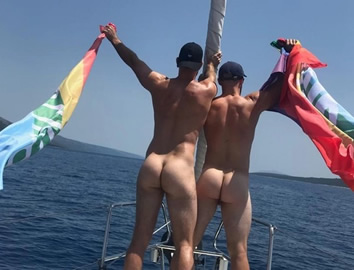 While enjoying your gay sailing holiday, you can enjoy nude sailing while at sea and we're enjoying the Croatian sunshine hopping from island to island. Your gay or gay friendly crew will make sure you get there safety and in style. Your host/hostess will prepare all on board meals (breakfast and lunch) and you're welcome to bring your own alcohol.
Your gay sailing holiday also have optional theme days, so you can either dress up or dress down while in the privacy of your own yacht. We make your experience a fun and exciting way to gay sail Croatia and make new friends, so book now and save your cabin before it's too late.
Our voyages all start on Saturday at 1pm and ends the following Saturday morning.
Your trip will start, or end at Marina Kaštela in Split, Croatia, and in Dubrovnik.
Day 1, Saturday - Split (Kaštela)
1pm: Check in and meet your crew and fellow guests
Enjoy a welcome glass of prosecco before we leave the marina at 2pm. We make our way to Milna on Brac.
We will make a cheeky swim stop at a nudist beach first!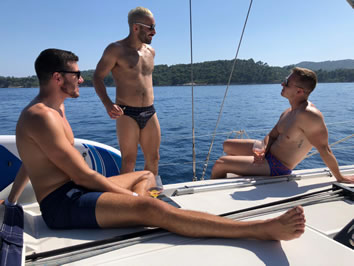 Day 2, Sunday - Hvar
Sail to Vinogradse Bay, but first you'll have a swim stop before arriving in the bay. There is a fabulous cocktail bar in the bay and also water taxis to take you to Hvar.
Hvar is 'Mykonos of Croatia' with the most vibrant bars and clubs. Carpe Diem is a popular spot for partying the night away in a gay friendly atmosphere.
*Water taxi from Vinogradisce Bay to Hvar is 100 Kuna (approx €13 for a return trip)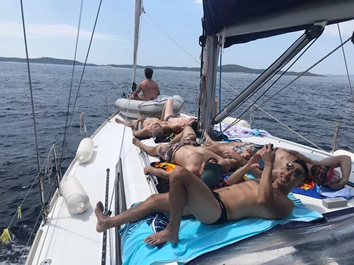 Day 3, Monday - Vis
Sail to Vis, where there is amazing local wine, meats and cheeses. Dine on local fresh fish, lobster or try the local 'peka' (slow roast). You'll need to give 4 hours notice for this dish.
Day 4, Tuesday - Korcula
You'll make your way to the fortified town of Korcula. This is a long passage, so weather permitting we'll stop in Scedro for lunch and a swim. Korcula is the home of Marco Polo and has some amazing restaurants and a beautiful bars for sunset cocktails.
Day 5, Wednesday - Polace, or Pomena, Mljet
We'll make our way to Polace, or Pomena on Mljet, where we will have a swim in the National Park before docking where you can cycle through the park and around the lake. It's beautiful and might require stopping on the lake and a cheeky bottle of bubbles.
Day 6, Thursday - Okuklje, Mljet
We have one more stop on Mljet on the way down and it's the cute town of Okuklje. Try and pronounce that with a mouth-full! This is an old fishing bay and it's amazing for star-gazing when all the lights have gone out.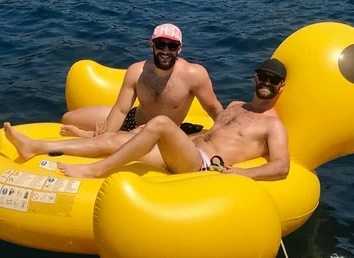 Day 7, Friday - Dubrovnik
We head down to Dubrovnik, but not before making one last swim stop before we arrive at the marina. If you're up for it, we'll take you into the Old Town for sunset cocktails, dinner and painting the town red in the local bars and clubs.
Day 8 - Dubrovnik
Time to say goodbye to the Skipper and your new friends.
The reverse itinerary follows the same itinerary with the possible exception of Maslinica on Scedro as the last stop.
This itinerary is subject to change. Local circumstances such as weather may influence the itinerary.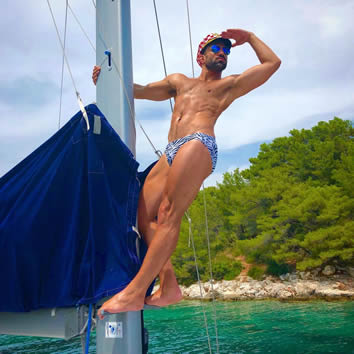 We have theme days/afternoons which can be a lot of fun. Theme days are subject to change.
Speedo Day!
Break our your favourite speedo's. A great way to break the ice with your fellow guests - for those of us who don't wear them lets give it a go! (It's not a necessity), but bubbles awarded for style and the best deck walking strut performed once we leave the bay.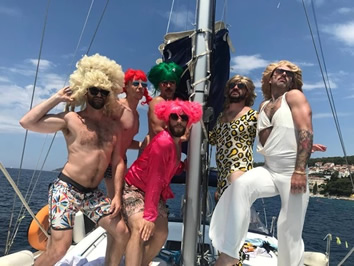 Undie Day
Bring out your best undies from the moment you wake up. This is a longer day on the water; If you don't have them, then feel free to leave them off completely... But please let's leave it until we leave the dock (we need to be respectful). It's a great day for sun bathing nude and cocktails for those who want to kick back and relax. Just make sure you're wearing your 'Tighty outfit' for the day or feel free to wear even less.
Dress Up Day
Pack a wig (it's suggested as a minimum, but if you don't bring we won't hold it against you - we may even have a spare!) Add some shorts or a mini, this is a day for catwalks. Tease us play with us, of course this is yet another day to shine, or just relax and have fun - it's just between us! This is a day for you to be who you want to be - put on a show, or sit back and forget bout the shows and enjoy your surroundings.
White Party Night
We are out for the night in Hvar so bring you fanciest virgin white attire to visit the sexiest, most social and busiest party island in Croatia, let's stand out from the crowd and spend the night enjoying the sundown beach parties, dinner and private group speed boat back to our secluded bay.
Mamma Mia 2
Vis is the home of Mamma Mia 2. Although we don't have a theme day for this, there is the possibility of catching Mamma Mia 2 in an open air cinema or one of the other great movies on that night. You have the choice to take speedboats around the caves on the island, taste some of the best wine Croatia has to offer, and if you want to dress up go just for it. This island is up for a fun time and partying can often be found in Fort George, but respect the history and the people and you will fall involve with this island and it's sanctuary.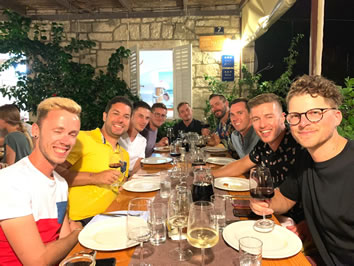 We include everything you could want, to make for the most stress-free holiday:
• Champagne arrival
• Seven days/nights on your own private all-gay yacht in Croatia
• Clothing Optional, or nude gay sail Croatia on a private yacht
• Your host will escort you to all the local gay spots in all the ports
• Your host will prepare your breakfast & lunch daily
• Snorkeling gear is available for underwater fun
• You can learn how to sail with your qualified skipper, or just sit back and enjoy
• You will have your own yacht with your friends or make new ones
• Always a small group on board (max 8 guests)
• All on board costs are covered: fuel, water & port/marina charges, tourism taxes, linen and final cleaning fee, etc.
• Free WiFi (4G Unlimited)
• No hidden charges or 'departure taxes'
Our packages offer a one-off price, so you know exactly what to expect. This doesn't however include your restaurant dinners, alcohol or crew gratuities.