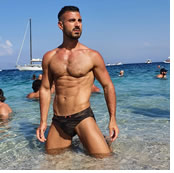 We've picked the Aeolian Islands for our clothing optional gay pride sailing holiday trip in Sicily for its steady winds, warm seas, and amazing marine life! It will be the perfect opportunity to explore a UNESCO lister for a week on your own private yacht. Plus! Lots of Italian gay boys - y'know what that means? Lots of parties! Our gay and gay friendly crew comprise of Captain and host/hostess, so you're taken care of while on the yacht. On your gay sailing holiday in the beautiful Aeolian Islands, you can enjoy nude gay sailing while we're underway sailing the gorgeous Mediterranean waters or just sit back and enjoy.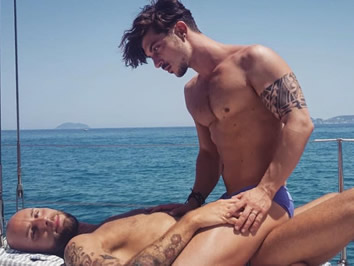 In Southern Italy, right above Sicily and surrounded by the waters of the Tyrrhenian Sea, is located one of the most beautiful group of islands in the whole Mediterranean area. We're talking about the seven pearls of the Aeolian archipelago, which consists of Lipari, Salina, Vulcano, Alicudi, Filicudi, Panarea and Stromboli. These islands are all of volcanic origin and emerge from the crystal clear sea, with wild, unspoiled nature and an authentic Italian atmosphere. To preserve their natural beauty, they have been declared a UNESCO World Heritage Site.
We have the most exciting itinerary, theme days, and host to prepare your onboard meals.
Your gay and gay friendly crew cater to your breakfast and lunch while on the boat, so you have nothing to worry about. You can also bring your favorite tipple to drink while on your gay sail too.
When you gay sail Sicily with us, we also have optional dress up and dress down theme days, while in the privacy of your private yacht. Your experience is a fun and exciting way to meet new people while sailing the Aeolian Islands, so either book your private gay sail for up to 8 people on a private charter, or book your private cabin.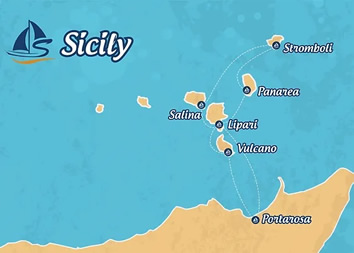 Day 1, Saturday - Portorosa, Sicily / Vulcano
We begin in Portorosa where you'll have plenty of time to explore before we set sail in the afternoon. Enjoy an Italian bite at one of the local restaurants or cheers a drink to the start of your holiday at one of the bars facing the beautiful Lipari islands.
Sit back on deck and relax as we sail towards our first destination, Vulcano. Well known for its sulphur rich mud baths and visibly smoking crater, Vulcano makes an indelible first impression. Relax on the black sand beaches or enjoy a therapeutic mud bath before enjoying your first Italian meal for dinner.
Day 2, Sunday - Vulcano / Lipari
Start your day with a walk to the main crater for an astonishing morning view before we sail to Lipari.
Explore the island by bike or scooter admiring the white washed villages and breathtaking views of the Aeolian islands.
Take a dip in the afternoon before celebrating the best of Italy with a fine Italian dinner and local wine.
Day 3, Monday - Lipari / Panarea
Today we make our way to the most beautiful of the Aeolian Islands, Panarea. Expect delicious seafood and boutique shopping.
A short ride away is Cala Junco, a beautiful secluded bay, and nearby Lisca Bianca's offer hidden coves and bubbling sea springs you can explore.
Tonight is also the perfect setting for sunset cocktails!
Day 4, Tuesday - Panarea / Stromboli / Salina
Enjoy a memorable sunrise as we watch lava bubble from an active volcano, Stromboli.
Today we sail to Salina, a fertile island famous for the production of the local sweet wine Malvasia. Spend the day venturing around the town and the lush landscape before a sunset dinner admiring the view towards smoldering Stromboli volcano.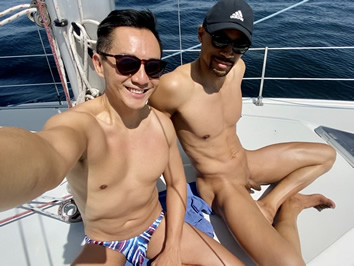 Day 5, Wednesday - Salina / Filicudi
Today we'll sail to one of the most isolated of the islands, Filicudi, well known for its wild natural beauty, untouched sea grottos and ancient pathways. Explore an extinct Aeolian volcano before a swim in crystal clear waters.
The rocky shores are a beachcomber's dream and an incredible spot to spend a tranquil night under the stars.
Day 6, Thursday - Panarea / Lipari
Depart Panarea in the morning, heading towards Lipari.
Stop for lunch and a swim break at one of the small islands along the way.
Spend the day exploring Lipari, either by foot or by renting a scooter or bike.
Day 7, Friday - Lipari / Potorosa
We'll enjoy a delicious breakfast and morning swim before we slowly journey back to the port where we started our trip.
Stopping along the way at some beautiful off-the-beaten track bays, we'll make sure you soak it all in.
Once we arrive back, spend the evening on the beach or by the pool before settling in for a final night on your catamaran.
Day 8 - Potorosa, Sicily
Sadly, it's time to say goodbye, until next time. Check out is at 8am.
This itinerary is subject to change. Local circumstances such as weather may influence the itinerary.
We include everything you could want, for the most fabulous gay vacation in Sicily, ever.
• You're greeted with champagne upon arrival
• Seven days/nights on your luxury all-gay yacht in Sicily
• Theme days for extra excitement, including 'Speedo / Nude Sunday' & 'Wig Wednesday'
• Clothing Optional (nude) sail the Aeolian Islands on a private Catamaran
• Fully gay crew: Skipper and host
• Your host will escort you to all the local gay spots in all the ports: beaches, clubs etc.
• Your host will prepare your breakfast & lunch daily
• Snorkeling gear is available for underwater fun
• You can learn how to sail with your qualified skipper, or just sit back and enjoy
• You will have your own yacht with your friends or make new ones
• Always a small group on board
• All on board costs are covers: fuel, water & port/marina charges, tourism taxes, linen and final cleaning fee, etc.
• WiFi (limited data)
• No hidden charges or 'departure taxes'
• Bring-Your-Own (BYO) alcohol.
Our packages offer a one-off price, so you know exactly what to expect. This doesn't however include your restaurant dinners, alcohol or crew gratuities.