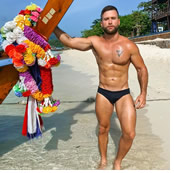 Sail Gay Thailand and savor the varied delights of its emerald-colored waters, limestone pinnacles, anchorages, pristine beaches, traditional fishing villages, and some of the best snorkeling and scuba diving in the world. Our gay and gay friendly crew comprise of Captain and host, so you're taken care of while on the yacht. Sail through the idyllic islands of Thailand and kick back on the perfect tropical getaway. It doesn't get much better than clothing optional (nude) all-gay sailing adventure through Thailand's best islands.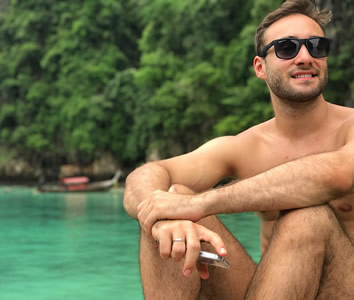 Spend your time enjoying sublime seascapes, snorkelling through turquoise waters, relaxing on white beaches and discovering craggy limestone peaks by boat. Welcome to the beautiful Andaman Sea! This is your chance to experience the region with the wind in your hair and the sun and salt on your skin.
From the iconic landscape of Koh Phi Phi to bustling gay Phuket – this gay sailing adventure gives you plenty of time to swim, snorkel, paddleboard and kayak by day and chill out on the deck watching the sunset by night. With a like-minded gay guys by your side and a private chef cooking up fresh Thai flavours – what better way to spend a week in Thailand?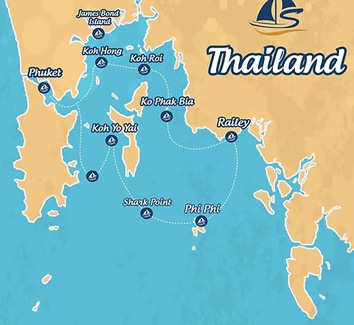 • Leave behind the vibrant, modern pizzazz of Phuket and set sail on the beautifully calm waters of the Andaman Sea – by yacht no less!
• Slip into the beach-loving life with long walks on the finest white sands and salty swims in the inviting azure waters of Thailand's best beaches.
• There are few things more relaxing than sleeping out beneath the stars, rocked by the gentle pitch of a yacht. Choose to spend a night on the deck and see for yourself.
• Feast on delicious food with no effort at all – you'll have the added benefit of an onboard chef, whipping up Thai favourites daily.
• Relax with the knowledge that the biggest decision of the day is whether to paddleboard, snorkel, swim with the tropical fish or kayak across shimmering seas.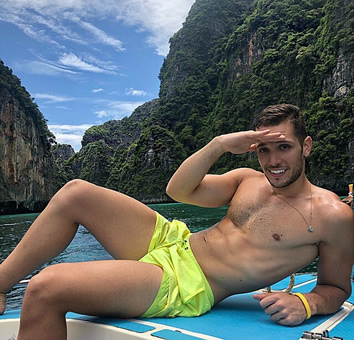 Boarding at 5 pm. The crew will be greeting you with a bottle of bubbly as you get settled down on the boat.
Day 1, Saturday - Phuket, Thailand
We welcome you on the boat and make you comfortable before enjoying an evening in Phuket.
Phuket is a wonderful mix of island hopping in marine reserves, beautiful sights, and exciting open-water passages. Phuket has a bit of everything for everyone.
Day 2, Sunday - Bat Cave, James Bond Island and Kho Hong
Ao Phang-nga National Park
Your first day will bring you east or north towards Phang Nga Bay. The dramatic towering limestone cliffs provide a stunning start to your vacation before you pass James Bond Island and Koh Panyee.
James Bond Island is famous for feature in 'The Man with the Golden Gun' and is a must see destination for all film buffs, Bond fans and budding secret agents.
Dinner on board
Day 3, Monday - Kho Roi, Ko Ku Du Yai, Ko Phak Bia / Paradise Resort
Koh Roi is an island for exploring. There are no no shortage of caves and hongs to be explored by dingy. If overnighting watch for the thousands of fruit bats, some with an impressive 3-foot wing span. As the bats leave for their evening feast in the jungles it takes you back to a prehistoric time.
Optional overnight in Paradise Resort. Dinner on board
Day 4, Tuesday - Kho Hong, Monkey Trail, Railey
Koh Hong has a beautiful beach that we'll swim in and also boasts a huge hong (Hong is Thai for 'room' meaning a lagoon) with impressive cliffs surrounding it. As you'd expect, the water is crystal clear and inviting, perfect for swimming on a high tide and exploring.
Tip: look for caves and keep an eye out for bats.
We will take the dingy to shore. There is a 'landing fee' of 300 Bhat per tourist (about USD $9)
Day 5, Wednesday - Poda Nai, Phi Phi Islands
We set sail south and heading to the beautiful Phi Phi islands. We'll pass Bamboo Island and the brave can snorkel looking for sharks.
We'll then head to Phi Phi Le for lunch, snorkeling and checking out the world famous Maya bay from 'The Beach' with Leonardo Dicaprio.
Once we've finished with the day's excitement, we'll head back to Phi Phi to freshen up and check out the island.
Day 6, Thursday - Maya Bay, Shark Point, Koh Yo Yai
We arrive in the magnificent white-sand beach in time for lunch and a swim.
The island is ours, hire a bike to explore, snorkel off the boat and around the cliff. As we're west facing we have a magical sunset.
Day 7, Friday - Ko Khao Nok, Phuket
Our final day starts with our morning yoga before breakfast and swimming before heading up to Phuket.
Phuket has something for everyone including Buddhist temples, statues, historic sites as well as no shortage of restaurants, bars, clubs, stalls selling their souvenirs, and the waterfront vibe.
Day 8 - Phuket, Thailand
Check out at 10am. Sadly it is time to say goodbye, until next time
This itinerary is subject to change. Local circumstances such as weather may influence the itinerary.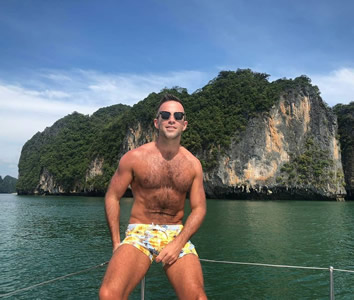 We include everything you could want, for the most fabulous gay vacation in Thailand, ever.
• You're greeted with champagne upon arrival
• Seven days/nights on your own private all-gay yacht in Thailand
• Theme days for extra excitement, including 'Speedo / Nude Sunday' & 'Wig Wednesday'
• Clothing Optional (nude) sail the Thailand Islands on a private Catamaran
• Fully gay crew: skipper & host.
• Your host will escort you to all the local gay spots in all the ports: beaches, clubs etc.
• Your host will prepare your breakfast & lunch daily
• Snorkeling gear is available for underwater fun
• You can learn how to sail with your qualified skipper, or just sit back and enjoy
• You will have your own yacht with your friends or make new ones
• Always a small group on board (max 8 guests)
• All on board costs are covers: fuel, water & port/marina charges, tourism taxes, linen and final cleaning fee, etc.
• Bring-Your-Own (BYO) alcohol.
• No hidden charges or 'departure taxes'
Our packages offer a one-off price, so you know exactly what to expect. This doesn't however include your restaurant dinners, alcohol or crew gratuities.