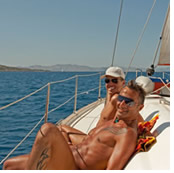 Join us on gay sailing Greece naked gay "fun" cruise. It's above all a sailing holiday for sporty guys that like to be naked, and spend a relaxed week together with ten gay guys. Besides that, all guys that join this cruise have indicated to be open-minded, and open to a bit of fun on board in case of mutual interest. In other words: a week of sailing around beautiful islands and bays with other like-minded guys in a fun relaxed atmosphere. The privacy that a sailing yacht offers is the perfect way to accomodate this!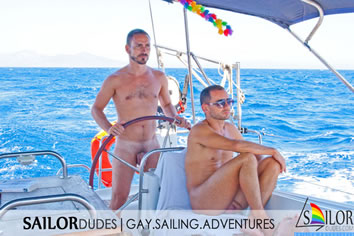 In short, the idea behind this special gay fun cruise is:
• A nude gay cruise where we will often stay in bays overnight for more privacy
• An open minded atmosphere where you can feel free to have fun anywhere you like
• And of course cruising around in a beautiful sailing area with like-minded gay fun guys
• Sailing on an approx. 15 meter sailing yacht with 5 cabins for 10 guys in total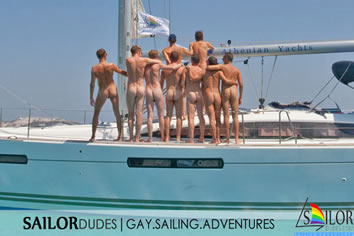 Lefkas is a nice village with shops and restaurants. From the marina we start our sailing cruise on our comfortable 50 ft sailing yacht. We will set sail heading south and will make our way towards one of the most relaxing and picturesque sailing areas of Greece!
The many islands are mostly natural and green with only few villages. They offer plenty of crystal clear water bays to choose from for lunch, swim and overnight stops. The villages are all small and very picturesque with nice restaurants.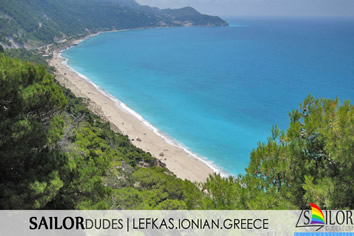 Ithaca is the island from Odysseus and you can extend your stay on Lefkas island with it's sandy (nude) beaches and light blue water, as well as the beautiful Katziki bay. We will also visit Scorpios island, known as the former 'Onassis island' where we drop anchor in front of the beach. It is here where Jackie Onassis' beach house is located so close your eyes and imagine to be part of their luxury life style.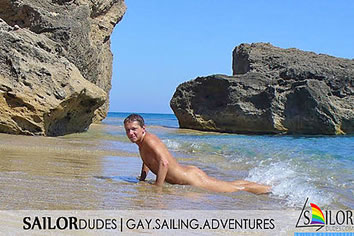 This is a gay naked sailing cruise and we aim to visit anchorages with sufficient privacy so we can enjoy this adventure in the buff as much as possible.
We have a 50 feet yacht with 5 cabins (double and bunk) that accommodates 10 gay sailor dudes. Average distances per day range from 10 to 20 NM or 2 to 4 hours depending on the weather conditions.
Join this nude gay fun, relaxed and open minded sailing adventure in the buff with an international group of other gay sailor dudes!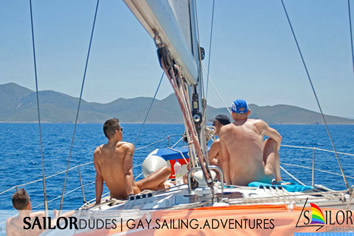 The sailing area is south of the Lefkas marina and starts once leaving the channel. The area is famous for it's many bays, not too long distances, beautiful small villages and green islands with pine and olive trees. And it is not unusual to see dolphins here!
Most of the sailing area is protected by the islands which means that the seas are usually not very rough. The winds are generally not very strong and pick up in the afternoon. Nights are usually quiet.
Typical islands to visit are Lefkas, Scorpios (from the Onassis family), Meganissi, Kalamos, Kastos, Ithaca and Kefalonia.
Skippers note: one of my favourite areas, perhaps because this is where I learned (and fell in love) with sailing!