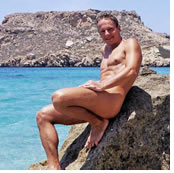 This nude gay cruise will sail around the twelve beautiful and stunning Dodecanese islands in the Aegean sea. We'll visit a few villages but also spend nights in bays. From Rhodes, with its beautiful old town, we start our naked gay cruise and set sail heading west/south west to visit the various beautiful islands in this fantastic cruising area. Each island has its own character and you can expect beautiful secluded and clear water bays, steep magnificent cliffs, pretty villages and a ruin high up a hill for those that fancy a good (naked) hike.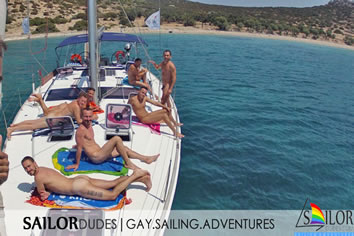 Without a doubt this is one of the most beautiful sailing areas in Greece with a lot of variety that is hard to find anywhere else. There will often be the choice to stay overnight in a village or in a bay and sleep under the stars!
Join this nude, fun and relaxed gay sailing adventure in the buff with an international group of other gay sailor dudes!
This is a gay nude sailing cruise and we aim to visit anchorages with sufficient privacy so we can enjoy this adventure in the buff as much as possible.
We will have an almost new 49 feet yacht with 5 cabins (double and bunk) that accommodates 10 sailor dudes. Average distances per day range from 20 to 30 NM or 4 to 6 hours depending on the weather conditions.
Highlights and possible places to visit during this cruise: Symi, Chalki, Alimnia & Tilos.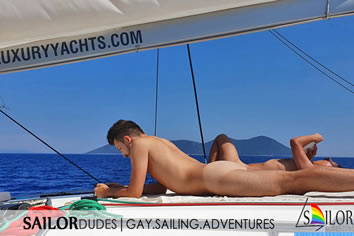 On this cruise we will sail between the Dodecanese islands in the Aegean sea of Greece. We do not give specific day-to-day itinerary for this cruise because it is weather and wind dependent.
In general we always aim to visit the most interesting places and go where the wind blows. In fact, that is also why we call our sailing cruises an adventure and makes every Sailor dudes gay cruise unique!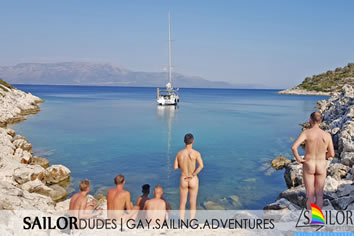 The twelve islands (= the meaning of 'dodecanese') around Kos are very different and worth visiting. Visit the vulcano on Nisiros, an unspoiled beautiful blue bay on Alimnia, pretty Simi or the monastery of St. John the Baptist on Patmos.
There are open waters between the islands and crossing over from one to the other may take a couple of hours.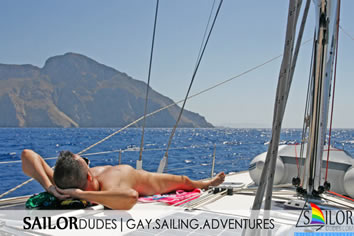 From Kos you either go north/northwest or south/south east for a week of sailing. Typical islands to visit in the north are Pserimos, Kalimnos, Leros, Lipsi and Patmos. In the south: Nisiros,Tilos, Chalki, Alimia and Simi. Daily distances in the South are in general a bit longer than in the North.
Skippers note: very nice cruising area due to its variety of islands, pretty villages and nature.