Celebrity
Millennium
Gross Tonnage: 91'000
Length: 965 feet
Beam: 105 feet
Draft: 26 feet
Cruising Speed: 24 knots
Occupancy: 2038




Singapore to Hong Kong
All-Gay Asia Cruise 2015
March 29–April 9, 2015
Celebrity Millennium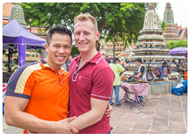 Some cruises truly are once-in-a-lifetime experiences, designed to move you in ways you never imagined. We invite you to explore Asia with Atlantis as we sail Celebrity Millennium
from Singapore to Hong Kong. Our journey highlights the region's most culturally rich and diverse destinations including Bangkok, Ho Chi Minh City (Saigon), Halong Bay, Hanoi and so much more.
Beyond the endless spectacle of Asia, Atlantis will thrill you with our sensational entertainment and spectacular parties that only a ship as magnificent as Millennium
can host. It's the perfect mix of intensive touring and dazzling onboard experience. Best of all, fares start at an incredible $1599 for 11 nights of adventure!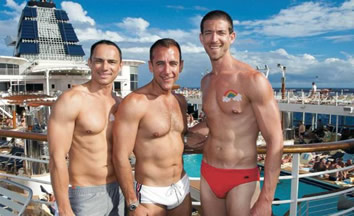 Four Countries of Adventure. 11 Unforgettable Nights.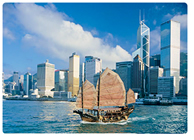 Our journey begins in bustling Singapore, a modern city of Chinese, Malay, and Indian traditions that reinvents itself with the spectacular new Sands hotel, Sentosa Island, and other futuristic developments. Our first stop, the island of Koh Samui, offers a perfect respite with a tropical paradise of white sand beaches, waterfalls, and stunning natural scenery.
Atlantis then welcomes you to Bangkok, a city of ancient temples, towering modern buildings, insane nightlife, fantastic food, and unforgettably wonderful people. Our overnight visit offers plenty of time to explore all the major sights and still have time to get to know the city more intimately. There's even an opportunity to explore the famous beach city of Pattaya in addition to our Bangkok highlights. The choice is up to you.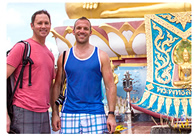 After a well-deserved and relaxing day at sea, you'll first experience Vietnam with a full-day visit to Ho Chi Minh City, considered the "Paris of Asia" by many and the essence and soul of Vietnam. Tours abound with almost 12 hours to explore this fascinating city. From there, we sail to the pristine beaches of Nha Trang to witness a different side of this remarkable country where you'll find excellent diving, stunning vistas, and a glimpse into Asia's growing tourism culture.
Our day in Chan May lets you choose between the wonders of charming Hoi An, a perfectly preserved village and UNESCO heritage site, or the grandeur of Hue, the ancient capital city where a massive open-air museum of temples, pagodas, and palaces await.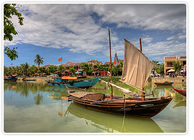 The haunting river of Halong Bay is considered to be one of the most beautiful sailing experiences on the planet, featuring thousands of limestone karsts and isles in various sizes and shapes. Once you arrive in the town of Ha Long, we'll offer tours to Vietnam's capital city of Hanoi, with a full day and evening to uncover the riches of this treasured and fascinating city.
Our Favorite Ship.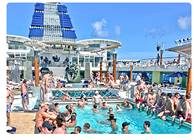 Celebrity Millennium
has long been one of our favorite ships for Atlantis charters all over the world. And now she's better than ever, with exciting new features like an ice-covered Martini Bar, three new restaurants including the whimsically progressive Qsine, a new coffee and gelato bar, and a fresh modern look throughout.
It's so easy to enjoy your time onboard, with an abundance of options. Bask in the tropical South Pacific sun, take a dip in the outdoor pool, or sooth yourself in AquaSpa. Perhaps a relaxing massage is in order, or a work out in our fully-equipped gym. Or just find a quiet deck chair to read, relax and go through the photos of the day.
When it's time for dinner you'll be faced with a delicious set of choices, including the casually elegant Metropolitan restaurant or magnificent speciality dining venues including the innovative Qsine, Mediterranean-inspired Blu, and classic Olympic restaurants.
Big Ship Entertainment and Stars to Match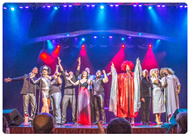 Our most international cruise of all time promises to feature both the best of Atlantis signature entertainers, along with new stars from Australia, Europe, and Asia. We'll present our biggest variety of stars yet in the two-story main theater along with Celebrity's spectacular production shows. You'll find terrific cabaret acts and piano bar entertainers in our many bars and lounges throughout the ship. There's no better way to sample the best performers in the gay entertainment universe!
Atlantis Parties in a Whole New Setting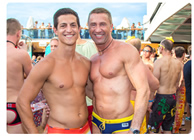 We'll strike the perfect balance between festive and friendly with Atlantis parties designed to cater to almost every imaginable taste. Our t-dances turn the Asian sunset into an outrageous afternoon of dancing on the ship's top deck. Most nights we'll transform our poolside into a sophisticated nightclub featuring some of the world's best DJ talent and our signature spectacles of lighting, lasers, video, and performers. Yet it doesn't stop there, since you can always enjoy live music, our own Atlantis piano bar, and of course a lively casino throughout the ship every night.
Incredible Adventure. Unbeatable Value.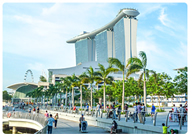 Atlantis 2015 Singapore to Hong Kong cruise marks both our third Asia cruise and the largest gay cruise ever to sail in the region. It's the perfect combination of incredible ports and premium accommodations – at an unbeatable price. This year's cruise is literally half the cost of our previous voyages, with more of the entertainment, parties, and services that our guests love.
Fares start at a remarkable $1599 for 11 nights of pure sensory overload. Make your plans today to explore the best of Southeast Asia with the magic of Atlantis.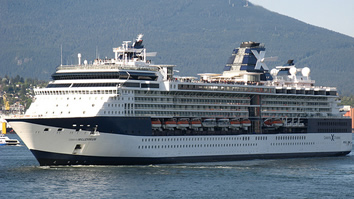 Our Highest Rated Ship.
Atlantis guests love Celebrity Cruises Millennium
, and for all the right reasons. It's the perfect mix of modern venues and comfortable spaces to come home to after a day of exploring.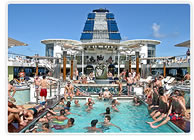 From the blue-accented hull to magnificent teak decks, Millennium
will charm from you the moment you step onboard. A three-story atrium welcomes you with the ambience of a contemporary grand hotel. And it's easy to relax with friends in Millennium's fabulous new lounges.
Millennium was recently transformed into a whole new ship, featuring new AquaClass® accommodations and the Mediterranean-themed Blu specialty restaurant. The sparking Martini Bar is social central on an Atlantis cruise, featuring an ice-topped bar and cool concoctions day and night. And nothing compares to the unique, memorable dining at the cutting edge Qsine restaurant.
Want to see more? Take a few minutes and explore virtual tour of Millennium:

Special Places to Meet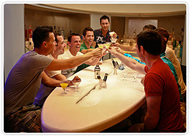 Millennium features uniquely designed lounges and bars perfect for meeting friends or striking up conversation with friendly strangers. The social centerpiece is our Martini Bar with an ice-covered bar and huge range of specialty libations. CellarMasters wine bar features an innovative enomatic system with some of the world's finest wines on tap. The intimate Michael's Club is the perfect intimate retreat for enjoying the best in Atlantis cabaret talent. And of course there's always action in the sophisticated Casino.
Fresh Dining from Modern to Classical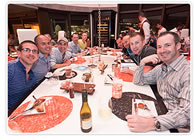 The dramatic two-story main restaurant offers soaring views of the ocean and Celebrity's award-winning fresh cuisine. Attentive yet unobtrusive service from European-trained staff makes every meal a refreshing event. As on all Atlantis cruises, we feature open seating and a casual atmosphere with no dress code. There's never an assigned table or dining time, allowing you to enjoy meals at your leisure with friends old and new.
Millennium's new specialty restaurants set the stage for dramatic dining experiences ranging from the formal to whimsical. The new Qsine restaurant will certainly challenge every sense, from it's innovative iPad-based menu to the towers of culinary invention gracing every table. Blu offers Mediterranean influenced fare in a light modern setting, with complimentary service for our Aqua-class guests.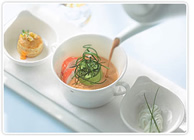 For the ultimate special occasion, make a date in The Olympic Restaurant, replicated from one of the world's greatest ocean liners dining rooms and featuring an open kitchen, dine-in wine cellar, and elaborate tableside presentations. Their gastronomic menus stand up as some of the finest meals ever presented at sea.
For a more casual meal, Oceanview café & bar is open virtually all the time (including Atlantis' famous late-night selections), featuring a variety of choices in a breezy open setting. There's even an outdoor poolside grill for lunch and snacks throughout the day. Sip a coffee in Café al Bacio, or a healthy snack in the AquaSpa café. Relax with friends in Bistro on Five. All of it is ready for Atlantis, and designed for the way you like to enjoy.
Relax, Rejuvenate, & Rejoice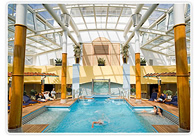 Two sparkling outdoor pools invite you for a dip after a long day of exploring. Or relax at our indoor pool and whirlpools. Unwind with a yoga session or a run on the beautiful teak decks. The fully equipped fitness center offers everything from spinning to aerobics classes along with a complete weight-training center. Just leave some time to enjoy the sensory heaven of the world-famous AquaSpa, indulging in the hydrotherapy pool or luscious steam garden.
Let Us Entertain You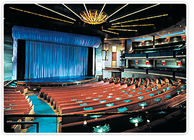 You'll find more venues to entertain you on Millennium, starting with our gorgeous two-story theater – the perfect home for Atlantis star entertainers and Celebrity production shows. Rendezvous and Cosmos lounged host the finest in Atlantis cabaret and musical acts.
Or just relax in your choice of seven bars and lounges throughout the ship. If you're feeling lucky, have a go in the world-class casino. There's always a place to meet friends, relax, and enjoy any way you choose.
Inviting & Comfortable Staterooms
Millennium's newly renovated staterooms feature a comfortable bathroom, ample closet space, new pillow-top bedding, and a new flat-screen television system. And with 24-hour room service available, you might never leave your stateroom!
For an added touch of luxury without breaking the bank, upgrade to a Concierge Class room, where suite-like amenities await you in the best locations on the ship.
The unique AquaClass staterooms offer personalized sensory elements along with spa-inspired amenities, all designed to bring a bit of the spa experience back to your stateroom. Plus, they include access to Blu restaurant and complimentary access to the Persian Garden thermal suite.
Celebrity's sumptuous suites feature butler service and a wide range of pampering features. See the stateroom descriptions for more details.
Entertainment & Activities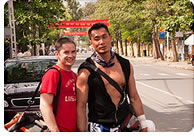 • Two-Story Theater featuring Atlantis Signature Entertainment
• Outdoor T-dances & Parties
Pools
• 2 Outdoor Pools
• Indoor Solarium Pool
• 6 Whirlpools (2 indoor)
Restaurants and Bars
• Four Specialty Restaurants:
• Bistro on Five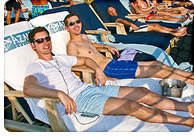 • SS Olympic
• Silk Harvest
• Qsine
• Blu — Private dining for AquaSpa guests
• AquaSpa Cafe
• Waterfall Cafe
• Cellar Masters Wine Tasting Room
• Martini Bar
• Crush Vodka Bar
• Michael's Club Piano Bar
• Sky Observation Lounge
• Sunset Bar
• 24-hour Room Service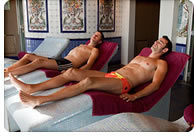 Spa, Sports & Fitness
• Persian Garden
• Fully Equipped Fitness Center
• Spinning, Aerobics & Yoga Classes
• Outdoor Jogging Track
• Basketball/Volleyball court
And More
• Exciting new Shops
• Internet Cafe
• Art Gallery
• Onboard Library
* Please note that some features have an additional charge.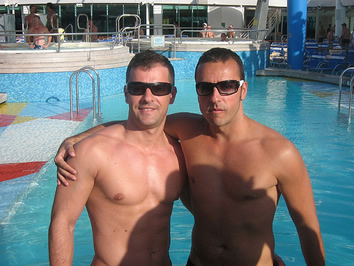 Singapore to Hong Kong 2015
Gay Cruise Itinerary


Date

Port

Arrive

Depart

29 Mar

Singapore
4 PM
30 Mar
At Sea

31 Mar

Koh Samui, Thailand
8 AM
6 PM

01 Apr

Bangkok (Laem Chabang), Thailand
8 AM
Overnight
02 Apr
Bangkok (Laem Chabang), Thailand
8 PM

03 Apr

At Sea

04 Apr

Ho Chi Minh City (Phu My), Vietnam
7 AM
7 PM

05 Apr

Nha Trang, Vietnam
9 AM
5 PM

06 Apr

Hue (Danang), Vietnam
10 AM
6 PM

07 Apr

Halong Bay, Vietnam
11 AM

08 Apr

Halong Bay, Vietnam
1:30 AM

09 Apr

Hong Kong, China
5 AM

The itinerary is subject to change without notice.
Disembarkation begins at approximately 8 AM, and we do not recommend flights earlier than 11 AM.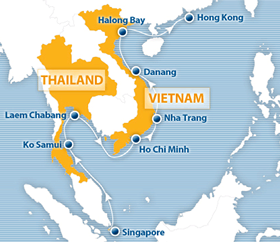 Singapore
Chinese, Malay and Indian traditions meld in this island-state that is the world's busiest port. It is a true melting pot whose food is as big an attraction as its shopping. The Orchard Road shopping district is a retail and entertainment hub that is one of Singapore's most well-known and popular draws, for both tourists and locals alike.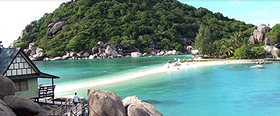 Koh Samui, Thailand
Thailand's third largest island is an oasis of natural beauty, with its white sandy beaches, dazzling coral lagoons, spectacular waterfalls, and crystal clear water. Its perfect climate and picturesque landscape have made Koh Samui the second most popular island destination in Thailand.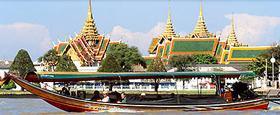 Bangkok (Laem Chabang), Thailand
Bangkok is a city of contradictions: high-rise buildings and popular clubs abound, but so do golden temples and lively street fairs. It is the political, social, and economic center of not only Thailand, but for Indochina and Southeast Asia. Although its temples are the most popular attractions, shoppers and nightlife enthusiasts will certainly find enough to get excited about.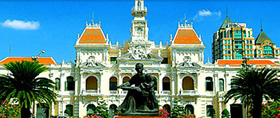 Ho Chi Minh City (Phu My), Vietnam
French colonial architecture mixes with modern and Asian influences in this dynamic metropolis, providing a diverse backdrop for the many motorbikes, scooters, pagodas and street markets. Stroll the wide Ho Chi Minh City boulevards of this city, formerly known as Saigon, and visit The History Museum, which houses artifacts from two thousand years of Vietnamese history.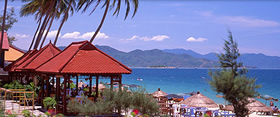 Nha Trang, Vietnam
Boasting the finest municipal beach in Vietnam, Nha Trang offers splendid scope for mellowing out on the sand, with hawkers on hand to supply paperbacks, fresh pineapple and massages. Scuba-diving classes and all kinds of water sports, such as windsurfing, kayaking and parasailing, are available here, and local companies offer popular day-trips to Nha Trang's outlying islands that combine island visits and snorkelling with an onboard feast of seafood. Its bay is widely considered one of the world's most beautiful, as chosen by Travel and Leisure two years in a row.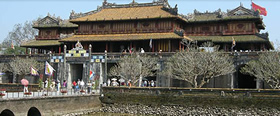 Hue (Danang), Vietnam
Situated midway between the historic cities of Hue City and Hoi An, both UNESCO World Heritage Sites. Closer to the port are Da Nang and scenic China Beach, where soldiers went to relax during the War. Hoi An is a charming old town, with ancient buildings dating from its days as a trading centre, many of which have recently been converted to shops, art galleries and cafes. Hue was the capital of Vietnam until 1945 and its Citadel – with three concentric walled enclosures – is where the emperor once lived. This complex of temples, museums and galleries has all of the charm, tranquility and beauty that make Vietnam so very special.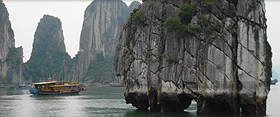 Halong Bay, Vietnam
Halong Bay, in the Gulf of Tonkin, includes some 1,600 islands and islets, forming a spectacular seascape of limestone pillars. Because of their precipitous nature, most of the islands are uninhabited and unaffected by a human presence. The site's outstanding scenic beauty is complemented by its great biological interest. The folk tale has it that the dragons descended from heaven to help locals by spitting jewels and jade to the sea, forming a natural fortress against invaders; these precious stones are represented by the lush green outcrops.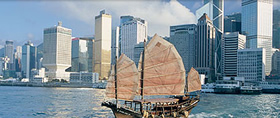 Hong Kong, China
From its humble beginnings as a trading port, through its time as a British crown colony, Hong Kong today is one of the world's greatest cities, considered by may to be the financial and cultural capital of Asia. Renowned for its glittering skyline, Hong Kong effortlessly blends East and West in its cuisine, cinema, music, and traditions.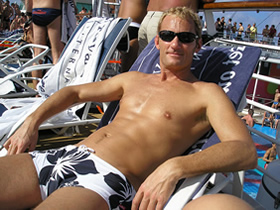 Just a Few Onboard Highlights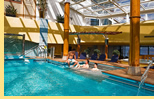 Solarium
Relax and let the warm salt water of the Thalassotherapy pool soothe your muscles and rejuvenate your skin, leaving you to emerge refreshed and invigorated.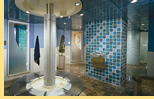 Persian Garden
A soothing oasis of pampering at sea, designed to indulge your mind, body and spirit. Welcome to the AquaSpa® by Elemis®. Ready to help you feel rested and restored, recharged for real life. Offering treatments, acupuncture, and beauty services, inspired by rituals from exotic cultures.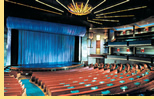 Theater
We've designed a crowd-pleasing entertainment program to keep you captivated day and night. If you love live stage shows - you're never going to want to leave your theater seat. Be mesmerized by Broadway, Circus and the Song and Dance spectacular performance shows. Whatever your entertainment preference - we've got a performance for you.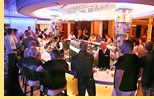 Martini Bar
Inspired by the cool grace of ice, snow and water, the Martini Bar boasts an ambiance unlike any other, exemplified by its sleek, frosted main bar. The bartenders always put on a good show with their own personal spin on mixing and serving.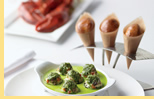 Qsine Restaurant
A restaurant experience that awakens your palate through a modern and playful approach to memorable dishes from around the world that are artistically presented with elements of surprise & delight...a culinary journey that turns the ordinary upside down and inside out.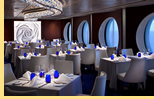 Blu Restaurant
This specialty restaurant is the exclusive dining venue for all AquaClass guests, serving healthy fare in a sophisticated and soothing atmosphere.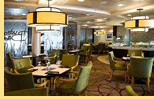 Bistro on Five
A restaurant experience that awakens your palate through a modern and playful approach to memorable dishes from around the world, artistically presented with elements of surprise & delight.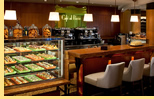 Café Al Bacio
With ocean views and a central location, this European coffee house offers a selection of specialty coffees, tasty liqueurs and freshly baked pastries. The adjacent Gelateria offers a variety of Italian ices and gelatos prepared with an artistic touch.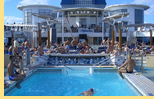 Pool Deck by Day
Enjoy a cocktail with chair-side service as you work on your tan, or cool off in the pool.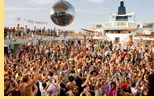 Dance Parties
Afternoons and evenings, the pool deck is transformed into the world's largest floating dance club.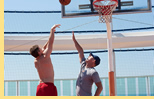 Basketball Court
Practice your basketball, shuffleboard, ping pong and darts, all located on the Sports Deck.
Jogging Track
Take a lap or two on the jogging track, located on Sunrise deck.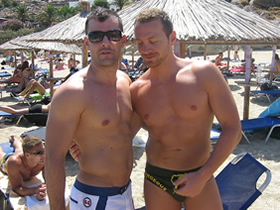 Gross Tonnage: 91'000 • Length: 965 feet • Beam: 105 feet • Draft: 26 feet • Cruising Speed: 24 knots • Occupancy: 2038

2015 Atlantis Singapore to Hong Kong Cruise Rates
Clicking on a the deck below will open it in a separate window

SUITES


PS - Penthouse Suite

Deck 6. (1,432 sq. ft., veranda 1,098 sq. ft.) Foyer, separate living room with dining area, baby grand piano, surround sound entertainment system. Butler's Pantry, Motorized draperies, lights and security system. Two interactive audio/visual entertainment systems with televisions, DVDs, and VCRs. Music center, Internet station, Veranda with whirlpool and lounge seating. Master bedroom features: Two lower beds convertible to queen-size bed, Extra dressing room with vanity, Powder room with shower, Master marble master bath with whirlpool tub and separate shower


RS - Royal Suite

Deck 6. (538 sq ft., veranda 195 sq. ft.)Floor-to-ceiling sliding glass doors, separate living room & dining areas,two entertainment centers with plasma TVs, more. Internet station, Walk-in closet. Bath, including tub with whirlpool jets and stall shower. Veranda with whirlpool tub. Some suites feature two lower beds convertible to queen size.


CS - Celebrity Suite

Deck 6, Deck 7, Deck 8, Deck 9. (467 sq. ft.)Floor-to-ceiling panoramic windows, separate living room with dining and sitting area, two entertainment centers, more. Music center, Internet station. Walk-in closet with vanity table. Bath, including tub with whirlpool jets. Glass enclosed sitting area (connecting door to adjacent suite).


S1 - Sky Suite

Deck 6, Deck 8, Deck 9. (251 sq. ft., veranda 57 sq. ft.) Floor-to-ceiling sliding glass doors, sitting area, some with sofa bed and lounge chair, entertainment center, more. Bath with shower/tub combination and washbasin. Veranda with lounge seating.


S2 - Sky Suite

Deck 6. (251 sq. ft., veranda 57 sq. ft.) Floor-to-ceiling sliding glass doors, sitting area, some with sofa bed and lounge chair, entertainment center, more. Bath with shower/tub combination and washbasin. Veranda with lounge seating.

BALCONY STATEROOMS


A1 - Aqua Class with Veranda

Deck 11. (191 sq. ft., veranda 41 sq. ft.) Floor-to-ceiling sliding glass doors, sitting area, some with sofa bed and lounge chair, entertainment center, more. A brand new class of staterooms, AquaClass brings a tranquil, relaxing atmosphere intoyour stateroom, while providing unlimited access to many of the AquaSpa amenities. Two lower beds convertible to queen. Complimentary 24-hour room service. Dual voltage 110/220 AC. Four pillows in every stateroom. Complimentary use of bathrobes. 100% Egyptian cotton towels. Bathroom accessories & hair dryer. Complimentary beach towel service. Plentiful storage space in your bathroom & wardrobe. Laundry service.


A2 - Aqua Class with Veranda

Deck 9. (191 sq. ft., veranda 41 sq. ft.) Floor-to-ceiling sliding glass doors, sitting area, some with sofa bed and lounge chair, entertainment center, more. A brand new class of staterooms, AquaClass brings a tranquil, relaxing atmosphere intoyour stateroom, while providing unlimited access to many of the AquaSpa amenities. Two lower beds convertible to queen. Complimentary 24-hour room service. Dual voltage 110/220 AC. Four pillows in every stateroom. Complimentary use of bathrobes. 100% Egyptian cotton towels. Bathroom accessories & hair dryer. Complimentary beach towel service. Plentiful storage space in your bathroom & wardrobe. Laundry service.


C1 - Concierge Class with Veranda

Deck 6, Deck 7, Deck 8, Deck 9. (191 sq. ft., veranda 41 sq. ft.) Features floor to ceiling glass doors, veranda, sitting area with sofa, and vanity. Early embarkation & debarkation, Priority check-in. Welcome sparkling wine, fresh fruit & flowers. Expanded room service breakfast menu. Evening hors d'ouvres, daily. Pillow menu, Plush Frette® bathrobes. Extra handheld hair dryer, Celebrity tote bag. 100% Egyptian cotton oversized bath towels. Complimentary shoeshine service, use of golf umbrella, & high-quality binoculars. 32" LCD television.


C2 - Concierge Class with Veranda

Deck 8, Deck 9. (191 sq. ft., veranda 41 sq. ft.) Features floor to ceiling glass doors, veranda, sitting area with sofa, and vanity. Early embarkation & debarkation, Priority check-in. Welcome sparkling wine, fresh fruit & flowers. Expanded room service breakfast menu. Evening hors d'ouvres, daily. Pillow menu, Plush Frette® bathrobes. Extra handheld hair dryer, Celebrity tote bag. 100% Egyptian cotton oversized bath towels. Complimentary shoeshine service, use of golf umbrella, & high-quality binoculars. 32" LCD television.


C3 - Concierge Class with Veranda

Deck 7, Deck 8, Deck 9. (191 sq. ft., veranda 41 sq. ft.) Features floor to ceiling glass doors, veranda, sitting area with sofa, and vanity. Early embarkation & debarkation, Priority check-in. Welcome sparkling wine, fresh fruit & flowers. Expanded room service breakfast menu. Evening hors d'ouvres, daily. Pillow menu, Plush Frette® bathrobes. Extra handheld hair dryer, Celebrity tote bag. 100% Egyptian cotton oversized bath towels. Complimentary shoeshine service, use of golf umbrella, & high-quality binoculars. 32" LCD television.


FV - Family Ocean View Stateroom Veranda

Deck 7, Deck 8, Deck 9. (271 sq. ft., veranda 242 sq. ft.) Floor-to-ceilingglass sliding doors, master bedroom with two beds convertible to queen-size,second bedroom. Sitting area with sofa convertible to trundle bed. Privacy partition. 32" LCD television. Veranda with lounge seating.


2A - Deluxe Oceanview with Veranda

Deck 7. (170 sq. ft., veranda 38 sq. ft.) Features floor to ceiling glass doors, veranda, sitting area with sofa, vanity. 20" multi-function, interactive television.


2B - Deluxe Oceanview with Veranda

Deck 6, Deck 8, Deck 9. (170 sq. ft., veranda 38 sq. ft.) Features floor to ceiling glass doors, veranda, sitting area with sofa, vanity. 20" multi-function, interactive television.


2C - Deluxe Oceanview with Veranda

Deck 6, Deck 7. (170 sq. ft., veranda 38 sq. ft.) Features floor to ceiling glass doors, veranda, sitting area with sofa, vanity. 20" multi-function, interactive television.

OCEAN VIEW STATEROOMS


4 - Ocean View Stateroom

Deck 7, Deck 8, Deck 9. (170 sq. ft.) Ocean view window, sitting area with sofa, and vanity. 20" multi-function, interactive television.


5 - Ocean View Stateroom

Deck 6. (170 sq. ft.) Ocean view window, sitting area with sofa, and vanity. 20" multi-function, interactive television.


6 - Ocean View Stateroom

Deck 3. (170 sq. ft.) Ocean view window, sitting area with sofa, and vanity. 20" multi-function, interactive television.


7 - Ocean View Stateroom

Deck 2. (170 sq. ft.) Ocean view window, sitting area with sofa, and vanity. 20" multi-function, interactive television.


8 - Ocean View Stateroom

Deck 2. (170 sq. ft.) Ocean view window, sitting area with sofa, and vanity. 20" multi-function, interactive television.

INTERIOR STATEROOMS


9 - Interior Stateroom

Deck 7, Deck 8, Deck 9, Deck 11. (170 sq. ft.) Two beds convertible to queen size, sitting area with sofa, and vanity. 20" multi-function, interactive television.


10 - Interior Stateroom

Deck 3. (170 sq. ft.) Two beds convertible to queen size, sitting area with sofa, and vanity. 20" multi-function, interactive television.


11 - Interior Stateroom

Deck 2. (170 sq. ft.) Two beds convertible to queen size, sitting area with sofa, and vanity. 20" multi-function, interactive television.


12 - Interior Stateroom

Deck 2. (170 sq. ft.) Two beds convertible to queen size, sitting area with sofa, and vanity. 20" multi-function, interactive television.


Additional Guest

3rd or 4th Person in Stateroom

All rates are person based on double occupancy.

Port charges of $350 per person and Pre-paid Gratuities are $145 per person based on double occupancy are additional.

All prices in U.S. dollars.

All rates above including prepaid gratuities are per person based on double occupancy.

All staterooms have private bathroom, vanity area, hair-dryer, television, safe, and phone.

Stateroom and verandah sizes are approximate.

Share category available for single travelers on a smoking/non-smoking basis.

Initial deposit is $800, Second deposit ($500) is due on September 30, 2014. Final payment is due on December 29, 2014. Cancellation penalties start at the time of booking.

Prices are subject to Atlantis changing them and are valid only at the time of confirmation.

Some restaurants may have an additional charge, as described in the current cruise line's brochure.

All reservations are subject to Atlantis Cancellation/Refund Policy and Terms and Conditions.

PRE / POST CRUISE OPTIONS

Atlantis is creating several pre and post-cruise options to help you maximize your time in Asia. Details will be posted on our page, and will include some of the following options:
• Pre and post cruise hotels in Singapore & Hong Kong at discounted rates
• Pre-cruise tours to Ankor Wat & Malaysia
• Post-cruise tour to Bangkok for Songkran (Thai New Year)
• Post-cruise tours to Beijing & Shanghai

Look for more details on these programs in early August.

Visas are not required for citizens of the U.S.A., the EU, Canada, or Australia. Residents of other nations should check with your local embassy.

Special Airfares