Ocean Victory
Ship Facts

Year Built: 2021
Passenger Capacity: 189
Crew: 100
Length: 104.4 m
Breadth: 18.4 m
Draft: 5.1 m
Antarctica, South Georgia & Falkland Islands
Lesbian Adventure Cruise 2022
November 01 – 19, 2022
Albatros Expeditions Ocean Victory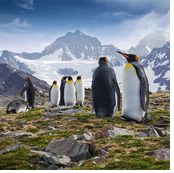 Olivia is thrilled to partner with Albatros Expeditions for our 19-day/18-night group trip to Antarctica, South Georgia & Falkland Islands. We are thrilled to finally offer an adventure to these very special and remote places. So many of you have been asking to visit South Georgia Island for the huge colonies of King penguins and to see the black-browed albatross and other species of penguins on the Falkland Islands. We have been able to answer you with this group trip option!
So, stop dreaming about going to Antarctica, South Georgia Island and the Falkland Islands and join us as we explore this extraordinary and pristine part of the world, a region known for its harsh but awe-inspiring beauty that is teeming with incredible bird life, marine mammals, massive icebergs, and a rich history of explorers and their explorations.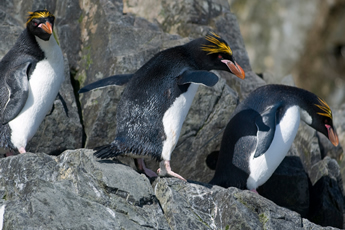 Walk among the penguins and their colonies, view the Weddell and Leopard seals hulled out on a passing iceberg, take in the magnificent and massive icebergs, and learn all the about the explorers whose footsteps you are now walking through as we visit these remote and unspoiled areas.
Zodiacs will take us ashore to penguin rookeries, research stations, beaches packed with wildlife, and even Shackleton's final resting place. Experience a place where animals live without fear of humans. Enjoy close encounters with King, Chinstrap, Gentoo, and other species of penguins and other fascinating wildlife on this trip of a lifetime!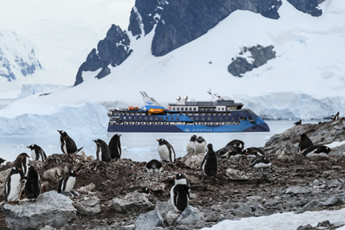 Olivia Antarctica Group Onboard Experience
Olivia will be hosting a lesbian group on board the brand new 189-passenger Ocean Victory. As a group on board, we will enjoy Olivia-specific times for landings ashore and Zodiac tours so we can explore together, private gatherings to share pictures and stories from the day, and a group dining area for daily meals.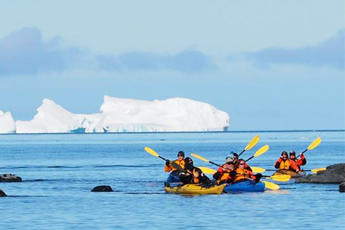 Cabins have been secured for our group in five different categories in the prime locations of ship, and we will have our own Olivia Escort to accompany us with a minimum of 12 people booked. In addition, guests will not pay a separate cost for NDAs (port taxes and fees) as those are already included in the cost of the trip. Gratuities are paid by you directly to the ship staff and crew at the end of the vacation with the recommended amount of $14 per person per day.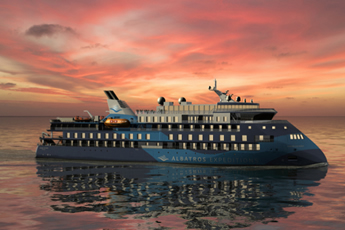 Albatros Expeditions' Brand New ms Ocean Victory
Albatros' brand-new expedition ship, the ms Ocean Victory, will take you on the adventure of a lifetime. It is equipped with everything you need to explore Antarctica, South Georgia & the Falkland Islands. The ship is equipped with X-Bow stabilizers for more stability and comfort when crossing the Drake Passage and Rolls Royce Zero-Speed stabilizers to provide more comfort and reduction of "ship roll" by 80% to 85% when the ship is at anchor.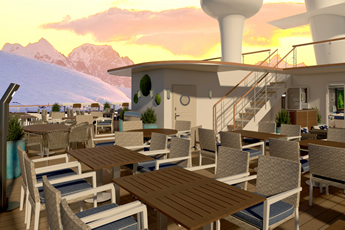 Zodiacs will get you into those hard-to-reach places and on land to explore each location or get up close and personal to icebergs. An Expedition Leader and diverse expedition team—from naturalists to regional specialists—will be on board to share their knowledge and answer your questions about this area of the world, marine and bird life, glaciers, and history. A videographer/photographer will also be on hand to catch every moment of the journey.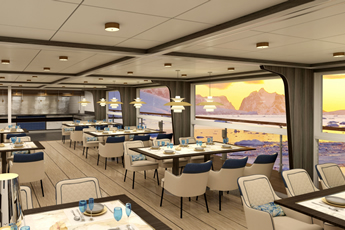 Ship Amenities
• Beagle Restaurant
• Panorama Specialty Restaurant with Lava Rock cooking
• Albatros BBQ Deck
• Albatros Nordic Bar Lounge
• Albatros Observation Lounge
• Shackleton Lecture Lounge
• Knud Rasmussen Library
• Polar Spa & Wellness Area
• Fitness Center
• Infinity pool, jacuzzi, and pool bar
• Mudroom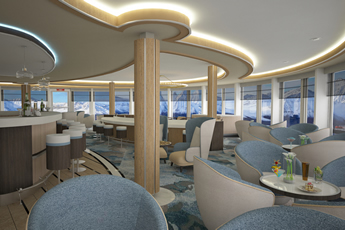 Stateroom Amenities
• Individually-controlled thermostat
• Shampoo, conditioner, and soap
• Hair dryer
• 220-volt outlets
• Twin beds convertible to double bed
• TVs to watch programmed movies and documentaries
• Phones to contact other cabins or reception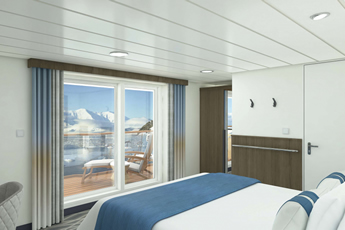 Exclusive Suite Services
• Unlimited access to specialty restaurant
• Stocked minibar (except liquor)
• Fresh fruit in the room at beginning of the trip
• Free laundry and pressing
• Julius Meini Espresso machine
• Upgraded amenities: hair and lotion products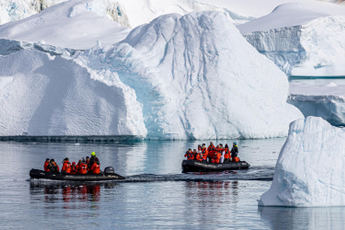 What's Included?
• Accommodations for 18 nights/19 days on board the Albatros Expeditions' ms Ocean Victory
• All meals and snacks as indicated on the itinerary (while on board the ship)
• Excursions and Zodiac landings as indicated in the itinerary (additional cost for camping, kayaking, and snowshoeing)
• Services of Olivia escort, expedition leader, naturalist staff, photography instructor, expert guides, and the ship's doctor
• Complimentary photo workshop from an experienced photographer on board
• Online visual journal access after your voyage with photos, species list, log, and more
• Complimentary tea and coffee 24 hours daily
• Welcome and farewell drinks
• Complimentary expedition jacket
• Loaned pair of sturdy rubber boots for the entire voyage
• Taxes and port fees
• Olivia assistance throughout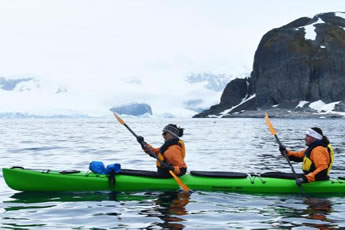 What's not included?
• Air transportation to and from Ushuaia;
• Transfer from/to airport in Ushuaia to/from ship;
• Gratuities for ship's staff and crew (recommended amount of $14 per person, per day);
• Items such as alcoholic and non-alcoholic beverages, internet, laundry, and other personal services;
• Extra excursions and activities not mentioned in itinerary;
• Optional kayaking, snowshoeing, and camping excursions.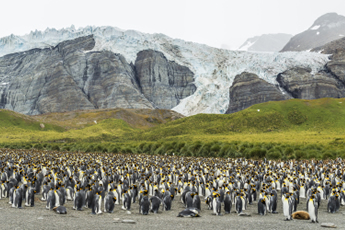 Antarctica
Lesbian Adventure Cruise Itinerary


Date

Port

Meals

01 Nov

Ushuaia, Argentina
D
02 Nov
Drake Passage

B, L, D

03 Nov

King George Island
B, L, D

04 Nov

South Shetland Islands
B, L, D
05 Nov
Antarctic Sound & Weddell Sea
B, L, D

06 Nov

Antarctic Sound & Weddell Sea
B, L, D
07 Nov
Antarctic Sound & Weddell Sea
B, L, D

08 Nov

Drake Passage
B, L, D
09 Nov
Drake Passage
B, L, D

10 Nov

Drake Passage
B, L, D
11 Nov
South Georgia
B, L, D

12 Nov

South Georgia
B, L, D
13 Nov
South Georgia
B, L, D

14 Nov

South Atlantic
B, L, D
15 Nov
South Atlantic
B, L, D

16 Nov

Port Stanley, Falkland Islands
B, L, D
17 Nov
Port Stanley, Falkland Islands
B, L, D

18 Nov

South Atlantic
B, L, D
19 Nov
Ushuaia, Argentina
B

Itinerary is guideline; variations in itinerary and the order days may occur to maximize your experience.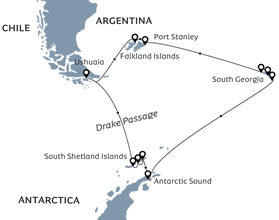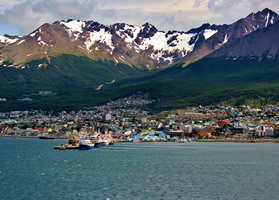 Day 1 - Tuesday, November 01, 2022
Ushuaia, Argentina
Arrive and embark in Ushuaia
, Argentina—the world's southernmost town. Explore the quaint town filled with shops, restaurants and an award-winning museum. Alternatively, consider a day trip to nearby Tierra del Fuego and its popular "Train at the End of the World." Embark the ship in the afternoon where you will be greeted by your Olivia escort, expedition team, and ship's officers at a safety and orientation briefing before going to dinner. Afterward, relax and take in the mountainous scenery on our early evening sail down the Beagle Channel past Magellanic Penguins, Rock Cormorants, and sea lion colonies.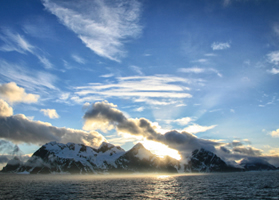 Day 2 - 3 - Wed - Thu, November 02 - 03, 2022
At Sea, Drake Passage, and King George Island
Sailing onward, you'll cross the famed Drake Passage, a body of water that marks the intersection of the cold Antarctic with the warmer Atlantic and Pacific Oceans. Drake Passage is known for strong westerly winds, heavy seas, and its nickname 'The Roaring Fifties.' In the Drake, the excitement builds as Antarctic wildlife come into view with our first sightings of petrels, seals, penguins, and albatrosses. The expedition team will be out on deck as well, looking for the whales and dolphins that may also be seen in the area. Our experts will hold informative and entertaining presentations on the wildlife, history, and geology of Antarctica. Having crossed the Drake, you will explore the sub-Antarctic islands of the South Shetland chain and be marveled by the captivating landscapes we will encounter along the way. Weather permitting, we hope to make our first landfall on King George Island before continuing further south to the tip of the Antarctic Peninsula.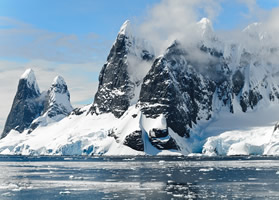 Day 4 - 7 - Fri - Mon, November 04 - 07, 2022
Antarctic Sound and the Weddell Sea
Over the coming days, you will begin the exciting Antarctic experience at the very tip of the continent. During these days in the Antarctic Sound, named in 1902 after the Swedish vessel Antarctic, the captain and the expedition team will keep a watchful eye on the mighty tabular icebergs, born from the floating Larsen Ice Shelf further south. We aim to have both continental and island landings, always on the lookout for Adelie, chinstrap, and gentoo penguin colonies as well as weddell, crabeater, and elephant seals that are often found hauled out to rest, along with predatory leopard seals and the aggressive Antarctic fur seal. Minke and humpback whales are frequent visitors and orca sightings are also common.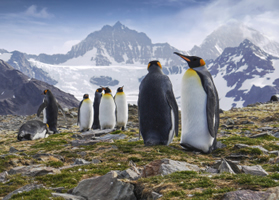 Day 8 - 13 - Tue - Sun, November 08 - 13, 2022
Drake Passage and South Georgia Island
From the Weddell Sea, we continue our journey into the open sea just as Ernest Shackleton and his men did more than hundred years ago while sailing the 720 nautical miles to South Georgia. South Georgia offers stunning wildlife experiences with a wealth of breeding king penguins, sea birds, sea lions, and seals, all seeking shelter in this oasis amidst the roaring Southern Ocean. Previous whaling history pops up in most of the fjords we will explore—not least in Grytviken, the only inhabited settlement on this mountainous island. Grytviken is also the final resting place of Ernest Shackleton, after he died on yet another Antarctic voyage in 1922. We will explore the fjords of the north coast for 2-3 days and take as many shore landings as time will allow.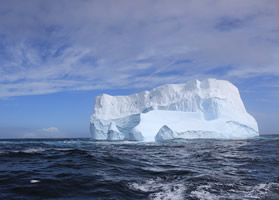 Day 14 - 15 - Mon - Tue, November 14 - 15, 2022
South Atlantic, approaching Falkland Islands
We will continue our presentation series and wildlife spotting as we sail to the famed Falkland Islands. Days at sea are great for participating in lectures by our expedition leader and team as well as other activities hosted by the expedition team like watching the ubiquitous storm petrels and albatrosses from the top deck or relaxing in the spa or library with a good book.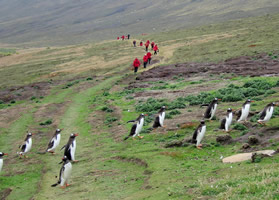 Day 16 - 17 - Wed - Thu, November 16 - 17, 2022
Port Stanley and Falkland Islands
We approach the Falkland Islands in the morning and in the early afternoon we will cast anchor in the sheltered natural harbor of Port Stanley. Utilizing our Zodiacs, we will land in the town center and take a leisurely stroll through the streets of Stanley.
On the following day, we will make landings (weather permitting) at two of the islands' many magnificent wildlife spots as the Falklands' main attraction is undoubtedly its wildlife. Penguins, black-browed Albatross, seals, and whales are just some animals that can be found. This is one of the world's great penguin capitals: as many as a million penguins nest in the Falklands every summer, representing five of the world's seventeen species—King, Gentoo, Rockhopper, Magellanic, and Macaroni. What's more, for the Gentoo, the Falklands are home to the largest population on Earth.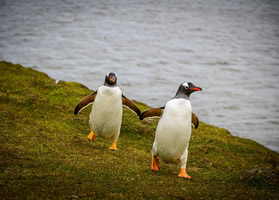 Day 18 - Wednesday, November 18, 2022
At Sea toward Ushuaia, Argentina
We are now into the last leg of this adventurous voyage, heading back to Ushuaia
while we soak in all the amazing adventures we had and memories we made.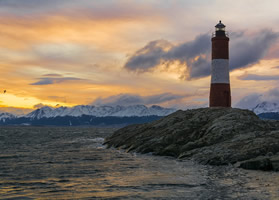 Day 19 - Thursday, November 19, 2022
Ushuaia, Argentina Disembarkation
After a hearty farewell to vessel and crew, we disembark in the morning after breakfast. A morning disembarkation lets you catch a flight to Buenos Aires or stay in Ushuaia for more sights and adventures.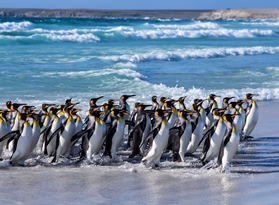 Travel & Arrival
Airports
You will need to fly into and out of the Ushuaia International Airport (USH). Please note that you will need to fly through Buenos Aires International Airport (EZE) and that most flights to Ushuaia are operated out of the Buenos Aires Domestic Airport (AEP), which is located approximately one hour away from the international airport. Please make sure when booking your flights you plan accordingly and allow yourself enough time to clear customs, collect your luggage, transfer to the domestic airport, and check in.
Flight arrival and departure times
If arriving on the day of the trip, please arrive no later than 1 pm on November 1, 2022. Your departing flight on November 19, 2022, should be after 11 am.
Getting to Your Ship
Your transfer from the Ushuaia International airport to the ship is not included. The airport is approximately 10 minutes from the Ushuaia port and cruise ship. Embarkation will begin at 2 pm.
Check-In
Embarkation and check-in begin at 2 pm and all aboard is at 4 pm.
Luggage Allowances
While there is no luggage limit on the cruise itself, airlines often restrict (or charge) for excess baggage. Because each airline is different, and the regulations change over time, please check with your airline for baggage allowances.