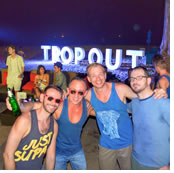 Get Wet in Phuket! TropOut – the festival for the modern gay traveller – in 2022 is heading back to Phuket, Thailand bigger and even better! So much more than a traditional 'resort holiday', TropOut gay resort week is filled with opportunities to Chill, Party & Explore in a tropical paradise with guys from all over the globe in stylish settings. Come join us in tropical Phuket and experience it all!
Coinciding with the Thai New Year – Songkran – this will be epic. It's a chance to meet old friends and make new ones. All in the unique community vibe that is TropOut. This is the ultimate week of party, relaxation and discovery in the unmistakable TropOut style.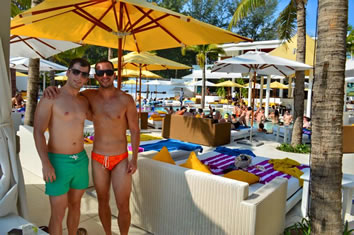 Explore Amazing Sights and a Rich Culture
Thailand offers unbelievable cultural and sightseeing opportunities- during the week you'll have the opportunity to explore secluded islands surrounded by the most turquoise water, learn to cook from Thai chefs, and be blessed by monks.
Chill Throughout
Amongst the partying and exploring, start the day with a morning yoga class, and then chill by the pool or indulge in a spa treatment.
Experience it all with real guys
Best of all, experience it all a diverse group of fun and friendly guys from across the globe who don't take themselves too seriously.
It's your TropOut
The Festival Schedule has been designed to give you flexibility: you can join as many or as few parties and activities as you like. If you'd prefer to chill be the pool for the week, that's absolutely fine- it's your TropOut to experience your way.
TropOut Gay Thailand - Chill! Party! Explore!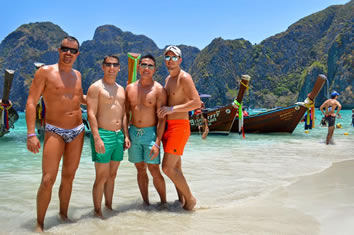 • 7 nights' accommodation at the modern and stylish 4* Cassia Phuket Resort
• Daily breakfast
• Access to all parties (See schedule)
• All ground transfers to TropOut parties
• Rejuvenating Yoga and meditation classes
• TropOut Kit (water pistol, sailor hat etc)
• Entertainment at all parties
• Services of the TropOut Concierge Team
• Optional cultural excursions and spa treatments
• Best of all, an amazing group of likeminded, friendly and fun guys from around the globe to share the experience with.

The Festival Schedule has been designed to give you flexibility: you can join as many or as few parties and activities as you like. If you'd prefer to chill by the pool for the week, that's absolutely fine- it's your TropOut to experience your way.
Sunday, April 10, 2022:
Welcome to TropOut Phuket!
Arrive throughout the day. Welcome! Get ready for Jamie & Aaron to check you in! Settle into your room and head down to the pool to meet other TropOut travellers.
Cocktails @ Cassia
As the sun goes down, settle in to TropOut with cocktails by the pool. Catch up with old friends and meet new ones.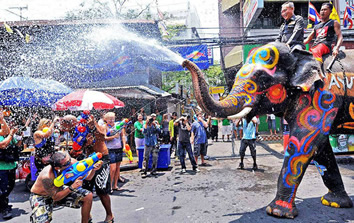 Monday, April 11, 2022:
Morning// Chill // Rejuvenating Beachfront Yoga
Start the day with a morning class by the beach and a refreshing swim.
Soaked @ Songkran
Songkran - Thai New Year - means one thing...the worlds craziest water festival. We hit the town during the day for one massive party that will continue into the night. Big gay water pistol supplied. This will be unforgettable.
Evening // Leisure // Enjoy the evening your way
Looking for a restaurant recommendation or some local nightlife tips? Just ask the TropOut Concierge available each morning in the hotel lobby.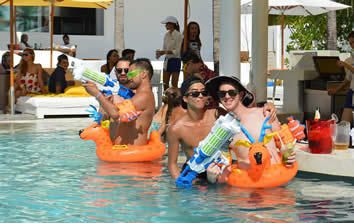 Tuesday, April 12, 2022:
Pool Party
Time to chill on a luxurious day bed after a crazy Thai New Year. After a few cocktails you'll be ready to dance again.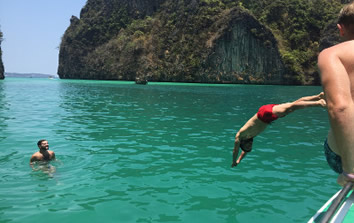 Wednesday, April 13, 2022:
Hello Sailor - Boat Party
Stop dreaming of being stuck on a boat with gay sailors – it's right here! We'will set sail on Thailand's most luxurious catamaran for a whole day. Sailors hats provided.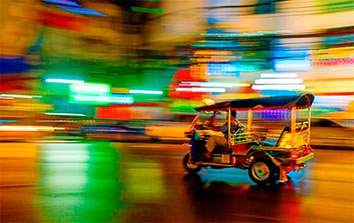 Thursday, April 14, 2022:
Yoga & Secluded Beach Day
Get away from the crowds an join us at an undiscovered gem.
Gay Night in Patong by Tuk Tuk
Patong is the heaving epicentre of Phuket's gay nightlife. This is a place where anything can and does happen. And we've organised a fleet of famous Tuk Tuk's to get us there!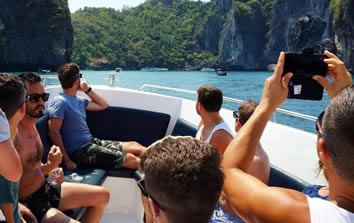 Friday, April 15, 2022:
Optional Full Day Tour - Spectacular Islands by speedboat
Experience Thailand's most spectacular islands by speedboat. We will stop at some stunning locations and swim in the most turquoise water you've ever seen. If paradise exists then it is here.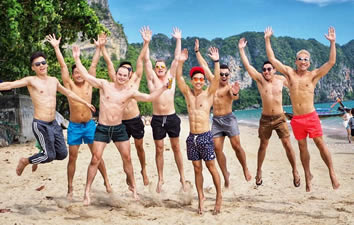 Saturday, April 16, 2022:
Morning// Chill // Rejuvenating Beachfront Yoga
Start the day with a morning class by the beach and a refreshing swim.
Fire Festival (Beach Party)
We head to our secluded cove at Iguana Beach Club where we are joined the local gay community to end TropOut in style - anything goes. This party is all about fire.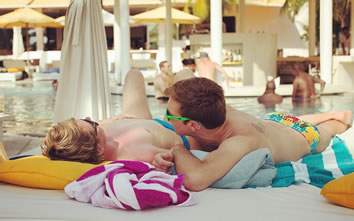 Sunday, April 17, 2022:
Departure
Check-Out depart throughout the day. Our airport transfers will be waiting to transfer you to Phuket airport to catch your onward flight.

Modern, stylish and fun, Cassia Phuket
is the perfect base to experience TropOut Phuket. Accommodations at Cassia comprise 1 and 2 bedroom suites, all with separate living area and private balconies. The stunning infinity pool is the perfect place to chill in the sun with friends. Set on the banks of a serene lagoon, complimentary boat shuttles operate to transfer you the short distance to Bang Tao Beach, where the resort has a private beach area.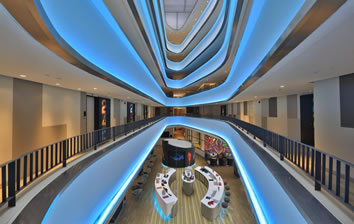 Cassia Phuket is located within the award-winning Laguna Phuket complex, giving TropOut guests access to all resort facilities in the complex. Below are some of the facilities located in and around Cassia for your enjoyment during TropOut.
Resort Spa
Let qualified therapists lull your tense muscles into a state of perfect calm through a wide range of Asian-inspired therapies and treatments.
Infinity Pool @ Cassia
Abounded by sun loungers and day-beds, the infinity pool at Cassia is the perfect place for you to chill under the sun and to meet new friends as chilled tunes fill the air and tropical cocktails flow freely.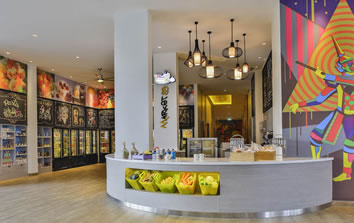 Beachside activity centre
Go on a diving excursion, snorkel through shallow waves, try windsailing, or join in a game of beach volleyball. Here, there's an activity for everyone!
Private Beach
Step into a sandy haven- an exclusive private strip of Bang Tao Beach just for TropOut guests with direct access from Cassia. You'll appreciate tanning under the sun and splashing in the Andaman Sea, all in peaceful privacy.
Sports Facilities
For the sporty ones amongst us, Laguna Phuket's stunning and challenging championship golf course is a haven. Will you take out the inaugural TropOut Masters? For those looking for a hit of tennis, the complex's tennis courts are available for use.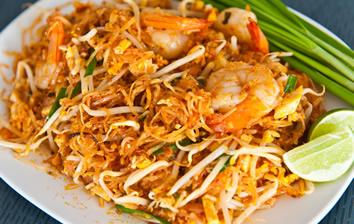 There are over 30 restaurants in the Laguna Phuket complex where Cassia is located for you to experience. Plus for TropOut an authentic street-food village will operate in Cassia and our TropOut Concierge team will be on hand to recommend the best restaurants in Phuket. Below are some of our favourite options.
Baan Talay
Located just across the lagoon from Cassia is Baan Talay (our water taxis will shuttle you to the doorstep!), a traditional Thai restaurant with a focus on fresh and juicy seafood.
Street Food Village
Exclusively for TropOut Thailand 2021, a street-food village will operate within Cassia, so you can sample a traditional green curry, Phad Thai, barbequed seafood and many other authentic Thai dishes without leaving the comfort and atmosphere of our exclusive resort.
Dream Beach Club
The epicentre of much of TropOut, Dream offers a selection of contemporary European, Thai and Mediterranean favourites and a satisfyingly lengthy wine and cocktail menu!
EatOut- TropOut Restaurant Concierge
Feel like getting out and about for a gastronomic experience? Or maybe you and your other half would like a romantic dinner on the beach? The TropOut Concierge team is on hand to give restaurant recommendations, make reservations and arrange transportation. Phuket is home to some of Thailand's best restaurants- you won't be disappointed!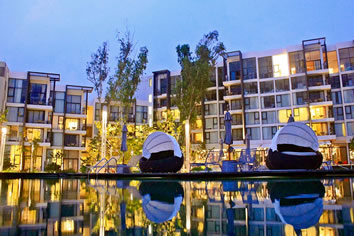 TropOut was created because we were after a fun and refined travel experience where we could completely relax and be free to be ourselves.
As gay travellers, we can now travel to an ever increasing number of destinations that are accepting of us, but a look here or there when we hold hands or party with friends can leave us feeling guarded.
We want to feel totally unguarded when we travel, but cruises and circuit parties aren't really of interest to us.
Our ideal travel experience is one where we can get out and explore the culture and sights of a new or favourite destination, or rejuvenate in a chilled environment.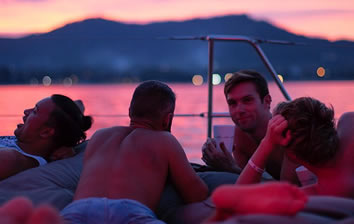 And after a day of exploring or chilling, we'd like to return to a stylish setting where we can meet and party with likeminded travellers from all over the world.
So TropOut was born: a new style of gay travel, where travellers from all over the world can chill, party and explore in a fun, yet refined environment.
Our mission as a business is simple: to deliver exceptional and comfortable experiences for gay travellers- experiences filled with relaxation, cultural discovery and chic party.
With the five star Cassia Phuket reserved for TropOut travellers, stylish beach clubs hosting premier parties with world class entertainment, and an array of cultural excursions and wellness options on offer, we have no doubt that we will deliver on our mission for TropOut 2022.
We can't wait for you to join us to Chill, Party & Explore in Amazing Thailand!