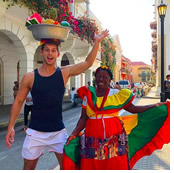 Immerse yourself in one of the world's most diverse countries with two oceans, a range of climates, energetic cities and astonishing wildlife. This magical all-gay tour is the perfect solution to experiencing the best of Colombia's highlights. It's all here for you: epic history, vibrant culture, bustling cityscapes, sparkling coastline, and world-class culinary experiences to enjoy. There's traditional cuisine blended to ethnic and indigenous recipes and we also ensure you're exposed to three of Colombia's basic and renowned food groups: rum, chocolate, and coffee. What could be better?
Experience authentic Colombian hospitality from the moment you are picked up at the airport until the time you are dropped off for your flight back home, against a backdrop of amazing architecture and abundant nature. Here you can be your authentic self and meet with local LGBT+ community members who will show you what it's like live here. Perhaps you'll be inspired to make a difference during your visit or bring some flavor of your trip back home. Visit Bogota, Colombia's capital, surrounded by exquisite views, infused stunning art and culture to drink in at every turn.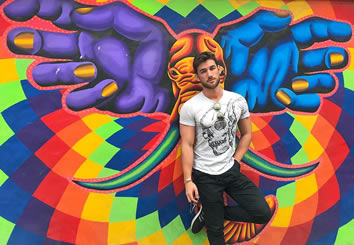 There's marvelous Medellin, the City of Eternal Spring, whose urban development from rough to modernized and sustainable, emerging as one of South America's safest cities, is inspirational. And last but certainly not least, beautiful Cartagena, whose walled city holds UNESCO World Heritage status and also boasts a beach destination. We include an island-hopping experience here aboard a private boat.
This is a true Colombian adventure not to be missed!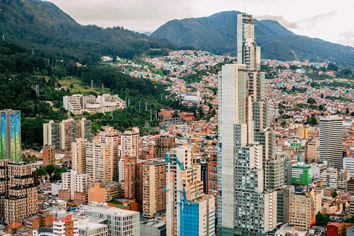 Day 1 - Tuesday, February 07, 2023
Bogota, Colombia
Welcome to Bogotá! Your driver will be holding a sign with your name outside of the Baggage Claim area to take you directly to our host hotel.
This evening, we enjoy a welcome dinner at a local restaurant.
Meals: Dinner
Hotel: BOG Hotel
, Bogota, 5*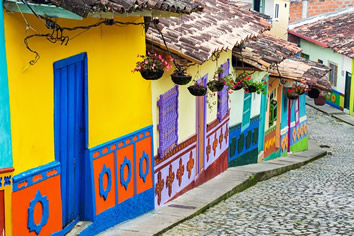 Day 2 - Wednesday, February 08, 2023
Bogota, Colombia
After an included breakfast we enjoy a tour of the most historic parts of Bogotá. You'll soon see why Colombia's largest city is one of Latin America's premier capitals of art and culture.
You'll begin your tour this morning when your local, bilingual tour guide meets you at your hotel for a tour of the most historic parts of Bogotá. You'll soon see why Colombia's largest city is one of Latin America's premier capitals of art and culture. Dominating the city center, el Cerro de Monserrate is a mountain rising 10,341 feet above sea level. You'll be taking a cable car/trolley up the steep mountainside to enjoy the most spectacular views of Bogotá once you reach the summit. Along with outstanding views is an historic village featuring a 17th century shrine. There are vendors selling all kinds of artisanal crafts and traditional foods to snack on if you get hungry.
Other features of this tour include a walk through the city center to explore La Candelaria, Colombia's oldest neighborhood. Along the way, try some chicha, a traditional Colombian street drink made from fermented fruit rinds. This historic neighborhood is also home to a university district, full of cobblestoned streets and centuries-old houses. Stop by the Plaza de Bolivar, an historic colonial square where Colombia's government is located: there you will find the Congress, the Cathedral, the Palace of Justice, the Palacio Liévano (Mayor's Office) and the House of the 20th of July.
Return to the hotel with some time to relax and refresh prior to dinner.
Meals: Breakfast, Lunch & Dinner
Hotel: BOG Hotel
, Bogota, 5*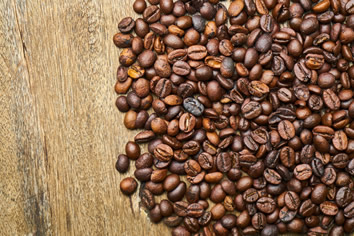 Day 3 - Thursday, February 09, 2023
Bogota, Colombia
Today, following breakfast, have your Coffee Baptism at a "Temple of Coffee" owned by Colombia's most awarded coffee plantation. Here, you'll have the opportunity to appreciate the many nuances of coffee in much the same manner as wine-tasting. In fact, the brothers who now run the plantation are the 3rd generation of this family-owned business were inspired to develop these experiences as they toured and tasted their way through the vineyards of France.
Tonight, after dinner together as a group, you'll have the option* of a night OUT to explore Bogota's gay scene.
*Guided experience available for an additional cost
Meals: Breakfast & Dinner
Hotel: BOG Hotel
, Bogota, 5*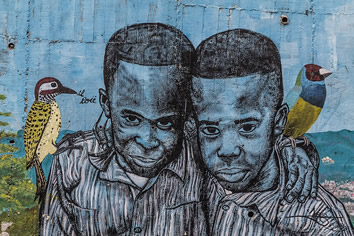 Day 4 - Friday, February 10, 2023
Medellin, Colombia
This morning we leave Bogota behind as we head to the airport and board our flight bound for Medellin. Upon arrival, we'll drop our bags at the hotel and then head right out for our Graffiti Tour in the infamous Comuna 13 neighborhood.
When Medellín was the most dangerous city in the world, this barrio was its most dangerous neighborhood. Now enjoy this guided discovery of the street art that gave the area a bright & colorful new glow to the city's new and positive transformation. As part of your journey to and from the Comuna, you'll take a ride on Medellín's modern metro system, the first of its kind in South America.
Also take a ride on the metro-cable, an innovative addition to public transportation that granted segregated communities atop Medellin's mountain easier access to the city and its opportunities. Local guides from urban collective Casa Kolacho have an amazing story of transformation to tell. After visiting their neighborhood, they hope you'll be inspired to create a better world, full of art and music. This Graffiti Tour is conducted in Spanish by its members. A bilingual tour guide will provide the English translation as well as the historical and cultural context. Your visit helps support the many community programs of Casa Kolacho.
After, we'll return to the hotel for some time to settle in, before dinner together as a group.
Meals: Breakfast & Dinner
Hotel: The Click Clack Hotel
, Medellin, 4.5*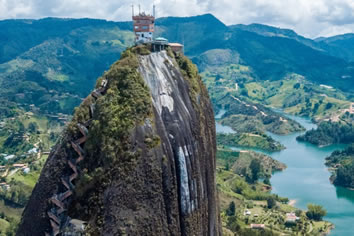 Day 5 - Saturday, February 11, 2023
Medellin / Guatapé, Colombia
This morning after breakfast we set of for Guatape. A popular weekend destination for Colombians, Guatapé is known as Colombia's most colorful town, full of just-as-colorful handcrafts and charming residents.
Your first stop will be the Peñol Boulder, one of the most spectacular destinations in the surrounding area of Medellín. The 200-meter-high monolith can be climbed with a staircase of 740 steps. Enjoy breathtaking views over the stunning surroundings full of green mountains and blue lakes. The village of Guatapé is famous for its church and its beautiful, colorful paintings that decorate the houses of the village. Get an overall perspective of this immense series of lakes and islands that were engineered. From there we will take you to an upscale glamping site, where you will enjoy a delicious lunch alongside the lakes.
After lunch, you'll cruise on a motorboat for an hour to see the beautiful islands and the impressive country homes that line their coasts. Back on land, explore the pretty, cobblestoned streets and alleyways of Guatapé. Learn a bit of its history, reconstruction, its zocalo friezes, or visit some of the shops along the way.
After, we return to the hotel to refresh before venturing back out for dinner a group dinner
Tonight, you'll have the option* of a night OUT to explore Medellin's gay scene.
*Guided experience available for an additional cost
Meals: Breakfast, Lunch, Dinner
Hotel: The Click Clack Hotel
, Medellin, 4.5*
Day 6 - Sunday, February 12, 2023
Medellin, Colombia
Learn how to cook like a Paisa.
Today you'll head out with an authentic Paisa chef (a member of Medellin's LGBT community) to visit one of the city's picturesque and bustling local markets. There you will interact with the vendors selling exotic fruits, crisp vegetables and fresh meats, choosing the ingredients that you will cook with. As you zig-zag through the crowded maze of this principal market where families and smalls stores shop for quality produce, you'll get to taste a wide variety of foods from various regions throughout Colombia.
From there, you'll head to a local kitchen where the chef will show you first-hand how to cook a traditional Colombian dish from the region. You and the chef will work alongside each other to prepare the meal, and when it is ready, you'll enjoy the fruits of your labor. But first you'll learn how to pour a cocktail concoction using a local liquor that is unique to the cookingOUT Experience! Of course, you'll get to enjoy a few of those drinks too!
Meals: Breakfast, Lunch, Dinner
Hotel: The Click Clack Hotel
, Medellin, 4.5*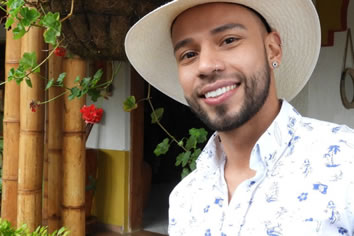 Day 7 - Monday, February 13, 2023
Cartagena, Colombia
This morning we fly from Medellin to Cartagena, where we'll go directly from the airport to our luxury hotel.
Later tonight, learn about this beautiful city by the sea by exploring its culinary secrets. On this culinary experience, you will be picked up from your hotel and local hosts will guide you through at least three of Cartagena's top restaurants, all treasured by locals.
At the first two restaurants, tempt your palate with delicious appetizers. At the third, enjoy a local favorite entrée and cap off your experience with one of our best-loved desserts. The tastings have been carefully selected for your pleasure. No two of these tours are exactly alike. Between stops, experience the gorgeous colonial architecture and lively urbane life around this bustling sector of the walled city.
After you fall in love with these exceptional restaurants, we'll gladly help make reservations for return visits.
Meals: Breakfast & Dinner
Hotel: Bastión Luxury Hotel
, Cartagena, 4.5*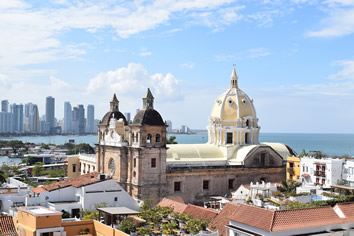 Day 8 - Tuesday, February 14, 2023
Cartagena, Colombia
Today, following breakfast, we take you on a tour to discover Cartagena's colonial past. We'll walk through the winding streets of this exquisite, historic city, surrounded by a 16th-century wall the Spaniards built to defend the city against enemy attacks. You'll have an opportunity to walk atop this historic wall and experience the heart of Cartagena in the lively streets of its Old Town.
Our guide will also introduce us to sites of incredible history and local culture, like the massive 16th-century Castle of San Felipe de Barajas, a UNESCO World Heritage Site and one of Colombia's Seven Wonders. There's the Palace of the Inquisition and opportunities to stroll through picturesque plazas, past colorful houses with flowered balconies, artisan shops and cafés. There are opportunities to visit additional museums and historical sites, like the Convento de la Popa that sits on the highest point of Cartagena, a 30 minute hike.
After time for lunch on your own, we take you to the city's top-rated bar to team up with the best mixologists for a special rum & chocolate tasting experience.
The most treasured booty for any good pirate during those seafaring times wasn't a treasure chest of gold, but a fine bottle of rum. Today, this caramel-colored liquor continues to keep the locals happy, as rum is the national liquor of Colombia. The rum taster will talk you through the ingredients, distillery process, and a brief history of the glorious spirit. Then you'll enjoy 4 special rums, accompanied by specifically paired chocolates — the "food of the gods" — to sample.
Meals: Breakfast & Dinner
Hotel: Bastión Luxury Hotel
, Cartagena, 4.5*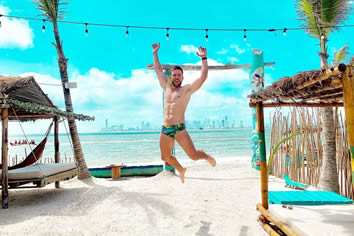 Day 9 - Wednesday, February 15, 2023
Cartagena / Rosario Islands, Colombia
Get set for an outstanding day of fun, sun, surf and sand.
Following breakfast at the hotel we drive to the pier, where we meet our captain and board a private boat to embark on a day of island hopping. The excursion will take us to the Rosario Islands, where there is truly something for everybody. Here you can swim in amazingly crystal-clear waters, fish, snorkel, dive or do nothing at all. The captain and his uniformed crew will be taking us to must-see spots in this archipelago, to explore different swimming areas, sunken wrecks, as well as a little island that attracts partiers.
Meals: Breakfast, Lunch & Dinner
Hotel: Bastión Luxury Hotel
, Cartagena, 4.5*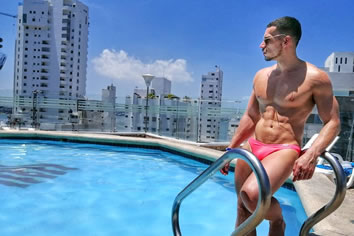 Day 10 - Thursday, February 16, 2023
Cartagena, Colombia
Today we bid farewell to Colombia.
Enjoy one last sumptuous breakfast at the hotel before your driver picks you up to take you to the airport with plenty of time to board your flight.
Meals: Breakfast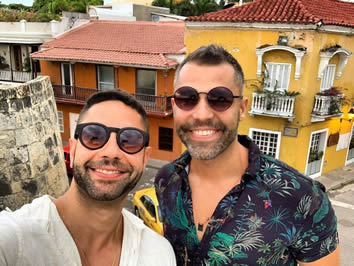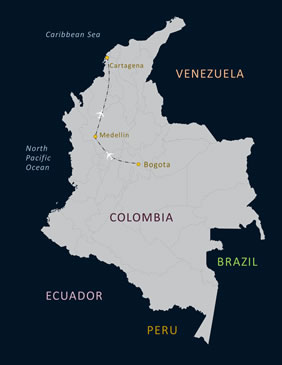 • Historic Bogotá City Tour
• Coffee Baptism with Rum
• Medellín Graffiti Tour
• Guatape Day Excursion
• Cartagena's Historic Walled City Tour
• Island Hopping on a Private Boat
• Rum & Chocolate Tasting Experience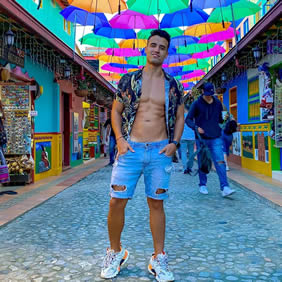 • Brand g and local host(s) throughout your trip.
• Airport arrival and departure transfers.
• Personal listening devices for all tours.
• Welcome reception and dinner on arrival in Bogotá.
• Three nights accommodation at the BOG Hotel.
• Internal flights to Medellín and Cartagena.
• Three nights accommodation at the Click Clack Hotel in Medellín.
• Three nights accommodation at the Bastión Luxury Hotel in Cartagena.
• Entrances to all sites on the tours and tour guide fees.
•9 Breakfasts, 4 Lunches and 9 Dinners.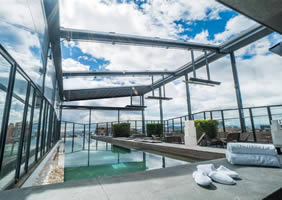 BOG Hotel
, Bogota
Enjoy your stay at this stylish, chic, and discreet hideaway in the safe, residential La Cabrera neighborhood of north Bogotá. This hotel is situated near Zona Rosa allowing you easy access to the nightlife and dining you've come here to experience.
Shades of gold and green greet you as you enter, recalling the wealth of Colombia's natural resources, especially the gold reserves and emeralds that lured conquerors, prospectors and merchants to these rich lands.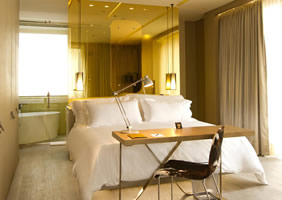 Enjoy a heated rooftop pool with panoramic views, a spa, a fully equipped fitness center, a steam room and hammam on the lower level. The main lobby level features a bar and a well regarded restaurant. Concierge service and 24-hour security and on-site parking round up the additional features you'd expect.
All rooms feature flatscreen TVs with cable, minibars & Nespresso machines, en suite baths with amenities, docking stations, iron/board, and temperature controls/air-conditioning. Enjoy free WiFi as a guest. This hotel is 100% smoke-free.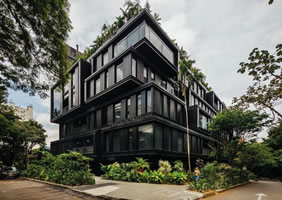 The Click Clack Hotel
, Medellin
This is a hip, design adult playground in the trendy Provenza/El Poblado area of Medellín, the most walkable part of the city, with an array restaurants, bars, nightlife, and green spaces to tempt you.
It's just right: the hotel's not too small, not too large, yet it offers everything you need, like a fun outdoor green lobby area where you'll find an art gallery, shops, cafés, and restaurants including the hotel's own "kitchen" with a menu of satisfying comfort food.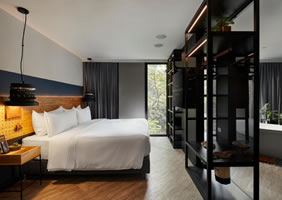 Higher up, you'll enjoy two rooftop bars, a pool, and stunning city views to add to your fun. Room rates here include free – and legendary –breakfast, housekeeping daily, and free WiFi.
In each room category you'll find en suite bath with rainfall shower and amenities, a clothing rack, in room safe, dual-voltage outlet, hairdryer, flatscreen with DirecTV, minibar, desk with data port, chair, plus a smartphone for local calls (free)/hotel services.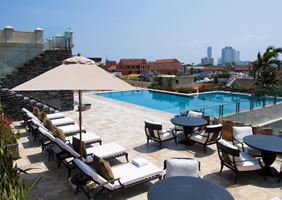 Bastión Luxury Hotel
, Cartagena
Enjoy your stay at a luxury boutique 5-star gem in the heart of Cartagena's UNESCO-listed Old Town.
Filled with historic 16th century charm and ambience in the center of the walled city, you'll be within walking distance to everything you imagined, and much more.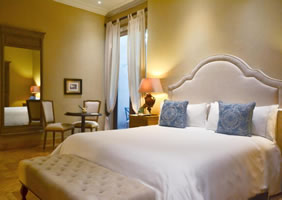 You'll feel right at home in fully modernized rooms and enjoy the same amenities you'd expect in a luxury urban retreat, including free Wi-Fi, room service, and this great feature: bike rentals to further your enjoyment of this beautiful location. Warm and professional care from staff who are all local seals the deal.
All accommodations in this luxury hotel are furnished in British Colonial style, feature Smart TVs, minibars, blow dryers, phones, in-room safes and rainfall showers and complimentary amenities in the baths.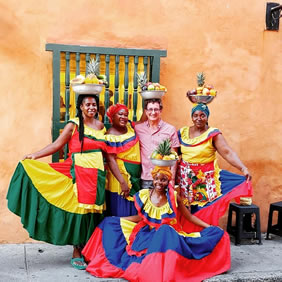 When should I schedule my flights?
Arrival: You should schedule your flights to arrive to Bogotá Airport (BOG) by February 7th, 2023. The first activity that day will be at approximately 6:30pm.
Departure: You should schedule your flights to depart from Cartagena Airport (CTG) at any time on February 16th, 2023. Check out time from the Hotel on is 11:00am.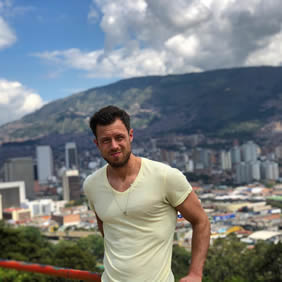 What are the passport or visa requirements?
A passport, which is valid for six months after your last date of travel, is required for this trip.
United States and Canadian passport holders can travel to Colombia without a visa and stay for up to 90 days.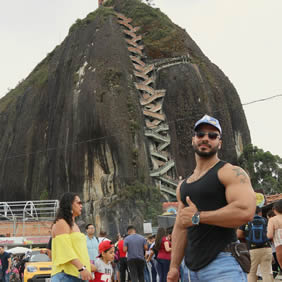 What arrival and departure transfers are included?
This package includes an arrival transfer from the Bogotá Airport to the BOG Hotel and a departure transfer from the Bastión Luxury Hotel to Cartagena Airport. If you extend your stay at these properties, the transfers will still be included. Contact our team or your travel agent to ensure arrangements outside of these arrival and departure transfers will be included. Booked guests should provide their arrival and departure details 45 days prior to the trip to ensure transfer availability.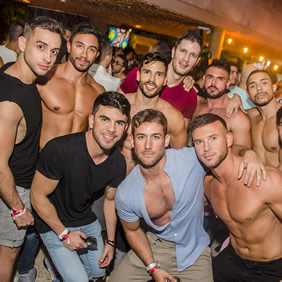 What if I have dietary requirements?
We will make every effort to accommodate special dietary requests. Please inform our office at least 45 days prior to departure of these requests.
What are pre-paid gratuities?
Gratuities are customary expressions of appreciation for a job well done. It is our goal to ensure that the service you receive is as wonderful as the sites you visit. Gratuities for the included portions of this program have been pre-paid. At your own discretion you may choose to provide additional tips.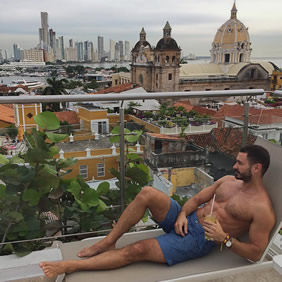 What should I expect on the included tours?
Excursions during your travel program are mostly in groups of 25 or fewer people led by expert English speaking local guides. Utilizing wireless audio guides enables you to hear every word of your travel guide at absolutely all times. It provides maximum flexibility and convenience without missing a moment of fascinating commentary and is compatible with hearing aids.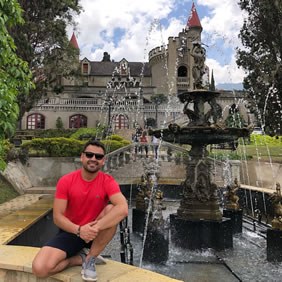 Is there a dress code?
You are on vacation as the last thing we want to impose is a dress code. We will however appreciate you wearing more than a thong or mankini at dinner and in the bar/performance area. Be as dressed up or down as you see fit as long as you are comfortable and dress appropriately for changeable weather.
Are vaccinations required?
Most US travelers are covered by routine vaccinations. US citizens should consult the Centers for Disease Control website or your health care provider for vaccination requirements and recommendations. Citizens of all other countries should consult their government's national disease center or their physician.