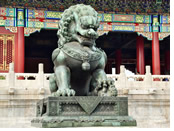 5 days Classic Beijing gay tour to have more enjoyable Beijing experience. Tour highlights include Temple of Heaven, Tiananmen Square, Forbidden City, Summer Palace, Mutianyu Great Wall, Ming Tombs-Dingling, Hutong Rickshaw Tour, and Yonghe Lama Temple. Despite a reputation for conservative social policies, China's capital city packs an electric gay scene plus excellent LGBT-friendly restaurants, microbreweries, cafes, galleries, and more.
Beijing truly juxtaposes the old and the new these days—ancient hutongs (residential alleyways) populated with fresh boutique businesses, modern takes on culinary staples like Beijing duck, abandoned factories turned into thriving arts districts, and an under-the-radar yet energized LGBT scene.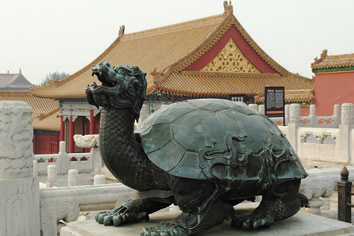 With private tour guide, driver and vehicle waiting aside, this tour package is designed for giving our clients who need more flexible and comfortable tour experience. During the tour, you are not only to enjoy the scenic spots, but also to have the introduction about the gay/Lesbian history and culture in China, and the recent development of the LGBT scene. In addition, our gay/Lesbian tour guide will take you to the best Gay & Lesbian bars and clubs that you can enjoy the evening with locals. With all-inclusive travel package, time-clock running tour arrangements, real highlights of China and best gay/lesbian bar, this tour give you more definitely. Enjoy your China Gay/Lesbian tour. Moreover, the gay friendly hotel we arranged is that was recommended by IGLTA for perfect hotel facilities, such as wifi, indoor swimming pool, comfortable rooms, great food, etc.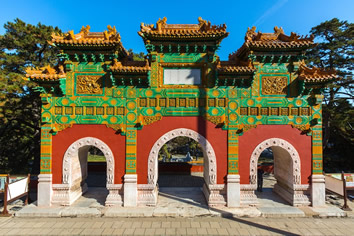 Day 1 - Arrive in Beijing, China
Welcome to Beijing!
Our local professional guide and experienced driver will meet you at the airport after your baggage reclaim and customs clearance, and then escort you to check in the hotel in downtown area. Relax during the rest time of the day to recover from the jet leg. You will get some suggestions about how to spend the rest time of the day from our tour guide.
Destination (club) (optional activity)
The original golden oldie. Despite being Beijing's longest-established LGBT venue (it was launched around 2004), Des, as it's affectionately known to locals, has managed to remain top dog. The popular Friday and Saturday spectaculars are among the best-attended and most colourful in town, and the multi-level layout prevents most spaces other than the heaving dance floor from ever being intolerably overcrowded. International guest DJs and occasionally a sprinkling of go-go boys, drag queens or even the odd celebrity arrive on weekends to sweeten the pot. Drinks are buy-one-get-one-free before 10pm. Entry charges vary and usually include a free drink.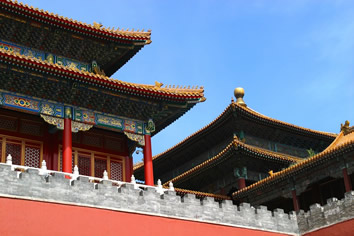 Day 2 - Beijing - Forbidden City & Summer Palace
Tiananmen Square
The Tiananmen Square is the largest city square in the world (440,000 square meters), which was originally designed and built in Beijing in 1651 and enlarged to its present size in 1958. Nowadays, it has become a great relaxing place for the common people to do exercises, and on holidays, the whole square will be covered with fresh flowers. Meanwhile, it is sitll the key tourist area of Beijing for here has Tianan'men Gatetower, Monument to the People's Heroes, Chairman Mao Memorial Hall, Great Hall of the People, China Revolutionary Museum and Museum of Chinese History. If you have chance, the Tianan'men Flag Raising Ceremony should not be missed. Chinese military honor guards march with perfect rhythm and synchronicity to raise or lower the national flag.
Forbidden City
Located at the city center and called Gu Gong in Chinese, Beijing Forbidden City was the imperial palace for twenty-four emperors during the Ming(1368-1644) and Qing dynasties(1644-1911). Lying to the north of Tiananmen Square it is the world's largest palace complex and covers 74 hectares. Surrounded by a 52-meter-wide moat and a 10-meter-high wall are more than 8,700 rooms. Construction of the palace complex began in 1407, the 5th year of the Yongle reign of the third emperor (Emperor Chengzu, Zhu Di) of the Ming dynasty. It was completed fourteen years later in 1420, and then the capital city was moved from Nanjing to Beijing the next year. Here is the right place to know the China's glorious past and imperial culture.
Summer Palace
The original Summer Palace was built for celebrtaing the birthday of Emperor Qianlongs' in Qing Dynasty (1644-1911) but burnt down by Anglo-French allied forces in 1860. Rebuilt in 1888 by Empress Dowager Cixi but destroyed by the Eight Power Allied Forces in 1900. What you can see was rebuilt since 1903 though some architectures are destroyed forever. It is the largest preserved imperial garden and a former summer retreat for emperors. the 726.5 acres' area and three quarters water, Summer Palace is a perfect example of refined craftwork with finest materials, Longevity Hill, Kunming Lake etc with over 3,000 structures: pavilions, towers, bridges, corridors etc.
Meals Included: Breakfast & Lunch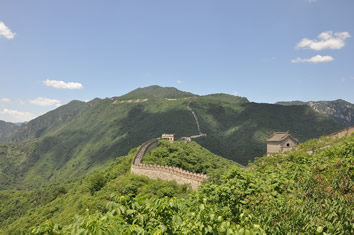 Day 3 - Beijing - Great Wall & Ming Tombs
Mutianyu Great Wall
The Great Wall is a series of stone and earthen fortifications stretching more than ten thousand miles from west to east on the boundless area of Northern China. It is seen as a major architectural miracle in the world. The Great Wall was a great defense project in ancient time and it embodied the ancient people of strong will and high intelligence, reflecting China's remarkable achievements of ancient engineering and also showing the long history of the Chinese nation. The Mutianyu section, 2,500 meters (2,734 yards) long, connects the Juyongguan Pass in the west and Gubeikou in the east. It is a superb location to appreciate the grandness of the Great Wall as well as to avoid the crowds at Badaling.
Ming Tombs-Dingling Mausoleum
As the representative of the Ming Thirteen Mausoleum where buried 13 emperors and 23 empress of the Ming Dynasty (1368-1644), Ding Mausoleum is the tomb of the Emperor Zhu Yijun, the 13th emperor of Ming Dynasty, and it is also the only one whose underground palace was unearthed. Buildings on the ground consist of Treasure City, Grand Mansion, Ling'en Hall, two ground auxiliary halls, Ling'en Gate, Ling Gate, Shenbo Oven, Dinvine Wardrobe, Divine Stock, Slaughter Pavilion and Wailuo City, etc. The Grand Mansion is definitely the highlight of the Dingling. It is not only gallant and splendid, but also does not have a piece of wood and a nail. The rafters, brackets and inscribed board of the upper and lower caves are all inlaid with white stone sculptures and painted with colorful pictures which look like wood structure. The underground Palace consists of 5 underground halls buried Emperor Zhuyijun and two Queens, Xiaoduan and Xiaojing.
Meals Included: Breakfast & Lunch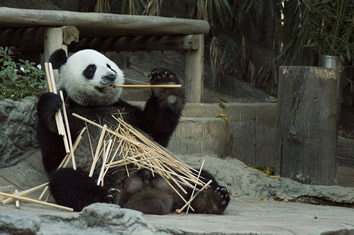 Day 4 - Beijing - Beijing Zoo & Hutong Rickshaw Tour
Beijing Zoo
Situated to the west of Beijing Exhibition Center, Beijing Zoo covers an area of over 40,000 square meters and houses over 7,000 creatures of 600 different species, including the giant panda, red-crowned crane and Pere David's deer-all unique to China-as well as the African giraffe, rhinoceros, chimpanzee and antelope; American continent; wild ox from Europe; and elephant and gibbon from India. Originally, it was known as the Sanbeizi Gardens in the 18th century, supposedly named after the third son of Emperor Kangxi, Prince Cheng Yin. During the Qing, part of the Sanbeizi Gardens called the Garden of Continuity (Jiyuan) became the private property of an official in the Bureau of Palace Affairs.
Hutong Rickshaw Tour
If you want to know Beijing culture and local history, Hutong should not be missed, and the best way to tour Hutong in limited time should be the rickshaw which saves time and energy and enlarges your tour range. The lanes have their own layout and structure, and when viewed from the air the combination of the lanes and courtyards resemble a chessboard with delicate gardens, fine rockeries and ancient ruins this makes them a wonder in the world. In the past, Beijing was composed of hundreds of courtyards around the Forbidden City, and these lanes stretched out in all four directions, connecting the different kinds of courtyards in the city. However, as the requirement for city construction, the number of them has fallen dramatically from 3250 to 1000.
Yonghe Lama Temple
Built in 1694 during the Qing Dynasty (1644-1911) as the residence of the Emperor Yongzheng (the third emperor of the Qing Dynasty) before he ascended the throne, Yonghe Lama Temple is the largest and best-preserved lamasery in Beijing. in 1744, the residence was completely converted into a lamasery, so the features make it very different and unique from others, looks like a mini-palace with yellow glazed tiles on the roof and red walls circling the group of buildings.
Meals Included: Breakfast & Lunch
Day 5 - Beijing Departure
Departure
Your private car, driver and tour guide will be ready and escort you to the airport on time. Sit back and relax as they help you check-in and escort you to the correct security gate.
Meals Included: Breakfast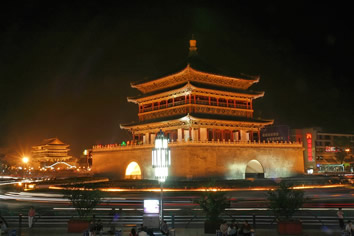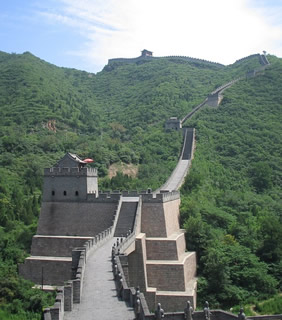 • All arrangements and first admission/entrance fees of scenic spots specified in the itinerary.
• Buffet breakfast, Chinese lunch or dinner as listed in the itinerary.
• Well-equipped commercial vehicle with excellent private guide and driver accompanied on your tour between airports, train stations, scenic spots and hotels.
• Four/Five-Star Hotel based on two persons sharing one room with twin beds.
• All hotels as listed in the itinerary serve daily western or Chinese breakfast unless specified.
• Travel Agency's Liability Insurance with your tour inside China.
• Chinese government taxes and the city construction fees on your travel tour.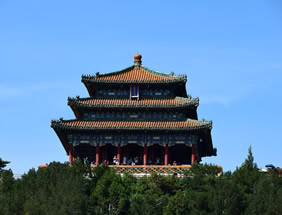 • China entry visa fees.
• International or domestic airfare or train tickets not included in the itinerary.
• Meals not specified in the itinerary and extra and alcoholic or beverages during meals.
• Tips for guides and drivers.
• Personal expense: e.g. mini bar, personal telecommunications, laundry, excess baggage charges etc.)
• Excursions and activities not included in itinerary.
• Single room supplement.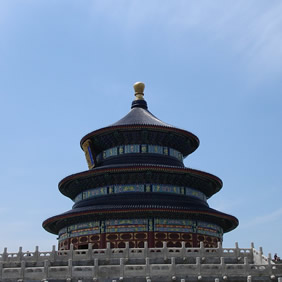 • The prices are based on two persons sharing one standard room in USD. If you prefer a single room on your own, please pay single room supplement. Meanwhile, the prices for the tour are subject to reconfirmation from our trip advisors when an actual booking is being made. We keep the right to change the itinerary because of traffic, weather, or any other conditions not under our control.
• This tour package can be fully customizable to fit your travel plan.
• China Visa with 6 months validity remaining is a must for travelling China. And we can offer you the invitation letter to get it effectively if needed.
• We are not liable for damage or loss caused by any of the following events: terrorism, war, fire, accidents, strikes, forces of nature, flight delays or other interruptions of services not within our control.