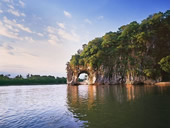 4 days Guilin Gay Tour from Hong Kong to appreciate the extraordinary natural beauty of China and see the most Guilin highlights, such as Reed Flute Cave, the Elephant Trunk Hill, Fubo Hill, Seven Star Park, Lijiang River Cruise, West Street. Guilin is famous for the amazing landscape of colossal limestone karsts and the Li River ride through stunning landscapes to Yangshuo. Li River was selected by National Geographic Magazine as one of the world's top ten watery wonders.
The best place to meet gays and lesbians in Guilin should be the Zhengyang Pedestrian Street where are seven bustling bars and clubs providing Western and Chinese food, winds and beers. Besides, it is the shopping and entertainment area in the Guilin's city center. We offer Guilin Gay & Lesbian Tour with - daily departure, first class gay/lesbian friendly hotel accommodation, English speaking gay/lesbian-friendly guide, evening cultural performance, bar visiting and more.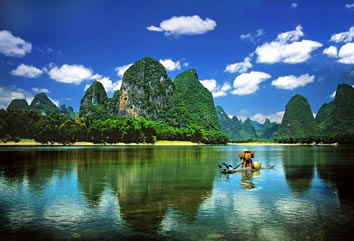 With private tour guide, driver and vehicle waiting aside, this tour package is designed for giving our clients who need more flexible and comfortable tour experience. During the tour, you are not only to enjoy the scenic spots, but also to have the introduction about the gay/Lesbian history and culture in China, and the recent development of the LGBT scene. In addition, our gay/Lesbian tour guide will take you to the best Gay & Lesbian bars and clubs that you can enjoy the evening with locals. With all-inclusive travel package, time-clock running tour arrangements, real highlights of China and best gay/lesbian bar, this tour give you more definitely. Enjoy your Guilin Gay/Lesbian tour. Moreover, the gay friendly hotel we arranged is that was recommended by IGLTA for perfect hotel facilities, such as wifi, indoor swimming pool, comfortable rooms, great food, etc.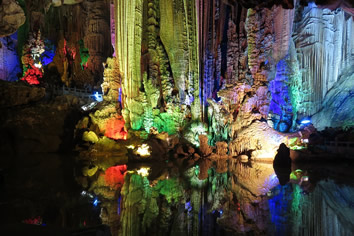 Day 1 - From Hong Kong to Guilin
Today you will be driven to the airport to take the flight from Hong Kong to Guilin. Your local guide in Guilin will welcome you at the airport, and help you check in the hotel to have a good rest for the Guilin tour the next day.
No. 8 Club (mixed) (optional activity)
Features: Mixed club frequented by lots of tourists and locals. No dance floor.
Day 2 - Guilin
Reed Flute Cave
Reed Flute Cave is a marvelous cave with a stunning world of various stalactites, stone pillars and rock formations created by carbonate deposition since 180 million years ago. And illuminated by colored lighting, this fantastic world of stunning sceneries is found in many variations along 240 meters long cave. Walking through the serried stone pillars on changing spots, a feeling of here is the paradise Gods live. This natural limestone cave with multicolored lighting has been one of the Guilin's "Must see" marvelous attractions for over 1,200 years, and got the name from the type of reed growing outside, which could be made into melodious flutes.
Elephant Trunk Hill
Located at the confluence of the Taohua River and the Lijiang River, Elephant Trunk Hill is just like a huge elephant drinking water from the river with its trunk, hence the name. Shui Yue Cave (Water Moon Cave), the round opening which is between the trunk and the legs, got the name because the reflection of the moon could be seen through the arch, and it looks like it is under the water and floating on the surface of the water at the same time. It will be romantic to boat through the semi-round cave when the river is rich in water with "half moon" under the water. A must see attraction of Guilin.
Seven Star Park
As the largest comprehensive and most beautiful park in Guilin, Seven Star Park with elegant mountains, miraculous stone forest, deep and serene valleys, valued cultural relics, clear water and plentiful animals and plants becomes very popular since the Sui (581-618) and Tang (618-907) Dynasties. It got its name from the seven peaks that are supposed to resemble the star pattern of the Big Dipper constellation. The main sights contain Flower Bridge, Putuo Mountain, Seven Stars Cave (at the Putuo Hill), Camel Hill, Crescent Mountain, Guihai Stele Forest and Light of China Square.
Guilin Sea Pearl Museum
Hepu County near Guilin offer a variety of South China Sea pearls. The Guilin Sea Pearl Musum has an exhibition of South Sea Pearls, and visitors can learn how to tell the differences between real and fake pearls. Here also offers tourists chance to purchase latest and most popular South China pearls. The smoothness and roundness is different from normal pearls, but they are as lustrous and beautiful as the natural ones used for rare and valuable jewelry.
Meals Included: Breakfast & Lunch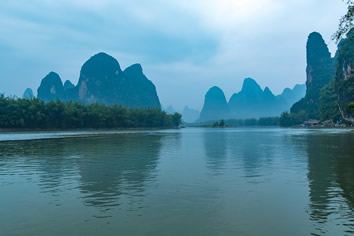 Day 3 - Guilin to Yangshuo
Li River cruise
From Guilin to Yangshuo, the Li River gracefully flows over 83 kilometers and the banks of the river offer the most beautiful scenery. This section of the Li River appears like a classic Chinese ink painting with its green hills, crystal water, verdant bamboo and clear water reflection. The great Tang Dynasty poet Han Yu vividly described the landscape as "the river winds like a green silk ribbon, while the hills are like jade hairpins". The comfortable Li River cruise will take approximately 4 hours from the bustle of city life and into a peaceful and relaxing world. The only thing you need to do is bring your imagination, a camera, and keep your eyes open, as the stunning Karst landscape will give you a surprise around each bend of the Li River flows under the clear blue sky.
West Sreet
"Global Street", ancient and local architectures, Chinese and western style restaurants and coffee bars, various and memorable tourist souvenirs, special and tasty snacks and beautiful night scene with exotic styles, sounds weird, but it's West Street Yangshuo. Meanwhile, it is very modern and fashionable, nearly every store has bilingual shop signs, and more than 20 stores are opened by foreigners who have settled here. On the other hand, It is the best place for Chinese people to learn foreign languages and for foreigners to study Chinese. There are dozens of foreign language schools, training centers, training camps and computer training courses along West Street.
Meals Included: Breakfast & Lunch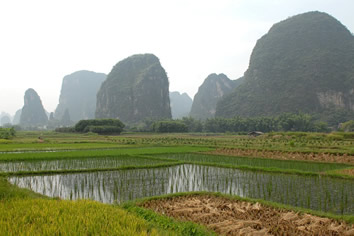 Day 4 - Yangshuo to Guilin to Hong Kong
Cycling in Yangshuo County
As the old saying goes, "Guilin's scenery is the most beautiful in the world, Yangshuo's scenery is far more superior to that of Guilin's". In Yangshuo County alone, there are over 20,000 hill and over 250 scenic spits, such as Nine-Horse Painted Hill, Yellow Reflection Point, Xingping Village, Lotus Cave, the Big Banyan Tree, Moon Hill, and Dragon River. Besides, amongst the mountains and waters are old buildings and old bridges that reflect the rich cultural heritage of Yangshuo. Cycling is a great idea and the easiest way to get around in the area of Yangshuo to see some of the spectacular landscapes. The paths in and out villages are not practical for car and a little bit far for walking. Besides, most of the routes are flat enough - with only very small hills.
Departure
Take private car to Guilin Airport. Your driver and tour guide will take you to the airport on time. Sit back and relax as they help you check-in and escort you to the correct security gate.
Meals Included: Breakfast & Lunch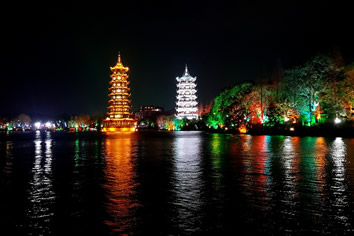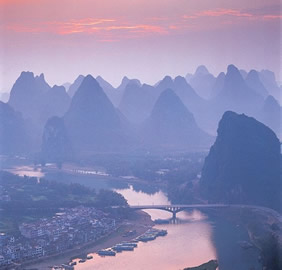 • All arrangements and first admission/entrance fees of scenic spots specified in the itinerary.
• Buffet breakfast, Chinese lunch or dinner as listed in the itinerary.
• Well-equipped commercial vehicle with excellent private guide and driver accompanied on your tour between airports, train stations, scenic spots and hotels.
• Four/Five-Star Hotel based on two persons sharing one room with twin beds.
• All hotels as listed in the itinerary serve daily western or Chinese breakfast unless specified.
• All the transfer fares including domestic flight from Hong Kong to Guilin and from Guilin to Hong Kong as specified in the itinerary.
• Travel Agency's Liability Insurance with your tour inside China.
• Chinese government taxes and the city construction fees on your travel tour.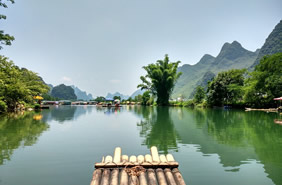 • China entry visa fees.
• International or domestic airfare or train tickets not included in the itinerary.
• Meals not specified in the itinerary and extra and alcoholic or beverages during meals.
• Tips for guides and drivers.
• Personal expense: e.g. mini bar, personal telecommunications, laundry, excess baggage charges etc.)
• Excursions and activities not included in itinerary.
• Single room supplement.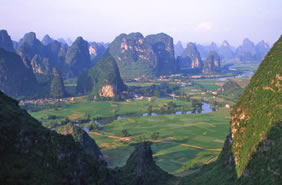 • The prices are based on two persons sharing one standard room in USD. If you prefer a single room on your own, please pay single room supplement. Meanwhile, the prices for the tour are subject to reconfirmation from our trip advisors when an actual booking is being made. We keep the right to change the itinerary because of traffic, weather, or any other conditions not under our control.
• This tour package can be fully customizable to fit your travel plan.
• China Visa with 6 months validity remaining is a must for travelling China. And we can offer you the invitation letter to get it effectively if needed.
• We are not liable for damage or loss caused by any of the following events: terrorism, war, fire, accidents, strikes, forces of nature, flight delays or other interruptions of services not within our control.
Single-Entry Visa
The single-Entry Visa is mostly used. The period of validity of China Single-entry visas are usually 3 months, and a maximum of 30 days will be permitted to stay in China as a tourist or businessman.
Double-Entry Visa
Literally, the Double-Entry Visa is issued for those who need to leave and re-enter Mainland China. Travelers who leave Mainland China for Hong Kong and Macau will need to apply for a new visa or double-entry visa, if they wish to re-enter Mainland China.
Hong Kong & Macau
Residents of most countries can enter Hong Kong without applying for a visa in advance and are allowed to stay for 90 days. A visa will be issued upon arrival.
Residents of 65 countries, including the United States, Japan and European countries can enter Macau without applying for a visa in advance. A visa will be issued at the border control, and it allows a stay of 30 days.
For transit passengers who hold tickets and have booked seats on international airliners flying on route to a third country no more than 24 hours in advance, Visas are not required.
For more up-to-date information, please check with the Chinese embassy in your country.