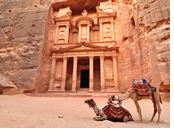 One of the new Seven Wonders of the World, Petra represents a central convergence of the old trading roads between the Arabian Peninsula, Levant, China and Europe. Visitors will be astounded by the sight of the Treasury, which represents the masterpiece of the ancient city. Renowned for its charm and ancient cultural heritage, Petra marks the achievement of an impressive civilization, the Nabataean Arabs, who perfectly carved the city into its mountains.
This is Deluxe Egypt Gay Cruise & Tour Add-On Trip!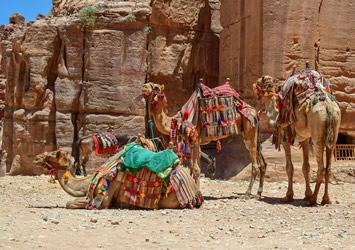 Petra is a famous archaeological site in Jordan's southwestern desert. Dating to around 300 B.C., it was the capital of the Nabatean Kingdom. Accessed via a narrow canyon called Al Siq, it contains tombs and temples carved into pink sandstone cliffs, earning its nickname, the "Rose City." Perhaps its most famous structure is 45m-high Al Khazneh, a temple with an ornate, Greek-style facade, and known as The Treasury.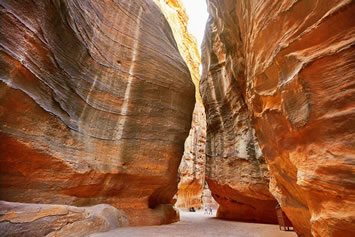 Day 1 - Friday, November 06, 2020
Arrive in Amman, Jordan

Upon arrival in Amman, Jordan meet the Coda Tours representative and transfer to the Four Seasons Hotel Amman.
Today is at leisure while fellow members arrive.
Overnight in Amman.
Meals: None
Hotel: Four Seasons Hotel Amman
, Amman, 5*
Room: Premium Room
Day 2 - Saturday, November 07, 2020
Amman, Mt. Nebo, Madaba, The Dead Sea & Petra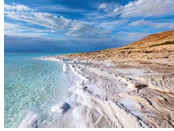 Drive to Petra, via Madaba, the "City of Mosaics", Mt Nebo where Moses was said to have seen the Holy Land & the Dead Sea where we stop for lunch and an opportunity to experience a swim in the famously hypersaline water.
Continue to the town of Wadi Musa, gateway to awe-inspiring Petra.
Overnight at the hotel.
Meals: Breakfast, Lunch
Hotel: Movenpick Resort Petra
, Wadi Musa, 5*
Room: Superior Room
Day 3 - Sunday, November 08, 2020
Petra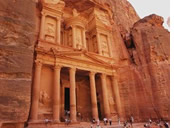 Spend a full day exploring Petra, a UNESCO World Heritage Site, former merchant city and caravan stop.
Wander amid its baths, markets, Temple of the Winged Lions, Corinthian Tomb, Palace Tomb and Treasury.
We will have lunch at a Bedouin house.
Meals: Breakfast, Lunch & Dinner
Hotel: Movenpick Resort Petra
, Wadi Musa, 5*
Room: Superior Room
Day 4 - Monday, November 09, 2020
Petra | Amman | Cairo
Drive directly to the airport this morning to connect with you flight to Cairo, Egypt.
Meals: Breakfast
Deluxe Egypt Gay Cruise & Tour - November 09 - 17, 2020