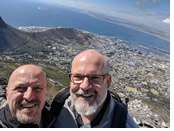 Come join our intimate and super-friendly gay daddy group, for a once-in-a-lifetime adventure in Africa's only truly gay welcoming place: South Africa! You'll enjoy 11 days in this exciting, diverse and beautiful country. It all starts in Cape Town, "The Mother City" as South Africans call it. A sophisticated, cosmopolitan city set amid staggering natural beauty at the very tip of Africa.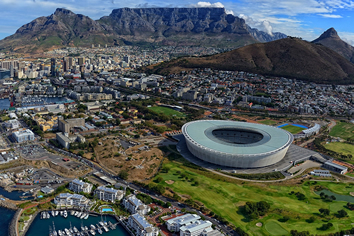 Day 1 - Friday, April 12, 2024
Welcome to Cape Town, South Africa!
• Arive at Cape Town International Airport (CPT) and Transfer to our Cape Town hotel.
• Unpack and relax before we make our way to the famous Victoria & Alfred Waterfront, including the Zeitz Museum of Contemporary Art Africa, and a lovely sunset at the top of the remarkable Silo Hotel.
• Here, you'll feast on a 3-course dinner, with wine pairings for each course, held in a private and eclectic dining room with great city views in every direction.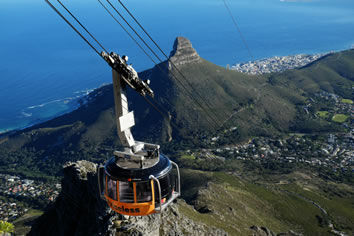 Day 2 - Saturday, April 13, 2024
Cape Town & Table Mountain
• After breakfast, our local certified guide will take us on a historical and cultural tour of Cape Town, including the colorful district of Bo Kaap.
• After lunch at a local pub that serves traditional Cape Malay cuisine, we make our way to Table Mountain via cable car.
• Table Mountain boasts spectacular views of the whole peninsula and beyond.
• Our day ends back at the villa where our private chef will prepare a 3-course dinner with wine pairings for each course by our sommelier.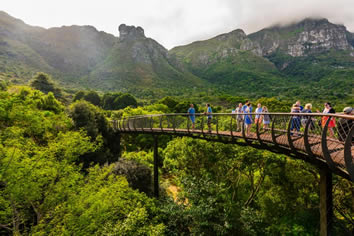 Day 3 - Sunday, April 14, 2024
Cape Town
• We'll head directly to the Woodstock district and the famous market at The Old Biscuit Mill. This colorful neighborhood originally began with a few fishermen's houses and farm cottages…and then grew! You'll discover local artisans and craftspeople, but most importantly, incredible local food stalls, and live music.
• A few steps away, we'll indulge in some gin tasting and a stop at one of our favorite eateries in the shadow of Table Mountain for lunch.
• Next we visit Kirstenbosch Gardens for a relaxing afternoon stroll.
• Tonight, dinner is served at the villa by our local chef, paired with lovely local wines by our sommelier.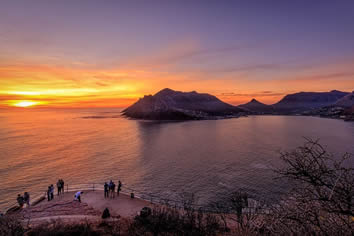 Day 4 - Monday, April 15, 2024
Cape of Good Hope
• Today we circle Table Mountain National Park, starting in the picturesque seaside town of Kaulk Bay. Here you'll find great shops, great restaurants and great views.
• We'll continue to the Penguin Colony, where you can walk among the cute little African penguins.
• Our journey continues to the Cape of Good Hope, traditionally considered the southernmost point in Africa (technically it is not quite). Mariners of old yearned for this point that meant they were crossing from the Indian to the Atlantic, or vice versa. Wild monkeys are everywhere, and the views are breathtaking. You'll feel like you're literally at the end of the world, not just the end of a continent.
• We finish our loop at a winery in Constantia, and then a drive through Chapman's Peak for a dramatic sunset.
• Tonight, Mikael takes you to his favorite restaurant in Cape Town, right in the middle of the city's gayborhood.
Day 5 - Tuesday, April 16, 2024
Cape of Good Hope
• Free time in Cape Town for optional tours of Robben Island (where Nelson Mandela was imprisoned), Zeitz Museum of Modern African Art (fabulous!), and more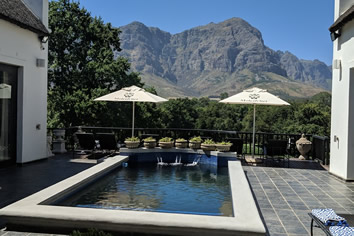 Day 6 - Wednesday, April 17, 2024
Cape Winelands / Stellenbosch
• This morning, Katie the Wine Fairy meets us in the Winelands for a day to be remembered.
• After carefully selecting 2-3 wineries based on your preferences, she will lead us on a fun and informative (and delicious!) wine tour in a setting that would make the Napa and Loire Valleys jealous.
• For lunch, we'll enjoy a lovely picnic of locally-grown food right there in one of the vineyards (included).
• This afternoon and evening you'll have free time to enjoy Franschoek (boutique shopping, anyone?) and dinner of your choosing.
• Dining recommendations in town will be provided, or simply enjoy a traditional dinner at your Winelands resort.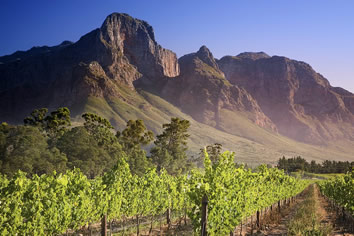 Day 7 - Thursday, April 18, 2024
Cape Winelands / Franschhoek
• This morning is more free time for you. We'll suggest several activities, including biking, spa treatments, hiking, or shopping.
• This afternoon, we enjoy a leisurely horseback-riding journey through dramatic wine country, with more wine tasting, of course!
• Tonight, our private chef will prepare yet another incredible culinary experience, paired with local wines of your choice.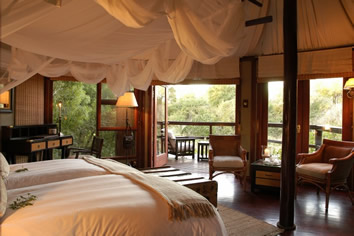 Day 8 - Friday, April 19, 2024
Kruger National Park
• After a short flight to Kruger (airfare included), our private guide will greet you and whisk you away to your luxury tented lodge for 3 nights.
• You'll likely spot several wild game on the drive in, but your first official game drive doesn't begin until after you've settled in to your luxury "tent." The Boy Scouts could learn a lot about camping from this place!
• This evening, you'll enjoy a major feast featuring exotic meats (ostrich, kudu, zebra…) and local fruits (mangoes, kiwi…).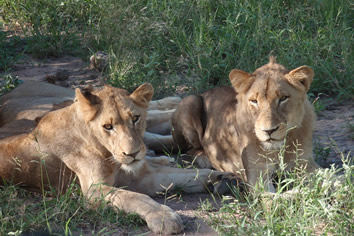 Days 9 & 10 - Saturday & Sunday, April 20 & 21, 2024
Kruger National Park Safari
• Two more game drives each day (at dusk and at dawn), always including a mid-drive stop for snacks and your choices of wine/booze.
• In between drives, you may opt for other activities back at camp, like pool time, walking safaris, massages, spa treatments, or maybe just a quiet nap.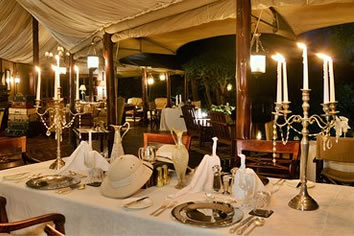 Day 11 - Monday, April 22, 2024
Departure
• This morning you'll be escorted to the local airport to catch your flight home, filled with memories to last a lifetime.