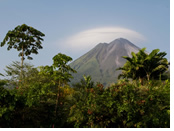 Leave your stress at home, because it's not welcome here! Costa Rica is where the word paradise was meant for. It's one of the most biologically diverse places in the world with dense jungles full of monkeys, sloths, reptiles and other tropical life, reaching out onto stunning white sand beaches. Nature is perfectly paired with adventure in this tiny Central American country and gives its visitors an unlimited number of opportunities to get as active, or as relaxed as you like! Soak away an afternoon in a hidden hot springs waterfall oasis, zipline through the thick jungle on one of the world's longest ziplines, take a surfing lesson from a local Tico, hike onto the hardened lava flow of an active volcano, or surround yourself with wild spider monkeys, the once-in-a-lifetime opportunities are endless!
Costa Rica is also known as the most gay-friendly country in Central America, with a lively gay social scene in San Jose and Manuel Antonio, and some of the friendliest local Latin people you could ever meet! This is a true Latin experience from the people, to the Salsa dancing, to the Gallo Pinto for breakfast.
Our 12-day trip has been designed to maximize your experience here and have you begging to stay forever! Instead of rushing around in a panic trying to visit as many places as possible, we've specially chosen three locations, plus San Jose that we know you'll fall in love with. How are we so sure? Well, we've tirelessly tested out beaches, bars, bungalows and bit of booze just to make sure we can bring you the cream of the crop. We genuinely love Costa Rica and can't wait to share this paradise with you!
Costa Rica is jam-packed full of opportunities to keep active, whether it's excitement you're looking for, cultural experiences, or checking out the stunningly unique flora and fauna. Listed below are just a few of the activities that are available to us during the Costa Rican adventure. Our unhurried travel concept gives our travelers enough time to take advantage of as much (or as little!) as you like to make this your trip of a lifetime!
• Volcanoes
• Ziplining (some of the longest and highest in the world!)
• Surfing (lessons available)
• ATV tour
• Coffee tours
• Cave exploration
• White water rafting
• Horseback riding
• Kayaking
• Hot springs
• Hiking
• Rappelling
• SCUBA diving
• Fishing
• Snorkeling
...just to name a few!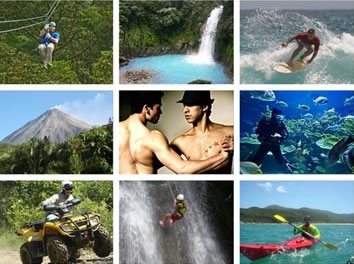 • All Taxes
• Accommodations for your 12-day Detours experience**
• All 11 breakfasts
• Welcome dinner and drinks
• 3 dinners, 2 lunches prepared by the villa's private chef
• Guided hike through Manuel Antonio National Park
• Hike to the Poas Volcano Crater
• Crocodile Detour at Rio Tarcoles
• La Fortuna Waterfall Detour
• Park entrance fees at Manuel Antonio, La Fortuna, and Poas Volcano National Parks
• Group travel within Costa Rica
• Knowledgable and fun Detours leaders
• Detours Travel Guidebook
• 14 years of trip leading experience
** - Trip prices based on twin share. Traveling solo? We'll match you up with another traveler at no extra charge, or just pay a $970 single supplement for your own room!
• Lunches and dinners not listed
• Activities not listed above
• Costa Rican departure tax ($29)
• International Airfare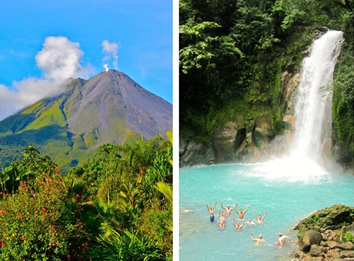 12 days in paradise that you'll never forget! Costa Rica is an incredibly diverse country with unlimited opportunities for adventure or relaxation set among some of the world's best beaches, rainforests, and volcanoes.
Day 1 - San Jose, Costa Rica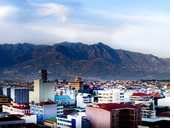 Most travelers will arrive in San Jose on day one and head to our meeting spot to start the adventure. This time in the capital city of San Jose is a great introduction to the incredible country of Costa Rica as well as our first chance to get to know our fellow travelers. In the evening we'll have an authentic Costa Rican buffet dinner which will allow everyone to find which foods are their favorite right at the start! At night you'll have the opportunity to immerse yourself into some authentic Latin nightlife, so brush up on your Salsa dancing skills!
Costa Rica's largest city, and capital city, San Jose is the starting and ending point of our Costa Rican adventure. Situated in the Central Valley, and squeezed between two active volcanos (Poas and Irazu) this vibrant city is full of theatres, parks, and museums. San Jose is also the bustling business and shopping center of the country and accounts for almost half of Costa Rica's 5-million residents. Located halfway between the eastern Caribbean coast and the western Pacific coast and at an elevation of nearly 4,000 feet, the climate of the city is generally quite a bit cooler than the coastal areas.
Gay life in San Jose is vibrant and quite well accepted, especially relative to other large Central American cities. With several nightlife options from tame to wild, the social scene here is alive and ready to entertain those looking to check out Latin gay nightlife.
Days 2, 3 and 4 - Arenal Lake and Volcano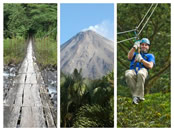 On day 2 we travel north of San Jose to the area of Arenal, famous for its very active volcano, gorgeous scenery, and lots of opportunities to keep active with zip lines, hiking, canopy adventures, and more. Along the way we'll head up to the crater's edge of the very active Poas Volcano. In the evening we'll even take you off the beaten path, away from the crowds, to a hot springs waterfall oasis hidden in the jungle... as long as you promise not to share the location with the world! Your three nights here are your opportunity to be as adventurous as you'd like, this area definitely won't limit you!
The Arenal area of Costa Rica is jam-packed full of amazing sights and activities no matter what you've come to Costa Rica for. We'll have time here to head onto the old lava flow of the Arenal Volcano, zipline down one of the longest ziplines in the world, rappel down a waterfall, or just soak away an afternoon in the hot springs pools. We've scouted out the best spots for all of these activities including a hidden hot springs waterfall oasis, tucked away from any crowds, which we'll bring you to if you promise not to tell the whole world where it is! Just imagine being surrounded by jungle while basking in the warmth of natural hot springs. Paradise.
Our accommodation in Arenal is tucked away in the beautiful outskirts of the town of La Fortuna which ensures you get the best of the area while avoiding the tourist traps. Tackle your bucket list here in Arenal while surrounded by the jungles, mountains, and wildlife that have made Costa Rica's scenery famous!
Days 5, 6 and 7 - Private Jungle Villa (Guanacaste or Las Aguas)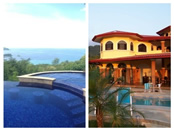 On day 5 we continue down the road to our own private villa for the next three nights! Both of our private luxury villas are nestled in the Costa Rican jungle offering our groups incredible opportunities for exploring hidden waterfalls or beaches, as well as lots of activities to choose from! Relaxing in the outdoor jacuzzi at the end of the day, under the stars, listening to the sounds of the jungle is a moment you'll want to hang on to forever.
Our Jungle Villa stop is an incredible opportunity to get off the beaten track and explore the landscape that makes Costa Rica famous. Both villas offer endless hiking trails, stunning swimming pools, luxurious accommodation, and are fully catered by our own private chefs! Whichever villa we happen to stay at during your specific trip, we'll be well taken care of for 3 nights at our beautiful villa.
Las Aguas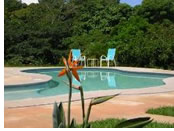 Tucked away the in the dense jungle of Costa Rica's southern zone sits a stunning Las Aguas mansion built on a 60-acre property full of waterfalls and hiking trails. The pool and Jacuzzi are perfectly positioned on a hill overlooking the surrounding lush rainforests. After a long day of exploring, there's no better place than that Jacuzzi to sit under the stars listening to the sounds of the jungle. Stress hates this place and stays very far away from it.
The surrounding area is off any beaten path and is as Costa Rican as you can get. Our local hosts here are committed to keeping their guests happy and they do a great job of it too! Horseback ride to one of the country's tallest waterfalls, head to Playa Dominicalito for some more beach time, or just explore the trails on our vast jungle property.
Guanacaste
Our Guanacaste property is tucked away in the dense jungle up a hill overlooking the ocean and jungle and only a few minutes walk from a secluded beach. The infinity pool is a beautiful spot to soak up the postcard-worthy view and unforgettable sunsets over the Pacific Ocean. The villa is surrounded by flora and fauna so don't be surprised if a toucan pops in for a peek at us, or if the howler monkeys howl at us from the back porch.
Despite how off-the-beaten-track our property is, the area is full of a wide array of activities to keep everyone as busy as desired. Our local hosts are proud ambassadors of their home and are always ready to ensure our time here is one we'll be bragging about to everyone back home.
Days 8, 9, and 10 - Manuel Antonio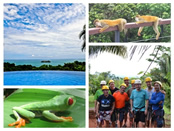 Manuel Antonio is known as one of the most diverse areas for flora and fauna with all kinds of monkeys, reptiles, birds, sloths, and plant life of course. It's also known as the gay beach area of Costa Rica with a lively community of gay guys from all over the world! Spend your day at the beautiful white-sand beach, or checking out the incredibly abundant life in Manuel Antonio National Park, then spend the evening experiencing Manuel Antonio's social life. Included in the trip is a guided walk through Manuel Antonio National Park with Gama, a local wildlife expert who is an incredibly talented and knowledagle wildlife spotter.
This coastal paradise is situated where the jungle meets the sea. While we won't want to leave our stunning all-gay property perched on a cliff over the Pacific Ocean, there's definitely enough to see and do in the area that you really should drag yourself out of the infinity pool to check it out!
Manuel Antonio National Park is at at the bottom of the hill and known as one of the best places in the country for spotting Costa Rica's incredible flora and fauna. With monkeys, reptiles, sloths and thousands of bird species calling this place home, it's not difficult to get up close and personal with Costa Rica's famous wildlife. We'll know you'll fall in love with them, but no, you can't take them on the plane home with you, sorry.
Outside of the park, the area offers tons of adventure activities if keep busy is your thing. We've got lots of options to keep us busy here, including canyoning, ziplining, surfing, or just hitting the beach, and if we've got enough energy in the evening, Manuel Antonio's gay social scene is there for us!
Days 11 and 12 - San Jose, Costa Rica
We travel back into San Jose for one more dinner together and poolside drinks at our hotel pool before saying our adios for now's! If your flight time permits, maybe take a quick trip out to one of the volcanoes in the city! And if you've got an extra few days we'll set you on the right path to continue experiencing this Costa Rican paradise.
*Note that the order of stops and duration at each location are subject to change.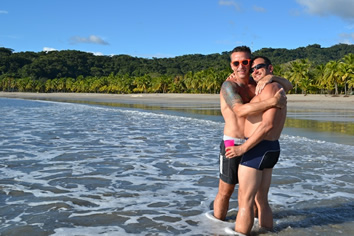 We don't like staying in smelly shacks on our vacations, and we're pretty sure you don't either! After working hard for your trip, you deserve an enjoyable, comfortable place to wind down at the end of your day. We put a LOT of time into finding the perfect accommodation for your trip so after sniffing around, fluffing pillows, and testing showers we have narrowed down our favorite properties that won't disappoint. Check out our approved accommodation to get an idea of the types of places you can expect to lay your head during your Detours trip.
San Jose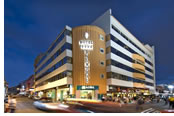 Balmoral Hotel

Why we love this property:
• Centrally located, walk to anything
• Delicious a la carte breakfast
• Friendly and helpful staff
• Great in-house restaurant
• Immaculately clean rooms
• Locally owned
Arenal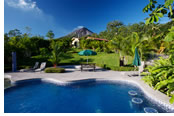 Lomas del Volcan Hotel

Why we love this property:
• Volcano view from every room
• Large typical buffet breakfast
• Friendly and helpful staff
• Relaxing pool and Jacuzzi
• Immaculately clean rooms
• Locally owned
• Surrounded by wildlife
Manuel Antonio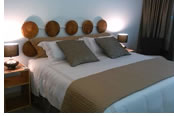 Vela Bar Hotel

Why we love this property:
• One minute to the beach
• Relaxing
• Perfect pool for relaxing
• Upscale rooms
• Locally owned
• Close to many activities
• Great breakfast
• Adults Only hotel
Las Aguas (Southern-zone Villa)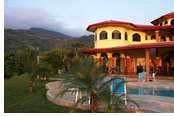 Why we love this property:
• Private villa for our group
• Set on 60 private acres of jungle
• Outdoor pool and Jacuzzi
• 5 waterfalls on the property
• Endless exploring opportunities
• Off the beaten tourist track
• Quiet and relaxing setting
Guanacaste (Nicoya Peninsula Villa)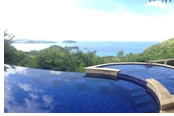 Why we love this property:
• Private villa for our group
• Minutes walk to secluded beach
• Infinity pool and Jacuzzi
• Postcard-worthy views from every room
• Surrounded by wildlife
• Off the beaten tourist track
• Quiet and relaxing setting
*Please note that due to availability, these exact hotels may not all be available during all Detours trips. However, we will always replace these with similar hotels, and will never downgrade.