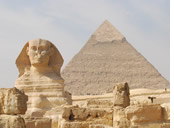 There are few places on earth that so tightly grip our immagination and curiosity and it's all the more powerful when finally standing at the foot of the Great Pyramids of Giza, or exploring underground tombs in the Valley of the Kings surrounded by heiroglyphics, or placing your own hand on the massive pillars of the Karnak Temple in Luxor. The pages of our history books come to life right in front of us for 10 days that can only be called epic.
As far back as our memories go, we can all remember being amazed by the stories of ancient Egypt, the cradle of civilization. The mystery of how the pyramids were built, the unbelievable cache of treasures buried deep in tombs, the strange ritual of mummification, the art of heiroglyphics, and the wonder surrounding this unique civilization that existed 4500 years ago.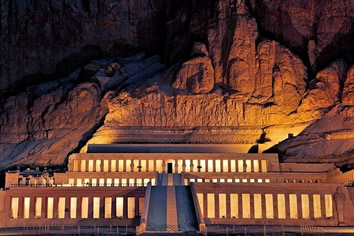 Our seasoned Detours gay travelers will note some differences with this special-edition destination... While we incorporate the same fun relaxed atmosphere that you've come to expect, this particular trip includes upgraded 5-star accommodation throughout, some more structure to each day, more inclusions, and a smaller maximum group size of 12, all in an effort to provide maximum comfort and safety in this unique part of the world. Check out the itinerary, inclusions, and trip notes for our upcoming 10-day Egypt gay adventures.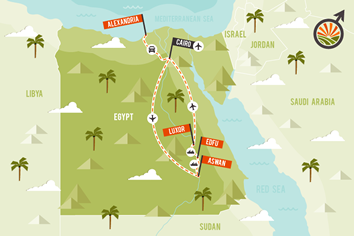 • Gay group travel within Egypt
• All land transportation within Egypt
• Accommodations for your 10-day Detours experience
• Two domestic flights from Cairo to Aswan/Luxor and Aswan/Luxor to Cairo
• 3-night Nile River Cruise
• Guided visits and entrance fees at Giza Pyramids, Egyptian Museum, Edfu Temple, Karnak Temple, Alexandria Library, Temple of Isis, Kom Ombo Temple, Temple of Queen Hatshepsut
• Entrance to 3 tombs in the Valley of the Kings
• All full breakfasts
• 3 lunches & 6 dinners
• All taxes
• Knowledgeable and fun Detours leader
• Local Egyptian guide throughout •
** - Trip prices based on twin share. Traveling solo? We'll match you up with another traveler at no extra charge, or just pay a $1,190 single supplement for your own room!
• Meals and drinks outside of those listed above
• Activities outside of the those listed above
• International Airfare
• Optional gratuities
• Visa/departure fees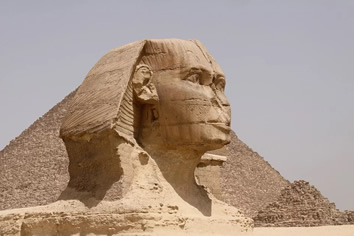 Days 1, 2, and 3 - Cairo, Egypt
There's no better way to start an Egyptian trip off than at the doorstep of the iconic Pyramids of Giza You'll be met at the airport and transferred to our home in Cairo for three nights in the most epic spot imaginable, looking right at the awe-inspiring pyramids across the street. Our accommodation here is our very comfortable base in which to get some deserved R&R after exploring the highlights of this region.
On day 1 we'll all meet at 4:00pm where we'll introduce each other, including our local Egyptian guide and your Detours trip leader who will be there to answer questions and prepare you for the coming days of adventure and exploring together.
On day 2 we'll explore the entire site of the Pyramids of Giza on a private guided tour including the huge Sphinx, a visit inside an ancient tomb, a panoramic photo stop, and of course we'll get right up next to the captivating pyramids themselves. In the afternoon we'll head to one of the world's great museums, the Egyptian Museum, where you'll find yourself face-to-face with ancient mummies and impressive antiquities to give you all the background of ancient Egytian society, up close. This is one of those days you'll remember forever.
On day 3 we introduce some of the flexibility our travelers expect with a day of options. Maybe you'd like to check out the ancient city of Memphis, or visit a traditional souk, or experience the Islamic sites of Cairo, or see the pyramid of Djoser or give yourself some time for a poolside drink in the sun. This is a day to experience something that specifically interests you, before we wrap up the day with a local cooking class all together in the evening.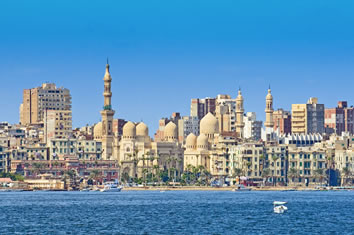 Day 4 - Alexandria, Egypt
The ancient port city of Alexandria sits on the Mediterranean Sea and is home to the world's largest collection of knowledge at the Alexandria Library with over 8 million book, as well as an impressive labrynth of underground tombs at the Kom ash-Shuqqafa catacombs, and the Fort of Qaitbey built by the Mamluks to defend the shores against the Ottomans.
We'll depart Cairo in the morning to spend the full day here exploring with our local guide before heading back to spend the night back in Cairo.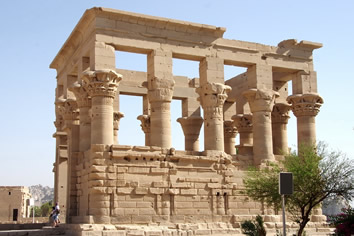 Day 5 - Aswan, Egypt
On the 5th day we'll head to the airport together and jump on a short 45 minute flight down to Aswan, on the bank of the mighty Nile River and considered the source of life for thousands of years of Egyptian civilization. This part of country is full of endless incredible sites to experience. After our flight we'll jump on a boat to visit the beautiful Temple of Isis (the Goddess of health, marriage and wisdom) located on Philae Island. It's a marvel of decorative pylons featuring some of Egypt's finest carvings – definitely one of the real gems of Upper Egypt.
In the evening we'll be treated to the warm hospitality and local cuisine of the local Nubian people with a dinner prepared for us in a local Nubian village.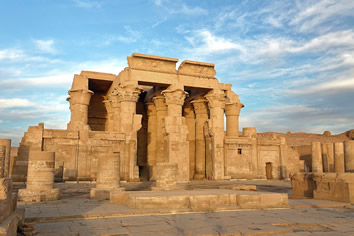 Days 6, 7, and 8 - Nile River Cruise
There's no better way to experience this beautiful region than by casually cruising down the Nile River on an impressive ship with all the amenities of an upscale hotel. On our 6th day we'll board our floating home for 3 nights, where we can enjoy watching the daily life on the banks of the Nile from the comfort of our guest room, or the rooftop sundeck, the pool or the bar. It's a fantastic way to enjoy constantly changing scenery, while also having plenty of opportunities to jump off to explore impressive sites along the way.
We'll jump off our ship several times over the course of our few days for the following experiences:
• A ride on a traditional wooden felucca boat and a climb on the towering sand dunes on the east side of the river.
• A visit to the Kom Ombo Temple, dedicated to the Gods Horus and Sobek and built around 181 BC, picturesquely ruined on the river's edge, providing an interesting insight into the Greco-Roman period.
• A visit to Edfu temple, considered the best-preserved temple in Egypt, dating back to 237-57BC. Note that the only means to visit this temple is by horse drawn carriage.
Our cruising trip ends with what many will consider the highlight of it all - the Valley of the Kings and Luxor. We'll go underground in the Valley of the Kings to explore royal tombs and learn about the vibrant heiroglyphics that surround us in each one. We'll explore the Temple of Queen Hatshepsut, who was the most famous queen of Egypt and ruled for the longest period. And we'll stand at the feet of the 56-ft tall statues of the Colossi of Memenon, used to flank the entrance of the funerary temple of king Amenhotep the 3rd the grand father of Tutankhamen.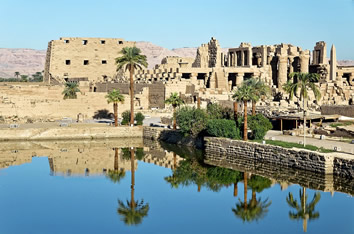 Days 9, and 8 - Luxor / Cairo, Egypt
On the morning of our 9th day we'll wander around in awe at Karnak, one of the world's most celebrated temple complexes, built over a period of some 2000 years, some of it dating back to 2,055 BC - that's over 4000 years ago! After over a week of fascinating history and impressive sites right in front of us this time in Luxor at Karnak, the Valley of the Kings and more is an incredible place to end before we jump on our flight back to Cairo for our final night together.
We'll jet back to Cairo on a 45-minute flight, then stay near the airport to allow for a relaxing evening of unwinding and easy departures the followng day. We don't plan any activities for the 10th day allowing everyone to depart Cairo at their leisure, full of memories of once-in-a-lifetime trip together.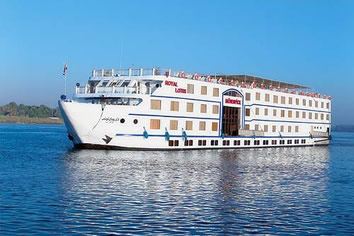 We don't like staying in smelly shacks on our vacations, and we're pretty sure you don't either! After working hard for your trip, you deserve an enjoyable, comfortable place to wind down at the end of your day. We put a LOT of time into finding the perfect accommodation for your trip so after sniffing around, fluffing pillows, and testing showers we have narrowed down our favorite properties that won't disappoint. Check out our approved accommodation to get an idea of the types of places you can expect to lay your head during your Egypt gay trip.
Cairo, Egypt
Le Méridien Pyramids Hotel & Spa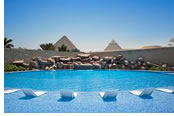 Located a stone's throw away from the iconic Pyramids of Giza, our stay at the 5-star Le Meridien Pyramids gives us that impressive view around every corner. With a beautiful pool area, swim-up bar, and comfortable rooms, this is a fantastic and beautiful spot to call home in Cairo. And did we mention waking up to a pyramid-view?
Aswan, Egypt
Mövenpick Resort Aswan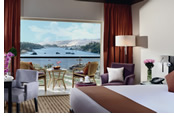 Perched right on the bank of the Nile River, with views over the city, the river, and the giant sand dunes, the 5-star Movenpick Resort is a fantastic home for us in Aswan. Very quick walking distance to downtown, a rooftop bar, and a beautiful pool area all help make this the most comfortable place to stay in the city.
Nile River Cruise
Mövenpick M/S Royal Lotus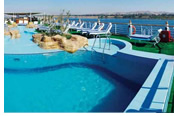 With just 60 cabins, the 5-star Mövenpick Royal Lotus is one of the smaller, more intimate of the Nile ship options. With a beautiful rooftop pool, great on-board restaurant, and all the amenities you'd expect from a hotel room on land. All-in-all a very upscale and comfortable way to enjoy a cruise down the Nile River.
Cairo, Egypt (end of trip)
Royal Maxim Palace Kempinski Cairo Hotel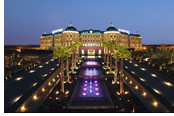 A gorgeous spot for our final night in Egypt, the 5-star Royal Maxim is one of the highest rated hotels in the country, and for good reason. Unwind from the busy past days together in complete comfort as we enjoy our final night together before parting ways the following day.
*Please note that due to availability, these exact hotels may not all be available during all Detours trips. However, we will always replace these with similar hotels, and will never downgrade.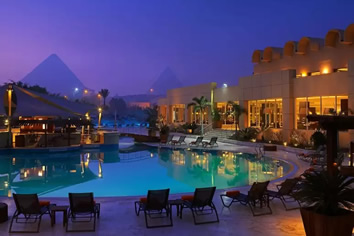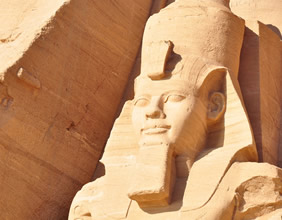 The Climate
While this part of the world is known for its hot and sunny climate, we've scheduled our Egypt trips outside of the hottest months of the year to get those great hot-but-not-too-hot days with plenty of sunshine! Expect average daily highs in April of 80F / 27C, and lows of 59F / 15C. At this time of year there are very few rainy days. Great photo and pool weather!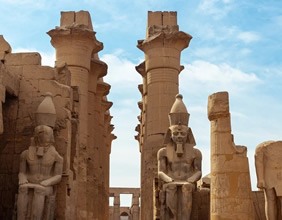 The Safety and LGBT Travelers
Egypt has been experiencing a sustained period of relative calm and peace since their latest regional flare-up ended several years ago. The governments of Canada, USA, and the UK currently do not advise against travel to the areas on this itinerary (Cairo, Alexandria, and tourist areas along the Nile River). That said, it's important to use the resources provided by these official governement sources to ensure you are making informed travel choices about any destination you're interested in traveling to.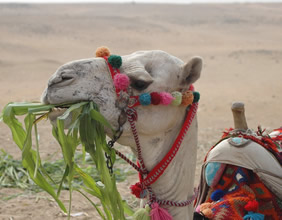 Local attitudes towards LGBT people mean that this trip may not be right for all travelers. While homosexuality isn't illegal in Egypt, it isn't socially tolerated by most Egyptians. To help improve the comfort, enjoyment, and safety of our travelers Detours partners with local LGBT-friendly inbound operators and accommodation, and uses private services including local guides and transportation. We encourage travelers to respect local customs and behaviors while in is and any country they visit.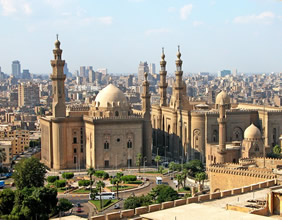 The Cuisine
Traditional Egyptian cuisine includes many legumes and vegetables and closely resembles cuisines of Eastern Mediterranean countries. While there are a lot of vegetarian options here, meat-eaters need not worry as there's plenty of options too. Think shawarma, hummus, kofta, pita bread, and kebab. In the areas that we'll be visiting on this trip you'll have the opportuity to experience the local cuisine, while also having varied other options as well. Tea is the national drink so you'll find lots of it! And if you're looking for alcohol, don't worry, it's not actually that hard to find. While local Muslims avoid alcohol, there are many non-Muslims who enjoy drinking in Egypt.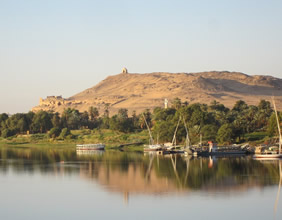 What to bring?
You'll want to pack for warm weather in Egypt, so plenty of short-sleeved shirts and shorts to ensure you're comfortable outside in the sun. While the majority of this trip will be very casual and t-shirts and shorts are completely accepted, you may want to bring a few button-up shirts for nice meals - along with your swimwear and tanktops of course! Comfortable walking shoes are very important on this trip so make this your priority footwear. No hiking shoes required. Flip-flops or sandals can be nice for the boat too.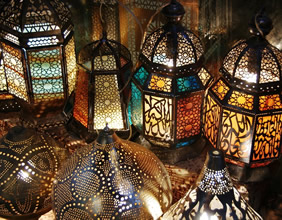 Money
Egypt uses the "Egyptian Pound" as their official currency. While many places accept Euros and US Dollars, you'll generally get a better price when using their local currency. There are many currency exchange shops around Egypt to help change over money, but we advise arriving to Egypt with at least 1,000 EGP to ensure you're ready for those first little necessities. ATMs are also easy to find in Egypt if you find you need to take out more cash along the way. Credit cards are accepted in all of our hotels including our cruise but cash will be necessary for things like tips and some meals and entrances.
Tipping
While tipping isn't a native custom in Egypt, the people who work in the tourism industry have come to expect tips to suppplement their income. It's important to keep this in mind when budgeting for the trip as restaurant servers, guides, and drivers will expect a small tip for their services.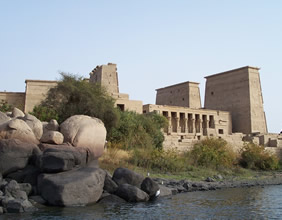 Trip Leaders
You'll have at least two leaders during your entire Egyptian adventure! At least one Detours trip leader as well as a local Egyptian tour guide who will be with us through the trip. Our trip leaders are a big part of the success of your experience with us and their job is to help ensure that this is your trip of a lifetime by taking the hassle out of your trip and enabling you to experience everything you came to Egypt for. Don't hesitate to ask your Detours trip leader or local guide questions along the way and let them know if there's something that can make your trip more enjoyable.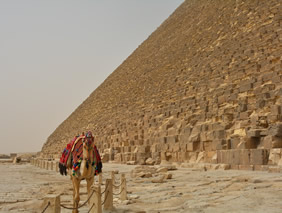 Your Group
This particular trip to Egypt has a maximum group size of 12 travelers. Ages of group members vary but almost all our travelers are in their 30's, 40's and 50's. Whatever the age of the guys on our trips everyone's already got something in common, an exciting new experience in a new country! Each group is led by a Detours trip leader who is there to ensure everything goes off without a hitch, allowing you to focus on having the time of your life! We welcome both men and women onto our trips although it's important to know that most groups are 100% gay men.
A Little Bit About Modesty
In any country that we operate in, we encourage our travelers to respect the local culture, and this should be applied to modesty within a majority-Muslim country such as Egypt. For the safety and comfort of your fellow group members as well as your own, we require that you do not engage in any public displays of affection. The use of online meet-up apps is also discouraged in Egypt. Outside of our group itself, this particular trip is not one with a LGBT-focus.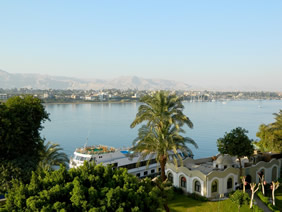 Solo Travelers
No problem! Don't worry, at least half our travelers come solo and our trip will provide plenty of chances to meet great people within the group, including other solo travelers. As far as your accommodations go, you've got two choices. We can either pair you up with another solo group member in a two-bed room for no extra charge, or you can have your own room for a very reasonable surcharge.
Electrical Outlets
Egypt uses the same plug shape that most of Europe uses, with two circular pins. The voltage is 230V with 50 Hz frequency. These days, the majority of items that are plugged into an outlet are built to handle varying voltage and frequency levels, but just to be sure, we suggest checking your item for its accetable range.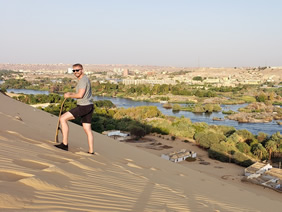 Accommodation
On this partiular trip we've chosen upscale 5-star hotels as they provide a higher level of comfort and safety than the smaller boutique properties that we use in other destinations. They're beautiful properties, all in great locations, with fantastic reputations that we're sure you're going to love! Just note that the 5-star designation can mean different things to different people and in different countries so we encourage you to check out the listed properties online to get a better understanding if this is something that concerns you.
Extending Your Trip
Got more time and want to extend your trip in the region? It's a short flight to Greece or Israel (via Athens or Istanbul usually) where we bring many other groups and we'd be happy to provide advice or set you up with a package in either of these places. Or, if you'd like to extend your time there in Egypt itself just let us know!