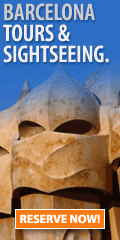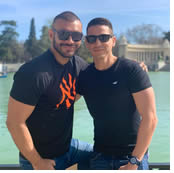 Imagine the sound of live music filling the streets, the taste of wine and tapas on a patio in the Spanish sun, all surrounded by the exotic heartbeat of authentic Spain. We've all seen our friends' photos of the stunning architecture, white-sand beaches, dramatic flamenco dancing, and medieval fortresses. We've heard their stories of being blown away by the experience of it all. The food, the wine, the dancing, the cobblestone streets, the romance, the "fiestas and siestas" culture, the beauty at every turn... followed up with an emphatic "I could live there!". This is the Spain we know and love and can't wait to experience with you, whether you're a first time visitor to Spain, or a tenth. Spain is that rare country that will steal a piece of your heart and beg you to come back for it.
Our gay group trips through Spain encompass the greatest regions of the diverse country, from eccentric Barcelona on the Mediterranean coast, to the Andalucian towns of Granada and Seville which live up to all the Spanish stereotypes (think flamenco, sangria, and Ole!), and the iconic beauty of the capital city Madrid.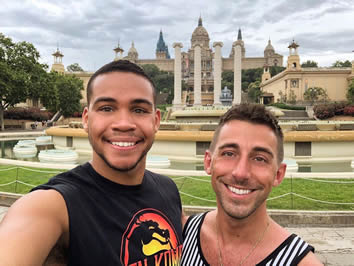 With 12 days and a laid-back pace we've got the time to fully immerse ourselves in each of these four destinations. Sip sangria above Barcelona on Montjuic, take in some live flamenco in Seville, learn to cook our own tapas under the shadow of the Alhambra in Granada, and take a couple days in the lively capital of Madrid to soak it all in.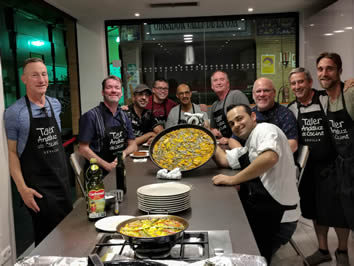 • All taxes
• All land transportation within Spain
• Two domestic flights (Barcelona to Granada, Seville to Madrid)
• Accommodations for your 12-day gay tour experience
• Welcome dinner and drinks
• All breakfasts
• Group travel within Spain
• Sagrada Familia tickets and tour with local guide
• 3 hour walking tour of Granada, Seville and Madrid, each with local guide
• Knowledgeable and fun Detours trip leader
• Meals and drinks outside of those listed above
• Activities outside of the those listed above
• Optional gratuities
• International Airfare
• Optional gratuities
Additional spending budget?
Your big-ticket items are included through the trip, but you'll want to budget for additional spending such as additional meals, drinks, shopping, activities, etc. These costs can vary dramatically with differing personal habits but we suggest expecting to spend an additional $750 USD at the lower end for the more budget-conscious and $1200 USD at the higher end for the splurgers. We suggest arriving to Spain with approximately 300 local Euros.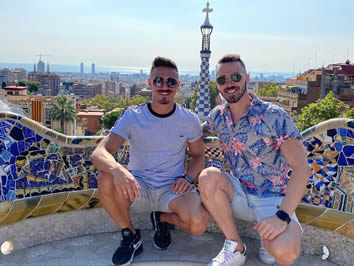 Days 1, 2, and 3 - Barcelona, Spain
Barcelona is jam-packed full of unique things to see and do which is why it's such a loved place by its visitors!
Our first three nights are spent finding out why this city makes people yearn to come back over and over again.
We'll check out some famous spots together such as the Sagrada Familia, and Las Ramblas then take in the view from the best vantage point atop Mont Juic while sipping the finest Sangria.
Our first meeting time on day 1 is at 4pm where we'll all meet together to start our adventure!
Included Activties: Walking tour of Barcelona (inc. Sagrada Familia)
Optional Activities: Barcelona Biking Tour • Park Güell • La Padrera • Casa Batló • Art Museum of Catalonia • Palau de la Musica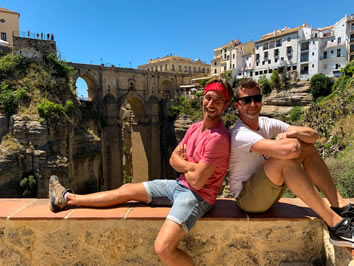 Days 4, 5 and 6 - Granada, Spain
The famous Alhambra looms over the quaint, picturesque, traditionally Andalusian streets, all set against the background of the snow-capped Sierra Nevada mountains.
"Can't miss" items in this gorgeous town include visiting the hill-top Alhambra at sunset, taking in a local flamenco show, and checking out the many parks, streets, and buildings dating back to the time of the Moorish rule.
Whether you'd like to take a Spanish cooking course here, take a day trip up to the Sierra Nevada mountains, or maybe even visit local wineries, you'll have plenty of options to keep you as busy as you'd like.
Included Activities: 3-hour walking tour of Granada
Optional Activities: The Alhambra • Flamenco Show • Hammam Arab Baths • Olive Oil Tour • Granada Cathedral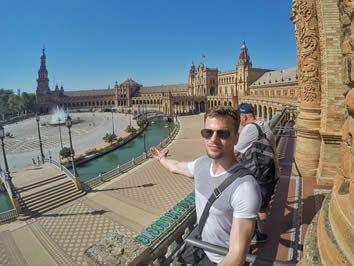 Days 7, 8 and 9 - Seville, Spain
Seville (or "Sevilla" as the locals call it) is incredibly rich in history and is the home to many things that scream "SPAIN!" including tapas, flamenco, and paella.
It's also known as being one of the most romantic cities in Spain with romance in the air at every turn. Of course there's also a very lively gay community here too if you're looking to meet some locals!
All of this makes Seville a perfectly well-rounded city with beauty, history, and culture galore.
Included Activities: 3-hour walking tour of Seville
Optional Activities: Seville Cathedral • Bullring Experience • Plaza de Espana • Royal Alcazar • Spanish cooking class • Seville bike tour • Segway tour
Days 10, 11 and 12 - Madrid, Spain
One of the world's great cities. A hub of art, history, nightlife, shopping, and culinary delights, Madrid is an incredible city to discover.
The last 2 nights of our Spanish adventure together will be spent here surrounded by impressive architecture and endless things to keep busy with.
Impressive museums such as the Museo del Prado and the Museo Thyssen-Bornemisza are located here and are worth the time if you enjoy art museums, otherwise, enjoy our included 3-hour walking tour in the morning with a local guide, then get lost in the beautiful streets and alleyways.
Once night falls, there's no better place to be than the blocks that surround our group hotel in the heart of Chueca, Madrid's ecclectic gay neighborhood.
Our time together comes to an end on the 12th day of the trip and all travelers are welcome to depart from Madrid any time on this day, or ask us to add extra nights in Madrid if you'd like more time to expore this beautiful city.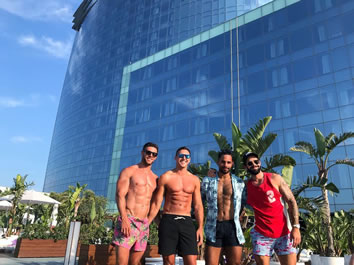 We don't like staying in smelly shacks on our vacations and we're pretty sure you don't either! You work hard to go on vacation and we believe you deserve an enjoyable, comfortable place to wind down at the end of each day. We put a LOT of time into finding the perfect accommodation for your trip. After rigorous wifi signal testing, fluffing pillows, and taking a shower or two, we've narrowed down our favorite properties. Check out our approved accommodation to see where we've stayed in the past and where we'll likely be staying on your trip.
Barcelona
REC Barcelona Hotel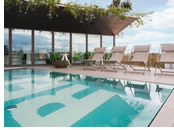 Located in the heart of Barcelona, this beautiful adults-only hotel is centrally located (only steps away from the Arc de Triunfo) and is a quick 15 minute walk to the heart of Barcelona's gothic quarter. Features include air conditioning, highspeed wifi, flat-screen TVs and en-suite bathrooms. A buffet breakfast is available daily.
Granada
La Casa de la Trinidad Boutique Hotel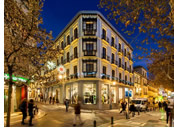 Located in the historic district of Granada, this hotel resides in a perfectly restored 19th century building featuring civil Granadian architecture. Each room features air conditioning, room safes, high-speed wifi, satalitte TV, and en-suite bathrooms. La Casa de la Trinidad is situated 2 minutes' walk from Granada Cathedral and less than 2 km from the Alhambra.
Seville
Inglaterra Hotel
A hotel within a circa-1857 building overlooking Plaza Nueva, this upscale hotel opposite City Hall is a 7-minute walk from Seville Cathedral. Featuring parquet flooring, hardwood furniture and antique engravings, the sophisticated rooms include free Wi-Fi and flat-screen TVs. There's a seasonal rooftop terrace, a fitness center, a trendy bar and city views.
Madrid
INNSiDE by Meliá Madrid Gran Vía Hotel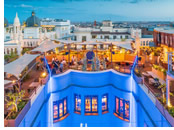 You couldn't get more perfectly located, in the heart of the city and just off Madrid's main boulevard - Gran Vía! This property features large air conditioned rooms, a rooftop gastrobar, and each room has USB chargers built-in for ease of device charging. The accommodation offers a continental or buffet breakfast. Guests can enjoy the hotel terrace, which overlooks the bustling Gran Vía below. INNSIDE Madrid Gran Vía is set next to Gran Vía, a 3-minute walk from Callao Square. From here, you can easily reach Puerta del Sol, Plaza Mayor and the Retiro Park on foot.
*Please note that due to availability, these exact hotels may not all be available during all Detours trips. However, we will always replace these with similar hotels, and will never downgrade.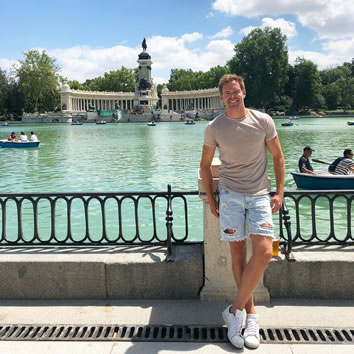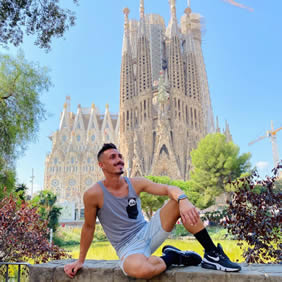 The Climate
Don't worry about getting chilly, our trips are scheduled in the warm months ensuring maximum warmth and sunshine! Temperatures will vary from warm to hot depending on your chosen travel month and itinerary stop. In Barcelona we can expect temperatures in the high 70's and 80's Farenheit (high 20's Celsius) during the day, while Granada and Seville can even reach up into the 90's (mid 30's Celsius. That said, weather can sometimes be unpredictable so it's always good to pack a "just in case" outfit for the odd rainy day.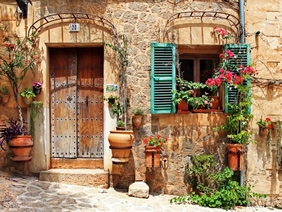 The People
You may notice a difference between the Catalonian people of Barcelona, and the Andalusian people of Seville and Granada. Both areas are proud of their unique heritage which is evident in the people you'll meet. Although Spain is known as a Catholic country, it is also an incredibly LGBT-friendly country too, being one of the first countries in the world to legalize same sex marriage nationally. The gay community in Spain ranges from the beach and party-loving crowd in Barcelona, to the more laid-back social and friendly communities in Granada and Seville. Although English is very widely spoken, consider learning a few words of the Spanish language while you're here, we recommend starting off with "Hola" (hello), "Gracias" (thank you), and of course "Donde esta la playa?" (where's the beach?)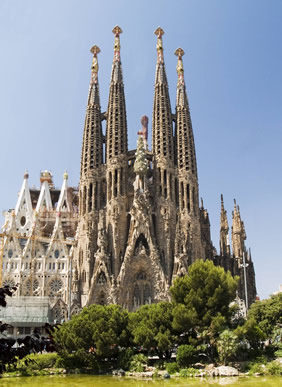 The Cuisine
Who doesn't like Spanish food?! Think Mediterranean favorites such as paella, and unique tapas served on perfect people-watching patios. Spanish people love taking long breaks ("siesta hours") in the afternoon when they'll close up shops for a couple hours to grab a bite with friends. This is a perfect time to indulge in some afternoon tapas and a glass of sangria. Detours doesn't believe in limiting your choices by including all of your meals at pre-decided restaurants as part of the trip package. Instead, we include all of your breakfasts to start your day off, then we explore all of the different restaurant options available for lunch and dinner. This way we can eat when we want, where we want, and spend what we want! Your trip leader definitely has their favorite spots so if you'd like some advice on the best in each location, just check with them.
What to bring?
Our advice is simple. Pack your bag, then take half of those things out and leave them back home. It's common to hear people wishing they'd packed less stuff, but we've never heard anyone complain that they didn't bring enough. Even if you realize you forget to pack some crucial item you can always pick up a replacement once you arrive in Spain. We'll include some trip-specific packing advice based on expected weather as part of our update email to you, sent 60 days prior to your trip.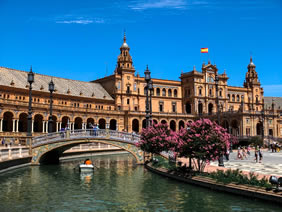 Money
We REALLY suggest just bringing your regular bank card from home and using the ATMs in Spain to get cash; in our experience it's cheaper than any currency exchange service in Spain or even at home. Spain uses the Euro as their local currency and shops/restaurants do not accept US dollars so once you arrive into Barcelona airport you should stock up on some Euro cash. Credit cards are widely accepted in Spain so it's good to bring one on your trip too. Travelers checks are a thing of the past so we don't recommend them any more.
Tipping
Tipping isn't a native Spanish custom, however, it is always appreciated by local service staff. We suggest tipping for any services that go above and beyond expectations. That extra Euro or two on a dinner bill is very appreciated by the service staff.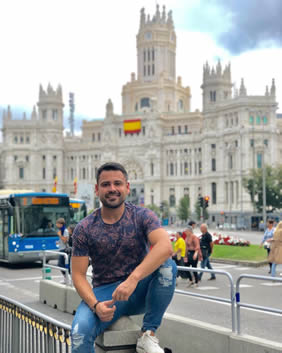 Accommodation
We have pretty high standards when it comes to choosing our accommodations, and trust us, we've done plenty of room-sniffing, pillow-patting, bed-jumping and bathroom inspections to make sure we stay at quality spots. To be approved as a Detours accommodations provider, a hotel/guesthouse must: be locally owned (to support the local community), be in an amazing location (close to the beach or other hot spots), AND be gay-owned or gay-friendly. We won't be staying in 5-star Ritz-Carltons but we also won't subject you to anything we wouldn't want to stay in ourselves. Clean, comfortable, well-located spots that'll put a smile on your face, you can count on that!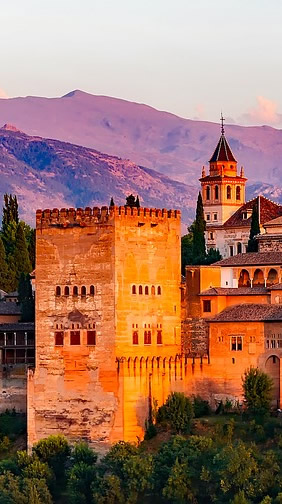 Trip Leaders
All of our trip leaders are gay and all are well-traveled and experienced in the destination they're leading in, so they'll be a great part of your experience! They're there with you every day and their job is to help ensure that this is your trip of a lifetime by taking the hassle out of your trip and enabling you to experience everything you came to Spain for. Consider them like a friendly concierge that's traveling along with you.
Alarm Clocks
We do absolutely everything possible to avoid needing such a mundane awakening. A world without alarm clocks is one we want to be part of, and your "rise and shine" while in Spain should come from the sound of crashing waves or church bells in the distance. However, sometimes due to current train or flight schedules we are required to make early departures, but we do everything we can to minimize this.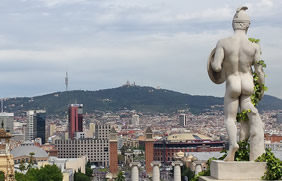 Extending Your Trip
For many people, 12 days in Spain just isn't enough time. If you're lucky enough to be able to stay longer, or if you decide to quit your job and become a beach bum in the Mediterranean for the rest of your life, we'd be happy to help you extend (or cancel!) your return flight. We've been all over the area, so don't think twice about asking where to go or what to do after your Detours trip is complete. Italy, France, the Balearic Islands, Portugal... many interesting destinations are close-by.
Your Group
Our groups are run with a maximum of 15 travelers. Ages of group members vary but around 90% of our travelers are in their 30's, 40's, and 50's. Whatever the age of the guys on our trips everyone's already got something in common, an exciting new experience in a new country! Each group is led by trip leader who is there to ensure everything goes off without a hitch, allowing you to focus on having the time of your life! We welcome both men and women onto our trips although it's important to know that most groups are 100% gay men.
A Little Bit About Modesty
The areas of Spain that we'll be visiting are very open-minded and most people will be welcoming of homosexuality. As one of the first countries in the world to legalize gay marriage nationally, gays are widely accepted and although you may not see same-sex couples showing their love in the streets, it is not a place where it is dangerous to be ourselves.
Solo Travelers
No problem! Don't worry, lots of our travelers come solo and our trip will provide plenty of chances to meet great people both inside and outside of our group, including other solo travelers. As far as your accommodations go, you've got two choices. We can either pair you up with another solo group member in a two-bed room for no extra charge, or you can have your own room for a reasonable surcharge.
Electrical Outlets
Spain uses a "type C" and "type F" plug, the same as most European countries and several other places in the world. The voltage is 230V with 50 Hz frequency.