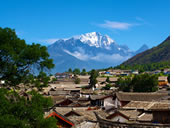 Join us on our China Gay Adventure Tour of epic proportions! Cycle through towns holding tight to traditional ethnic cultures and Tibetan history and around a serene mountain lake, hike to a Holy Waterfall, brimming with contagious spiritual energy, experience romantic sunrises, partake in the feeding of the black snub-nosed monkey and raft down the Great Bend of the Yangtze River's remarkable 10,000-foot-deep gorge, almost twice as deep as the Grand Canyon! All this and more as we take a 15-day journey through a region of China still mostly unchanged by modern behavior and pace.
On this trip, we will explore 120 miles of the Great Bend's spectacular Class IV rapids by raft while meeting charming and prideful Naxi people along the way. We'll trek the famous Tiger Leaping Gorge, cycle around the Old Town of Shangri-la, visit a monastery, hike to Binghu Ice Lake of the Meili Snow Mountain and much more. Fascinating cultural encounters, heart-pumping adventure, and breath-taking scenery abound on this once in a lifetime adventure.
Yúnnán is the most diverse province in all China, both in its extraordinary mix of peoples and in the splendour of its landscapes. That combination of superlative sights and many different ethnic groups has made Yúnnán the trendiest destination for China's exploding domestic tourist industry. With everything from laid-back villages and spa resorts to mountain treks and excellent cycling routes, Yúnnán appeals to all tastes.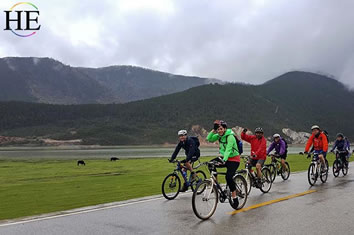 • Explore the Holy Waterfall where Yubeng's name originated
• Hike Tiger Leaping Gorge with its 28 Zigzag Bends
• Cycle around Lashihai Lake
• Relax and take in a sunset view of Meili Snow Mountain
• Tour Tacheng Black Snub-Nosed Monkey National Park
• Raft the "S" turn in Stone Gate Pass on the Yangtze River
• View Mt. Kawagebo Glacier while hiking to Binghu Ice Lake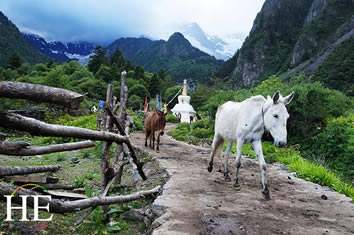 Day 1 - Welcome to Lijiang!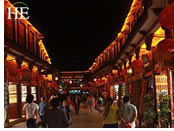 Today, we arrive in Lijiang and head to our hotel to get settled in. Lijiang, a well-preserved old city of ethnic minorities and radiant culture, is a central town of the Lijiang Autonomous County of the Naxi Ethnic Minority in Yunnan Province. Located at 7,874 feet above the sea level plateau, embraced by the tree-covered Lion Mountain in the west, Elephant and Golden Row Mountains in the north and vast fertile fields in the southeast with crystal-clear water running throughout. The Old Town is also referred to as the "Town of Big Ink Slab (Dayanzhen) due to its resemblance to a big jade ink slab. There are no activities scheduled for today. Enjoy time to recover from your long flights.
Day 2 - Relax in Lijiang
Enjoy your morning and sleep as long as you need. This afternoon, we'll have a briefing about our activities for the next 12 days. Welcome dinner to follow!
Day 3 - Lijiang-Qiaotou Town-Tea Horse Guesthouse
(7.5 miles/5hrs hiking) Elevation: 8530 feet, Up 2690 feet, Down 984 feet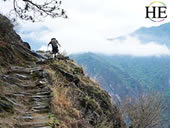 This morning we'll check out of our hotel and drive to Qiaotou Town, also known as Tiger Leaping Gorge Town. During our ride, we'll pass Naxi ethnic villages and the Upper Yangtze River with a beautiful panoramic view of the First Bend of the Yangtze River on the way. Our first trek will take place at Tiger Leaping Gorge. This 12,795 feet deep gorge is renowned as one of the world's four great gorges and is honored as one of the deepest and most marvelous.
We begin our journey at the Qiaotou Primary School and head to Changsheng Village where we'll pay a visit to Changsheng Hope Primary School. After we've met a few smiling faces, we'll continue onward to Zhong Nuoyu village where we'll arrive around noon for lunch in a Naxi Family Guesthouse. Once we've enjoyed our lunch, we'll take on our first challenge; the 28 Zigzag Bends trail. The lovely Tea Horse Guesthouse is our final destination for the day and where we'll stay for the evening.
Day 4 - Onward to Shangri-la
(4.5 miles/3hrs hiking) Elevation: 7,824 feet, Up 984 feet, Down 2,296 feet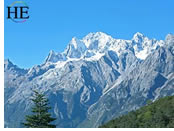 This morning we'll rise early for a hike down to Tina's Guesthouse, passing a high waterfall along the way. At Tina's we'll enjoy a phenomenal view of the astounding Jade Dragon Snow Mountain. After we've taken some time to soak in the scenery, Shangri-la is just a drive away. Upon arrival in Shangri-la, we enter the Tibetan cultural area and a landscape adorned with barley fields and yak scattered valleys. If time permits, we'll walk around Dukezong Ancient Town, a crucial checkpoint on the Ancient Tea-horse Trade Caravan spanning from Yunnan, Tibet and ending in India. Here we'll have the opportunity to see the Thang-ga painting. Thang-ga is a unique style of painting developed in the 7th century Tibetan area and is a Tibetan word that refers to scroll painting mounted with vibrantly colorful satins and fabrics.
Day 5 - Shangri-la: Not Just a Fairytale
(13.6 miles Elevation 7,874 feet)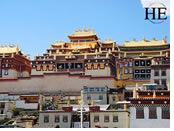 Today will be spent sightseeing and cycling around the Old Town of Shangri-la and getting further acclimated to the high elevation. This area dates back 1300 years and with its rich Tibetan-style architecture, there will be plenty to gaze at! We'll eat breakfast together and continue our journey by bike to Songzanlin Monastery. The Songzanlin Monastery (constructed in 1679) is the largest Tibetan Monastery in Yunnan and is nicknamed the "Lesser Potala" due to its resemblance to the magnificent structure in Lhasa. We'll gander at its iconic architecture for a couple of hours before enjoying lunch at a local restaurant.
After lunch, it's back on our bikes to pedal over to Napa Lake and its Nature Reserve. This reserve is the country's largest grassland and most scenic area of the plateau. We'll have time to walk around and take in its splendor while enjoying authentic Tibetan culture. Don't forget to bring a camera, there will be plenty of things to photograph today. We'll return back to our hotel this evening for a delicious dinner together. You'll want to get plenty of rest this evening, we have a big and exciting day ahead of us tomorrow!
Day 6 - Mountains & Beautiful Scenery Abound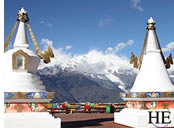 We begin our morning with a drive to Deqin County. Along the way, we'll have fantastic views of various tree species, shimmering streams down the valley, prayer flags, stupas (Buddhist shrines), and Tibetan villages. We'll make a stop to visit Nixi Pottery Village and take a jab at our creative side with a local pottery lesson. Then it's back on the road for more serene views along the Jinsha River. Benzilan Town will be our next destination for a lunch break. After a delicious lunch, we'll drive to visit Moon Bend, the First Bend of the Jinsha River, which is the boundary between Sichuan and Yunnan. The Moon Bend is a wonderful place to take in the impressive scenery of the surrounding mountains. If weather permits, we'll have the rest of the day viewing spectacular sights of impressive Baimang Snow Mountain and a spectacular sunset view of Meili Snow Mountain from a sightseeing Platform where we'll also catch a view of a cluster of pagodas appropriately named "Prince's 13 Peaks." Today is an activity free day to allow for acclimating to the elevation.
Day 7 - Making Our Way to Great Heights
(11.1miles/7h trekking 10,006 feet)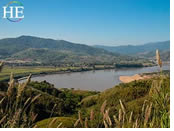 Fancy a picturesque sunrise today? If you're an early riser, head out to enjoy the Golden Mountain where the sunrise delicately graces its snowcapped peak. After breakfast this morning we drive along the Mekong River to reach today's trailhead. We'll exit our transportation in Xidang Village, then proceed to hike up to and over a mountain pass to Yubeng, with a picnic lunch along the way. Once we've arrived in Upper Yubeng Village we'll enjoy dinner tonight in a traditional Tibetan living room. We'll rely on horses to carry our luggage to a local guest house where we'll be spending the evening.
Day 8 - Mt. Kawagebo Glacier's Ice Lake
(11.1miles/7h trekking out and back)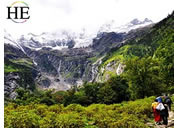 This morning will be another wonderful opportunity to catch a spectacular sunrise view, this time of the Mt. Kawagebo glacier from the comforts of our guesthouse. We'll begin the day with a walk up to Binghu Ice Lake on the Meili Snow Mountain where we'll journey through the original forest of Yubeng Village where horses and yaks call home. If we're lucky enough and keep our eyes peeled for the possibility, we'll be graced with the sight of local wild animals. In the Glacier Park, a beautiful river walk lined with spruce trees and jaunts over wooden bridges will give us a wonderful view of Mt. Kawagebo Glacier. Our adventure will take us to Ice Lake, located just at the foot of the glacier. After we've taken some time to take in all of the splendor of the day, we'll trek back to Upper Yubeng to stay overnight in a local guesthouse.
Day 9 - Holy, Waterfall!
(8.6 miles/4h trekking roundtrip)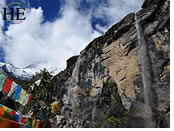 If the weather permits, we'll wake up to another impressive view of the Mt. Kawagebo glacier. After we've enjoyed breakfast, today's hike will take us to the Holy Waterfall, from which Yubeng's name originated. Buddhists have been coming to this area for centuries on pilgrimages to circumambulate the waterfall 13 times with the belief that this act will erase all sins from this life. After we've soaked up the energy of such a spiritual environment, we head back up to Yubeng for another night's stay in our guesthouse.
Day 10 - Cizhong and the Grand Canyon
(13 miles/5h trekking, 1h drive 6,560 feet)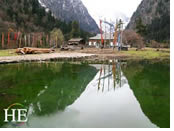 This morning we'll say goodbye to our home over the past few days and again rely on our luggage to be transported by horseback. Today's journey will take us on a walk along the least traveled path of Yubeng, leading us to Ninong Village. After a scrumptious lunch together we'll drive to Cizhong where we'll stay overnight. On the way to Cizhong, a stop to view the impressive and awe-inspiring Grand Canyon is in order with its seemingly endless depth and idyllic scenery.
Day 11 - Monkeying Around in Tacheng Town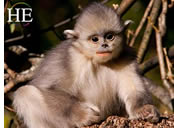 We'll begin the morning with a visit to a local Tibetan Catholic Church and act as spectators during their gathering of prayer. The iconic church was built by French missionaries in 1867 and is shared by Tibetan, Naxi and Lisu people. You'll notice old grapevines planted by these missionaries where the traditional way of winemaking is still held close to heart.
Next, we'll drive to visit Tongle Village, the most original and ethnic village in the Yunnan Province and home to Lisu and Naxi people. People here reside in charming, traditional houses built of wooden walls and tile roofs.
In the late afternoon, we'll arrive in Tacheng Town to pay a visit to the Tacheng Black Snub-Nosed Monkey National Park, home to hundreds of the magnificent animals. We've reached our destination for the evening where we'll enjoy dinner together before turning in for the night.
Day 12 - River Rafting at Rooster Stone Islet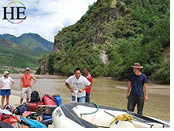 This morning we'll head to the park and enjoy a real treat by joining in on the feeding of the snub-nosed monkey. After that begins our rafting adventure tour. The most exquisite part of rafting today will be the Jigong (Rooster) Stone Islet, located in the middle of the Jinsha River in Shangjiang Town. From a distance, you will find a sharp peak resembling a flying rooster, hence the name of Rooster Stone Islet. The Rooster Stone Islet divides the Jinsha River into two parts down the middle which will bring forth exciting rapids, whirlpools, and waves. After an exhilarating day on the water, we'll set up camp for a surreal overnight's stay on the beach island.
Day 13 - Journey to First Bend of the Yangtze River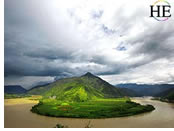 Wake early this morning and enjoy a sunrise on the Jinsha River with a splendid verdant mountain range backdrop. After enjoying breakfast at our campsite, we'll hop back on our raft and spend another day on the water with a trip to Shigu Town. Along the way, we'll navigate through a grand "S" turn in Stone Gate Pass, a historically important military site. The First Bend of the Yangtze River will bring forth great wonder with a large turn from south to east. Our rafting adventure will end in Shigu Town where transportation will take us back to Lijiang Old Town where we'll reside for the evening.
Day 14 - Lijiang Around Lashihai Lake
(20 miles/2h elevations of 7,217-7,874 feet)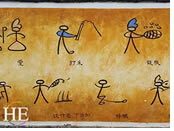 Hopefully, you've had enough rest for an easy transition from aquatic to pedaling legs! Our adventure today lands us back on the bike seat for a cycling tour of Lijiang Old Town. We'll get a car ride to Baisha Old Town first to avoid the traffic, with a stop to visit Baisha Murals. Painted over 1,000 years ago, the murals display the life stories of China's main religions, including Confucianism, Taoism, and Tibetan Buddhism.
After we've had a chance to take in the culture of the city, it's time to jump on our bikes and head to Lashihai Lake. Lashihai Lake is a nature reserve rich in biodiversity, here we'll have the opportunity to pedal around the lake at our leisure. If we carry our lucky charms with us today, we may get the opportunity to catch a glimpse of the endangered black-necked crane. We'll loop around the lake, beginning on a paved road which leads us through Naxi villages where Naxi and Yi minorities call home. Have no fear, you adventurous souls, the terrain transitions from pavement to rougher terrain as we loop back around.
Day 15 - Farewell, Yunnan Province!
Today we say goodbye to beautiful Yunnan. After breakfast, transfer to Lijiang airport and begin the journey home.
Note: While we plan to follow the itinerary as much as possible, weather, trail conditions, river crossings, and other circumstances may force us to alter the itinerary in this remote and relatively untraveled region.