Grab your cowboy gear and head to a gorgeous Colorado gay dude ranch for a week of ranch-style activities. Enjoy horseback riding, fly-fishing, mountain biking, whitewater rafting, a cattle drive and more. After each exhilarating day you'll have plenty of time to relax poolside, take a gorgeous hike or play a round of pool at the guest house. The views are stunning from any spot on the property. Join us and experience the delights of the famous Rocky Mountain High.
HE Travel is proud to offer a gay ranch holiday in Colorado. Your skill level is irrelevant; new or experienced, this ranch is right for you! Join us as we explore the cowboy lifestyle and bond with a hand-picked horse that has just the right temperament for you.
Our wranglers for the week will give tips for safe horseback riding and you'll be able to decide how much you can handle throughout our week of excursions. Other exciting activities that will be available for your enjoyment are fly-fishing, whitewater rafting, hiking, mountain biking and cooking classes.
The ranch's chef will plan amazing meals with a culinary flare produced from high quality local meat and produce. Most everything is raised on location, including the meat, eggs and a selection of fruits and vegetables. Even if it's not from the ranch, it is local, making for a most authentic experience!
Come join us for the magnificent exploration of this Colorado Ranch.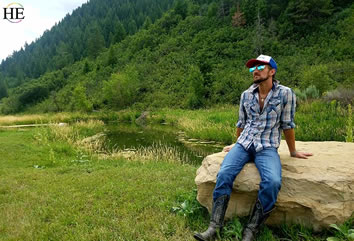 • Explore the cowboy in you.
• Fly-fish in beautiful catch and release ponds.
• Trot through forests, grasslands, spring creeks and alpine mesas.
• Visit a ranch committed to restoring the ecosystem.
• Dine like a king on high quality local meat and produce all week.
• Relax poolside while sipping a cool beverage.
• Gaze out for miles over Picture Rock from almost 9000 feet.
• Raft a stretch of the Class 3 Colorado River.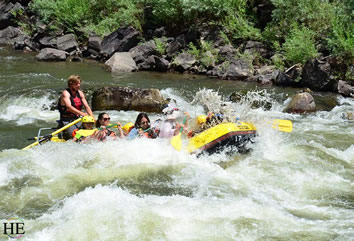 Day 1 - Touch Down Grand Junction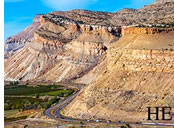 Upon arriving at the Grand Junction airport, look for the HE Travel shuttle that will take you to our hotel in Wine Country.
We'll meet up this evening for a welcome dinner full of fresh, sustainable local foods prepared in the classic French tradition.
Day 2 - Wine Country and Off to the Ranch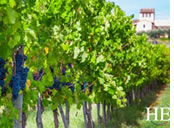 Today we will have a relaxing breakfast at the hotel followed by free time to relax poolside and enjoy the sun. For those that are interested, we will visit local wineries to soak in the culture and allure that is Colorado Wine Country. In the afternoon we will depart for the ranch.
Once we've arrived and taken time to settle in, we will have time to explore before dinner. There is a pool onsite as well as plenty of lounge spots throughout the guest house. The common area includes a full kitchen, great room and recreation room. In your free time, don't forget to take advantage of the rustic stone fireplace, pool table and great views from the deck. The food is top notch and qualifies this all-inclusive tour to be a culinary delight as well.
Days 3 - 7 - Riding, Fishing, Rafting, 8 Course Meal, Cattle Drive and More ...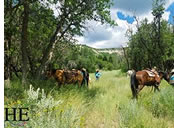 Good morning, cowboys! Each morning, we'll enjoy a satisfying and filling breakfast before heading out on the day's adventures. Throughout your time on the ranch, you will enjoy horseback riding through different terrains: climbing hills, crossing small creeks and meandering through trees and sagebrush. The Wranglers will pair everyone with a horse that best fits their skill level. Get ready to have a new four-legged friend by the end of the week!
Aside from horseback riding, activities throughout the week include :
• Fly-fishing – there are over 22 catch and release ponds on property. Catch all 5 species of trout and earn the honor of scoring a Grand Slam!
• White-water raft through gorgeous Glenwood Canyon as we cruise a 9-mile stretch of the Colorado River (Class 3 Rapids).
• Wild horse tour through the Little Book Cliffs. We will stop and enjoy beautiful scenic lookouts and break for a picnic lunch among the wild horses.
• Shooting clay targets – an afternoon of shooting 50 rounds.
• Cattle sorting, team penning & roping- get your hands dirty or spectate!
• Cattle drive – You will get to show off your riding skills as we head out to do an authentic cattle drive.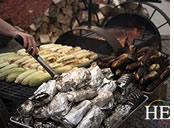 Lunches will be in various locations throughout the week, depending on the activities. Each evening before dinner, we will have time to relax or to enjoy the following amenities: pool lounging, a hands-on cooking class, billiards, or a beautiful hike.
Dinners are always an enjoyable event with cocktails, appetizers, and even a fire if the weather permits. One special evening will be reserved for an 8-12 course meal with wine tasting prepared by Chef Jordan Asher. The food provided is top notch and you will always be full after a long adventurous day.
Our final night is reserved for our farewell dinner – ranch style! Bring your dancing shoes as we dive into an evening of country western swing and line dancing with music by a favorite local band.
Wi-Fi is available, but we suggest using your free time to disconnect and swim in the pool, get a massage, play some pool, head out on an independent hike or bicycle ride.
Day 8 - Farewell
Today we say farewell to the ranch, and the horses that we've bonded with over the past week, and head home after breakfast.